As Google, Facebook, and other online giants have gained momentum, the digital world has taken over marketing efforts. Gone are the days of radio and television ads, replaced by Youtube ads and Facebook marketing. To stay on top in your market, your roofing marketing efforts must adjust, as well. The Roofing Webmasters team provides you with the knowledge and know-how you need to develop and implement an effective online marketing plan for your roofing company that not only gets results but expands your customer base for more leads and better ROI.
For roofing companies, local search marketing is one of the most important components of a successful internet marketing campaign. When consumers in your area search for a roofing company on Google, Bing, or another search engine, your SEM will determine whether or not your services appear and where they rank on the list. Roofing Webmasters offers local SEM services to contractors throughout the United States. We focus on:
Using Roofing NAP Citations for Local Search Marketing Results
NAP (name, address, phone) citations are a crucial factor in SEM and can mean the difference between a well-ordered Google Homepage and high rankings and a company that is found poorly ranked and with few off-page listings. NAP citations are available in multiple places online including with sites like HomeAdvisor, Angie's List, and Thumbtack. A correct listing in these directories appears in branded searches as well as lending to ranking scores during organic search efforts. The Roofing Webmasters team provides comprehensive NAP citation management to ensure that your listings are accurate, detailed, and up-to-date for the best results possible.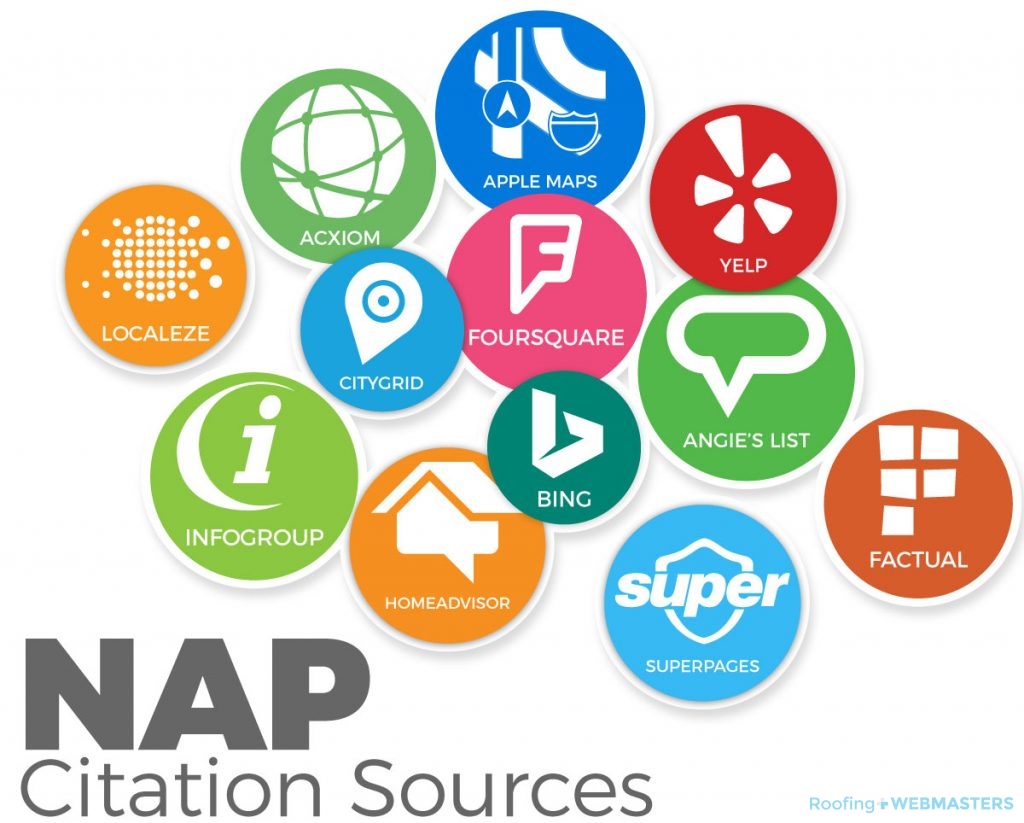 Most internet users access the web from mobile in 2019, a fact to be considered when implementing the concepts above. Mobile search results are customized for the user based on their current location. If a prospective roofing customer is within your service area and searching for local roofing services, a well-executed SEM plan should cause you to appear towards the top of their results. Call (800) 353-5758 for local search marketing services.
How Mobile Design Impacts Local SEM
Marketing your services to the local community requires a strong online presence and a mobile-friendly website. In fact, with today's Google algorithms in place, your website should be designed with the mobile user in mind. At Roofing Webmasters, we design each of our clients' websites using responsive web design, but make sure to prioritize the mobile user first and foremost. To foster a positive user experience, we focus on multiple points:
Mobile usability should not be underestimated. Google has publicly stated that the majority of users coming to your site will be using a mobile device. As a result, Google released the update known as "Mobilegeddon" which deeply punishes websites that are not mobile-friendly. At the end of the day, all roofing contractors want the same thing from their websites; lead generation and sales conversions. Roofing Webmasters helps you accomplish both with mobile-friendly, customized local search marketing that provides informative and compelling roofing content.
Choosing The Right Local Roofer Search Marketing Services
Many contractors have been burned by marketing companies in the past that offer local search marketing results without any type of delivery or measurement. Many of them lock you into long-term contracts, so by the time you realize you've been hosed, you have already made a substantial financial commitment. The only way to gain trust in your local search marketing company is to see the results first-hand. That's why we offer monthly payment agreements, so you're never locked in for the long-term as well as analytics reports so you're always in the loop. Hold us accountable each month, and see the success for yourself.
Another difficulty for contractors is finding a marketer that understands the nuances of the roofing industry. General marketing firms serve all types of clients, and while they might believe they can translate apples to oranges, they are often mistaking. Roofing Webmasters focuses specifically on the roofing industry and has years of data to help make analytical decisions. Best yet, we've been working with contractors like you, all of this time, and know what to expect moving forward. Call (800) 353-5758 for roofing local search marketing services.