An effective roofing website includes quality content and roofing SEO as well as a compelling and unique design. Your roofing website design plays a major role in a consumer's decision to invest in your services, or to look elsewhere. Engaging roofing website design elements have multiple positive effects on internet marketing.
Roofing Web Design Portfolio
The Elements of Roofer Design
First and foremost, an engaged user is more likely to heed a call to action, which can lead to a sales conversion. Secondarily, user engagement improves website performance metrics, which signal to Google that your ranking should be increased. The following design elements determine the engagement level of a website visitor:
Accessibility: How easily a website can be accessed across multiple devices
Appearance: How visually engaging a website is based on graphics and other designs
Font / Text: How readable web content is based on font choices and text formatting
Navigation: How easily a user can navigate a website on mobile, tablet, and desktop
In today's digital world, a roofing company website is a prominent representation of the business. Most consumers will find your roofing service through Google search results and form a first impression based on website presentation. Impressing visitors initially doesn't guarantee a conversion, but it completes a very important step in the conversion process. After visiting your site, most users will research its credibility on review platforms like Google My Business, Yelp, and Facebook, and if the feedback is generally positive, the conversion is likely.
Does website design impact SEO?
Site speed and user experience are known ranking factors, so a website's design will absolutely impact its SEO. Roofing Webmasters designs each website with SEO in mind and uses codebase that helps communicate the content of the site to Google and reach relevant users who are in need of your services.
Are your roofing websites designed for mobile?
Yes. Each of our website designs incorporates Responsive Web Design which is recommended by Google and allows for the site to display optimally across all devices (mobile, desktop, tablet, etc.). Our primary focus is on mobile design because the vast majority of website visitors will be entering through a mobile device.
How do I judge the quality of website design?
The appearance of a website is important, of course, but it is not the only indicator of a quality website design. For a site to really become valuable to your roofing business, it must appear on search engines for relevant keyword terms. This is only possible if the design is optimized for site speed and marked up with schema code.
How Great Roofing Website Design Can Increase Your Business
Your roofing website can be one of your greatest marketing assets. With proper planning, implementation, and design, your roofing website can generate leads, build a loyal customer base, and present affordable, measurable marketing opportunities. The Roofing Webmasters team works with you to create a user-friendly website that gets your roofing company noticed. Each website we design has a deliberate objective of generating exclusive roofing leads for contractors and companies.
Many of the advertising channels once used to attract roofing customers have been rendered obsolete by advancements in technology, and consumers' great migration towards online searches. In past years, roofers did well in the construction industry without a website. But, in today's landscape, an absence of an online presence is the fastest way to lose valuable customers. Having a great roofing website design helps with:
Roofing Brand Development: A website serves as the anchor for your roofing company brand and its services
Client Conversion Rate Optimization: Visually appealing websites are proven to increase conversion rates by enhancing user experience.
Decreased Bounce Rate: Engaging websites discourage immediate exits by improving the viewers' experience, and therefore decrease bounce rates
Search Visibility: Technical design website elements play a key role in search rankings
Because your roofing website is a direct reflection of your company, delivering trustworthiness, reliability, and authority is imperative. Webmasters agree that your roofing site's design is a great way to communicate these values and qualities. The Roofing Webmasters design team creates a customized roofing website for each client, utilizing the WordPress content management system, and integrating logos, images, videos, and audio. For contractors looking to increase online conversions, look no further than Roofing Webmasters. We value our relationship with each customer and work hard to help ensure that your roofing website is productive, getting your company more exposure and roofing leads.
Website Design Services for Roofing Companies
While performing web design for roofers, our team focuses on central components like visual appeal, consistency, navigation, and usability. These elements determine a website's functionality, and subsequently how it's perceived by users. The Roofing Webmasters web design team values a well-rounded online presence, and that principle extends to our design process. Some of our specific website design services include: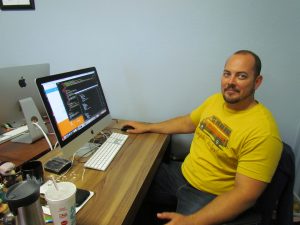 While they often look appealing and stylish, template websites typically lack the unique coding and styling features that Google prefers. Roofing Webmasters' never uses stock designs or templates when designing your roofing website. We believe that unique web design and optimization are the basis of a great roofing website that dominates in Google SERPs and other search platforms. Although many digital marketing companies provide roofers with pre-made websites that are ready to be published, they lack SEO potential and fail to engage users through visual stimulation. We work with our clients to provide a unique experience for your viewers and offer proofing periods so you can rest assured that your roofing website is exactly what you're looking for. We won't publish your website until you are satisfied with it both practically and aesthetically.
Roofing Webmasters understands that the roofing industry is a bottom-line business, and we are mindful of that throughout our design process. The foremost goal of your roofing website is to generate leads through online channels. Our emphasis on mobile design and usability encourages smartphone users to connect directly with your office line through click-to-call functionality. With website coding, we are able to embed phone number buttons directly on your main website. This way, a local smartphone user is one click away from a connection with your office. The Roofing Webmasters team never uses unethical, or "black hat" techniques to earn quick boosts. Instead, we apply effective methods and qualities that gain lasting, long term results.
Call (800) 353-5758 For Roofing Website Design Services