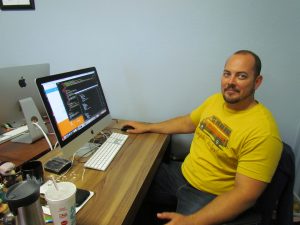 An effective roofing website includes quality content and search engine optimization. But one aspect of a website that cannot be underestimated is its design. Website design plays a major role in a consumer's decision to invest in your services, or not to. Engaging design elements have multiple affects on internet marketing. First and foremost, an engaged user is more likely to complete a call to action, which can lead to a sales conversion. Secondarily, user engagement improves website performance metrics, which signal to Google that your ranking should be increased. The following design elements determine the engagement level of a website visitor:
Accessibility: How easily a website can be accessed across multiple devices
Appearance: How visually engaging a website is based on graphics and other designs
Font / Text: How readable web content is based on font choices and text formatting
Navigation: How easily a user can navigate a website on mobile, tablet, and desktop
In today's very digital world, a company website is a prominent representation of the business it represents. Most consumers will find your roofing service through Google search queries, and form a first impression based on website presentation. Impressing visitors initially doesn't guarantee a conversion, but it completes a very important step in the conversion process. After visiting your site, most users will research its credibility on review platforms like Google My Business, Yelp, and Facebook, and if they corroborate its initial impression, a conversion is very likely. Call (800) 353-5758 for roofing website design.
How Roofing Websites Promote Business
Roofing companies aren't investing in web design just for the sake of it. They have a clear objective to generate more leads. Roofing Webmasters aligns your company goals with our marketing services. Each website we design has a deliberate objective of generating exclusive roofing leads for contractors and companies. Many of the channels once used to secure customers have been rendered obsolete by advancements in technology, and consumers great migration towards devices which support it. Roofers may have stayed afloat without a website 10 or 20 years ago, but in 2018, an absence of online presence is the fastest way to bankruptcy. Advantages to roofing website design include:
Brand Development: A website serves as the anchor for your roofing company brand
Conversion Rate Optimization: Visually appealing websites increase conversion rates
Decreased Bounce Rate: Engaging websites discourage immediate exits, and therefore decrease bounce rates
Search Visibility: Technical design elements play a key role in search rankings
Because a website is a reflection of the company it represents, projecting the qualities of trustworthiness, reliability, and authority is imperative. So how can those qualities be captured through design? Leave it to the design team at Roofing Webmasters. Our designers create a custom website for each client, utilizing WordPress content management system, and integrating logos and pictures provided by the customer. With years of experience crafting successful roofing websites, our design team is expectedly acclaimed. For contractors looking to increase online conversions in 2018, look no further than Roofing Webmasters. We value our relationship with each customer, and consult with them in compliance with their marketing vision.
Website Design Services for Roofing Companies
For the duration of the design process, our team focuses on central components like; visual appeal, consistency, navigation, and usability. These elements are ultimately what determine a website's functionality, and subsequently how it's perceived by users. Roofing Webmasters values a well rounded online presence, and that principle extends to our design process. Some of our specific website design services include:
Roofing Webmasters' refrains from the usage of stock templates when designing websites for our clients. We believe that each roofing company is unique, and should have a customized website that represents their brand and identity. It's not hard to find digital marketing companies who will equip roofers with pre-made websites, ready to be published. The problem with them is that they lack SEO potential, and fail to engage users through visual stimulation. We view our marketing agreement as a partnership, which is why we allow clients to preview websites before launch, in case any changes are recommended. We won't publish your website until you are satisfied with it both practically and aesthetically. We understand that the roofing industry is a bottom line business, and we are cognizant of that throughout our design process. The foremost goal of your website is to generate leads through online channels. Our emphasis on mobile design and usability encourages smartphone users to connect directly with your office line through click to call functionality. With website coding, we are able to embed phone number buttons directly on your main website. This way, a local smartphone user is one click away from a connection with your office! We'd also like to stress that we never compromise the long term sustainability of your site for a quick traffic boost. We believe in a long term plan that will sustain success over time.
Call (800) 353-5758 For Website Design Services For Roofers