Roofing Webmasters offers comprehensive website design services for roofing companies throughout the United States.
Our agency, founded by Nolen Walker, employs some of the top website designers in the roofing industry, including our creative director, Jason Landry.
---
---

Roofing Webmasters has designed thousands of websites over the past decade, and our clients have reaped the rewards of custom designs, optimized code, schema markup, and effective user interfaces.
We invest in top-quality website designs because they are required for digital marketing success.
---
An effective roofing website includes quality content, roofing SEO, and a compelling and unique design.
A website's design plays a significant role in a consumer's decision to invest in your services or look elsewhere. Engaging website design elements have multiple positive effects on internet marketing.
---
Does website design impact SEO?
Site speed and user experience are known ranking factors, so a website's design will absolutely impact its SEO. Roofing Webmasters designs each website with SEO in mind and uses codebase that helps communicate the content of the site to Google and reach relevant users who are in need of your services.
Are your roofing websites designed for mobile?
Yes. Each of our website designs incorporates Responsive Web Design which is recommended by Google and allows for the site to display optimally across all devices (mobile, desktop, tablet, etc.). Our primary focus is on mobile design because the vast majority of website visitors will be entering through a mobile device.
How do I judge the quality of website design?
The appearance of a website is important, of course, but it is not the only indicator of a quality website design. For a site to really become valuable to your roofing business, it must appear on search engines for relevant keyword terms. This is only possible if the design is optimized for site speed and marked up with schema code.
---
Roofing Web Design Portfolio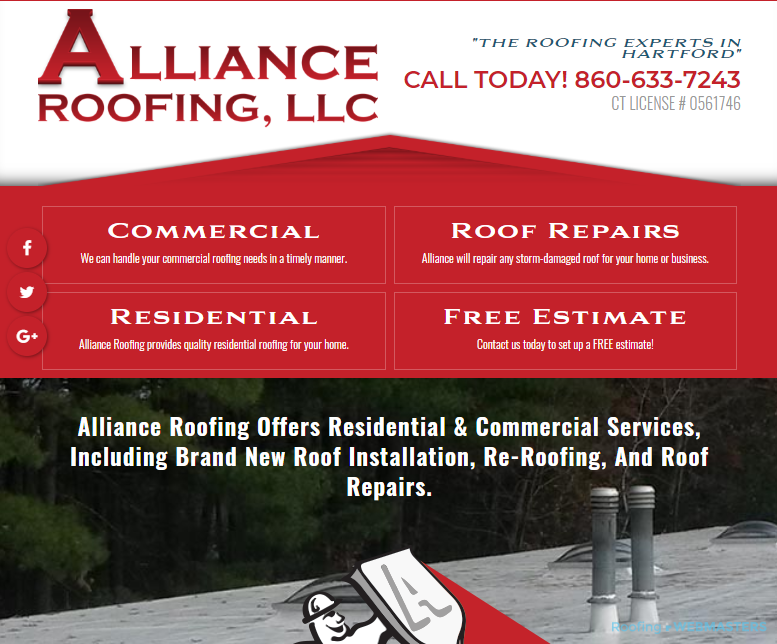 ---
Roofing Web Design Elements
Successful roofing websites feature several common but integral elements. Visitors of these websites urgently take swift and decisive action, like clicking the phone number button with click-to-call functionality.
Similarly, the visual design elements of these sites foster a positive user experience while properly reflecting the brand's local authority. Let's take a closer look at the web design elements below:
---
---
Call To Action (CTA)
For roofing websites specifically, the call-to-action represents the most critical component of your website. Users must easily access your contact information, preferably via click-to-call functionality.
Your site should also provide alternative contact methods, including a contact form or live chat feature for roofing prospects.
---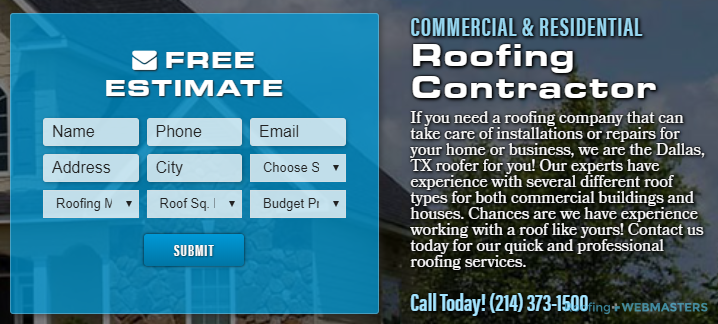 Effective CTAs stand out within your design and attract the attention of visitors.
---
Navigation
Nothing increases bounce rates more than poorly designed navigation. Make no mistake; visitors will leave a website with complex navigation. As attention spans grow shorter and expectations increase, clean website navigation becomes mandatory for all websites.
---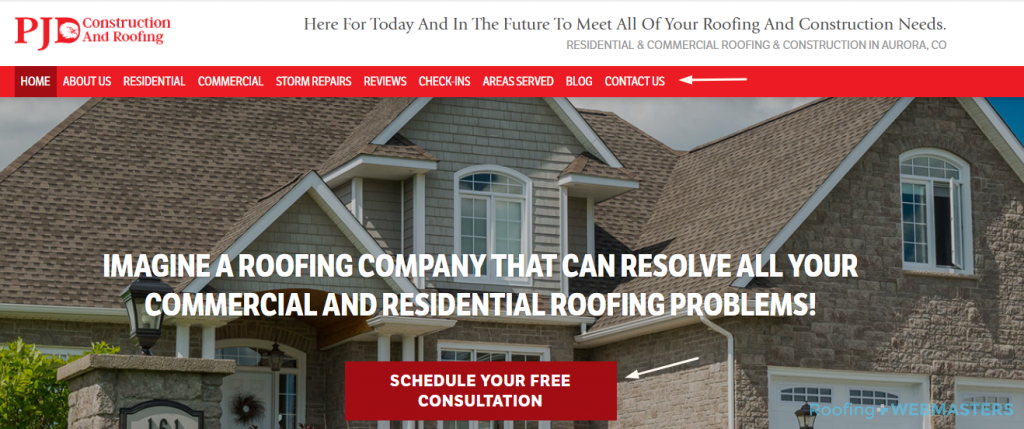 Roofing companies, in particular, must pay close attention to their site's navigation, as it can be the difference between a quality roofing lead and an exit.
---
Mobile Accessibility
According to most reports, over 55% of internet activity comes from mobile users. Drilling down to the roofing industry specifically, that percentage is even higher. The reality is simple: most website visitors access the site through their mobile devices.
Your website's mobile accessibility is even more pivotal than on desktop. Mobile navigation is an even more significant challenge than usual, and your website must exceed expectations.
---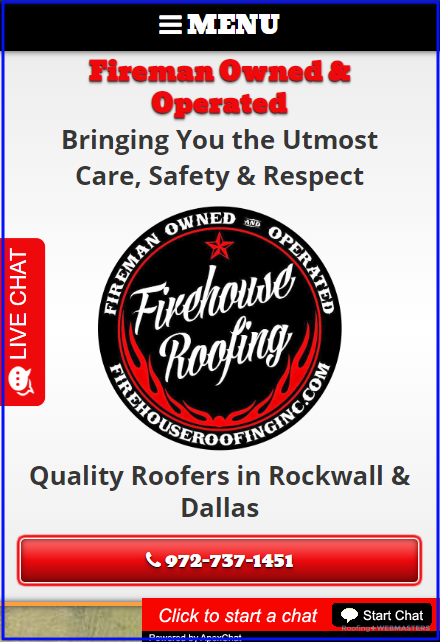 Mobile users must conveniently and seamlessly navigate your website, submit contact information, or connect to a phone call.
---
Coding
Websites are made up of a codebase that impacts their appearance and performance. Since code is not something you see on the front end, you may not value its importance. But the codebase directly impacts your website's success and failure.
For example, template-based themes often have a clunky codebase that invites hackers and slows downloading speeds. Additionally, they may lack SEO-friendly elements, including schema markup.
---
Schema markup is a microdata language that helps communicate your website to search engines.
---
Site Speed
Your website's speed is critical for two primary reasons. First, users leave slow websites in less than 3 seconds. Secondly, Google's latest page experience update raises your site's performance standards. Lagging speeds may now cost you both customers and search rankings in 2023.
You can measure your site speed using GT Metrix and other free tools. Roofing Webmasters utilizes WPRocket for each client's website, ensuring maximum site speed for our roofers.
---
---
Branding
An underrated aspect of web design for roofers is branding. You might think branding is a vague or unfamiliar concept in a web design context, but the truth is that your site represents your brand entirely.
Your color scheme and logo should match your truck wrap and marketing materials, and your photos should showcase your team favorably.
---

Roofers who throw up a template theme with stock photos fail to properly brand their roofing website and lose customers and rankings as a result.
---
Website Design Company for Roofers
Roofing Webmasters is the top-rated website design agency for roofers throughout the U.S. We've designed over 300 custom roofing websites, each with an SEO-friendly codebase, schema markup, and custom themes.
Our design team consists of the top designers in the industry, each paying special attention to SEO elements.
---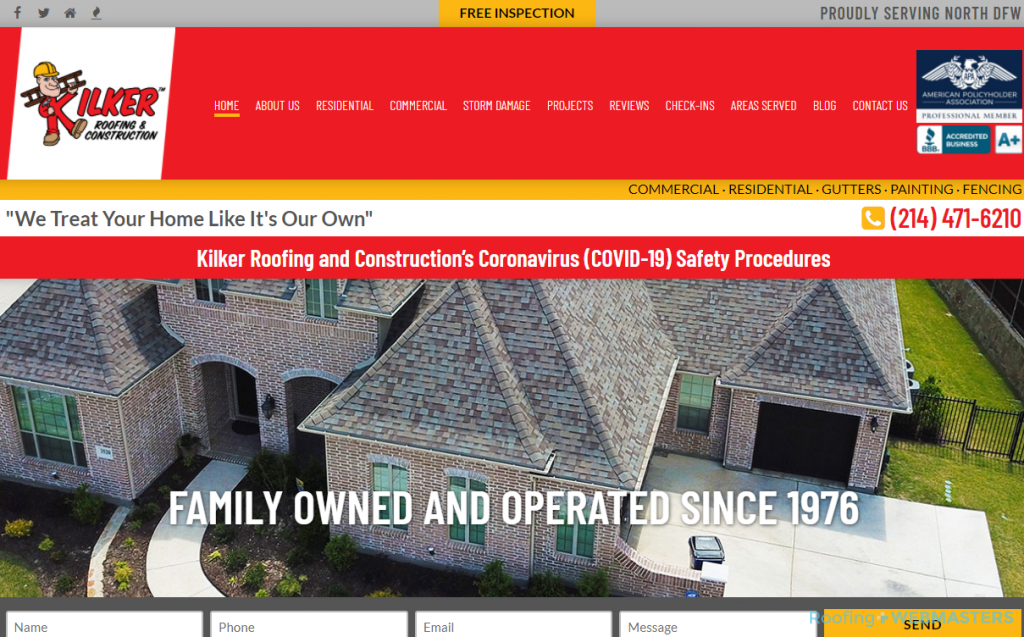 At Roofing Webmasters, our in-house website builder is crafted specifically for the needs of our customers.
---
As an agency focusing on roofing companies, we have data to support design elements that generate roofing leads. While every industry is different, roofing contractors know the importance of lead generation.
With more than a decade of experience in digital marketing, Roofing Webmasters delivers the ultimate website design for roofers. We look forward to working with your company and crafting your ideal online representation.
---
Free Web Design Consultation
Fill out the form below for a free website design consultation from Roofing Webmasters.
---
---
---