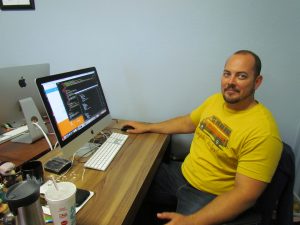 A great website includes a number of SEO components; this can include content, mapping, link building, and more, but one of the most critical SEO components to a roofing website's success is high-quality website design. You might not typically associate design with search optimization, but website design plays a big part in whether a consumer chooses your service or not. A website with superior design elements is more likely to engage potential customers and therefore appeal more to search engines. While it might seem shallow, the following elements play an important in converting a website visitor into a paying customer:
Accessibility: How easily a website can be accessed across multiple devices
Appearance: How visually engaging a website is based on graphics and other designs
Font / Text: How readable web content is based on font choices and text formatting
Navigation: How easily a user can navigate a website on mobile, tablet, and desktop
With aesthetically pleasing design, your roofing website will seem more reputable and authoritative, making your online presence that much more appealing to consumers. If you are a roofer who is in need of SEO website design, Roofing Webmasters is here for you. Our team of professional web designers are able to create websites with superior design elements that will rank well on search engines, attract new clients, and generate more sales. With our exceptional web design skills, we develop roofing websites that not only appeal visually to customers, but also improve online visibility, as well. Are you ready for superior SEO website design? Call Roofing Webmasters today at (800) 353-5758.
How Roofer Websites Promote Business
How does SEO website design translate to success for your roofing company? Visual appeal leads to higher conversion rates! SEO elements like content, social media, mapping, and linking are important, but they cannot reach their full potential without proper web design. Think of your website as a virtual storefront for your roofing company. If your physical building looks unreliable, dirty, or outdated, customers are unlikely to step inside, regardless of how good the products might be. The same goes for web design. With professional SEO website design, your website will leave a positive and lasting impression on customers. Other advantages of professional website design include:
Brand Development: A website serves as the anchor for your roofing company brand
Conversion Rate Optimization: Visually appealing websites increase conversion rates
Decreased Bounce Rate: Engaging websites discourage immediate exits, and therefore decrease bounce rates
Search Visibility: Technical design elements play a key role in search rankings
Effective website design is imperative because it serves as the first impression of your roofing company in the digital space. Because your website is a reflection of your roofing company, it should present as trustworthy, reliable, and authoritative. A great website experience leads consumers to recommend your services to friends and family, driving traffic and sales to your business. Our design team is acclaimed in the roofing industry for our SEO website design services. If you're looking to improve search engine rankings, increase relevant traffic, and optimize conversion rates, call Roofing Webmasters today at (800) 353-5758.  Our team of web designers has years of experience and is uniquely qualified to build an amazing roofing website with cutting edge SEO elements.
SEO Website Design Services for Roofing Companies
During the design process, our team focuses on the central design components of visual appeal, consistency, navigation, and usability. These elements are important to web design and ultimately determine the effectiveness and success of a website. In addition to the aforementioned central components, there are other design services we offer to provide your roofing website with a well-rounded look and feel:
The design team at Roofing Webmasters never uses templates to create your roofing website. All SEO website designs are created specifically for individual customers and are tailored to reflect your company's brand and values. While other internet marketing companies might advertise custom roofer websites, they are often times using pre-made design templates. At Roofing Webmasters, we pride ourselves on designing true custom websites, and for less money than what template websites cost. We even allow customers to preview their website's design before committing to our services, which illustrates the faith we have in our design team. If you end up choosing us, you ensure your website is constructed using the Google recommended responsive design approach, which will allow it to present optimally across all devices. Because our optimization services are continuous, we perform monthly maintenance in the form of coding updates that account for changes in Google algorithms and other internet marketing variables. Our goal is to produce long-term results and sustainable rankings on search engines. Are you ready to turn your roofer website into a money maker in 2018? Call us today at (800) 353-5758 for SEO website design for your roofing company.