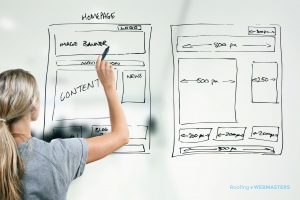 A great website includes a number of SEO components; this can include content, mapping, link building, and more, but one of the most critical SEO components to a roofing website's success is high-quality website design. It might not seem like a huge SEO element, but website design plays a big part in whether a consumer chooses your service or not. A website with more website design elements is less likely to get a sale. This could seem shallow but website elements like appearance, navigation, and accessibility are important in order to catch the attention of a potential client. With website design that is aesthetically pleasing, your roofing website will seem more reputable and authoritative, making your online presences that much more appealing to consumers. If you are a roofer who is in need of SEO website design, the Roofing Webmasters are here for you. Our team of professional web designers is able to create a website with the proper design elements that will rank you higher in the search engines, improve your client base, and generate more sales. With our exceptional web design skills, we will develop a roofing website that is not only visually appealing to customers, but can improve your online visibility, as well. Are you ready to get superior SEO website design for you roofing website? Call the Roofing Webmasters today at (800) 353-5758.
Roofer Website that Promotes Your Business for You
So how is SEO website design supposed to gain more success for your roofing company? As stated before, the way that your website looks is the determining factor for potential customers. You can have all the essential SEO components like content, social media, mapping, linking, and website design will still be the component that brings in customers. Effective website design is imperative because it is the first impression of your roofing company. Think of your website as a virtual storefront for your roofing company. If a physical storefront where to look unreliable, dirty, or outdated, you probably would agree that customers are more likely to pass you by; the same thing goes for website design. Because your website is a reflection of your roofing website, it is important to have a website design that seems trustworthy, reliable, and authoritative. With professional SEO website design, your website will have the correct SEO website design elements that will have a great lasting impression on customers.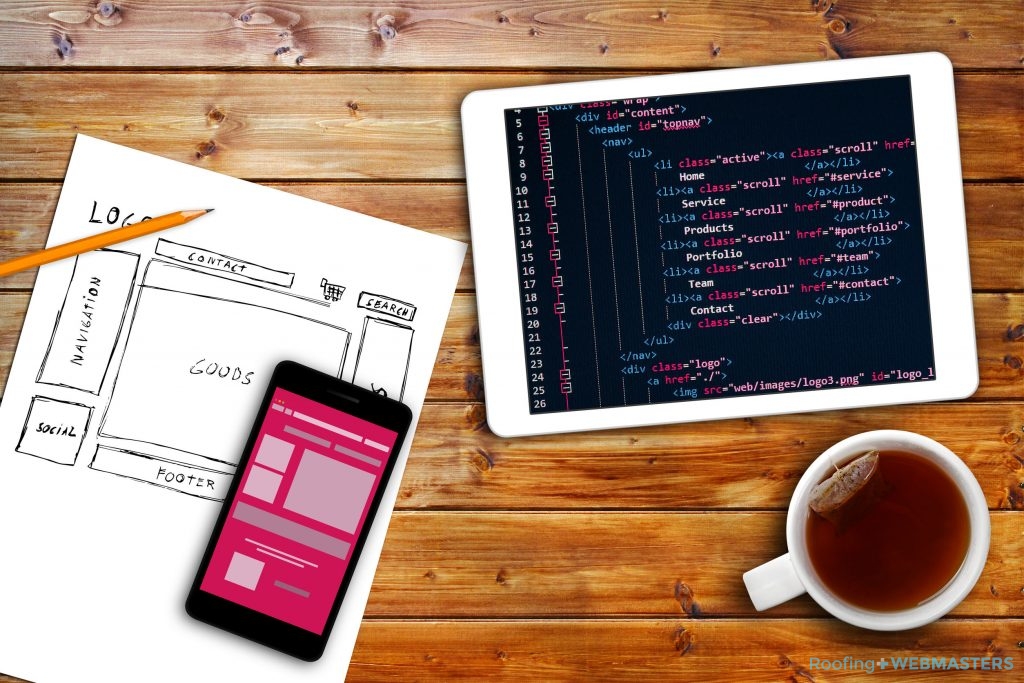 In addition to SEO website design is essential to building a better customer base, there are other advantages to having SEO website design implemented from a professional web designer.
Help grow your company's brand: Branding is important in regards to how consumers will perceive you. With website design, you are able to have a more consistent brand and easier for consumers to recognize you.
Improvement in sales: Because a well-designed website will keep consumers around for a lot longer, there is an increased chance you will have more sales.
Higher rankings in search engines: Regardless if you have great content and other SEO components, if your website design is outdated, you won't rank as high in the search engines.
Usability keeps customers coming back: If you have a website that looks great but customers aren't able to navigate the website, they will leave. Web design that focuses on usability will improve the chances of customers coming back.
More recommendations: A great website experience will lead consumers to recommend your services to friends and family, driving traffic and sales to your business.
Our design team is able to turn these factors into realities with our SEO website design services. If you are ready to improve your search engine ranking, increase customer traffic, and boost sales, call the Roofing Webmasters today at (800) 353-5758 for a team of designers that has the years of experience to build an amazing website with SEO website design services for your roofing website.
SEO Website Design Services for Roofing Companies
When designing your roofing website, our design team will focus on central design components which are a visual appeal, consistency, navigation, and usability. These elements are important to web design because they are what make website design so effective and successful. In addition to building a site using SEO website design services, there are other design services we offer in order to give your roofing website a well-rounded look and feel.
Logo Design With creative logo design, customers are able to remember your business more clearly. Our logo design will be able to incorporate your company's brand and stand out from competitors.
Responsive Design In order to view your website smartphones and tablets, you need responsive design. We provide responsive design at no additional cost to our roofers, so their customers are able to view their web pages a lot better online smartphones.
The design team at Roofing Webmasters will never use templates to create your roofing website. All SEO website designs are created specifically for individual customers and are tailored to reflect your company's brand and values. While other SEO and internet marketing teams might provide their customers with website design templates, we pride ourselves on being a design team that custom websites for less than what template websites cost. We even present our customers with website designs before we begin with our SEO strategy, which will cost nothing for our customers. Because we want to keep optimizing your website continually, we provide monthly services such as coding updates, so you are able to get the long-term results and rankings on search engines. Are you ready to turn your roofer website into a visually pleasing website? Call us today at (800) 353-5758 for SEO website design for your roofing website.