SEO & Internet Marketing for Roofing Companies
Search engine optimization, or SEO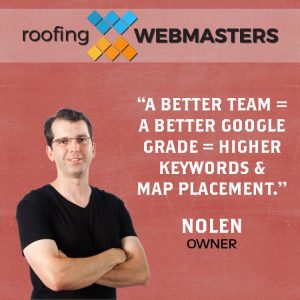 , is a resource that is used to develop your online presence and gain more visibility and rankings in search engines like Google, Yahoo, and Bing, that will help beat out the competition. Using SEO for Roofers is a vital internet marketing tool that maximizes your online recognition and client traffic, as well as increase sales on your website. Roofer SEO is comprised of several practices from writing creative and unique content, to link building, and even superior web design. When these elements work together, it makes it easier for search engines to crawl and index, enabling them to boost your website for better search engine ranking. With the careful integration of SEO strategies on your roofer website, you will start appearing at the top of organic search results for the appropriate roofing keywords and benefit in these ways
Improvement In Customer Traffic: With organic search engine optimization, you will be able to see an incredible increase in traffic to your website.
Better ROI: Online marketing can be expensive, but SEO management can give you a better ROI because we can track every aspect of your website's performance.
Easier Navigation: Because an SEO campaign focuses on website design, we can ensure your website is easier for customers to use and search engines to crawl.
Increased Brand Awareness: Your roofing website can gain more exposure online when it is at the top of the search engine results due to excellent roofer SEO.
Our professional team of writers, web designers, and coders at Roofing Webmasters have the knowledge and skills from years of working with roofing companies just like you. You will not only get superior roofer SEO and online marketing from SEO consultant experts, but your web presence and client base will increase. You'll have original and authoritative content, exceptional web design, outstanding coding, and other indispensable roofer SEO components that will fully optimize your roofing website and help you expand your company's online success.
Essential Roofer SEO For Your Company's Online Success
We live in a time where the internet is an integral part of our daily lives. We use it to find out more about a product, catch up on the news, and even research businesses. When a homeowner needs their roof repaired or replaced, they go straight to their computer or smartphone to search for the nearest roofer. Because of the dozens of roofing contractors in your area, you will want to get the greatest results on search engines like Google and Yahoo. So how can you make this happen when there are other roofing websites providing the same services in your area and are trying to do the same thing? The answer is SEO. Roofer SEO and internet marketing for roofing companies is a fundamental tool that will help increase your roofing website's visibility, sales, and business. Because exceptional roofer internet marketing is crucial to your roofing company's success, it's important to have a roofer SEO and online marketing company that can take you to the top and the Roofing Webmasters is able to do that with search engine optimization techniques and roofer internet marketing services.
Better Success for Your Company with Online Marketing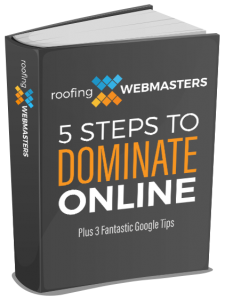 Increase your SEO and roofer internet marketing with the Roofing Webmasters guide to the 5 Steps To Dominate Online. This eBook will transform not only your website but also your roofing company. Download the free 5 Steps PDF.
Perfect Content Gives You Better Search Engine Rankings
Writing the perfect content is not only important to appealing to customers but also to rank higher in search engines. With the How To Write Perfect Content eBook, you are able to have better content online. Download the free Perfect Content PDF.
The Top 50 Most Searched Roofing Keywords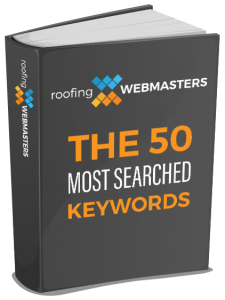 Roofing keywords are essential to getting superior search engine optimization. The Roofing Webmasters The 50 Most Searched Keywords, will be able to target keywords that bring greater visibility online. Download the free 50 Keywords PDF.
Emphasis On Conversion Rate with SEO for Roofers
Proper SEO techniques for roofing websites are able to strengthen a roofing company's brand, as well as enhance rankings in search engine results. In addition to more visibility in search engines, the Roofing Webmasters will also get you more than just clicks on your roofing website. While a lot of clicks can be a good thing, if they don't translate to new clients, it won't be very useful to your business. Roofing Webmasters not only wants to focus on search engine optimization that gets more traffic for your website but also emphasize on conversion rate optimization. Conversion rate optimization is an essential to your internet marketing plan that when done properly guarantee a number of benefits such as
Increase Traffic: When focusing on CRO for your roofing internet market strategy, we are able to increase your website's customer traffic.
Beating Competition: One of the goals of SEO it to outshine the competition and CRO is a very good tool in that regard.
Customer Data: CRO is a great way to find out more about customer habits and what they like
Growth in Revenue: CRO can help you identify what is and isn't working with your Roofing SEO strategy, the can help increase revenue over time.
Avoids Customer Loss: The roofer internet marketing we put in place is meant to attract customers and keep them staying, which is possible with CRO.
The Roofing Webmasters will utilize both roofing SEO and CRO that helps generate more customers and business for your company. With our roofing internet marketing, we not only focus on how to improve search engine ranking, we also aim to increase online visibility, improve customer traffic, and boost sales leads with SEO tactics and ROI. 
The Best SEO and Roofer Internet Marketing
When your roofing company needs the best SEO and roofing internet marketing services, you can count on the experts at Roofing Webmasters. We are professional roofer contractor SEO consultants that are dedicated to providing services that will help your roofing website succeed in every area from content, web design, PPC, and other organic SEO tools. These online marketing tools can give your roofing website higher rankings in search engines like Google. In order to get better results and appeal to Google, we follow the Google Webmaster Guidelines; The guidelines ensure we use the best SEO practices to optimize your roofing website.  Because of these quality guidelines, we don't just put the website together and leave it to do its thing; we provide regular maintenance to your website that will keep you connected to new and current clients. This includes
Monthly Blog Posts: We ensure that you have new content generated your roofing website with a monthly blog post.
Social Media Management: Your Facebook, Twitter, and other social media platforms will be regularly updated and will engage with potential and current customers.
Link Building Strategy: We build links that will drive customers to your website and also focus on building better online directories.
Website Design Updates: We sure all of the codings on your website continues to make your website easier to navigate and visually pleasing.
Continual SEO Keyword Research: With the Google keyword tool, we are able to perform ongoing roofing keyword research that will continue to drive traffic to your website.
We also focus on other organic SEO services to keep your website in tip-top shape and in the top results on search engines with our monthly online marketing services. An optimized roofing website with high-quality roofer SEO services is able to earn you more return on your investment than other roofing internet marketing techniques. Are you ready to increase your online presence, gain more clients, and boost sales with roofer SEO and online marketing services? Call our roofer SEO consultants at (800) 353-5758 to get the long-term results you deserve.
Work with the Best
Why Work with the Roofing Webmasters?
It's hard to choose an SEO company when there are a ton of companies out there who claim they are the best. So why choose us? Because we are committed to sending clients to the top of the search engines that will give you long-lasting results. Having proper SEO techniques are important if you want your roofing website to succeed; SEO is complex and can take time, but when done correctly, can bring you more clients and sales for months and years to come. With years of experience in the roofer SEO field, we pride ourselves on being an honest and quality search engine optimization company that creates roofing websites that are able to boost rankings, help your online presence, and gain more client traffic.
We Help You Reach the Top
We will never take shortcuts when it comes to getting you to the top of search engines. We do this by providing roofer SEO practices from our dedicated and skilled Roofing Webmasters team.
Monthly Work On Your Website
Choosing Roofing Webmasters means choosing a company that will continually work on your website from month to month. We provide monthly services like monthly blog posts, social media management, and more!
Years Of Experience with Roofing Companies
It's important to rely on a roofer SEO company that has years of experience under their belt, and luckily, With the combined skills and knowledge of our Roofing Webmasters team, we are able to provide SEO and online marketing tips that will get you to the top of the search engines.
Focused On Client Relationships
It has always been our priority to work with locally owned roofing companies and helps them reach the top of the search engines. Roofing Webmasters was established for the sole purpose of turning dreams into realities and we will ensure your dreams are achieved with roofer internet marketing and SEO tactics.
Call the professionals at Roofing Webmasters today at (800) 353-5758! We would be happy to give you a free consultation to show you why we are the best SEO company for your roofing business.
The Fundamentals
The Fundamentals of Roofing SEO
When it comes to proper SEO, you should never cut corners. At Roofing Webmasters, we are here to provide quality roofer SEO and internet marketing to get your roofing company to the top. We do this with hard work and focusing on every component of your website using fundamental SEO techniques. These are the important search engine optimization that we are committed to providing our valued customers.
We don't stop after we finish creating your site. We are committed to ongoing website upkeep that will continue to help your website optimize long after it's launched.  Invest in your company today and call us at (800) 353-5758. We are ready to help take your roofing website to the next level.
How It Works
How To Get Started with the Roofing Webmasters
Are you ready to land your roofing website in the top results? Getting started with the Roofing Webmasters is super easy. We know that you are very busy and we don't want to waste any of your time, which is why we make the process as smooth as possible.
Call the Roofing Webmasters
First, you will want to call us at (800) 353-5758. We offer a free consultation where you can tell us what you want and how you want your business to grow.
Tell Us About You and Your Company
Your website is your brand and we want to ensure your web presence not only optimizes for the best roofing keywords but shows consumers who you are and what you are about. We are happy to hear your ideas and take any suggestions, after all, it is your roofing website.
Establish Your Online Presence with SEO Elements
Our expert roofer SEO team will develop a website, add rich and authoritative content, and enhance the site even further with SEO and roofer internet marketing techniques like coding and social media to build your web visibility.
Begin Launching Your Roofing Website
You will have a chance to look at the site before we launch, so you know what to expect before it hits the web. Once the site goes live, we will immediately start tracking your results through analytics.
We Continue to Grow Your Website
When the website is finished, we won't stop there. With continual work, we are able to make any changes, monitor your site, and get long-term results.
We are ready to work with you and get your website to the top of the search results! We are detail oriented and guarantee that we will provide the best roofer SEO service imaginable. Give us a call today at (800) 353-5758 to start your free consultation!
Why wait? Call us today at (800) 353-5758 to start optimizing your roofing website immediately. We are a team of professional individuals that are eager to grow your brand, boost your online presence, and get more clicks and calls for your business. Invest in your roofing company and you will see results that will last for years to come. Get in touch with the Roofing Webmasters today and change your online presence for the better!
We serve the entire United States and are ready to get your website optimized with our team of SEO roofer professionals. Call (800) 353-5758!