What is SEO for Roofers?
Search Engine Optimization (SEO) is the process of influencing web content to satisfy search engines' criteria, specifically that of Google. The objective of SEO is to improve ranking and visibility on search engine results pages (SERPs). That being said, it's important to note that SEO refers to the process itself, rather than its outcome.
The Elements of SEO for Roofing Companies
Roofers should exercise SEO in efforts to improve their company's search rankings and visibility. Because optimization encompasses a series of adjustments rather than a singular action, it can take considerable time to execute. Furthermore, SEO is not a one-time assignment, but is instead an ongoing process that adapts to external variables. SEO will involve each of the following components, at one point or another:
Business Information / Location
Content Development
Directory Listings
Image Files
Link Building / Earning
Meta Titles / Descriptions
Online Reviews
Social Media
Website Design (CSS, HTML, etc.)
Search optimization is exercised progressively, and its impact is similarly gradual. After completing SEO tasks, don't expect to see immediate results. Google and other search engines establish trust with web pages over time and after repeated exhibitions of their respective values. With this in mind, consistency is one of the most enviable qualities of a website. You'll find that high-ranking roofing websites have illustrated consistent excellence through optimization. Call (800) 353-5758 to learn more about SEO for roofers.
Roofing SEO and Its Impact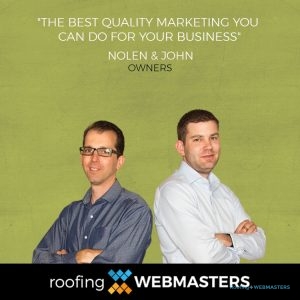 If engineered correctly, roofing SEO can multiply a company's lead generation rate. Roofers new to online marketing have a lot to gain by establishing an online presence, and with more digital representations of your business, more SEO opportunities become available. In 2018, all roofers have some online representation, even if they are unaware of it. Data aggregators collect company information from public records, and disseminate it to internet directories. Optimizing your online presence for search can have the following impact
Brand Development: Exhibition of brand name, logo, and ethos for public consumption
Lead Generation: Multiplication of the rate at which leads are generated
Return On Investment: Profit from a website that costs money to host
Search Visibility: Improved position on SERPs for relevant search queries, both qualitatively (rank position) and quantitatively (number of results)
For contractors who've already established an online presence, but have failed to generate the expected number of leads, a refinement of your optimization process might help. Regardless of if you handle SEO on your own, or outsource it to a 3rd party, there's always measures that can improve your results. Finding a company that handles roofing SEO specifically might be a good place to start, as more generalized marketing firms tend to have macro-level approaches that are less tailored to the roofing industry. Sometimes minor adjustments can have a major impact.
Discover The Simplicity of Roofing Internet Marketing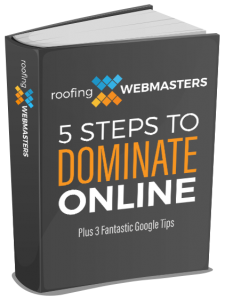 Improve online presence with the Roofing Webmasters' guide to the 5 Steps To Dominate Online. This eBook details areas of focus each roofing contractor should identify. With so much information available online, it's easy to become sidetracked and to venture down unnecessary paths. Simplify your online marketing strategy by cutting out empty concepts and honing in on functions that actually influence lead generation. By setting measurable goals, progress is more efficiently tracked, and adjustments can be made in real-time. Our decades of experience marketing on behalf of roofing contractors is condensed into 5 can't-miss steps to online domination. Each step is tailor-made for roofing companies and contractors, eliminating notional ambiguity. Download the free 5 Steps PDF.
Learn To Develop High Quality Web Content
Great content influences target customers and search engines alike. With the How To Write Perfect Content eBook, roofing companies can out-class competitors. As it stands, the majority of industry websites lack quality content that engages readers and encourages consumers to take action. With this in mind, great opportunity exists for contractors and companies looking to grow their business through online marketing. In this book, Roofing Webmasters details the content creation process, step-by-step, and offers guidance to contractors looking to implement these strategies onto existing websites. As Google evolves to better suit their users' needs, the emphasis on engaging and valuable content will become even more pronounced. Download the free Perfect Content PDF.
Top 50 Roofing Keywords By Search Volume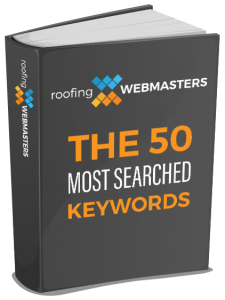 To reach search engine users, you must know what they're searching for. Roofing Webmasters' The 50 Most Searched Keywords eBook outlines the most frequently searched roofing keywords. Use this book to strategically integrate commonly-searched words within your websites' content. Refrain from "stuffing" these keywords through unnatural usage or redundancy. Terms can be implemented not only within paragraph text, but within title and meta tags, as well as headers and meta descriptions. Also, don't forget the image alt text, where a naturally placed keyword can give a page the extra boost it needs to outrank competitors. Each term and phrase in this book is applicable to SEO for roofers, dispelling worry about appropriate integration.  Download the free 50 Keywords PDF.
Evolving With The "SE" in SEO
The most common misnomer about search engine optimization is that it's governed by steadfast rules. There's no hard and fast criteria for optimizing a web page, social profile, or any other piece of web content. Why? Because SEO is a dependent methodology. The "O" in SEO stands for optimization, and it is 100% dependent on the "SE," which stands for; search engine. So what does that mean? It means that to rank prominently on Google SERPs, you have to follow Google's rules, not what somebody wrote on his or her website, or what some marketing professional told you over the phone. Abiding by Google's rules and preferences requires adaptation and fluidity. The criteria Google used to determine rankings 10 years ago, is far different than the one they use today. As of Q3 2018, Google provides the following resources:
While Google stops short of listing ranking factors by algorithmic percentages, they detail clearly and extensively how to optimize your web presence. For local businesses like roofing companies, their guidance is expanded even further when describing how to improve your local ranking on Google. To elaborate on what we referenced earlier, business information and location data will be critical to local SEO, which will be responsible for the vast majority of roofing leads acquired through organic search. Contractors new to digital marketing can become overwhelmed quickly by the information provided by Google and others. Combining an influx of data with a full-time roofing schedule can spell disaster in many cases. Roofing Webmasters offers internet marketing services for roofers which can alleviate the burden imposed by a dynamic digital landscape.
Roofer SEO Concepts for Contractors
There's absolutely such a thing as information overload, and it can manifest quickly with SEO. With so much to sort through, migraines await for roofers planning to cram. Our goal at Roofing Webmasters is to simplify search engine optimization, and there's no more effective way to do so than with categorization. By separating SEO into several categories, roofing contractors can organize concepts and avoid overconsumption. Generally speaking, roofer SEO can be categorized as follows:
Local SEO: Contact information, directory listings, location data, etc.
On-Page SEO: Paragraph text, image alt text, meta descriptions, etc.
Off-Site SEO: Business listings, inbound links, social profiles, etc.
Technical SEO: Design, hosting, site speed, etc.
Each component is integral to the whole, and neglection of one or more can prove disastrous. For example, publishing great content on a locally optimized website would seem like a slam dunk. Unfortunately, a slow-loading site that appears distorted on mobile devices renders that content useless. Instead of prospective roofing customers consuming well-written information about your services, they will quickly exit and navigate to your competitors' websites. Google registers the early exit as a bounce and applies it to your website's bounce rate, which will programmatically lower your site's ranking position.
Roofer Internet Marketing
With all this talk of roofing SEO, it's easy to lose sight of other internet marketing tasks that do not directly involve search optimization. Because SEO can take time to implement and flourish, finding ways to supplement website traffic is strongly advised. One of the most effective traffic generators is Pay Per Click advertising. With PPC, companies can bid their way to the top of Google SERPs, expediting a process that takes far longer through organic means. While PPC costs money, it also produces instant results. With an experienced campaign manager, PPC ads can produce considerable ROI. Roofing internet marketing practices besides search optimization include:
PPC Advertising
Reputation Management
Social Media Advertising
Although certain internet marketing tasks fall outside the realm of SEO, it's important to identify their low degree of separation. For instance, reputation management is a discipline in of itself, but it also contributes to search engine optimization. When a prospective customer finds several positive reviews of your business after hearing about your service from an acquaintance, they are far more likely to become a customer than they would have been if mostly negative feedback was published. While reputation management was responsible for that particular lead, other consumers will find your service on a random Google search query because of its positive reviews. In the latter case, SEO is responsible for the lead.
Services Offered
Why Roofing Webmasters?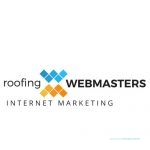 Choosing an SEO company can be a daunting task. Starting the search is stressful enough, but when confronted with such a high volume of choices, it becomes even more taxing. Contractors are faced with many questions when narrowing their list of potential SEO's. While Roofing Webmasters won't make outrages promises, what we will do is detail what makes us unique, and why contractors across the United States consider us the premier roofing SEO company:
Affordability: Working closely with roofing contractors, we provide agreements that are mutually beneficial
Industrial Specificity: Our service is tailored to roofers, whom we've spent our entire existence marketing on behalf of
Skillset Diversity: Our team covers every aspect of roofer internet marketing, from SEO & content marketing, to PPC & web design
Customize Your Experience
At Roofing Webmasters, we customize every aspect of your campaign. With years of experience marketing for roofing companies, we've seen the redundancy that stems from stock websites. Many clients come to us wondering why they fail to rank for relevant keywords in their area. Improved ranking starts with a custom website that represents your company's brand and what makes it unique from others. We know that Google values unique and valuable content, and a considerable portion of that relates to the design itself. We offer the following custom-based services:
Custom Content: Our writers craft content based on need and preference, and implement local and industrial keywords
Custom Logo Design: No logo? No problem! Our graphic design team can create a logo from scratch, or enhance your existing one
Custom Website Design: Our designers craft your original company website and integrate its brand, color scheme, and location
Roofing Webmasters Provides The Ultimate Internet Marketing Experience For Roofers, Serving The Entire United States. Call (800) 353-5758 To Sign Up For Roofing SEO!