Local roofers have heard the term "roofing SEO" at least a few times in 2020. While a few businesses thrive on internet promotion, many local roofing contractors aren't fully capitalizing on the internet's powerful marketing influence. In 2020, roofers use search engine optimization to attract new customers at a rate they've never before experienced. Since local roofing companies often pass down from one generation to the next, some old-school marketing measures remain tightly woven into the fabric of the industry.
Unfortunately, that only holds roofers back from healthy growth.
Consumers no longer browse the Yellow Pages for local roofers, nor do they closely watch local TV spots like they used to. Internet channels have replaced those antiquated platforms as the means through which local customers find qualified roofing services in their area. These days, a simple Google Search produces all the information consumers need:
Organic results with links to popular businesses
Local Maps results with location and contact information
NAP citation listings on Facebook, Yelp, and the Better Business Bureau
With all this information available at the push of a button, it's no wonder the world wide web is the go-to source for your roofing company's target customers in 2020. Put simply, the customers are online. If you crave consistent growth for your business, you'll need to follow them there. That's where SEO comes in.
What is Roofing SEO (in 2020)?
Roofing SEO is the process of refining digital content in order to rank higher on Google search results for industry relevant keywords.
Why is SEO Important?
Let's say you own and operate a roofing company in Lubbock, TX. Ranking #1 on Google for "roof repair in Lubbock, TX" and other similar terms will drive relevant consumers to your business. Whether they find your Google Maps listing on the Local 3 Pack or locate your company website in traditional organic results, they're discovering your company name, address, and phone number. With that information, they can now contact you directly.
In short: higher rankings ultimately produces increased lead generation and sales, which is what every roofer wants!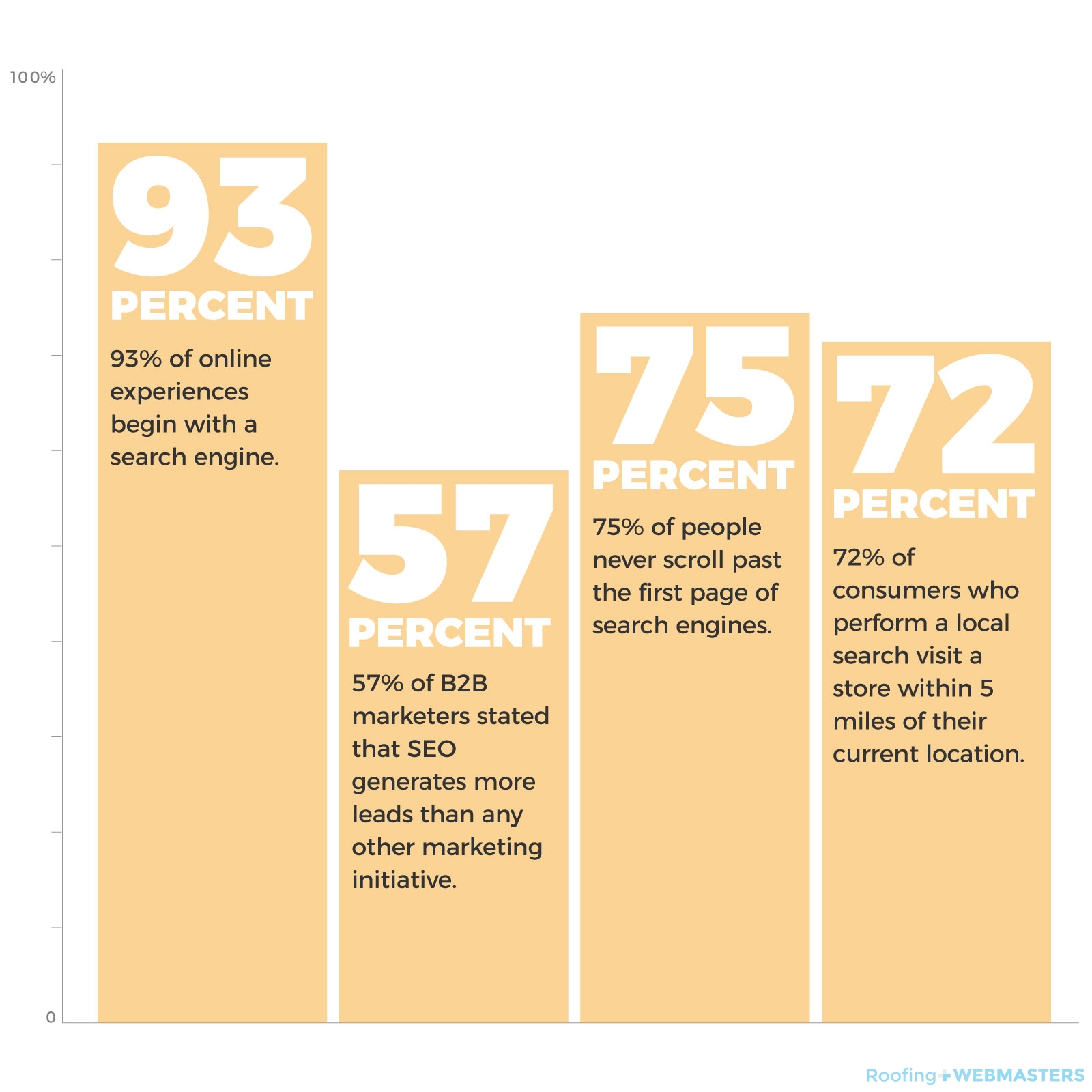 Successful digital marketing strategy goes beyond the rankings themselves. For example, once a visitor enters your website or views your listing, you want to make it as easy as possible for them to contact you. Not every website visitor becomes a lead, but you can improve the percentage of those that do. Services should be clearly explained so that prospective customers can quickly determine that you provide what they are looking for when they visit your site for the first time. These and similar tasks form the process of conversion rate optimization (more on that later).
But before CRO is even possible, SEO is required to draw customers in.
Think of SEO as a form of inbound marketing. Instead of old-school tactics (like telemarketing) that disturb potential customers, SEO enables consumers to find your services on their own volition. Consumers are more aware of manipulative marketing tactics in the digital age. They prefer to feel in control of their own decision-making process, instead of having services thrust upon them by a heavy-handed conglomerate.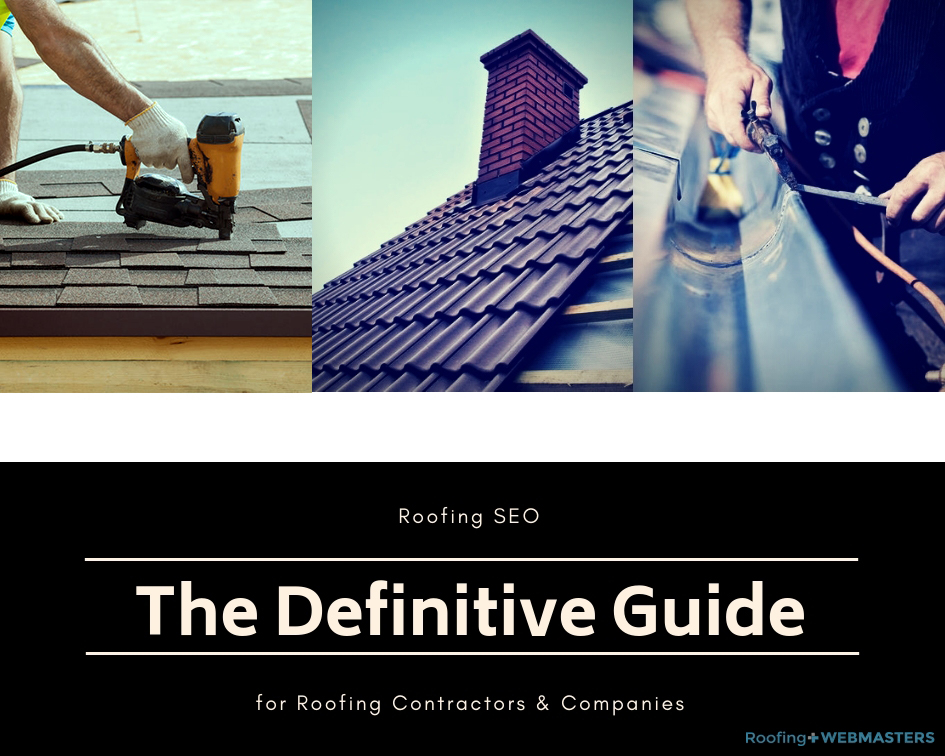 SEO Strategy: The Planning Stage
Optimization is not an as-you-go process. A well-laid, Detailed strategy is essential for SEO to work properly. Keyword research provides the foundation of SEO strategy. First, roofing contractors must identify terms that attract the most relevant consumers to their website and other digital assets. Your business should note each keyword's search volume and level of competition. These can be measured through tools like Moz, SEMRush, and even Ubersuggest. Choosing the right keywords benefits all your subsequent marketing activities, such as developing a URL hierarchy, writing content, and executing on-page SEO.
In other words, you need to nail your keyword selection!
Keywords and search queries aren't just abstract concepts floating out there in space. In many ways, they actually represent your target customers. That's why keyword research method should be calculated and intentional. If you run a roofing company in Hartford, CT, you aren't going to want clicks from people in New York City.
You also want your keywords to eliminate people looking for services you don't offer. For instance, if your keywords target people who want commercial roof repair but you only offer residential roof repair, that's only wasting your time and theirs. Keyword-prospect mismatch hurts your chances of securing a top-ranking spot, as visitors who want commercial services will exit quickly and increase your site's bounce rate (more on that later).
National Keywords
Don't worry. Local websites aren't competing against everyone in the country for the same term. So high-volume keywords like roofer, roofing company, roofing services, etc. are dependent on the searcher's location. Every roofer should be aware of the top roofing keywords before starting their more extensive keyword research. These terms are the basis of your overall strategy. They also inspire ideas for long-tail keywords that will be even more relevant to your local business and help you generate the right kinds of roofing leads in 2020.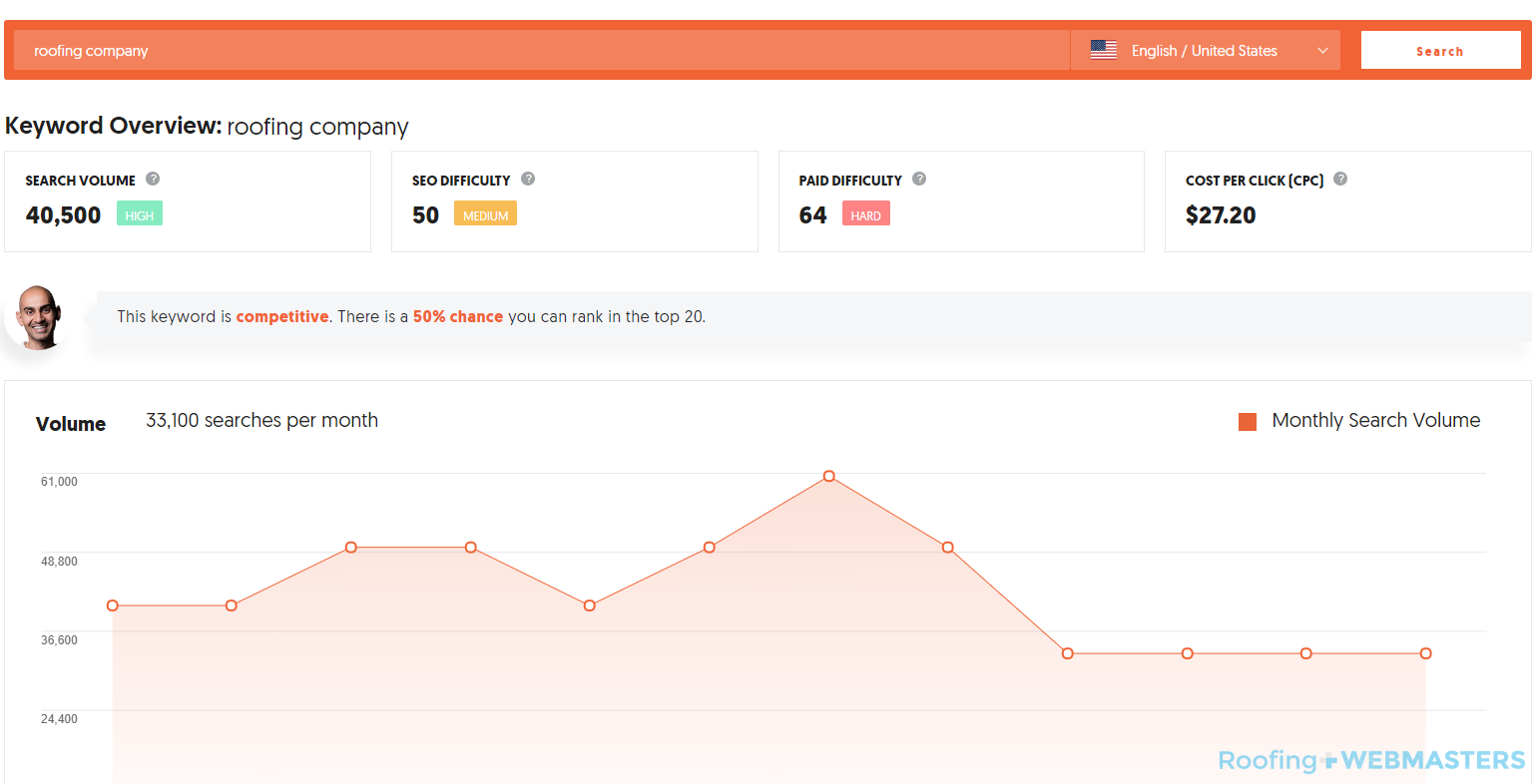 Local Keywords
When it comes to connecting with people in your community, the most optimal keywords include references to the target service area. The keyword "roof repair" shows consistently high volume throughout all parts of the United States. If your company serves Atlanta, GA, your keyword would be "roof repair Atlanta" or "Atlanta roof repair." In other words, you want the keyword + location to create a local keyword.
Many of the tools previously mentioned (Moz, SEMRush, etc.) can show you the volume of local keywords. For example, "roof repair Atlanta" has a search volume of 11-50 according to Moz and therefore would be a better term to target than "Atlanta roof repair" which has a volume of 0-10. You should still use both terms within the body of your content, in support of Latent Semantic Indexing (LSI), something we'll discuss in greater detail later. For your traditional on-page SEO (meta, title, headers, etc.) however, "roof repair Atlanta" will be the more valuable search term.

Service Keywords
The most successful roofing websites use interior pages to describe more specific services offered by their company. Just like your homepage, these internal pages should intentionally target keywords you want to rank for.
Let's say your company provides a modified bitumen roof installation. You'd want to research the volume for terms like "modified bitumen roofing services" and "modified bitumen flat roof installation." Once again, you will want to add the location term to make it long tail. For a roofing company in Louisville, KY, the keyword would look like "modified bitumen flat roof installation Louisville." With such a long-tail keyword, you'd have a significant chance or ranking in the top 5 on Google for that search query. If you execute it really well, you might even score the #1 placement!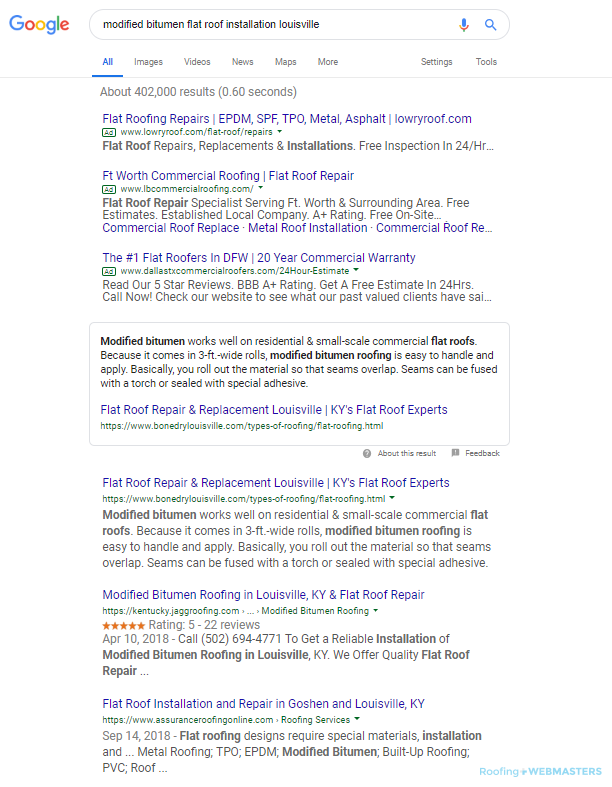 URL Structure & Hierarchy
Once you research and identify the best keywords for your roofing company, you can then construct a URL hierarchy. In simpler terms, you're building a map for how your pages will be organized. Every website has a homepage, and most have an About Us and Contact Us page as well.
What separates roofing websites from one another is the structure of the site and how deep it goes.
At the top of the URL hierarchy are your main service pages, also known as top-level pages or "parent" pages. For larger roofing companies providing both residential and commercial services, those two main categories would each serve as a parent page. The URL for one of these pages would look something like this…
www.yourroofingwebsite.com/residential-roofing/
Underneath those main pages would be more specific pages, known as lower-level pages or "child" pages. "Commercial Roof Repair", for instance, would be a child page of Commercial Roofing while "Residential Roof Replacement" would be a child page of Residential Roofing. In the URL, a child page would look like this…
www.yourroofingwebsite.com/residential-roofing/residential-roof-replacement/
Child pages can be further broken down into sub-levels as needed. If you have a parent page of Commercial Roofing and a child page of Flat Roofing, you can have yet another child page beneath that for something (like Modified Bitumen). You should not go more than 3 pages deep in a hierarchy however, as longer URLs are difficult for Google to crawl and therefore less likely to rank well on SERPs.
Images & Videos
User experience plays a key part in a website's performance. That's why images and videos naturally fit well in most SEO strategies. Designated certain images for specific pages, you prevent duplication and accidental mismatches. The best images are always original, meaning they are shots of your actual company, facility, employees, equipment, and transportation. The worst images are stock photos, which are last resorts for roofers who don't have any photos of themselves.
To really maximize a site's performance, original and unique images are necessary. With advancements in technology, specifically that of smartphones, this is easier than ever to achieve. Even if you have to pull out your iPhone for a quick post-project photo, that habit can generate stronger results for your service page search performance. For best results, try to capture images in advance for each of your pages.
Search Engine Optimization: The Implementation Stage
SEO is a massive-scale undertaking spread across multiple activities. You shouldn't expect to understand every optimization method utilized on the web at first glance. Several concepts may seem foreign to you, at least initially. If you're wondering whether or not a specific activity is part of optimization, just remember this:
Any activity that influences rankings can be considered part of SEO. 
Critical planning and research makes it easier to implement your SEO strategy smoothly. The better overall picture you create in advance, the easier it will be to maintain a cohesive plan as you arrange your website, listings, etc. Again, SEO is not an as-you-go process. As the saying goes, "Failure to plan is planning to fail."
As part of your SEO strategy, make sure to leave room for future change. Google continues to evolve its algorithms with each passing week, year, and decade. The goal for roofers is to create a foundation strong enough to withstand advancements and malleable enough to evolve alongside them. Research and planning is the only way to ensure long-term SEO success!
Custom Design
When visitors arrive at your roofing website, it takes less than a second for them to form a subconscious impression of your brand. This decision instructs whether or not they stay on your website, or move on to the next result on the previous SERP. There are several factors at play, subtly influencing a user's experience. Some of them are less tangible, like aesthetic taste. Other factors are more easily defined, such as resolution.
Aside from pleasant appearance, users also crave simple navigation, clear and convincing calls to action, clean graphics, and instructive menus. They want to feel confident about the company's reputation and leave with an impression of trust and reliability. Websites with obsolete design are more likely to be perceived as scam-y. If it looks like your business page was created with DreamWeaver in 2003, you can expect Google to remove it from the top of search rankings.
The front-end view of a website is not the only portion of its design. The back-end is also part of the design process. Clean code, including schema microdata – this helps Google parcel data – can help a site rank well on SERPs despite the visitor never actually seeing the raw code with their own eyes.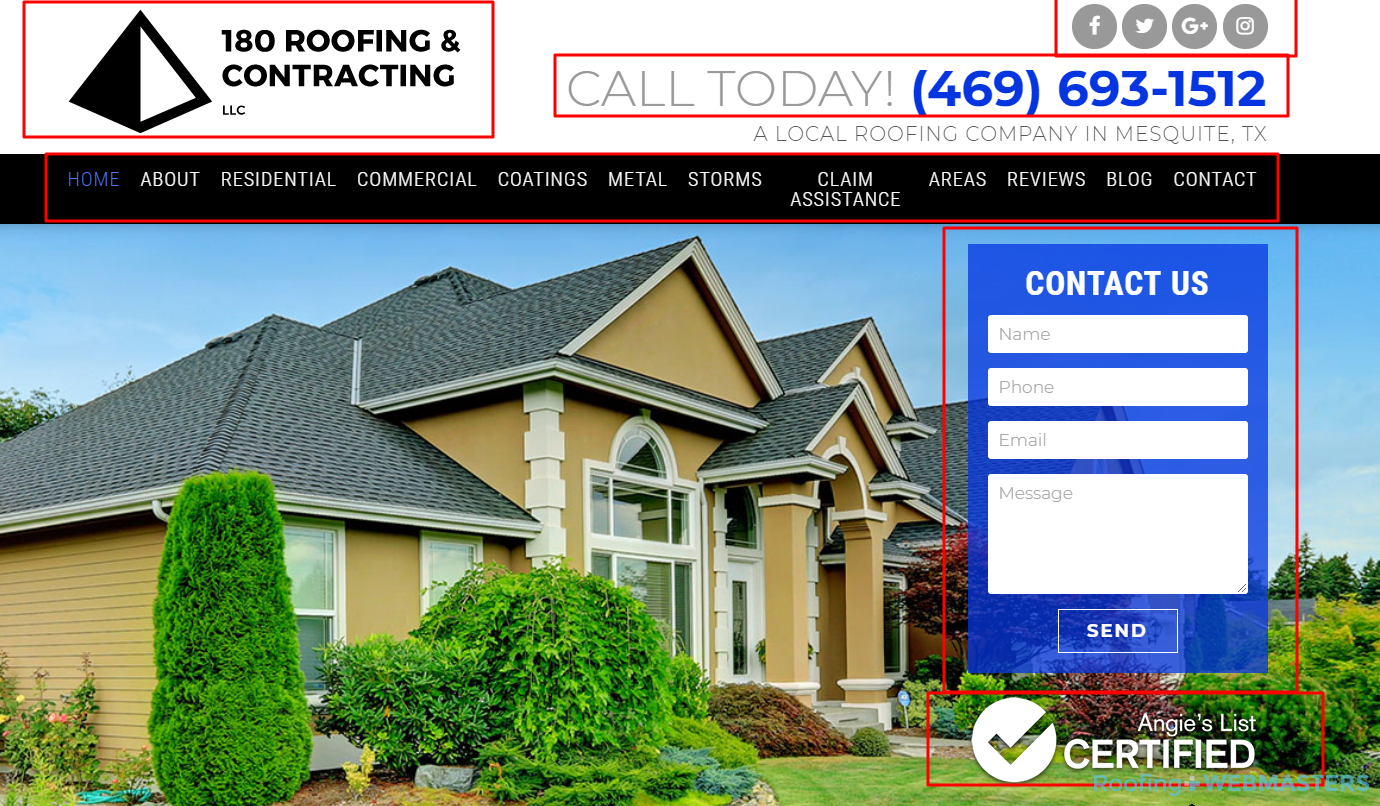 Contact Information
The most important part of local SEO for roofers is contact information. Since the lead conversion funnel is predicated on the visitor's call to action, NAP visibility is paramount. For those unfamiliar with the acronym, "NAP" stands for "name, address, & phone number". That information should be clearly evident on each page of your website (especially the homepage).
It can't just be present, however. Your NAP data should be accurate and consistent across every single page. A mistake with your company address or phone number can result in a substantial loss of leads. Worse yet, it can initiate a snowball effect that drops your rankings because of poor user experience and decreasing trust. Even a small error can have large implications for a roofing contractor. For this reason, doing a check of your phone numbers on each page is a good habit to get into. Make sure your NAP information is consistent across your off-site listings too, such as the Better Business Bureau!

Call To Action
A call to action (CTA) is any element of your site that directs visitors to perform a given action, such as calling your office. It's often accompanied by your NAP data. Strong calls to action provide compelling incentive to your visitors which encourages to actually call your number or complete some other kind of action that gets them inside your sales funnel.
CTA's vary significantly in complexity and design. The simplest urge users to call your number from their mobile device (i.e. a clickable phone number button), while more complex CTA's cast a less demonstrative hook (such as a "Free SEO Audit" button). CTAs have different goals and functions too. A Free SEO Audit offer casts a wider net, targeting uncommitted prospects currently at the start of the sales funnel. This type of offer may not convert people as effectively as direct phone calls, but it at least puts them on your radar and generates some buzz for your local roofing company.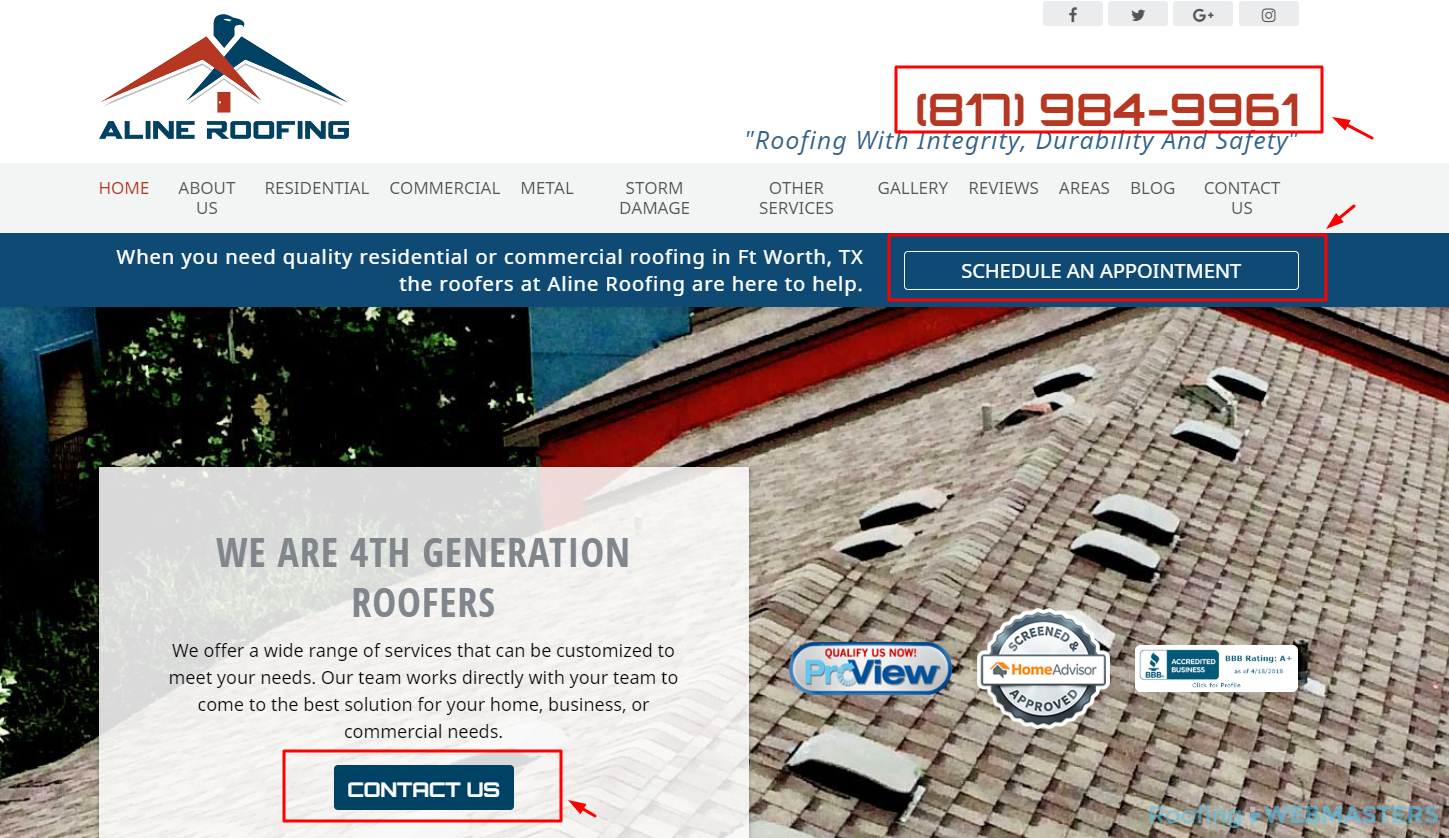 Website Personalization
Nothing establishes trust faster than personalization. Your roofing company website should display images of your roofing company. It doesn't matter who takes the photos. It can be as simple as snapping some photos of your employees and trucks with your smartphone device. If you like, hire a professional photographer to follow your crew for the day.
You have a multitude of options to personalize your website. Your homepage deserves original photos most of all. Prospective customers want to know who they're dealing with. Common stock photos won't convey trust, but limit website conversion rates instead.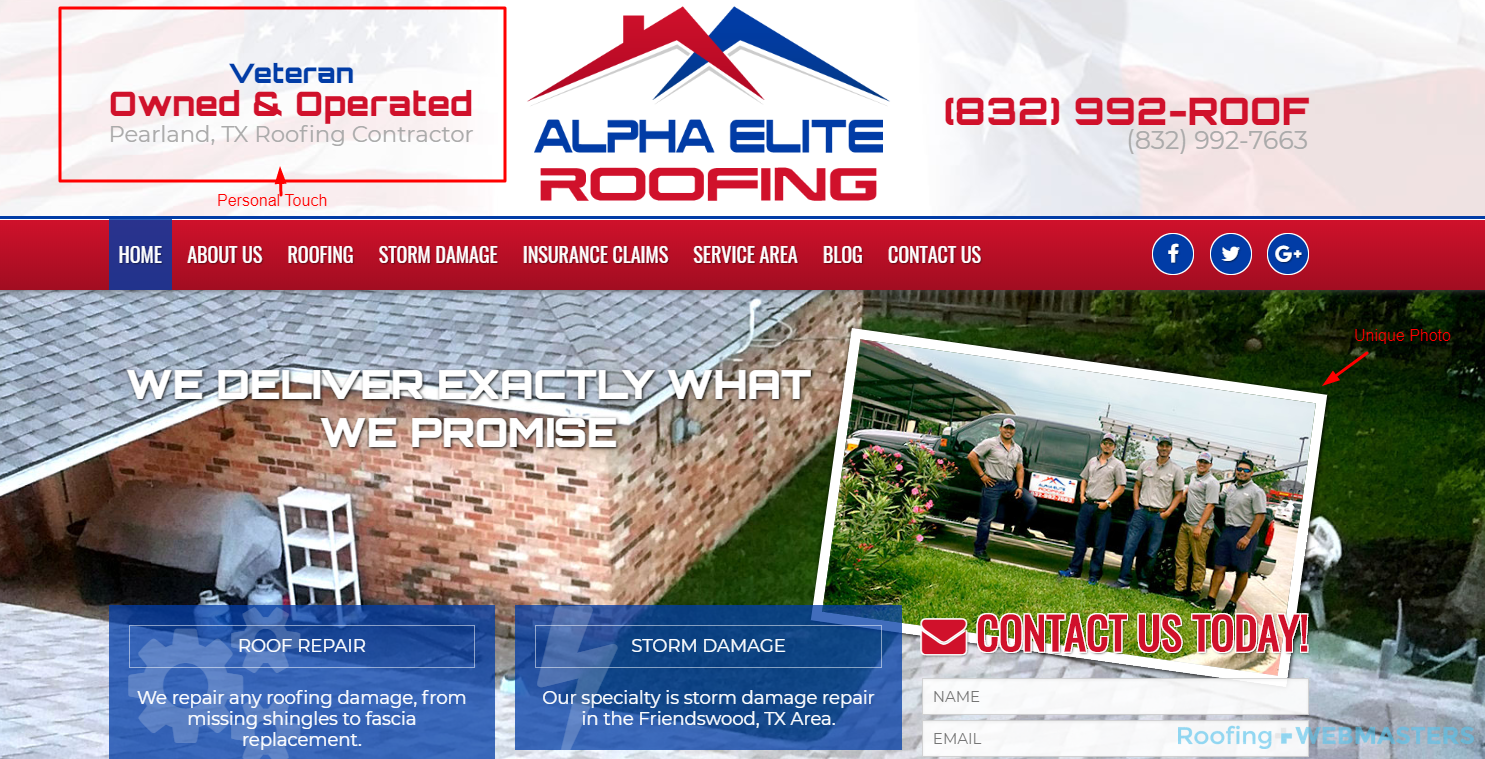 Badges & Accolades
Personalized photos of your business create trust. Badges and accolades create further build that confidence in your brand's reputation. If your business has ever received any type of certification, it probably comes with a digital badge for use on your website. This can be from national organizations like the Better Business Bureau or local ones like your regional Chamber of Commerce. Other ideas for badges include newspapers and news websites on which you've been featured. Have you ever been interviewed by a local reporter? If so, you can absolutely add an icon of the newspaper in an "As Seen On" section of your website.
Consider prestigious certifications like these below when adorning your website:

Multimedia Content
Images are great, but videos are even better. If you have video footage of some of your roofing jobs, perhaps before and after shots, they can really take your website to the next level. Video is the fastest growing content asset in the world, and very few roofers feature them on their company websites. This represents a market inefficiency for roofing contractors to capitalize on simply by taking the time to produce videos.
This footage can be captured with a basic smartphone. No need for a professional videographer! The ideal strategy is to upload your video to YouTube, then embed the code from that video into your website's HTML. This way, you have a chance to rank on both Google video search and YouTube, while simultaneously enhancing the user-friendliness of your company website. Video content can even support higher rankings. Even audio-only podcasts, which can by syndicated through Apple or Spotify, can quickly increase brand appeal.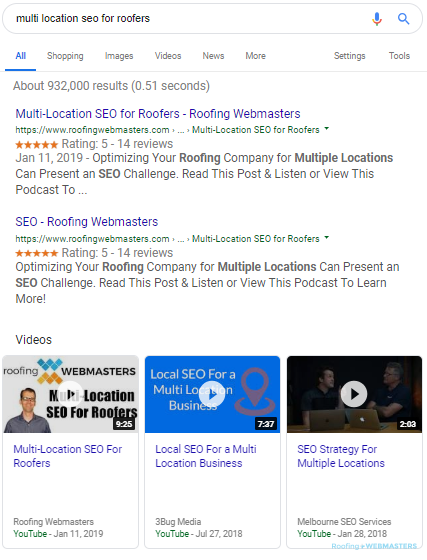 Showcase Testimonials
Most roofers understand the importance of Google Reviews, but did you know that showcasing testimonials on your homepage influence SEO results too? For one, reviews are user-generated content, which Google loves. Secondly, verifiable reviews showcased on your company's homepage promotes an enhanced user experience, promoting visitor trust. Some plugins allow you to showcase reviews on your homepage. One of them is BrandREVU, which actually helps roofers generate more reviews on Google and Facebook while showcasing the ones they already have directly on their website. A plugin like this offers numerous SEO benefits, because it combines user content, trust, and brand awareness.
Mobile Optimization
In 2020, it shouldn't be a surprise to learn that most visitors are accessing websites through a mobile device. With this knowledge, every roofer should ensure their site is mobile optimized. With the onset of Google's mobile-first index update, they've made it clear that pages with mobile-appeal will be given priority on search results. There's no shortage of factors that can enhance a mobile webpage, and the same is true of factors that can ruin them. Enhancements include responsive design, clean navigation, and clickable calls to action. Negative factors include viewport distortion, slow loading times, and image misalignment. As you might imagine, the attention span of mobile users is exceedingly short, and there's little that can be done to retrieve it once it has passed.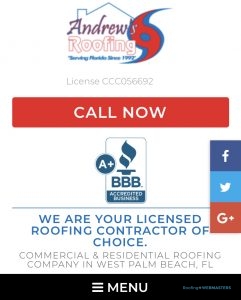 Google Analytics Tracking
The best tool Google has to offer roofing companies is Google Analytics. It provides measurable results of your website's performance and can produce reports to help improve weaknesses and capitalize on strengths. Perhaps the most important feature of Analytics is the Acquisition Report. This report tells webmasters how many visits their website is getting on a daily, weekly, monthly, and yearly basis, including a breakdown of where the clicks are coming from (i.e. organic, direct, referral, etc.) Although Analytics is somewhat limited in that they reveal very few of the exact search queries that lead to your clicks, simple comparative analysis can help you deduce exactly what is driving your traffic and instruct ways to take the next step moving forward in 2020. If you see sudden shifts in your traffic, either up or down, you'll be able to diagnose issues and address website needs.

SSL Security
Browsers in 2020 will warn users when they are on a website that is not secure, meaning one that has Http:// instead of https://. If you are unfamiliar with SSL security, it is a security protocol that protects data transfers over the web. Sites that have it enabled are https:// addresses, which is exactly what you'll want your site to display. Not only is SSL indicative of trust but it makes for superior user experience. While roofers rarely sell products online (e-commerce) they still want to create the optics of strong security. Because it can influence a user's perception of your site, SSL must be considered at the very least; an indirect SEO ranking factor in 2020.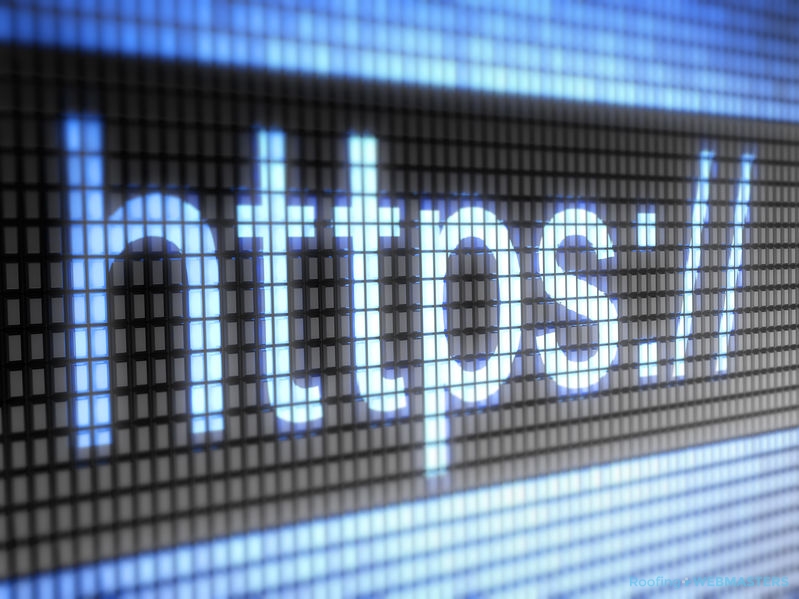 Local SEO for Roofers
Local roofers will rely heavily on Google My Business and Google Maps to help their business rank on local search results. The address listed on your homepage (something we discussed previously) should exactly match the one listed on your Google My Business listing which will, in turn, appear on Google Maps. The goal is to appear in the Local Map Pack which is a snippet of the top 3 Google My Business listings in a particular service area. Of course, you'll also want to rank on traditional organic results for queries involving your target keywords and locations. Keep in mind that you should only target cities that you can actually service and that the closer your address is to the target area, the more likely you are to rank for the term, especially on Google Maps.
Some companies are large enough to where they require multi-location SEO. This is only true for roofers who have more than one legitimate business location with a verifiable address. Since Google My Business listings are verified through postcard confirmation, any kind of illegitimate address is prohibited. These include virtual offices, PO boxes, and anything that cannot be considered a place of business. Google My Business recently altered its requirements for businesses that operate out of a house. If your roofing business address is also your residence, Google My Business asks you do not include the address itself on the listing. Still, you'll need to verify that address privately using the aforementioned postcard verification method.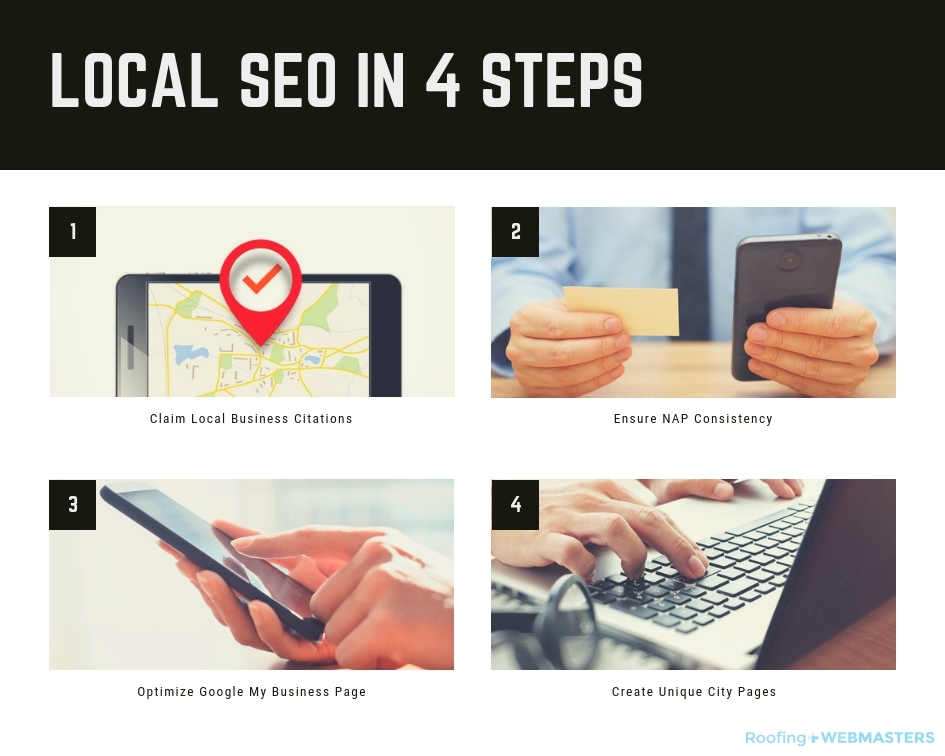 Local Business Citations
Most contractors have heard of directories like Angie's List and HomeAdvisor which are platforms for NAP citations. There are countless amounts of directories on which to cite your local roofing business. From niche directories like Angie's List and HomeAdvisor to more generalized platforms like Yelp and BBB. Some of these directories offer premium services which you should consider separate from the citation itself. The goal is to claim all of your free citations and to ensure the accuracy of the ones that already exist. Sometimes you'll find that citations exist which were never manually created by you. This can be from data mining sources like Acxiom which pull your company info from public records and then sell it to the major data distributors. Tools like Whitespark and Moz Local can help you claim and correct citations.

NAP Consistency
In congruence with claiming business citations on local business directories, you'll want to simultaneously ensure the consistency of each of them. Tools previously mentioned like Whitespark and Moz Local can help streamline that process, especially for tenured businesses that have thousands and thousands of citations. Accuracy is, of course, the most important factor, but consistency matters as well. Even if your address uses a suffix that varies in spelling, you want it to be identical on every citation. For this reason, choose a singular suffix spelling and stick with it for every citation.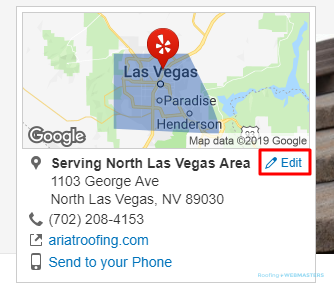 Google My Business Optimization
Google My Business is a directory in of itself but it is also so much more than that. It is the central hub of your entire local SEO strategy. Not only should your GMB listing be claimed, verified, and accurate, but it should also be optimized for conversion. We spoke previously about website conversions, but Google My Business listings can also be a major source of leads. The best way to increase conversions is to optimize your listing with company photos, Google posts, and Q & A content. Furthermore, you want to include the Call Now button so that mobile users can click straight from their mobile device, and connect with you through a call.
City Pages
Even roofers with one location often serve multiple cities within a radius. To reach those cities, you must create unique and informative city pages that are optimized for their own respective locations. We strongly discourage mass production of city or county pages, which is a tactic that is known as "spinning." Spun content is written by software AI and makes readability robotic and spam-like. Some local contractors use the software anyway to mass produce pages for every city, town, and even county within their general area. Google has smartened up to this pitiful concept and started to penalize websites that engage in it. You should still write city pages, but they should be unique and specific to the location that they are optimizing for, rather than a re-hashed duplication of another page.
How Do You Implement Roofing SEO?
Roofing SEO is implemented through digital marketing techniques such as on-page optimization, off-site optimization, content writing, website design, and NAP citation building. SEO requires a consistent and thorough dedication to improving web content and adapting to Google's latest algorithm changes.
What Separates Roofers on Google Search Results?
A number for factors determine where a roofer ranks on Google including brand recognition, website quality, content quality, keyword placement, inbound and internal link profile, and much more. The reason why most roofers don't succeed online is that they are missing one or more of the primary elements to a strong web presence.
Can Roofers Do SEO On Their Own?
It's difficult to run a full-time business and also perform SEO on an ongoing basis. While there are tools available to assist you with creating and optimizing your online presence, it is common for the best-performing roofers to invest in digital marketing services so that they can focus on their roofing business while enjoying the new customers who come in through online channels.
On-Page SEO for Roofers
The optimization components most widely understood by the general public are methods known in totality as on-page SEO. They include the alteration of title tags, meta descriptions, header tags, URL slugs, as well as content writing. The SEO strategy created earlier in the process will be used most frequently with on-page SEO. You will take the keywords chosen in your research phase and implement them onto your web pages in a variety of formats. Most roofers who have some knowledge of digital marketing associate SEO with on-page methods, and rightfully so. They are the most straightforward tasks and the ones that are most frequently discussed in the mainstream.
Roofing SEO takes time and patience but it also has a lasting influence. When you optimize a page for search, you are not just looking for short term gratification but also for long term equity. Pages that you create and optimize today could end up serving your business well for decades to come. As they grow older and gain tenure, they will also gain authority. The better your pages are optimized, the higher they will rank, and the more they will venture into other forms of SEO including off-site SEO, local SEO, and technical SEO. Knowing this, it is important to be precise when performing on-page tasks.
Keyword Placement
The keywords included in your strategy will be deployed in a variety of ways during on-page optimization. From title tags to meta descriptions, and the body content in between, you should make proper use of keywords by placing them in the most opportunistic spots. The left-hand side of any of the elements mentioned is normally that spot. But be careful, you want to avoid redundancy and you want content to enhance the reading experience, not hinder it. So if your keyword is roof repair in "city", your title could be Roof Repair in City, your H1 could be Roof Repair Services, and your meta description could read; "Roof Repair Services From [Company Name] Are Affordable, Reliable, and Easy to Schedule. Residents of [City, State] Can Call [###-###-####] To Schedule Their Services Today!" You now have the keyword in three on-page elements without any of them sounding spam-like or misleading. You should follow suit for H2 and H3 tags, as well as image alt text and the paragraph content on the page. One thing to remember at all times is; never stuff keywords. Only use the term within your paragraphs when it makes sense to the reader.

Latent Semantic Indexing (LSI)
Prior to 2012, websites could often manipulate search engines through keyword stuffing. They would use a keyword term over and over again at the expense of content readability. Since Google was less adept at grading user experience back then, the poor content quality did not lower the page's ranking. Fast forward to 2020, and the opposite is now true. Keyword stuffing not only doesn't help you rank anymore, but it can hurt you to the point of penalization. So what should you include instead of redundant keywords? The answer is semantic search. You can use LSIgraph.com to find topically relevant terms that are associated with your primary keyword. You should use your main term a couple of times, and then use the other LSI keywords to supplement it. Again, always prioritize the reading experience first and foremost. Anything that looks like spam will hurt your chances of ranking. LSI as a concept is about topical relevance. When Google sees related terms all existing in a single page of content, they will attribute a macro-level relevance to the page itself.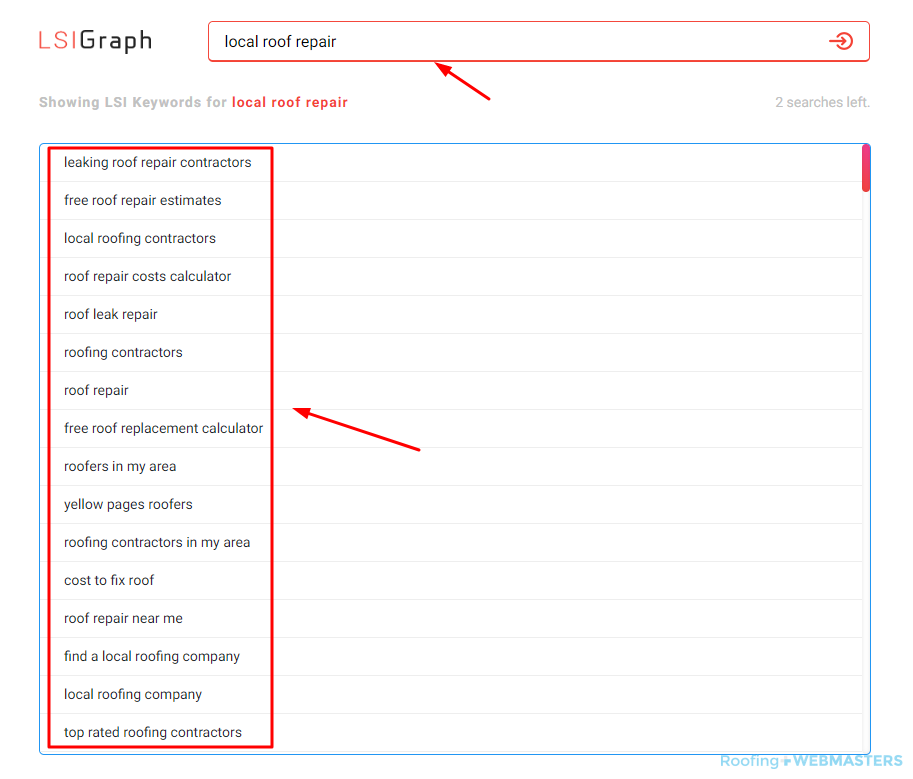 Title Tags
The Title Tag or SEO Title of a page is the one that appears on Google SERPs as the clickable portion of the result. You want keyword relevance of course, but you also want something that urges people to click. When a user clicks on a page it increases its click-through rate (CTR) and sends a signal to Google that people like what they see from your initial result. This can be a double-edge sword if you're not careful. You want an appealing title tag, but also one that is representative of your actual website and services. You don't want to mislead anybody, because they will just exit immediately if they feel like they've been swindled. For local roofers, you won't need anything too over the top within a title tag. It might be something as simple as "Roofer in Atlanta GA | Schedule Your Roof Inspection Today." Google Analytics will help you monitor the click-through rate, and you can adjust your title tag based on behavioral metrics. Moz can help you preview a title tag to ensure it's within the character limit for optimal presentation.
Meta Descriptions
The text underneath the title tag on a SERP result is known as the meta description. Depending on who you ask, the character limit is either 150-160 or 300. Google had temporarily changed the way they showcase certain meta descriptions but have since resorted back to their original methodology. A meta description should appeal to the search engine user in the same way the title does. It's not quite as important because fewer people actually read it. Still, it helps to have one instance of the keyword, and an accurate depiction of what the user will find when they click through. You can even include your phone number towards the beginning of the meta description so that consumers have the option to call you before ever entering the site.

Header Tags
Headings are important for formatting purposes, but research shows that they also matter for search rankings on a more direct level. There are several types of header tags. You have your H1, your H2, and your H3. Some websites even have H4s and H5s depending on their style sheet. The header that matters most for on-page SEO is the H1. It is essentially considered a subtitle on a given web page. That's why it's ideal to have your keyword within the H1. But as we stated before, your H1 should never look spammy. The keyword must fit naturally within it and make sense within the context of the page. H2s and H3s are more important for formatting than anything else. But as you should know, formatting enhances the user experience, which positively impacts search rankings. They also serve as a great way to categorize sections of a page.

URL Slugs
The URL slug or the permalink is the section of a web address that appears on the right-hand side. So if your website is MyRoofingCompany.com and your page is created as a lower-level page underneath a parent page like Residential Roofing, your URL Slug would be MyRoofingCompany.com/residential/enter-url-slug. What you fill in as the URL slug should be topically relevant, concise, and if possible, include the keyword. An example of a good URL slug for residential roof repair is MyRoofingCompany.com/residential/roof-repair. You'll notice how that reads better than an alternative like MyRoofingCompany.com/residential/residential-roof-repair. There's less redundancy in the former example, and the latter one is harder for Google crawl and also uglier to look at for your visitors. URL slugs are known also as permalinks because they are in fact permanent. If you end up not needing the page anymore you can implement what is known as a 301 redirect, which will auto-direct a user from that page to a newer one. Still, the permalink will remain intact.

Image Alt Text
A sometimes overlooked on-page optimization factor is image alt text. It is the description of an image on your web page. For those of you who don't know, an image file should always be titled in lower case letters with dashes. If you upload an image of your roofing truck, a good file name would be company-name-truck.jpg … or something to that effect. Once the image is uploaded and embedded into your content, you should fill out its Alt Text. This is more or less a description of what the image is. So if it's your truck, the Alt Text should be very similar to the title, something like; Company Name Truck. This is a small but effective task for on-page SEO.
Off-Site SEO for Roofers
If you've wondered why on-page SEO isn't just called "SEO" it's because there are other kinds of optimization that take place away from a website and its pages. These tasks are referred to as off-site SEO or sometimes off-page SEO. Regardless of which term you subscribe to, the concept is the same. Google evaluates signals from external sources to judge your web presence in totality. One of the strongest examples of this is inbound linking. In fact, inbound links were the original measure of a website's value and remain one of the most important ranking factors to this day.
Although link building was once easy to manipulate, that is no longer the case. Successful off-site SEO requires more work than it once did. For links to hold value, they must be relevant to the entity to which they link. A diet pills website that links to your roofing repair page will not do much to boost its value in the eyes of Google. Links come in many forms, including from social media platforms, business listing directories, and other websites throughout the net. The goal for off-site SEO is to expand brand awareness and develop a web presence over time.
Social Media
A company website is not the only representation of your roofing business online. With Facebook, Instagram, Twitter, LinkedIn, and YouTube, roofers can leverage free social platforms to expand brand awareness. Since these web entities exist exclusive from your main site, they are considered "off-site" and therefore; part of an off-site SEO strategy. Many times with social media, on and off-page methods can be merged. For instance, sharing an internal blog post on your LinkedIn feed contributes to both on and off-page elements. Moz also considers social signals to be a local ranking factor and so social media activity in of itself is likely to enhance your overall development.
Link Building
There are so many ways to build inbound links to your website, some of them help and some of them hurt. Antiquated tactics such as buying links from blog comments or PBN's are frowned upon by Google. While they won't necessarily cause penalization in 2020, their zero-sum value contributes to a depletion of resources. Better ways to build links involve networking with other web entities or personalities, including marketing influencers. Blogger outreach is a way to pitch your website's relevance for inclusion in a guest post on another domain. The more relevant the domain is to your roofing company, the more link juice will navigate towards it. Earning links naturally remains the safest and most effective strategy, and writing great content that ranks is the best way to achieve that goal.
NoFollow Link Building
Since major web entities like Facebook and Yelp hold so much authority online and since any individual can embed a link on their page, Google qualifies these links as NoFollow. What that means is that while they can still contribute to brand signals, which is a more subtle form of authority building, they won't actually boost your domain authority score as measured by Moz, or any similar metric from SEMRush, AHRefs, and Majestic. Despite this exclusion of direct influence, the value of NoFollow links should not be dismissed. Google still crawls these links and acknowledges that they do in fact lead back to your website. Best of all, these links are coming from trusted sources.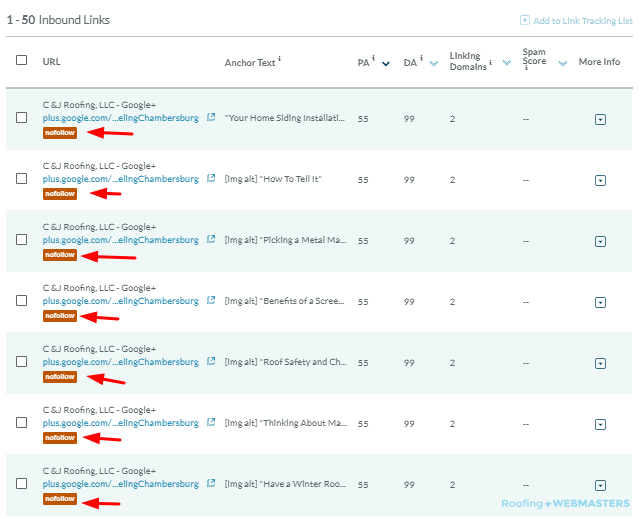 DoFollow Link Building
Inbound links from regular websites (i.e. not social media or blog comments) hold direct influence over domain authority. Let's say a blogger for a major local publication publishes links to your roofing company website in a post about local roofers. The authority of their own site is transferable to yours. Let's say they have a DA of 85 and you have a DA of 10. You can expect to move up a couple of DA points from a link of that quality. With enough volume of high-quality links, you will begin to move up exponentially and increase your website's authority. This is a factor in Google trust and something that can help you improve your position on SERPs in 2020.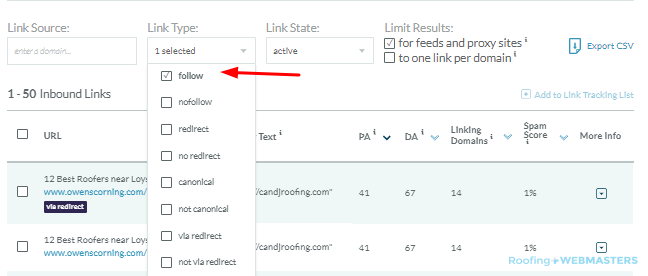 Technical SEO for Roofers
Websites earn rankings not just from on-page optimization or off-site link building, but also from technical optimization. Technical SEO is executed behind the scenes on the back-end of a website. It involves the refinement of HTML & CSS coding as well as the implementation of microdata tags known as schema markup. Schema helps Google parcel data and most appropriately rank your website based on its subject matter and relevancy. Technical optimization also involves issues like 301 redirection, XML sitemaps, and site speed optimization.
For roofers without knowledge of computer programming, technical SEO can be the most foreign of all optimization tactics. To the average eye, HTML and CSS looks like nothing more than gibberish. But Google views the code far differently than an internet user would. To Google, the technical aspects of a website are important when determining their inherent value. Most of all, they contribute to the process of driving relevant users to websites that will address their needs.
301 Redirects
When a webpage is no longer valuable to visitors it should be redirected to a more relevant page. You don't want to just outright delete a page is because it has already been indexed by Google. If you delete a page it can cause major problems for your website, frustrate would-be visitors, and hurt your overall SEO efforts. With a 301 redirect, the URL destination will remain indexed but funnel the users who click through to a superior page without them even realizing what happened.
XML Sitemaps
Every website needs an XML sitemap to encourage Google to index every page. Since not all pages will be internal links from the homepage, you still want them to be indexed on search engines. Sitemaps are particularly useful for websites that are larger in scale, as Google has a more difficult time crawling the number of pages present on sites like these. Like with other forms of technical optimization, the goal is to make Google's crawling process as simple as possible.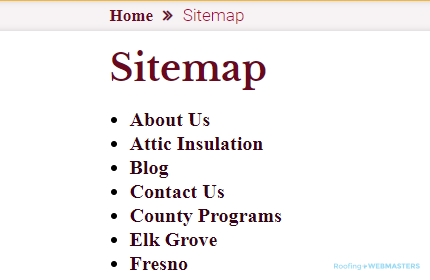 Site Speed Optimization
Attention spans are shorter than ever before, and a site's loading speed is of great importance to roofing websites. Clean code accelerates loading speeds while obtrusive elements like JavaScript can slow it down. A professional designer and or programmer can do several tasks on the back-end of a site to ensure its loading speeds are as fast as possible. This is important for SEO because users don't want to wait more than 1 second for a page to load. If they're forced to, they are likely to move on to the next result, which increases your bounce rate (the rate at which users exit your website immediately after entrance) and potentially decreases your ranking.
The Authoritative SEO Company for Roofers
Marketing agencies come and go through the years and very few of them specialize in one specific niche. As you can tell by our very name, Roofing Webmasters is dedicated to the roofing industry. As a company specializing in SEO for nearly a decade, we are the clear choice for roofers looking to expand its web presence in 2020. With a combination of experience and skill, our team of webmasters is equipped to handle any marketing venture a roofer chooses to pursue. Because of the magnitude of your investment, choosing the "right" SEO company can shape the future of your business.
Roofing Webmasters follows Google's guidelines to ensure that all tactics are white hat. We don't participate in black hat tactics such as keyword stuffing, doorway pages, or sneaky redirects. Because Google is the top search engine in the world, and almost certainly will be for the rest of our lifetime, we view their recommendations as the gold standard of SEO best practices. Our team constantly monitors the industry for new trends and executes them ASAP.
As the most noteworthy SEO company for roofers, in the United States, we have hundreds of clients on board. We have helped develop online visibility for all kinds of roofing businesses, from those just starting up with a brand new domain name to those who've been around for multiple generations. In each scenario, we implement our core principles while also integrating the client's personal vision. As Google continues to evolve to best satisfy the needs of its users, we parallel their forward progress to maximize the search visibility for our own clients, not just in 2020, but far beyond.
Call (800) 353-5758 to Discuss Our SEO Services for Roofers