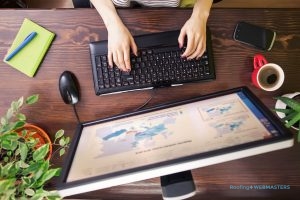 What is Roofer Content Marketing?
Content marketing refers to the development and organization of on page website content with the objective of appealing to potential customers. Web content communicates the information and context of your site to both users and search engines. Without content, users have no details to inform their decision, about whether or not to use a product or service. At Roofing Webmasters, our content follows some basic principles:
Originality: Our team of human content writers create content for each individual site
Quality: All of our content follows Google's Quality Guidelines
Visual/Image Optimization: We enhance our content with well optimized images and organized text, which further increases the likelihood of ranking on Google SERPs
SEO: Our content is always optimized for Google search results
Because content is crucial to understanding the context of a particular website, it is important to have the best content imaginable. Not only does content engage potential customers, but it also appeals to search engines. Google loves fresh and relevant content. At Roofing Webmasters, we provide content tailored for online visibility, search engine rankings, and sales conversions. While local roofing companies can develop content on their own, our team of SEO professionals has years of experience and skill development, along with a proven content marketing strategy, that will not only generate more web traffic, but also expand your customer relationships and enhance your web presence. If you are looking to turn clicks into calls, invest in the experts at Roofing Webmasters. Call us today at (800) 353-5758 for SEO content marketing for roofers.
Why Do Roofers Need Content Marketing?
It is important to understand why content marketing is pivotal to the success of your business. To achieve an increase in web visibility, and to gain customers and convert sales, it's important to develop a strategy prior to implementation. Like with many goals, you must have a plan. How are you going to reach that goal, what is the timeline, what is the target? Before we begin writing original content for your website, we will come up with an approach that will target your roofing company's goals, determine who your client base is, and what content will generate relevant traffic. With these objectives, our SEO content marketing team develops a content strategy that provides the following benefits for your roofing company:
Establish Trust with Your Target Audience: The website is like a business card for current and potential customers; producing content that is relevant and appealing to your audience builds authority and helps gain trust with customers.
Exceptional ROI: Because informative, high quality content is a sustainable asset, roofers are able to get a higher return on investment for websites that incorporate it. SEO and internet marketing that ignores content will end up costing more money and decrease your long term ROI potential.
Higher Rankings in SEO: We all want search engines to recognize our websites and services, so that we can rank higher on Google. Content marketing is a great way to increase your ranking. Google is constantly evolving and tweaking its algorithm, but relevant and informative content is the one constant that will be continuously rewarded.
Strengthen Your Brand Identity: With content marketing, you are appealing to both search engines and customers. The more content that is generated, the more you are able to position yourself as an authority in the roofing industry.
Content marketing is a long term strategy that must be implemented with foresight and projection. While a successful content marketing strategy will sustain itself over years and even decades, it can only do so if constantly evaluated in the midst of evolution to the digital landscape. Voice recognition is changing how people consume information in 2018 and beyond. Products like Google Assistant and Amazon Echo are actually pulling content from websites and repeating it back to users. In working with our SEO experts, you will never be marred in antiquated and obsolete marketing techniques. We are on the cutting edge and constantly evaluate the market for new trends and how to best implement them into your marketing strategy. If you want to take your roofing company to the next level with SEO content marketing, call the Roofing Webmasters today at (800) 353-5758.
Roofing Webmasters Content Marketing Services
Because users search for information with the intention of learning and educating themselves, it's important to produce content that meets that criteria. At Roofing Webmasters, we make it our mission to provide useful, high quality content that is both informative, and original. Our content engages with potential and current customers, boosts search engine rankings, and increases sales. None of these goals would be possible without relevant and informative content. Our work doesn't stop after the SEO content strategy has been implemented. It is crucial to continue adding new content to your roofing website so search engines continue to crawl your site and clients continue to consume compelling and authoritative content. Our monthly content marketing tasks include:
In order to get more clicks and calls, we continue to add content and enhance your roofing website. Our goal is to help you generate valuable customer leads that have a great potential for sales conversions. With Roofing Webmasters SEO content marketing services, we are able to provide sustainable results that will increase your client base, improve sales, and help you ascend on search engine results pages. If you are ready for an elite level roofing website equipped with quality content and high earning potential, call Roofing Webmasters at (800) 353-5758 for SEO content marketing services.