Roofing companies that succeed in 2023 utilize modern content marketing and search engine optimization strategies. These concepts are far more useful to the contemporary consumer. In 2023, users have shorter attention spans and are more informed, creating a dynamic combination when selling roofing services online. Your target customer does not want to feel like you "sold" them a service but instead would prefer to think that they discovered you organically on their own.
What is Content Marketing?
Content marketing refers to creating and distributing topical and valuable content to engage a target audience and convert them into customers. There are countless channels to distribute roofing content, including blogs, emails, social media, and websites.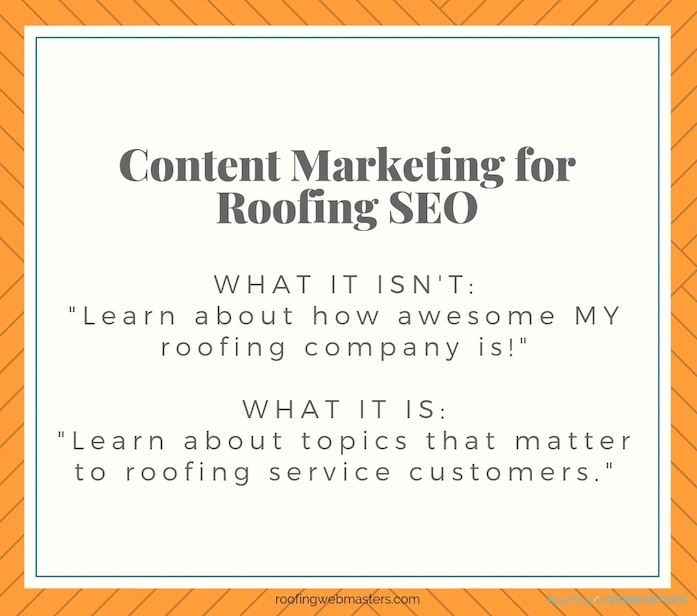 Successful Roofers Utilize Content Marketing
Any roofing company that ranks in the Top 3 of Google markets content in some fashion. Google grades websites, in large part, based on trust, which roofers establish through consistent quality content. Distributing content on platforms like Google Business Profile, Facebook, and your website's blog all help earn the trust of the world's largest search engine.
Why Content Marketing Works
Roofing companies market content for a few simple reasons; cost, leads, and retention. The cost of marketing content is relatively inexpensive compared to other forms of promotion but can generate roofing leads at a similar and often higher rate. The most successful roofing contractors enjoy repeat customers' financial benefits, which content marketing helps initiate because of brand recall and sustained visibility.
Content Marketing is Here to Stay
Some internet trends are short-lived, but content marketing isn't one of them. Actually, it is not a trend at all. Because of its measurable success, marketing content will only continue to grow and evolve. Because content itself is evolutionary (i.e., text, audio, video, etc.), we can expect new forms of content to gain traction. But rest assured that roofing marketing will continue to rely on content to attract and convert organic leads. Here are some top ways that roofers can market content in 2023:
Blogging
When writing blog posts, understand your targets comprise a narrow but highly convertible audience. Large groups of people won't read blogs on roofing company websites, but the content should engage those who come across it. Blog posts are distinctly valuable because they are shareable and may go "viral" on social media.
Email
Developing an email list can help craft an additional audience for your latest content. Whether it is in the form of a newsletter or merely a link to your latest blog post or video, emails can be a highly effective way to reach additional viewers. Email marketing helps retain existing customers and attract new ones through lead magnets.
Social Media
Social platforms like Facebook and LinkedIn are great channels to distribute content and reach a target audience. YouTube and Instagram are equally effective when distributing visual forms of content. On Facebook and LinkedIn, roofing companies can combine text, images, and videos to attract new clients while keeping tabs on former ones.
Website Content
Roofing website pages are essential for several reasons. Besides their impact on SEO, each page can be marketed as an entity and target a more specific customer. For example, a roofing page about residential roof restoration will resonate more with a homeowner than a page about commercial replacement services. Mapping your content to reach subsets of your target audience requires a well-crafted content marketing plan.