Roofing Webmasters offers content marketing services to roofers across the U.S. Over the past decade-plus of working with roofing companies, we've found that investing in high-quality content is one of the most effective ways to increase online visibility and generate consistent roofing leads through Google.
---
---
How Content Marketing Benefits Roofers
Roofing companies that succeed in 2023 utilize modern content marketing and search engine optimization strategies. These concepts are far more useful to the contemporary consumer.
In 2023, users have shorter attention spans and are more informed, creating a dynamic combination when selling roofing services online.
Your target customer does not want to feel like you "sold" them a service but instead would prefer to think that they discovered you organically on their own.
---
What is Content Marketing?
Content marketing refers to creating and distributing topical and valuable content to engage a target audience and convert them into customers. There are countless channels to distribute roofing content, including blogs, emails, social media, and websites.
---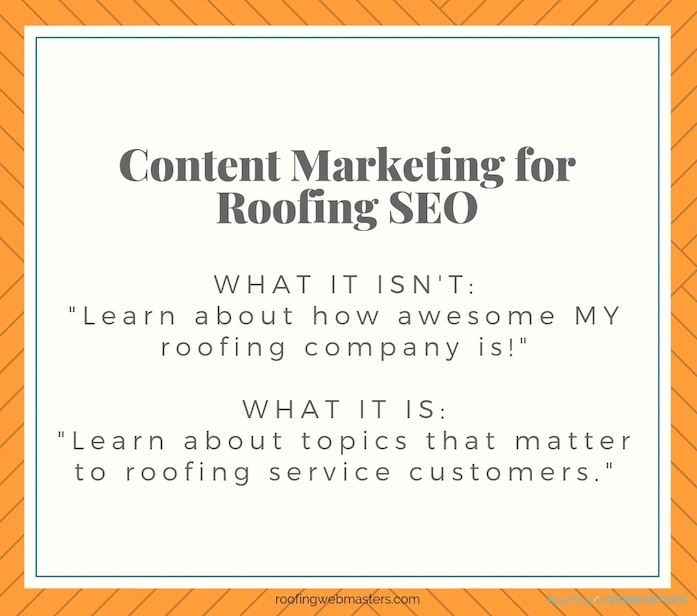 ---
Successful Roofers Utilize Content Marketing
Any roofing company that ranks in the Top 3 of Google markets content in some fashion. Google grades websites, in large part, based on trust, which roofers establish through consistent quality content.
Distributing content on platforms like Google Business Profile, Facebook, and your website's blog all help earn the trust of the world's largest search engine.
---
Why Content Marketing Works
Roofing companies market content for a few simple reasons: cost, leads, and retention. The cost of marketing content is relatively inexpensive compared to other forms of promotion but can generate roofing leads at a similar and often higher rate.
The most successful roofing contractors enjoy repeat customers' financial benefits, which content marketing helps initiate because of brand recall and sustained visibility.
---
Content Marketing is Here to Stay
Some internet trends are short-lived, but content marketing isn't one of them. Actually, it is not a trend at all. Because of its measurable success, marketing content will only continue to grow and evolve.
Because content itself is evolutionary (i.e., text, audio, video, etc.), we can expect new forms of content to gain traction. But rest assured that roofing marketing will continue to rely on content to attract and convert organic leads.
Here are some top ways that roofers can market content in 2023:
---
---
Blogging
When writing blog posts, understand your targets comprise a narrow but highly convertible audience. Large groups of people won't read blogs on roofing company websites, but the content should engage those who come across it.
Blog posts are distinctly valuable because they are shareable and may go "viral" on social media.
---
Email
Developing an email list can help craft an additional audience for your latest content. Whether in the form of a newsletter or merely a link to your latest blog post or video, emails can be a highly effective way to reach additional viewers.
Email marketing helps retain existing customers and attract new ones through lead magnets.
---
Social Media
Social platforms like Facebook and LinkedIn are great channels to distribute content and reach a target audience. YouTube and Instagram are equally effective when distributing visual forms of content.
On Facebook and LinkedIn, roofing companies can combine text, images, and videos to attract new clients while keeping tabs on former ones.
---
Website Content
Roofing website pages are essential for several reasons. Besides their impact on SEO, each page can be marketed as an entity and target a more specific customer.
For example, a roofing page about residential roof restoration will resonate more with a homeowner than a page about commercial replacement services.
Mapping your content to reach subsets of your target audience requires a well-crafted content marketing plan.
---
Content Marketing Strategies
The most successful roofing websites possess engaging and valuable content, characteristics outlined in Google's Quality Guidelines.
Understanding Google's expectations can help craft a great website. However, writing great content is insufficient to secure the top rankings on search results.
Roofing contractors often wonder what to do after creating service pages, publishing blog posts, and targeting keywords. That's where content marketing comes in.
Within content marketing, there are several strategies that roofers can deploy to get the results that they are looking for in 2023 and beyond. Some of the most effective content marketing strategies include:
---
Updates
Distribution
Link Building
Social Sharing
---
The phrase "content is king" is frequently echoed by marketing professionals and others close to the industry.
Although content is important, it cannot produce favorable Google rankings on its own. For content to make an impact, it must reach external parties. Google does not rank pages based on the quality of writing.
Roofing businesses sometimes make the mistake of hiring content writers only and fail to see the results they are looking for from a search engine optimization standpoint.
Remember, the ultimate goal for your company website is to rank search results and generate traffic. Marketing content is a significant step in the roofing SEO process, and utilizing one or more of these strategies can make it happen.
---
---
Signs You Need a Content Marketing Strategy
If your roofing website is filled with high-quality pages and blog posts but fails to rank for notable keywords, it may be time to pursue new content marketing strategies.
How do you know if you're ranking for anything? Well, it might be evident by the lack of leads you are getting for your business.
But a more accurate way of checking involves using SEO tools like Google Search Console to track your keywords.
If you struggle to rank, you should ensure that you have a professional website design optimized with schema code and crawlable to search engines with a hierarchical URL structure.
If the problem is not your website design or crawlability, it is likely an issue with your content marketing strategy.
Here are some indicators that you need to take action on:
---
High Bounce Rates: A high rate of users exiting your website immediately upon entrance
Lack of Calls: A low number of phone calls per month
Poor Rankings: Low or non-existent rankings on Google search engine results pages (SERPs)
Irrelevant Traffic: A large percentage of traffic that is not leading to sales conversions
---
Lack of keyword ranking is one sign your content marketing strategy needs reassessment. A second indicator is an irrelevant traffic stream: commercial roofing consumers visiting your residential roofing website, for example.
Aimless blog posts may initiate empty traffic, lowering your conversion rates while producing a false sense of improvement.
Bounce rates may increase as a result and worsen your website's overall health. The goal is to acquire relevant traffic that benefits your company.
While not every visitor will buy your services, they should at least find the answers they seek within your content. A positive user experience creates a win for your brand in one way or another.
---
Content Distribution Channels
One of the most common ways to market content is through distribution. Many channels exist online that can increase the value of content while exposing it to more people.
Social media is probably the most popular illustration of this method, as networks like Facebook and LinkedIn support content sharing.
---
Email Lists
Email marketing is another option for roofing companies that can include links to blog posts within their monthly newsletters while developing a list of subscribers.
Once you develop a quality email list, you can promote special roofing service offers, discounts, and company updates to your consumer base.
---
Social Media
You can share your website content on official social media accounts like Facebook and LinkedIn.
Remember that business pages on Facebook garner minimal organic reach.
As a result, you may need to invest in Facebook Ads to reach a wider audience with your content.
---
Press Releases
Press releases represent another opportunity for content distribution but should only be used to announce important news events.
Writing a press release for your business can allow you to promote it to online newspapers and magazines to enhance brand recognition and boost traffic.
You should link to your homepage in a press release distribution, as linking to an article is considered black-hat SEO.
---
Pro Tip: Content By Humans for Humans
If you are serious about ranking for roofing keywords in your local service areas, avoid using AI content generation tools like Jasper and ChatGPT to produce your landing pages.
Google's recent Helpful Content Update directly addresses the growing need for content written by humans for humans.
ChatGPT, in particular, is a very powerful tool that can generate topics and ideas and assist with the content outlining process.
However, it should not be used to write your landing pages or blog posts. Instead, use human content writers and editors to publish the most professional SEO content.
---
Free Content Marketing Assessment
Fill out the form below to schedule a free content marketing assessment for your website.
---
---