Securing the top ranking on Google is a challenge for roofers. The good news is that there are more content marketing avenues to rank than ever before. Aside from traditional organic rankings, there are Google Ads and Google Maps listings (The Local 3 Pack).
Recently, another SERP feature has emerged that provides an opportunity for roofing companies who otherwise would not have a chance to rank #1. This new opportunity is called the featured snippet. Because many search queries pose questions within them (who, what, where, when, why, how, etc.) Google has created a search result that can provide an immediate answer to users directly on the SERP.
Google programmatically selects a snippet of information from a webpage that best satisfies the query.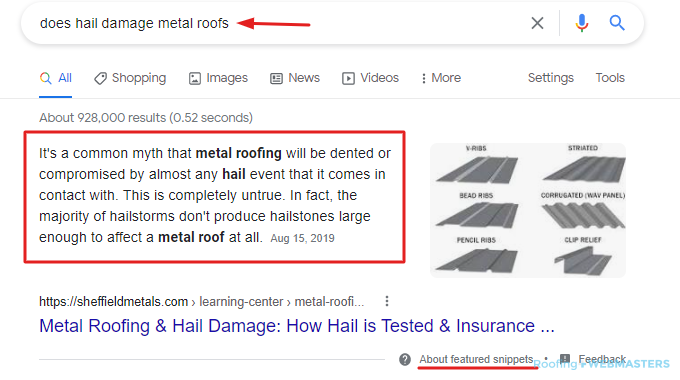 How to Get a Featured Snippet
Asks / Answers Question
Appears as Block of Text
Provides Summary of Answer
Is Relevant To The Search Query
Pages selected as featured snippets receive a link at the top of the SERP, above traditional organic results. A effectively becomes the #1 Google ranking and generates lots of clicks to your website. Most pages selected for snippets already appear within the top 10 organic results for the same query, but going from #9 to #1 is still quite a jump.
While jumping to the very top of SERPs is possible through paid means (Google Ads), featured snippets represent a chance to do so organically. No method can force Google to select your page and its content as a snippet on SERPs, but following proven techniques can improve the probability.
Optimizing for Featured Snippets
Most featured snippets already rank in the top 10. So your primary focus as a roofing company should be to master SEO for roofers in 2023 and start to drive up rankings for targeted keywords. Next, you can begin to optimize your top-ranking pages for featured snippets.
The best way to do this is to answer frequently asked questions within your content. For example, if you have a page about roof repair, a common problem might be, what is the cost of roof repair? In this case, one of your headers (H₁ or H₂) would pose that question, and the subsequent paragraph would answer it.
Looking at Google's "People Also Ask" section for your target keywords can help you find questions to answer. Here's the optimal length for featured snippets:
Source: MOZ
Answer questions in the form of paragraphs, bullet lists, or tables. Research shows that paragraphs are most common as featured snippets. With this in mind, writing an informative answer to a common question (between 45-97 words) can put your page in a great position.
A selection presumes that you are already ranking on the first page for the keyword that you can verify through a basic Google search or utilizing tools like SEMRush or Moz Keyword Explorer. Perhaps the most significant intrigue to featured snippets is their evening of the playing field.
If you find it difficult to overtake a well-established roofing company on traditional results, a snippet might be your answer to usurping them.
Best Images for Featured Snippets
Google often pulls images from anywhere on the page to associate with your featured snippet. Since you cannot request which photo they will use, you should ensure that each photo embedded on the page is worthy of being featured.
One way to achieve this is to add a brand logo to every image. You can do this with a WordPress plugin like Image Watermark, which will automatically include a watermark logo on each image (if enabled). While not every featured snippet displays a visual component, the ones that do tend to be even more appealing to users and typically generate higher click-through rates. By associating your brand with each image, you can earn the #1 Google ranking and entrench your brand within that highly coveted position.
As for the image files themselves, following standard image optimization practices is a great place to start. It would be best if you always made sure photos on a page are relevant to the content, visually and via alt text.
Since Google cannot yet define an image based on vision alone, it relies on alt text and file names when crawling your website. Avoid stock images, especially for roofing company websites. Consumers would prefer to see original and unique photos of your jobs and your employees than those found in royalty-free image libraries.
Similarly, a featured snippet image that is appealing is more likely to maintain its spot on the top of SERPs and generate quality traffic.