What is Reputation Management?
Reputation management is the process of attending to your public opinion and visibility through various promotional channels. When spoken about in the context of roofing SEO, reputation management refers to feedback and presence on online channels like Google Search, Google My Business, Facebook, Yelp, and other 3rd party platforms which people consult with while forming an opinion about your roofing business.
How Roofing Webmasters Manages Reputation
Roofing Webmasters uses reputation management software for roofers, called BrandRevu. This tool allows roofers to generate reviews from satisfied customers while verifying their work through job site check-ins. Both check-ins and reviews are populated onto your roofing company website based on the type of service performed and the location of the job. These variables dictate on which web page the check-in and review are displayed on, which could be anything from a local city page to a specific service page. Placing relevant and user-generated content on the appropriate pages helps those pages rank on Google search as a funnel for lead generation for roofers.
Why Reputation Matters for Roofers
Research suggests 92% of consumers read online reviews when considering a local business. In today's highly competitive digital landscape, online reviews can make or break your roofing business. Reviews on websites like Yelp, Google My Business, and Facebook combine with other factors to form your roofing company's online reputation. In a matter of minutes, a distressed customer can eviscerate your company online, and publish their opinion for the public at large. Reviews impact the following aspects of your company:
Authority: Positive reviews establish authority in your local community, and negative ones do the opposite
Credibility: The presence of good reviews adds legitimacy to your company
Trust: Consumers trust online reviews when choosing local businesses
Visibility: Reviews, positive or negative, provide a PR opportunity for companies
20 years ago, the process of impacting a company's image was strenuous and time-consuming. Even when the process was completed, it took a while for word to get out. 10 years ago, the process got simpler and quicker, as upset customers could go home, log on to their computer and post a negative review. Fast-forward to 2020, and that same process can now be condensed into seconds. With mobile devices and Wi-Fi, anyone can post a review at any time.
Why Roofers Need Online Review Management
Attempting to run the day-to-day operations of your roofing business while handling internet marketing and online reputation is an impossible task. For your company to reach its full potential, you must invest in reputation management services. At Roofing Webmasters, our team of SEO experts constantly monitors your reviews on Facebook, Google My Business, Yelp, and various other review platforms. Not only that, but we also help you generate more reviews by linking the corresponding profiles on your website. Review management provides the following benefits:
Content Creation: Search engines consider online reviews new content
Search Engine Optimization: Online reviews are considered a local search ranking factor
Social Media Activity: Many social media platforms, Facebook in particular, integrate reviews
Traffic Generation: Most review platforms allow companies to publish a link to their website
Online reviews should be thought of on two levels. The first level is the presence of reviews. Having zero reviews is almost as bad as having several bad reviews. There is no way to establish credibility if you don't create a platform for customers to provide feedback. For this reason, investing in review management from Roofing Webmasters is an important step to establishing an online presence. The second level of online reviews is the rating aspect. If you accumulate too many negative reviews, you will have to do some serious PR work to rebuild your company's reputation. In contrast, an abundance of positive feedback can have an extremely beneficial impact on your business.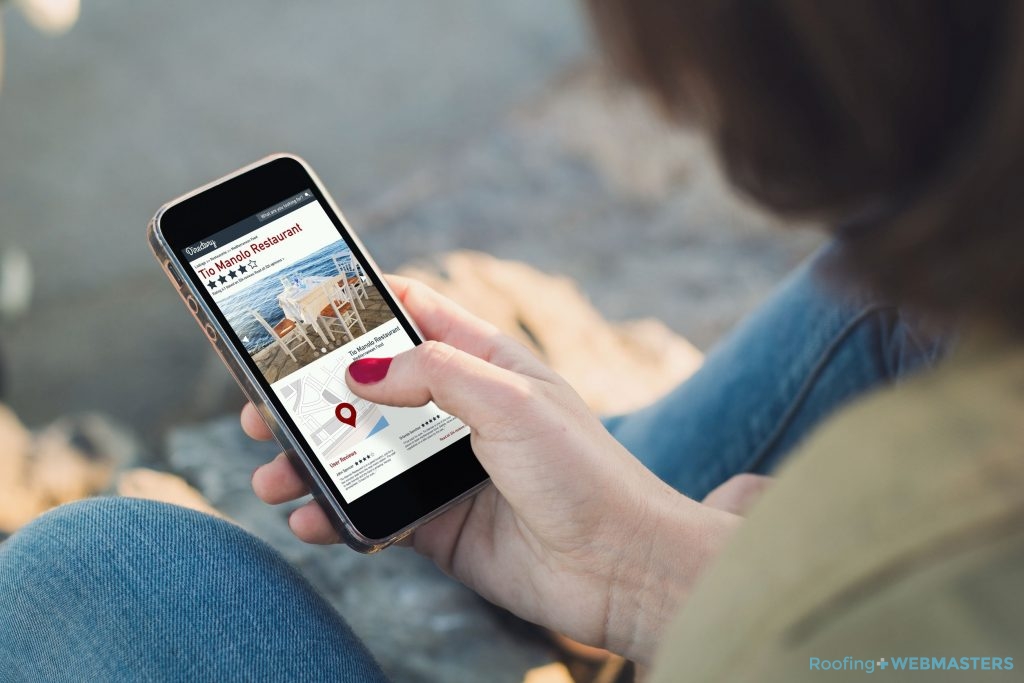 Online Review Platforms
At Roofing Webmasters, everything we do contributes to your bottom line. With our understanding of online reputation, our objectives are to generate, monitor, and respond to, online reviews. To generate reviews, we place links to your profiles in the footer of your website so that customers are encouraged to provide feedback. To monitor reviews, we enable notifications, so we are alerted whenever a new review is published. Finally, to respond to reviews, we consult directly with you and help formulate a professional and solution-oriented response. Our goal is to generate reviews on the following platforms:
Better Business Bureau
Facebook
Google My Business
Yelp
Occasionally roofing contractors will inquire about whether customers can publish a single review on multiple platforms. Not in the way you'd hope. Review platforms require customers to create an account and are logged in at the time of review publication. The only way to leave identical reviews across multiple platforms is to copy and paste them. The better strategy is to diversify your review solicitations, by encouraging some customers to use Google My Business, some to use Yelp, and so forth. Always remember, however, that you can never provide financial incentives in exchange for a customer review. Google has cracked down on unethical review generation and can penalize your company.
Call (800) 353-5758 for roofer reviews and reputation management services.