Roofers need online reviews to establish a reputation and generate high-quality leads. But the review process can be challenging in several ways. First, getting customers to take time out of their schedule to leave a review is a lot to ask. Second, even the customers who do agree to leave the review often have trouble finding the right platform on which to leave it and locating your specific profile page as well.
The solution to all of these problems is DataPins, a widget from Roofing Webmasters included in your custom website when you sign up for roofing SEO services.
DataPins does a lot for Local SEO and reputation management, but one great benefit is the on-site review widget. Visitors can read reviews from 3rd party websites like Google and Facebook via API plugin functionality. They can also click to leave a review.
What is DataPins?
DataPins is a widget developed by Roofing Webmasters that allows customers to leave Google, Facebook, and Yelp reviews directly from your website. It also populates existing reviews on those platforms to showcase to other website visitors. Finally, it sends text reminders to customers along with direct links to the widget so that they won't forget to leave feedback.
Top Benefits of DataPins for Roofers
Convenience
Homeowners don't want to waste any more time than is absolutely necessary. Finding your business page on Google, Facebook, or Yelp takes more time than most people have. The truth is that having your review system on your website makes the process much simpler and much more likely to occur.
Reputation
Since reviews are spread across several platforms, it's sometimes difficult for a prospective customer to gauge your reputation. DataPins includes an aggregate rating of all reviews so that they are combined to form a 5-star grade. Furthermore, the text feedback is displayed on a carousel so that future customers will read them.
User Experience
The DataPins widget is a website enhancement from both a design and content standpoint. It is professionally designed with graphical complexity to look appealing to viewers. The content pulled from the review platforms is user-generated, which makes it the most valuable content available on the web.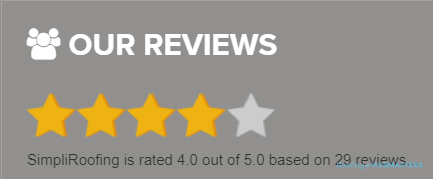 DataPins improves user experience by displaying a clean review widget integrated on your website.
The Importance of Online Reviews
Online reviews have a major influence on consumer behavior. After all, 85% of consumers trust online reviews as much as personal recommendations. There are several reputable places for customers to leave reviews of your roofing company, including; Google My Business, Facebook, and Yelp.
The problem is that these are 3rd party platforms, and therefore those reviews are not, by default, visible on your website. Our web design team uses HTML code to display reviews from external platforms on your home page. Advantages of this feature include:
Credibility: Reviews are integrated with their native platforms such as GMB, Yelp, or Facebook
Marketing: A Facebook, Yelp, or GMB-sponsored review is great for public relations
Organization: This feature condenses reviews to one local area (your website)
Visibility: If consumers find reviews on your main site, they can read them all in one place
Copying and pasting reviews from external sources makes them look illegitimate and doctored. The same is true of an on-site review system in which the credibility of testimonials would be naturally called into question. The solution is website reviews integration from Roofing Webmasters.
With our method, the credibility of the native platform (i.e., Facebook, GMB, Yelp) is transferred over along with the review. The bonus is that it is now visible on your main website, a place where everyone can see it and promptly inquire about your services.
Reviews As Part Of The Conversion Funnel
For roofing contractors unfamiliar with marketing terminology, the conversion funnel refers to the process a user takes from initial engagement to final purchase. Contractors create websites to engage users for long enough to complete a call-to-action, which can be anything from calling your phone number to subscribing to your email list.
On-site reviews integration is part of the conversion funnel and can keep users engaged on your site longer while increasing the probability that they complete the call-to-action. Integrated customer reviews provide the following:
Attraction: Engaged users improve website metrics, increasing rankings and attracting more visitors
Engagement: Users start reading through reviews and stay on your site longer
Encouragement: Positive reviews encourage users to take the next step in the conversion funnel
Conversion: Reviews serve as content that facilitates conversions and completions of CTA's
Website metrics help determine SEO and how Google perceives your page. Visitors who engage with integrated reviews stay on your website for longer, improving website performance and SEO and ultimately generating more traffic to your page.
Because engaged users who read credible reviews are more likely to become customers, the newly generated traffic becomes even more valuable, doubling the advantage of website reviews integration. Our expert web design team can implement customer reviews on your website ASAP!
Why Choose Roofing Webmasters?
Maybe you are looking into other companies, or maybe you think you can integrate reviews on your own. Here's why you should ditch those ideas and go with Roofing Webmasters. We are a full-service internet marketing company that will handle every aspect of your campaign.
We specialize in the roofing industry, so we have a unique understanding of your market and target audience and how to reach them most effectively. Our web designers work closely with our SEO experts and content writers to create roofers' ultimate internet marketing strategy.
One of the major downsides of internet marketing is long-term contracts. That is a non-issue with Roofing Webmasters. We offer month-to-month agreements so that you are never forced into a long-term commitment. The onus stays on us to consistently provide a superior performance so that you will remain our client. We are so confident in our abilities that we are willing to bet on ourselves monthly. We thrive when being held accountable. Gain access to this cutting-edge reviews widget today.