Roofing Webmasters offers Roofing SEO Services to contractors and companies across the nation. Our services include the popular Local SEO Software Tool, DataPins, along with custom website design, on-page SEO, keyword research, and Google My Business management.
Our services are offered at an affordable monthly rate and DO NOT require a long-term contract. We provide a month-to-month agreement to all of our roofers.
---

---
---
SEO Services from Roofing Webmasters
---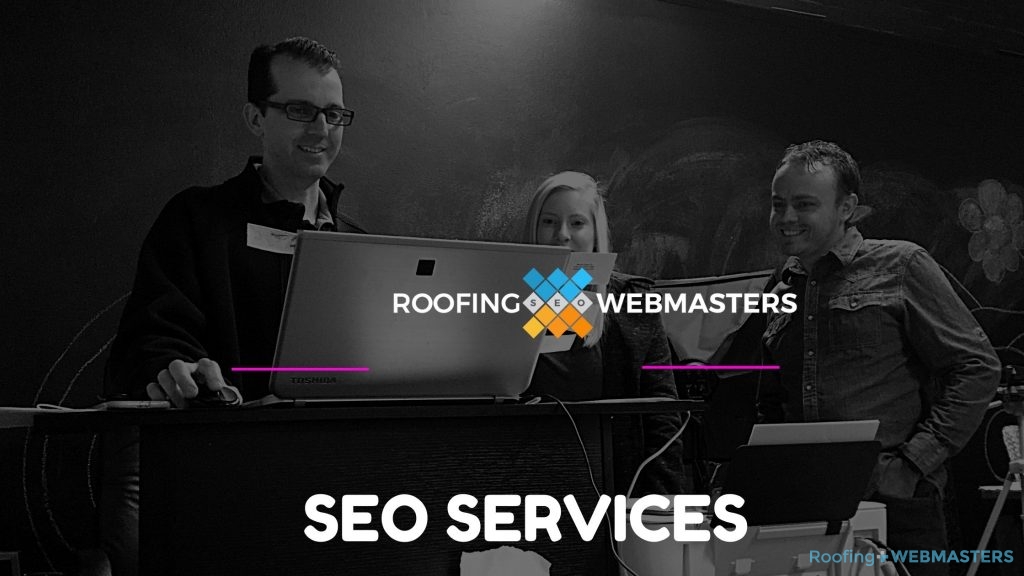 ---
---
On-Page SEO
Roofing Webmasters optimizes on-page content for search rankings. Google wants to see keywords but does not want to see keyword stuffing. The Webmasters team strikes a balance by blending primary keywords with LSI or secondary keywords.
Our team also places relevant internal links within the page so that users can easily navigate to other relevant pages on your website.
---
---
Content Writing
Our in-house content writing staff produces high-quality, SEO-friendly content for each page. Our team uniquely crafts each service page with relevant content that enhances the user experience and impresses search engines. The Webmasters' content is free of grammatical errors or irrelevant text that fails to add value to the pages. We create value with high-quality web content.
---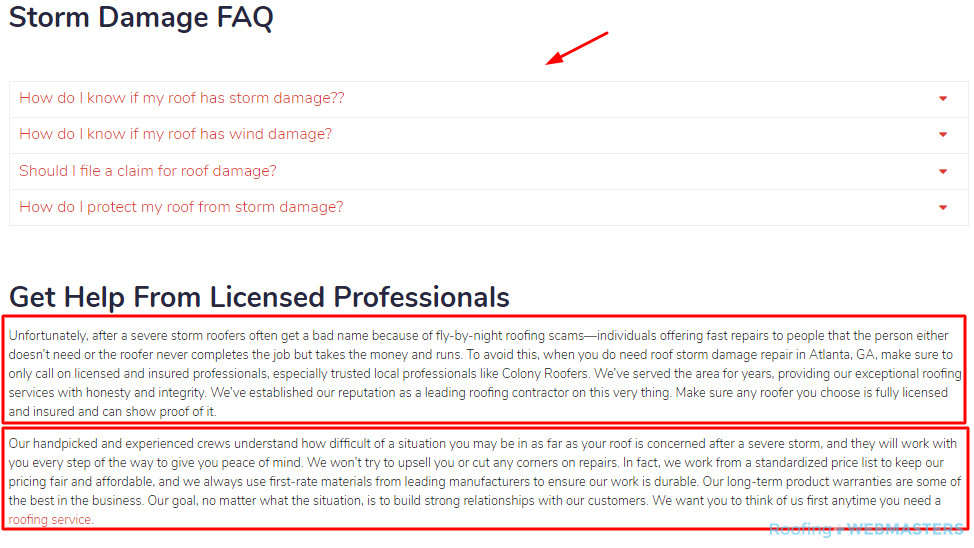 ---
Web Design
The Roofing Webmasters' design team understands design's influence over SEO. Our designers craft custom websites with schema markup, a clean codebase, and user-friendly navigation.
Using a WordPress content management system, we ensure your website is compatible with open-source technology that can enhance SEO moving forward.
We also ensure your website meets Google's requisite performance metrics on mobile and desktop.
---
---
Local SEO
With over 70% of local searches going to the Local Map-Pack, Roofing Webmasters ensures your company shows up within the 3-Pack. We include our proprietary SEO tool, DataPins, to validate your service area with geo-coordinated check-ins.
Additionally, we optimize your Google Business Profile to have the best chance of ranking within the top 3 on Google Maps and converting customers in the process.
Roofing Webmasters is one of the few SEO companies that offer complete Google Business Profile optimization. Some of our competitors state they want their clients to manage listings manually, but we proudly provide complete GMB management services.
---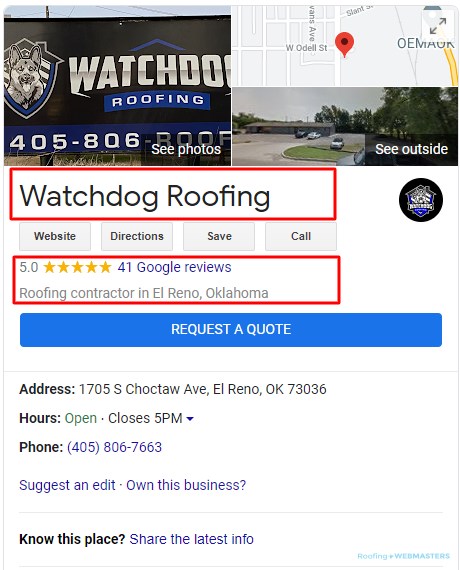 Any company that does NOT manage your Google Business Profile is not genuinely offering SEO services.
---
Reputation Management
The Webmasters' DataPins tool also expands to reputation management by sending automated review requests through SMS and email.
We help your roofing company get more reviews in 2023, contributing to higher Map-Pack rankings and a superior online reputation.
Our staff monitors reviews for spam and negativity and helps roofers craft appropriate responses for long-term branding.
---
---
Technical SEO
The Roofing Webmasters team maximizes website performance and user experience with technical SEO and schema markup. Our team uses technical SEO tactics and the WPRocket WordPress plugin to speed up your website.
Additionally, we ensure easy crawlability for search engines by including a comprehensive sitemap with your pages and URLs. Your site receives an automatic backup every 15 minutes, so you never lose your progress.
---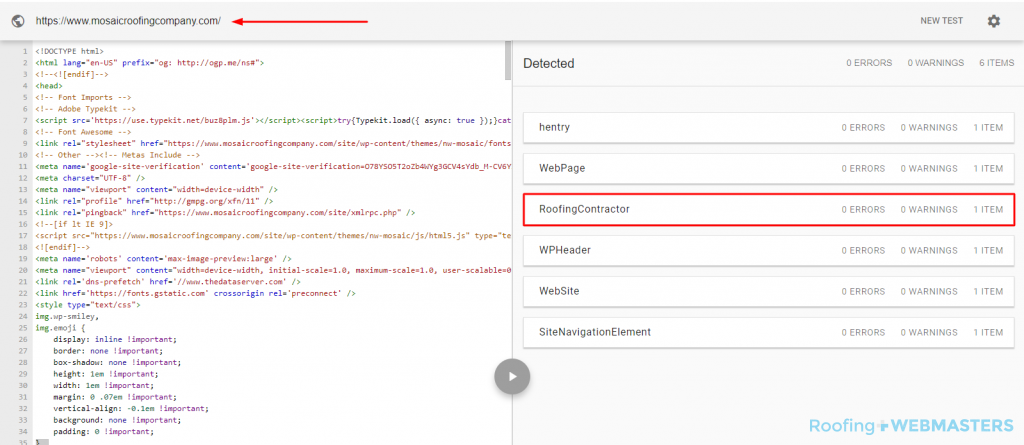 ---
Roofing Company SEO
SEO for roofers achieves two major things for your roofing company. The first is Google Map-Pack ranking, and the second is Google Search ranking.
An estimated 75% of Google clicks come from one of these platforms. The good news is that proper search engine optimization helps your business rank in both places.
---
Google Map-Pack Ranking
As a roofer, you probably know about the Local Map 3-Pack. It's the list of 3 roofing businesses that appear for local searches. At Roofing Webmasters, our services help you appear on those map rankings through Google Business Profile optimization and check-in schema.
Our DataPins tool helps roofing companies validate their service area through geo-coordinates. The result is a Local 3-Pack ranking and a chance to generate more leads in 2023.
---
Check out some of Roofing Webmasters' SEO case studies to see how Google Map 3-Pack rankings contribute to SEO success for our clients in 2023.
---
Google Search Ranking
Ranking on Google Search remains one of the most essential SEO elements. While 3-Pack rankings have certainly attracted a large percentage of clicks, a correlation exists between map and search rankings.
Furthermore, depending on the location, fewer searched queries like TPO roofing may not show map results. In such scenarios, ranking in position one on Google's traditional search results becomes critical.
At Roofing Webmasters, we help clients rank for a wide range of roofing keywords that validate your services, like roof repair, roof replacement, and more.
---

---
SEO Plan for Roofing Companies in 2023
2023 presents new challenges for roofer SEO with the emergence of Google's Helpful Content Update, Page Experience Update, and Passage Ranking Update. The Webmasters team provides you with innovative solutions to Google's newest standards.
Our team works tirelessly to identify the most potent rankings and lead generation strategies in 2023. With hundreds of clients on board, we look forward to working with your company in 2023.
---
---
Roofing Contractor SEO Branding
According to Hubspot, 97% of local consumers say they learn the most about a business online. For roofing companies, capturing that market share relies almost entirely on a robust web presence.
Even if prospects know of your company through traditional means like door knocking or yard signs, you can be sure that they will research your brand name online before making a final determination.
SEO ensures that cold customers find your business when searching for local services and that others who already know of your brand can validate its reputation.
---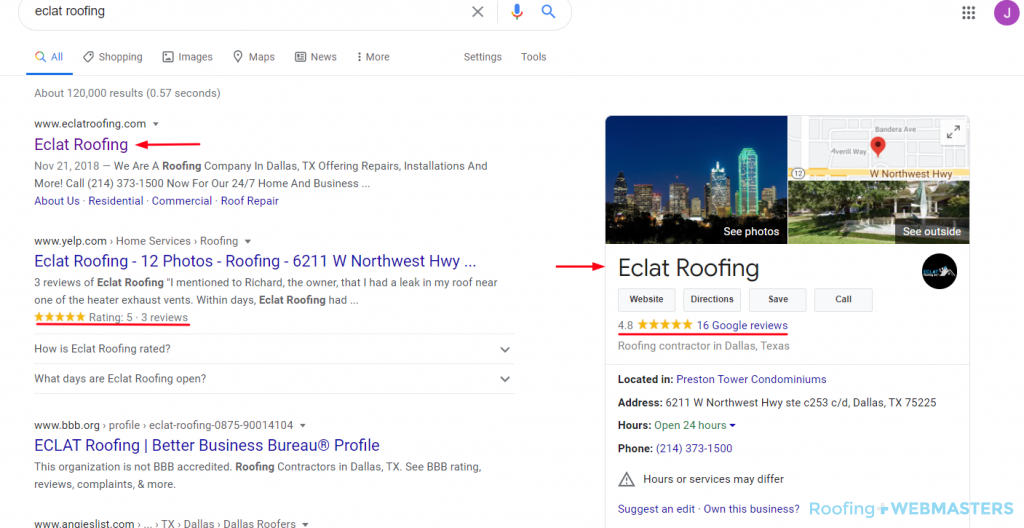 ---
SEO for Roofers
Since roofing websites appeal to local consumers with specific needs, the optimization process must cater directly to the industry. We've mastered this challenge at Roofing Webmasters.
We generate leads for hundreds of clients with custom website design, keyword optimization, Google Maps and My Business integration, and high-quality content.
These combined activities help countless roofers dominate their local area through organic clicks.
---
How SEO is Different for Roofing Companies
Most roofers operate in a localized service area. However, many businesses limit their revenue by attempting to compete on a national search level. In other words, they're competing with everyone and not effectively connecting with people located in their community.
Others mistakenly target broad industry keywords that require years to rank and generate mostly irrelevant traffic once they do.
SEO for roofing contractors specifically targets industry and specific service-related keywords inside your local community.
This strategy creates a much stronger supply of qualified leads, many of which come from Google's Local Map-Packs. That's why we incorporate citation listings, optimize GMB profiles, and simplify collecting client reviews.
---
SEO Marketing
Marketing for roofing companies is challenging. Luckily, Roofing Webmasters provides SEO services for contractors and companies throughout the United States. With years of experience promoting services on behalf of roofers, we've developed valuable marketing insights within the roofing industry.
Keywords are only one element of an effective SEO strategy. Businesses shouldn't abuse them by stuffing terms into on-page content out of context. Instead, optimization should also focus on quality writing, ensuring its online presence reflects well on the business.
That's why seasoned SEO services also work on:
---
Image Optimization: Renaming image files and entering alt text once uploaded
Keyword Placement: Researching industry keywords and dispersing them throughout the content
Meta Descriptions: Writing an informative meta description that fits within character limitations
Title Tags: Optimizing title tags with industry keywords
---
Websites for roofers should be fully optimized for local and industry terms and exhibit each of the components mentioned above. Choosing Roofing Webmasters as your SEO service ensures each element fits your website's fundamental infrastructure.
Our services aim to generate exclusive roofing leads on behalf of our clients. Since most leads will come from Google search, mainly via a mobile device, each company's website must be 100% refined for search visibility and mobile usability.
---
Generating Roofing Leads From SEO
SEO and online leads are related. Search engine optimization was first introduced into the roofing industry to generate better and cheaper leads. A properly optimized roofing company website can accomplish this.
However, it's vital to stress that in 2023, almost every contractor uses online marketing of some kind. There's more competition today than there has ever been before.
While such a crowded marketplace discourages some from trying, the advancements in tools like Google Analytics empower companies to measure their marketing campaigns in real-time precisely. That means you can effectively track your success.
SEO promotes roofer lead generation through the following channels:
---
Search Results: The traditional ten organic results on Google page 1.
Local 3 Pack: The most prestigious map listings (usually 3) appear at the top of regional results.
Featured Snippets: Highly coveted text blocks that serve as a de facto #1 ranking.
Knowledge Graph: A company profile that appears on the right-hand side of the organic results.
---
Is SEO for Roofers Better Than PPC?
Optimization works best with PPC rather than instead of it. The two techniques play off one another, with organic results getting more clicks but paid results getting more visibility.
Although PPC ads look similar to organic results, they don't attract as many quality clicks. Roofing SEO and PPC get consumers in the door, but contractors must seal the deal. 
Combining SEO, PPC, and reputation management has proven successful for many roofers.
---
How Long Does Roofing Company SEO Services Take?
Optimization takes time, dedication, and an in-depth understanding of the marketplace. But the results are so worth it. Generating organic clicks is excellent for business, but roofers must understand how to encourage consistent clicks.
Engaging content is a perfect place to start. Still, roofers can't ignore the importance of visually appealing websites and a consistent social media voice that connects with target customers on their preferred channels.
Let's take a look at some elements of an effective SEO marketing strategy for roofers:
---
Keyword Research: Research keywords for industry and location relevance
Page Structure: Create a URL hierarchy to mark parent and child pages
Site Preparation: Arrange SEO elements like titles, meta descriptions, and images
Social Media: The refinement of social network profiles and content shared on them
---
Starting from scratch is usually best when a website consistently fails to generate roofing leads, clicks, and traffic. Since pages gain authority through inbound links, failure to rank prevents quality inbound links from reputable sources.
Roofing Webmasters can create a custom website from scratch, tailor-made for your company's improved lead generation and brand growth.
---
---
Understanding The SEO Process
One underappreciated aspect of search optimization is website design. Several technical factors influence search rankings, and Roofing Webmasters implements each for maximum results.
One example is schema markup, a series of microdata strings that inform Google about your page's topic, subject, and location. Other design elements include calls to action, site speed, and user experience. Refining your website is integral to maximizing roofing companies' search rankings.
Here are some design elements that can make an impact.
---
Calls to Action: CTAs help users take action decisively
Schema Markup: Schema helps search engines understand your page
Site Speed: Fast websites appeal to modern users and satisfy search engines
User Experience: User experience dictates behavioral metrics such as bounce rate, time on site, and other presumed ranking factors
---
Ranking on Google's first page requires a holistic approach to search optimization. Design is an often undervalued component and one that Roofing Webmasters takes quite seriously.
In contrast to other design firms, we craft sites specifically to influence search rankings. We include schema markup on each page and ensure that search engines can identify your website and properly index it for relevant users. We provide search engines with their ideal websites to help you as a company.
---
Local SEO for Roofers
Ranking for various service areas can be challenging for roofing companies. While your address might be within a particular town, you must also service customers in nearby cities. Ranking in Google's Local Map-Pack is the key to local SEO.
With our DataPins software, roofers can appear prominently in the Map Pack and showcase their jobs through check-ins. In addition to the local SEO aspect, DataPins also helps with reputation management.
Here are the keys to local SEO for roofers:
---
Google Map-Pack Ranking
Ranking in Multiple Cities/Service Areas
DataPins Software With Check-ins and Review Requests
Generating More Reviews on Google My Business
---
Your Google My Business listing serves as the central hub for your local SEO. It is critical that your listing includes a link to your website URL, along with accurate NAP information and unique and updated photos of your business.
Map Pack rankings make up a large percentage of local clicks, but ranking on traditional organic search results remains imperative. With our services, you can rank on both Google Maps and Google Search for local terms.
---
Roofing Webmasters
Each industry demands its own unique digital marketing strategy. Local roofers face different challenges than businesses in other states, let alone different lines of work.
Your prospective customers also require specialized care when it comes to online service. That's why we stay up with the latest trends in the roofing industry to help your business adapt to your target customer base's current expectations.
Each industry provides unique SEO challenges that won't respond to a broad-brush approach. At Roofing Webmasters, we craft unique, targeted marketing campaigns for roofing companies.
With over a decade of experience serving roofers throughout the U.S., our data guides us to the best solutions for our clients. A generalized SEO company cannot apply a cookie-cutter approach to local roofers.
After countless contractors have come to us, unhappy with their previous provider, they've found that industry-targeted solutions provide the best results.
---
---
Case Studies & Proof of Results
Investing in SEO services requires a commitment from the business owner, so it's only fitting that they can see proof of results. At Roofing Webmasters, we showcase multiple case studies on our website to give prospects an inside look into our standard operating procedures and the consistent results they produce in 2023.
Just like you wouldn't trust any car mechanic or chiropractor, you shouldn't trust any SEO company. Take a look at some of our results:
---
Roofing Company SEO Case Study #1
When this Atlanta-based roofer started with our SEO services, they were getting around 189 monthly clicks from Google search. Once we implemented our SEO system, they started getting approximately 678 monthly clicks from Google search.
That's a 258.73% increase in organic clicks from Google alone. As a result, the roofing company enjoyed an increase in leads per month, sales per month, and monthly revenue, all thanks to our optimized system.
---

---
Roofing Company SEO Case Study #2
This Plano, TX roofing company came to us in September 2019, looking to grow its organic reach on Google and other search engines. Our system proved to work quickly for this business by helping them earn hundreds of monthly organic clicks in less than six months from launch.
---
Our system continued to boost its organic presence, increasing from 233 monthly clicks (May 2020) to 435 monthly clicks (May 2021), resulting in an 86.69% increase in that duration.

---
As you can see, roofing SEO services can significantly impact a company in 2023 and beyond.
---