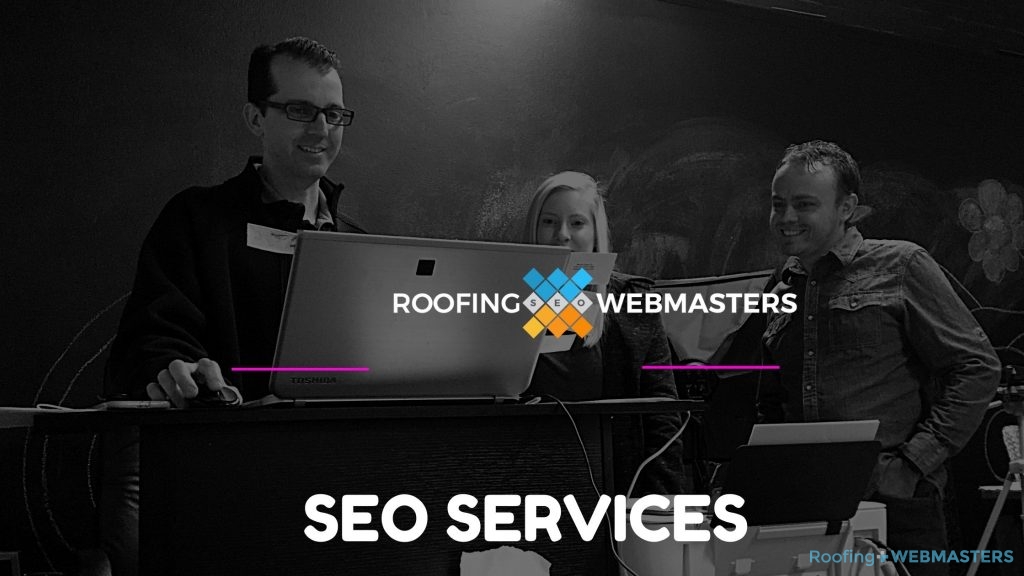 In 2021, roofing SEO is essential to growing your business. Roofing Webmasters, we understand that Search Engine Optimization (SEO) provides the best marketing ROI for roofing professionals. Today's consumer searches for roofing services online and forms an opinion about potential companies based on their online presence and reputation. According to Google, SEO gives your business the best chance of being found.
While its benefits are evident, roofing SEO has changed a lot in the past decade. Back in 2009, ranking on Google was a relatively straightforward process. The landscape is much more competitive now. Every roofer in your service area has a website. They've hired someone to work on their marketing campaign. SEO is no longer a luxury for roofers but is now essential for surviving online.
Why does roofing SEO matter so much?
Discovery: Placement impacts the ability of local consumers to find your business.
Reputation: Rank directly influences the way people see your brand.
Consideration: Low ranking businesses won't even get considered in the selection process.
Communication: Most consumers' first point of contact is through an online portal.
Growth: Search empowers almost every aspect of marketing, making it easier to grow.
SEO for Roofers: Why Bother?
If it's so competitive online, why even try? Because success is still attainable if you do things right. Roofing Webmasters manages hundreds of roofing marketing campaigns across the nation and sees consistent success using our tested formula. We get results, which is why roofers sign on with us in the first place. SEO is worth it because it works. If it didn't, we wouldn't have a business.
How SEO Became Mainstream for Roofing Companies
According to Hubspot, 97% of local consumers say they learn the most about a business online. For roofing companies, capturing that market share is almost entirely reliant on a robust web presence. Even if prospects know of your company through traditional means like door knocking, or yard signs, you can be sure that they will research your brand name online before making a final determination. SEO ensures not only that cold customers find your business when searching for local services but that others who already know of your brand can validate its reputation.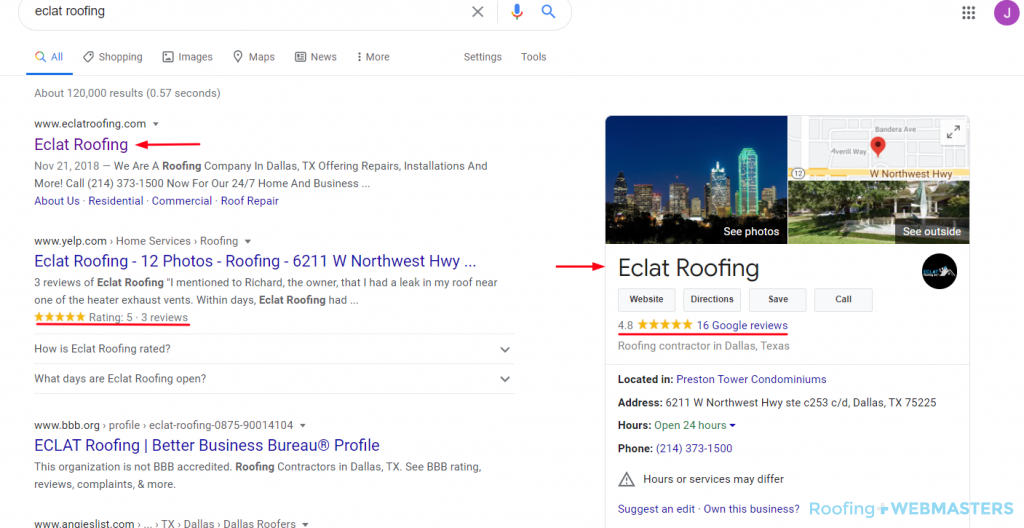 Roofing SEO Vs. General SEO?
Roofer SEO requires a different approach than general SEO. Since roofing websites appeal to local consumers with a specific need, the optimization process needs to directly cater to the industry. We've mastered this challenge at Roofing Webmasters. With custom website design, keyword optimization, integration of Google Maps and My Business, and high-quality content, we generate leads for hundreds of clients. These combined activities help countless roofers dominate their local area through organic clicks.
Ways Roofer SEO is Different
Most roofers operate in a localized service area. However, many businesses limit their revenue by attempting to compete on a national search level. In other words, they're competing with everyone and not effectively connecting with people located in their community. Others mistakenly target broad industry keywords that require years to rank, and once they do, generate mostly irrelevant traffic.
SEO for roofers specifically focuses on targeting both industry and specific service-related keywords inside your local community. This strategy creates a much stronger supply of qualified leads, many of which come from Google's local map packs. That's why we incorporate citation listings, optimize GMB profiles, and simplify collecting client reviews.
SEO Specifics for Roofers
Marketing for roofing companies is challenging. Luckily, Roofing Webmasters provides SEO services for contractors and companies throughout the United States. With years of experience promoting services on behalf of roofers, we've developed valuable marketing insights within the roofing industry. Keywords are only one element of an effective SEO strategy. Businesses shouldn't abuse them by stuffing terms into on-page content, out of context. Instead, optimization should also focus on quality writing, ensuring its online presence reflects well on the business. That's why seasoned SEO services also work on:
Image Optimization: Renaming image files and entering alt text once uploaded
Keyword Placement: Researching industry keywords and dispersing them throughout the content
Meta Descriptions: Writing an informative meta description that fits within character limitations
Title Tags: Optimizing title tags with industry keywords
Websites for roofers should be fully optimized for local and industry terms and exhibit each of the components mentioned above. Choosing Roofing Webmasters as your SEO service ensures each element fits into your website's fundamental infrastructure. The objective of our services is to generate exclusive roofing leads on behalf of our clients. Since most leads will come from Google search, mainly via a mobile device, each company's website must be 100% refined for search visibility and mobile usability.
What is Roofer SEO?
Roofer SEO is the process of optimizing a website to appear on Google search results. SEO optimizes for both traditional organic rankings (10 blue links) and local map pack rankings. Appearing on search results helps contractors generate more clicks and get new customers. The process involves on-page SEO, off-page SEO, keyword placement, URL structure, and more.
How Do SEO Services Help Roofers?
SEO services help roofing contractors generate more clicks on their website, Google My Business page, and other online entities. When more people find your business on Google, more sales come in and your business grows accordingly. The best part about SEO services is they don't require paid advertising methods which can quickly drain your bank account.
What are the Main Elements to Roofing SEO?
Roofing SEO includes on-page SEO, off-page SEO, keyword research, website design, and much more. Some people think SEO is a single task that a person can perform and then be done with. The truth is that SEO is an ongoing process that requires consistent refinement. It requires an evolving understanding of how Google's algorithm works and continues to improve.
Generating Leads From Roofing SEO
SEO and online leads are related. Search engine optimization was first introduced into the roofing industry to generate better and cheaper leads. A properly optimized roofing company website can accomplish this. However, it's key to stress that in 2021, almost every contractor uses online marketing of some kind. There's more competition today than there has ever been before. While such a crowded marketplace discourages some from trying, the advancements made in tools like Google Analytics empowers companies to precisely measure their marketing campaigns in real-time. That means you can effectively track your success.
SEO promotes roofer lead generation through the following channels:
Search Results: The traditional ten or so organic results on Google page 1.
Local 3 Pack: The most prestigious map listings (usually 3) appear at the top of regional results.
Featured Snippets: Highly coveted text blocks that serve as a de facto #1 ranking.
Knowledge Graph: A company profile that appears on the right-hand side of the organic results.
Is SEO Better Than PPC?
Optimization works best with PPC rather than instead of it. The two techniques play off one another with organic results getting more clicks, but paid results get more visibility. Although PPC ads look similar to organic results, they don't attract as many quality clicks. SEO and PPC get consumers in the door, but contractors have to seal the deal.
Combining SEO, PPC, and reputation management has proven to be successful for many roofers.
SEO Marketing Strategy
Optimization takes time, dedication, and an in-depth understanding of the marketplace. But the results are so worth it. Generating organic clicks is excellent for business, but roofers must understand how to encourage consistent clicks. Engaging content is a perfect place to start. Still, roofers can't ignore the importance of visually appealing websites and a consistent social media voice that connects with target customers on their preferred channels.
Let's take a look at some elements of an effective SEO marketing strategy for roofers:
Keyword Research: Research keywords for industry and location relevance
Page Structure: Create a URL hierarchy to mark parent and child pages
Site Preparation: Arrange SEO elements like titles, meta descriptions, and images
Social Media: The refinement of social network profiles and content shared on them
When a website consistently fails to generate roofing leads, clicks, and traffic, starting from scratch is usually best. Since pages gain authority through inbound links, failure to rank prevents quality inbound links from reputable sources. Roofing Webmasters can create a custom website from scratch, tailor-made for your company's improved lead generation and brand growth.
Optimizing Your Website for Search
One underappreciated aspect of search optimization is website design. Several technical factors influence search rankings, and Roofing Webmasters implements each of them for maximum results. One example is schema markup, a series of microdata strings that inform Google about your page's topic, subject, and location. Other design elements include calls to action, site speed, and user experience. Refining your website is an integral component of maximizing search rankings for roofing companies. Here are some design elements that can make an impact.
Calls to Action: CTAs help users take action decisively
Schema Markup: Schema helps search engines understand your page
Site Speed: Fast websites appeal to modern users and satisfy search engines
User Experience: User experience dictates behavioral metrics such as bounce rate, time on site, and other presumed ranking factors
Ranking on Google's first page requires a holistic approach to search optimization. Design is an often undervalued component and one that Roofing Webmasters takes quite seriously. In contrast to other design firms, we craft sites specifically to influence search rankings. We include schema markup on each page and ensure that search engines can identify your website and properly index it for relevant users. We provide search engines with their ideal websites to help you as a company.
Roofing Industry Focused Optimization
Each industry demands its own unique digital marketing strategy. Local roofers face different challenges than businesses in other states, let alone different lines of work. Your prospective customers also require specialized care when it comes to online service. That's why we stay up the latest trends in the roofing industry to help your business adapt to your target customer base's current expectations.
The Most Powerful Reputation Management Software for Roofers. Rank Effortlessly on Google Maps and Organic Search Results
Each industry provides unique SEO challenges that won't respond to a broad-brush approach. At Roofing Webmasters, we craft unique and targeted marketing campaigns for roofing companies. With over a decade of experience serving roofers throughout the U.S., our data guides us to the best solutions for our clients. A generalized SEO company cannot apply a cookie-cutter approach to local roofers. After countless contractors have come to us, unhappy with their previous provider, they've found that industry-targeted solutions provide the best results.