Part of every sound SEO strategy includes tracking and measuring performance. As a result, Roofing Webmasters provides Google Analytics tracking and reporting as part of our SEO services package. Our clients receive Google Analytics reports showcasing their progress with traffic and acquisition. Also, our team utilizes Analytics data to find clients' new opportunities and maximize lead generation.

Why Roofers Need Google Analytics
There are several misconceptions about digital marketing for roofers, including where traffic comes from and when it converts. As a result, measuring the precise source of traffic and conversion is vital to optimizing your roofing marketing campaign. Google Analytics is the best tool for tracking these metrics:
Bounce Rate: The rate at which users exit your site immediately after the entrance
Conversion Rate: The rate at which a visitor becomes a lead
Traffic Source: Where website visitors come from (direct, referral, etc.)
User Demographics: Characteristics of your visitors (age, gender, location, etc.)
Measuring on-site behavior illustrates areas that need improvement and areas of great strength. The more data we can accumulate and analyze, the more efficiently we can market your roofing services to a target audience.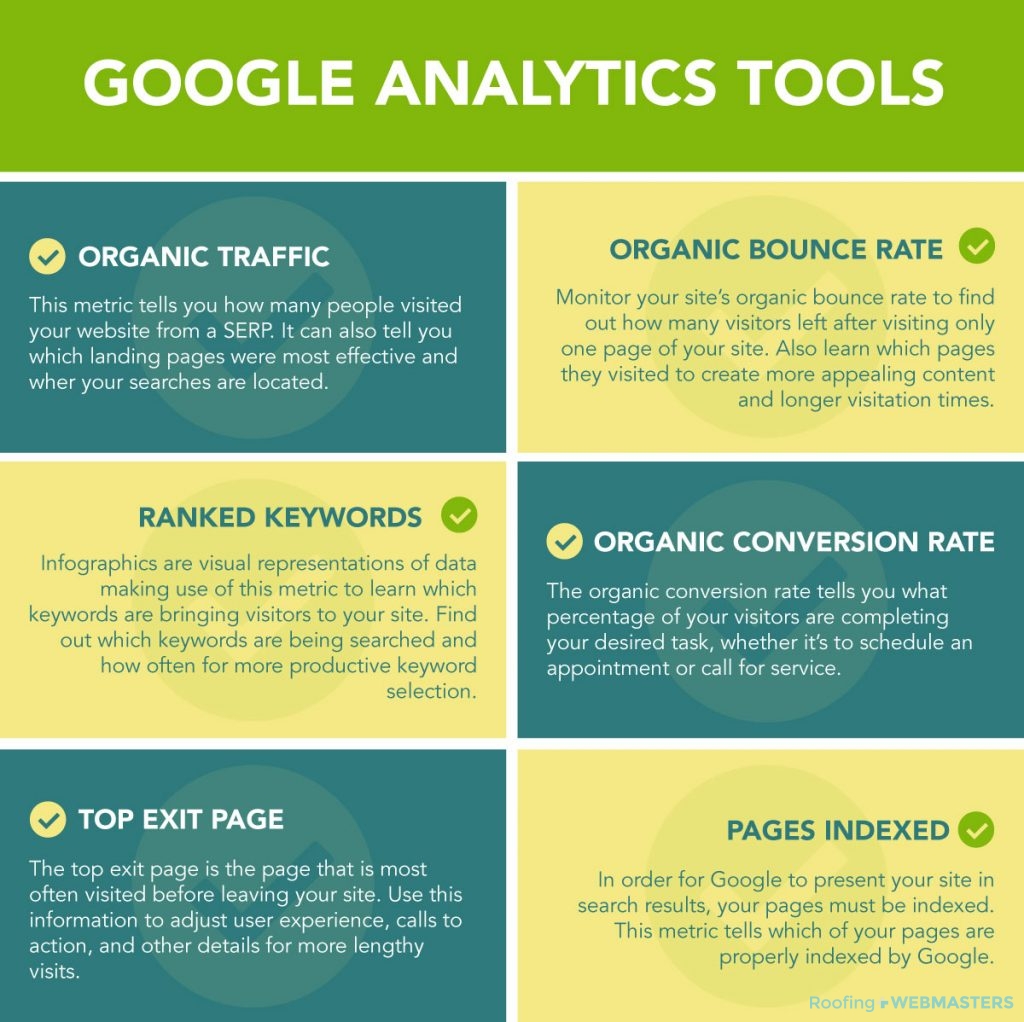 Installing Google Analytics tracking code within your HTML source code ensures you can track the metrics outlined in this graphic.
For example, data showing a large percentage of traffic from a location outside your company's service radius instructs you to do one of two things. Either adjust your SEO to discourage those visitors from entering or expand your service radius to cover that location.
Migrating to Google Analytics 4
Google Analytics 4 will replace Universal Analytics on July 1, 2023. On this date, all standard Universal Analytics properties will discontinue data processing. As a result, roofing companies with UA properties must migrate before July. Roofing Webmasters can help you make this transition easily and efficiently.
GA4 allows roofing companies a broad view of consumer behavior via first-party "modeled" data. The enhanced matching learning features and reporting options allow websites to meet evolving privacy regulations in the technology ecosystem. Furthermore, GA4 allows you to continue to gather insights.
Is Google Analytics Required for Roofing Websites?
Although a website can rank on Google without installing Google Analytics tracking, maximizing results without corresponding data and measurement becomes very difficult. Of course, other tracking tools like Google Search Console can also help guide your SEO efforts. However, no other tool gives the broad range of insights provided by Analytics.
As a result, Roofing Webmasters installs GA tracking code on every client website. GA allows our SEO team to properly analyze, evaluate, and improve SEO campaigns for your roofing websites. With this data, we can work towards getting your site more traffic and more consistent leads.