Roofing Webmasters provides digital marketing for roofing contractors by offering affordable monthly plans with complete services including DataPins, Facebook Marketing, PPC Marketing, and Email Marketing.
In addition, our agency has decades' worth of marketing data for successful roofing campaigns. Discover some of our best digital marketing services below:
DataPins
Roofing Webmasters is the only internet marketing company for roofers to offer DataPins, a powerful Local SEO tool that boosts local rankings while enhancing reputation. DataPins publishes schema-pins on service and city pages, validating services and service areas on Google Search and Maps. DataPins also automates review requests via email and SMS texts.
Facebook Marketing
For ROI, Facebook Ads for roofers is a powerful marketing tool. Roofing Webmasters offers roofing company Facebook marketing that optimizes ad spend while generating consistent leads. Facebook marketing for a roofing company works best when paired with other services like email marketing, PPC marketing, and search engine optimization.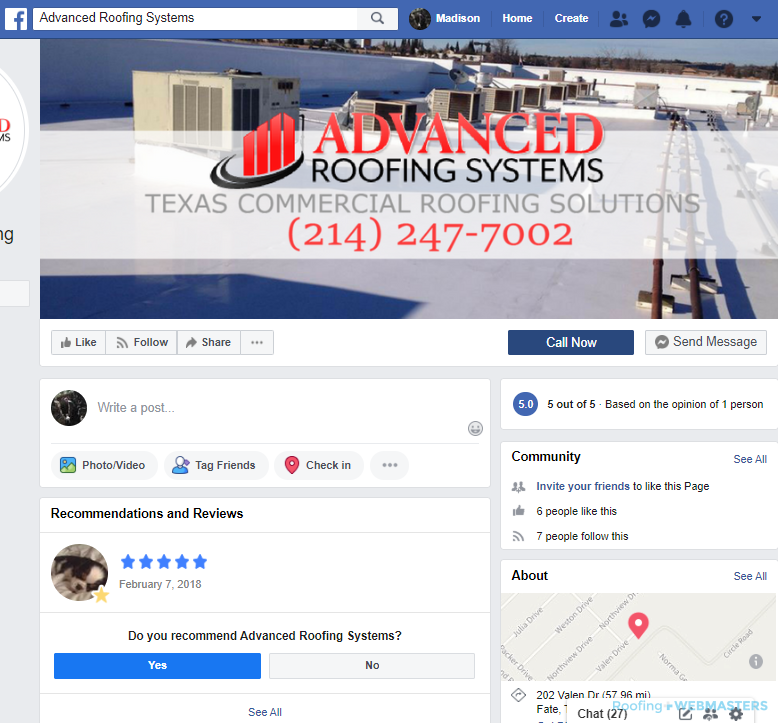 PPC Marketing
Newer roofing companies can take advantage of Google Ads with PPC marketing campaigns. Although SEO provides the highest return, brand new websites have trouble ranking on page one. Running Google Ads guarantees visibility on SERPs while waiting for SEO to occur. Roofing Webmasters offers PPC management services for companies in the U.S.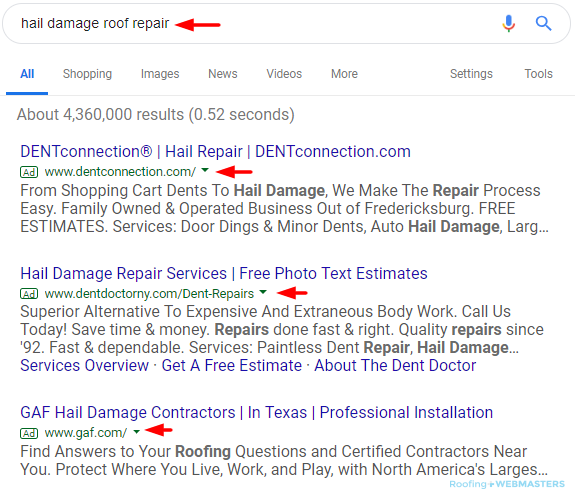 Email Marketing
Email marketing is one of the most effective marketing strategies for roof contractors in 2023. Since email subscribers have already shown interest in your service, you can convert them at a higher rate than a cold lead. Roofing Webmasters offers email marketing campaign management which segments users into categories for a more compelling email drip sequence.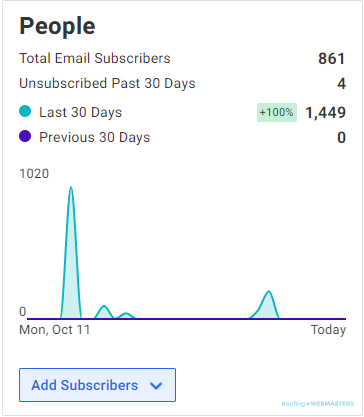 Choosing a Digital Marketing Company
When choosing a roofer online marketing company, you should look out for the cost, term agreements, services provided, and years in business. One of the first things you should do is research their online reputation, especially their company's reviews on Google Business Profile.
Pricing
Digital marketing service prices vary widely depending on location, budget, and need. For example, a roofing company might spend anywhere from $750 to $5,000 per month on digital marketing endeavors. So be sure to ask about pricing upfront, so you aren't surprised by the payment plan later.
Term Agreements
Paying $2,500 per month for digital marketing might be a risk for roofers, but getting locked into that monthly payment for 12 or 24 months is a nightmare. The risk lowers considerably when paying month-to-month, so be sure to inquire about the agency's term agreements before signing on.
Services
Some digital marketing agencies offer individualized services like website design, content marketing, or on-page SEO. Others include all of these services in one monthly plan. The latter typically provides more value for your dollar as you get everything you need for a robust online presence. In either case, be sure to ask about which services are included.
Years in Business
Trust is a factor when hiring an internet marketing agency in 2023. The good news is that it's easier than ever to research a company before investing in its services. Check the company's Google Business Profile, LinkedIn page, and even their YouTube channel to gauge how long they've been in business. Don't be afraid to ask the owner directly.
Online Marketing Benefits for Roofing Professionals
Investing in internet marketing is a wise decision in 2023. The average person now spends 8 hours daily with digital content. As a result, reaching new customers is best achieved by connecting with them online. Digital marketing for roofing companies ensures you can reach users.
Reach Customers on Various Digital Platforms
Whether you reach users on your website, search engine, social media, or elsewhere, you are expanding brand awareness and driving lead generation. Roofing Webmasters ensures each roofing company showcases a robust online presence and reaches local consumers.
Generate Exclusive Roofing Leads
Digital marketing produces exclusive roofing leads which hold greater value than shared leads. Exclusive leads come from consumers ready to buy roofing services directly from your company, rather than going through a middle man like a 3rd-party lead broker. The Webmasters team invests heavily in lead generation tactics that produce new customers.
Display Social Proof for Conversions
We live in an increasingly visual society that influences consumers' buyer journeys. People want to see proof of your company, services, and experience before investing their hard-earned dollars. DataPins displays social proof by dropping pins each time you complete a roofing job. The tool also connects pins with reviews so users can validate your services.
Grow Your Roofing Company in 2023
Most business owners set yearly goals, and for 2023 growing your roofing business is attainable through digital marketing. By driving exclusive leads to your website and Google Business Profile, you can increase your yearly revenue, hire more contractors, and expand your service areas. Everything is achievable with digital marketing services from Roofing Webmasters.