Roofing Webmasters offers PPC management services for roofers looking to increase lead generation online. Our 10+ years of experience working with roofers on digital marketing campaigns gives us unique expertise for paid advertising.
Our Google-Ads certified PPC specialists are ready to help companies expand their reach online in 2023.
---
---
What is Roofing PPC?
Roofing PPC is a paid advertising method called pay-per-click marketing. Roofing companies can showcase ads at the top of search results by paying each time a user clicks on the advertisement.
These ads typically lead to landing pages that help convert users into new customers by prompting them to submit their contact information. PPC can help supplement traffic from search engine optimization.
---
What is PPC for Roofers?
PPC stands for pay per click advertising which is a form of buying visitors to your website. PPC ads appear on the top of Google search results (above organic and mapping) so that anyone who's willing to spend can gain exposure on the SERP. Google does consider ad quality and relevance when choosing which ads will receive priority.
How quickly does PPC work?
As soon as you start your campaign. The main benefit of PPC is how fast you can produce traffic to your roofing company website. While other forms of digital marketing (like SEO) take some time to produce traffic, pay per click advertising allows roofers to fast forward to immediate clicks.
Should I use PPC instead of SEO?
Ignoring SEO is always a bad idea, even if you are currently participating in PPC advertising. The two techniques work best when used together since PPC is a short-term strategy and SEO is a long-term one. Eventually, you would like to generate clicks exclusively from SEO, but PPC can help you take advantage of immediate opportunities.
---
Google SERPs have multiple sections. The top part consists of advertisements that emulate organic search results. These ads are not shown based on which website is best optimized but which has the highest advertising bid (among other factors).
For example, ads must be keyword-relevant and lead to a landing page that satisfies user intent. However, the bottom line is that these ads are paid for and not influenced by roofing SEO.
You can see how a PPC ad looks on Google below:
---
---
Why Should Roofers Use PPC Management?
PPC works fast and, if appropriately managed, can yield impressive ROI for roofing companies. Other forms of online promotion, like content marketing, SEO, and link building, take months or even longer to make an impact.
With that in mind, roofers looking for results today should allocate resources toward pay-per-click management services from Roofing Webmasters.
Our PPC experts are Google Certified and have handled thousands of successful campaigns. With modern technology, advertisers can spend ad money more efficiently than ever with budget adjustments, demographic targeting, and keyword research.
PPC management provides the following advantages for roofers:
---
Adjustable Budgeting

: Budget for your specific marketing needs

Keyword Research

: Research keywords and develop a keyword list

Location/Demographic Targeting

: Determine your target audience and which users are most likely to be converted

Market Data Collection

: Track and monitor campaign results and use the information to improve your overall market reach, as well as to tweak future campaigns
---
Pay Per Click is a promotional vehicle that helps companies advertise services through paid advertisements. These ads appear on Google search engine results pages (SERPs) and are not initially discernible from a traditional organic search result.
Much of the value of these ads lies in their emulation of organic search results. Despite the small box on the top left side showing "ad," many users treat them as they would a prototypical organic result.
---
---
Creating Leads Through Paid Search
When roofing contractors speak of "results," they effectively refer to lead generation. After all, leads drive local business. Because organic SEO takes time, it cannot be relied upon for short-term lead production.
For roofers who need leads fast, PPC is the best option. Paid advertising shouldn't replace SEO but instead should supplement it during its implementation process. Search optimization can strengthen your ad campaign, too, as the corresponding landing page is most effective when fully optimized.
Pay Per Click generates leads through:
---
Calls to Action

: Effective ads display a clear call to action, such as a phone number

Keyword Targeting

: Ads can target "buyer intent" keywords in your industry and location

Landing Page Optimization

: The page linked to your advertisement can encourage visitors to become customers

Search Visibility

: Jumping to the top of SERPs puts you ahead of organic competitors
---
Paid advertising benefits websites, search engines, and consumers, making it a valuable tool for fostering online visibility.
Besides its fast results, PPC circumvents the grueling process of ranking #1 on Google through organic means. With knowledge of the marketplace, roofers can "pick their spots" for when to run ads.
Perhaps your service area recently suffered from severe weather, which produced a much higher demand for roofers than usual.
That scenario would represent an ideal window where contractors could quickly maximize their advertising dollars and deliver plenty of leads.
---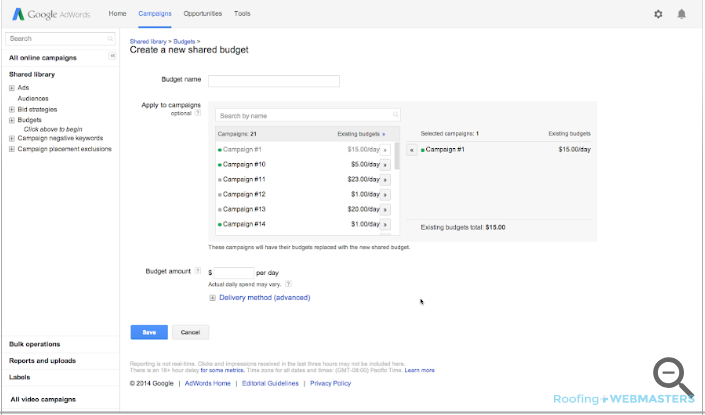 Targeting high-opportunity keywords through Google's Keyword Planner allows roofers to generate leads.
---
Pay Per Click Services from Roofing Webmasters
Roofing Webmasters provides Pay Per Click management tailored specifically for roofing companies. Keyword research is one of our main focus areas for campaigns. Finding the right keywords to target in campaigns can determine the conversion rate for the generated traffic.
With years of experience managing campaigns on behalf of roofers, we know which terms and phrases are most appropriate and conducive to lead generation. Not all traffic is worthwhile, and spending money on clicks from non-convertible users is money down the drain.
The primary goal for Roofing Webmasters is to help clients generate exclusive leads. Pay-per-click advertising is one of the fastest and most efficient ways to meet that objective. We offer additional promotions while managing campaigns as a full-service internet marketing company.
---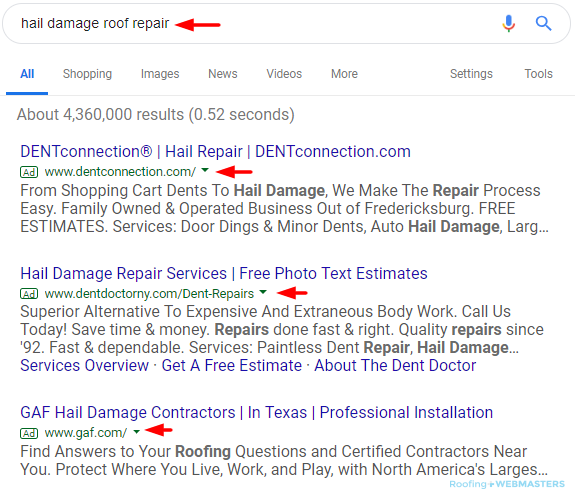 Our Google Ads specialists ensure your ad shows up for prominent roofing keywords in your service area.
---
We believe PPC should collaborate with SEO, website design, and content marketing to create contractors' ultimate online presence. Part of a successful advertisement is its visual appeal.
Our graphic design department can craft engaging ads that generate clicks from relevant users.
---
Learn More About PPC for Roofers
Fill out the form below to consult with our specialists about your Pay Per Click campaign management.
---
---