Though Google is the most popular search engine on the internet, other opportunities for paid search exist. Bing ads represent an alternative for roofing companies who would prefer not to use Adwords. Bing ads provide a unique option for roofing contractors. Not only will your advertisement show up on Bing search results, but they will show up across Microsoft programs like Microsoft Office. In addition, Bing partners with third party websites like The Wall Street Journal and AOL to allow your ad to run on multiple landscapes across the web. Unlike Google Adwords, Bing ads have no minimum budget. Roofing companies who can't afford to break the bank will enjoy this feature.
Advantages of Bing Ads for Roofing Companies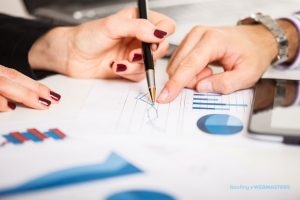 Bing ads provide roofing contractors with a great marketing opportunity. While the ability for your SEO to rank your website organically takes some time, paid search options provide immediate returns. You can set a budget for how much you would like to spend per click, and only have to pay when someone actually clicks. In addition, you are allowed to set your budget based on the location, time of day, and device being used. This versatility makes Bing ads a great option for roofing companies.
In addition to the aforementioned advantages, roofer Bing ads provide companies with the ability to use ad extensions. For a fee, companies can attach information about their company to the paid search ad. For example, you might want your phone number to be immediately visible to someone who sees the ad. This option provides a call to action as a direct component. Remember, paid search is about growing your customer base quickly. Roofer Bing ads give you the opportunity to do that.
Are Bing Ads the Best Option for Roofing Companies?
Google is by far the most popular search engine on the web. So you might ask; Are Bing ads a good option for roofing companies? They can be. For roofing companies who are on a tight budget, Bing ads are an opportunity to get your company name out there for a lesser fee. You won't have the same level of competition that you will have with Adwords. Bing is a different audience but generally considered a good audience. People looking for roofing services in a specific location will know exactly what to search for with Bing.
As we know, PPC campaigns are a quick way to get your roofing company's customer base growing. It is a short term solution that can jump start a business. It is still important to remember that organic search will be the foundation of your SEO. A commitment to good SEO practices is what will gain your company and website the authority you need for sustained online success. For roofer Bing ads campaign management, call us now at (800) 353-5758