To dominate local search results, roofers must show up on the Local 3 Pack of a search engine results page (SERP). The Local 3 Pack is a trio of Google Maps listings within a defined service area. Search results vary based on the location of the searcher and your job as a roofer is to show up in your main service area. Appearing on the Local 3 Pack in addition to organic results can double or event triple your clicks. Many consumers who are looking for a quick solution to their roofing problems want the closest and most convenient roofer who also has good reviews. Here is what the Local 3 Pack looks like for a roofing company: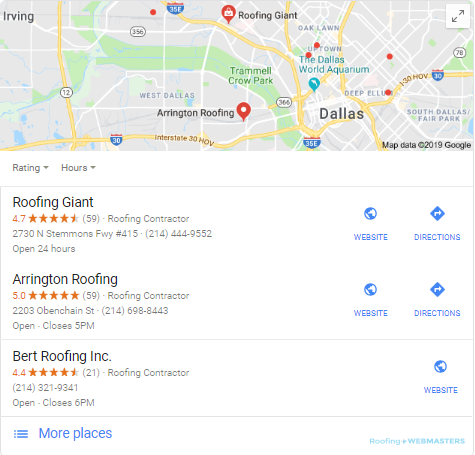 How To Add Your Business to Google Maps
Google Maps helps generate roofing leads, which in of itself makes it useful. Contractors who are not particularity tech-savvy may not know how to setup a Maps listing, and how it relates with Google My Business. Roofing Webmasters can help contractors optimize their online presence through both Google platforms, which you'll soon learn are closely related. To set up a Google Maps listing, review the process below:
1. Open Google Maps: Sign into Google on your computer and visit Google Maps
2. Find Your Location: Zoom into the map where your business location is, and click "send feedback"
3. Add Your Business: Click "add missing place" and drag the marker to the aforementioned location
4. Complete Information: Add any relevant business information and click "submit"
Because of its integration with Google My Business, Maps can serve as a referral source for your company website. When users find your service on Google, either through organic results, the local 3-pack, or the knowledge graph, they are more likely to visit your website and complete the desired call to action. Google has made the process even simpler with the "call us" button now displayed on Google profiles. Marketing through Maps is an effective way to increase visibility, attract clients, and improve ranking. Roofing Webmasters values each of those priorities and works tirelessly to make them realities.
How To Optimize Your Google Maps Listing
We mentioned the relationship between Google Maps and Google My Business, and it becomes critical during the optimization process. Roofing Webmasters' offers Google optimization as part of our marketing services, which encompasses every aspect of your Google presence, from Maps, to My Business, to Plus. Besides Google, we also claim and optimize listings on Yelp, Better Business Bureau, and other citation sources throughout the internet. As is the case with each of these listings, NAP consistency is a top priority, not only for the purposes of search visibility, but for the sake of users looking for accurate contact information.
Of course, you'll need to have your service pages optimized for localized roofing keywords if you want a shot at those premium Map Packs! That optimization comes standard in our professional roofer SEO services, thanks to the dedicated efforts of our content writing staff.
Google Maps location data is useful beyond Google. In fact, Maps listings can be shared on social networks like Facebook, Twitter, and elsewhere. Today's marketing climate places a premium on mobile marketing and it is more important than ever before. Failure to put your company on the map, and match your services with local consumers, robs your business of its greatest marketing network. For companies that lack the resources to establish local search visibility, Roofing Webmasters is the perfect solution. We will ensure your Google Maps listing is optimized.
Call (800) 353-5758 to Discuss Google Maps for Roofers