Google My Business (Now known as Google Business Profile) is the central hub for local SEO for roofers. If you've ever read through our Roofing SEO Guide, you'll know just how essential this free listing is to your company. Most consumers today won't even consider doing business with a contractor who doesn't have both a Google My Business page and reviews connected to them.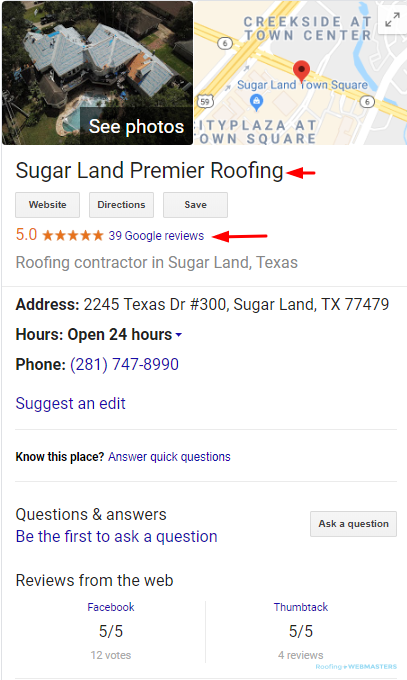 To ensure your roofing company has the best chance of ranking on local Maps and traditional organic results, you must fully optimize your GMB listing. That includes everything from NAP information, company photos, Google posts, and Q & A sections. A roofer's own website used to be the main way users access business information. In 2023, it's Google Business Profile.
Claiming Your Google My Business Listing
A critical first step in the local SEO process for roofers is claiming and optimizing your Google My Business page. Optimizing your GMB listing increases your likelihood of appearing on various points of Google search engine results pages.
As is the case with other NAP listings, ensuring the accuracy of your company name, address, and phone number is vital to your local optimization. Follow the steps below to claim your listing:
Step 1: Visit https://business.google.com/add/info
Step 2: Search for your roofing business by name and address
Step 3: If you don't see your business, click "No, these are not my businesses"
Step 4: When prompted, enter accurate information about your roofing business
Step 5: Click "Submit"
Among the places you can appear on Google search results include; the local 3-pack, knowledge graph, Google Maps, and traditional organic results. A well-optimized GMB page goes a long way toward improving your chances of appearing. Claiming your business is the first step of a long process to rank at the top for relevant keywords in your service area.
Optimizing Your Google My Business Listing
Claiming your page is a great first step, but optimization is what will ultimately establish your company as a local marketing force. As Google has evolved over the years, more features have been added to the My Business portal, giving roofers more control over their profiles and providing consumers with greater access to local services.
Roofing Webmasters ensures GMB optimization for each of our clients. To optimize a Business page, the following areas must be addressed:
Completion: Every area of your page should be completed, including the presentation of the logo and header images
Messaging: Opt into messaging so that consumers can text you directly from your listing page
Questions and Answers: GMB now offers Q&A sections to answer common customer questions
Reviews: Google reviews hold a lot of weight in local SEO, so be certain to monitor them
Having trouble getting started with the optimization process? Have no worries. Roofing Webmasters is here to help you in every way possible. Our team of SEO experts will ensure that your local listing is fully optimized and puts your roofing company in the best position to generate leads online.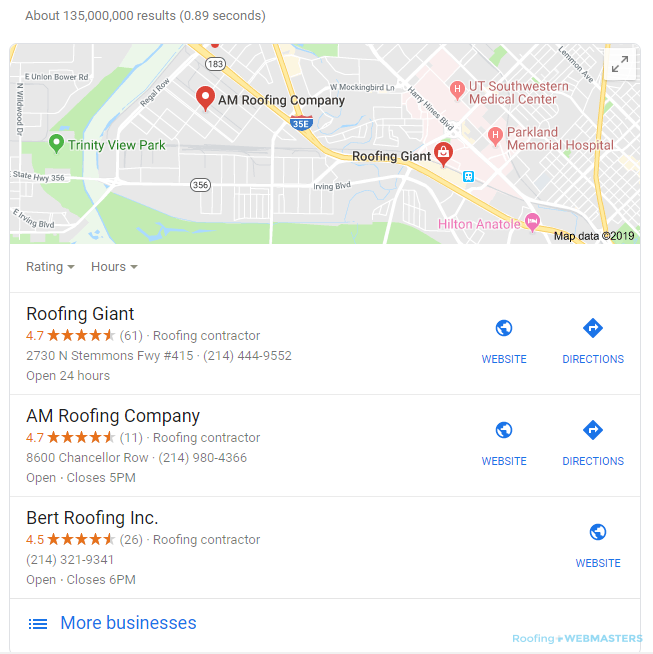 Because Google My Business is a creation of the world's #1 search engine, its value as a NAP listing is even greater than other platforms. We take this value seriously and consider it when working on your listing.
Managing Google Reviews for Roofers
Your Google My Business page is integrated with Google's review system. When a user searches for your company online, listings that appear in search results will be accompanied by an aggregate review rating.
In other words, if you have one 5-star review and one 1-star review, your aggregate rating will show 3.5 stars. For this reason, the generation and monitoring of reviews is a crucial aspect of Google My Business. Roofing Webmasters' DataPins widget helps contractors more conveniently generate reviews.
Once users click on your listing, they can read full reviews rather than the simple aggregate rating. Regardless of whether a review is negative or positive, you should always respond by thanking the customer for the kind words or attempting to repair a damaged relationship with an unhappy client.
Always use professional language, and attempt to continue the conversation in a private setting, if possible. The DataPins widget makes the reviews process simple for customers since they can leave Google or Yelp reviews directly on your website. It also sends out text reminders to increase participation.