How Do Roofers Get Google Reviews?
The first step is setting up your Google My Business account. Once it is set up and optimized you must ask customers to review you in person. This is typically done after you complete your roofing job. You can automatically request them with our roofing SEO services, which includes a native reviews widget embedded onto your custom website. This widget allows customers to leave Google reviews directly from your main site and also sends them text reminders.

Why Roofers Need Google Reviews
Numbers Never Lie
84% of consumers trust online reviews as much or more so than a personal recommendation.
97% of consumers look at reviews when making a purchase decision
Local Trust
Since roofing customers are inherently local their search results are tailored to a specific service area. The top ranking Maps listings often have the most Google reviews. After all, Google would prefer to display a company that has formed a reputation over time than one that is a virtual unknown. The more reviews a roofer has (as long as their mostly positive), the better chance they will have not only to rank on Google Maps and organic search results but to convert the users who come across their Google My Business or Maps.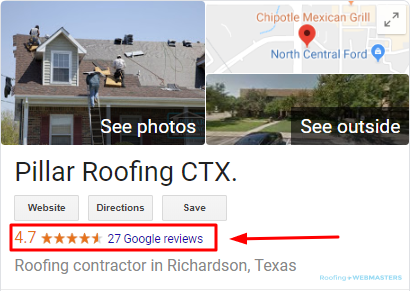 How Google Reviews Influence Reputation
If there's one thing we've learned in the past decade, it's that online reputation can make or break a business. Reputations are formed by and large from customer reviews on platforms like Yelp, Facebook, and perhaps most importantly; Google. Roofers who expect to compete for local online leads better have a Google My Business page and encourage customer feedback. Aggregate star ratings of Google reviews are immediately visible on certain search queries. When properly managed, feedback helps:
Establish Identity: The presence of reviews on a fully completed My Business page contributes to brand development
Improve Visibility: The generation of positive reviews can increase local search ranking
Increase Trust: More consumers will trust your roofing company
Influence Decisions: More consumers will select your services over competitors
Customers leave feedback on various platforms like Yelp, Angie's List, HomeAdvisor and Facebook. With that said, the most prominent review platform by far is Google. Because it is the foremost source of roofing leads, and the number one search engine in the world, it stands to reason that its published feedback would hold a bit more weight than other platforms. Since many of your future leads will originate from search queries, the presence of reviews, particularly positive ones, can really enhance your online presence.
Responding to Negative Google Reviews
Public feedback in general tends to lean negative. That's why it's important to encourage satisfied customers to lend their voice as well. One type of review you don't have to ask for though, is a negative one from a distressed customer. While there are ways to prevent incidents from getting to that point, once they do, they are available for public consumption. Distressed customers can vent in a very public manner and will try to discourage others from using your services. Even if their claims are unfair or unwarranted, you must remain professional in your response. Follow this protocol:
Attempt Resolution: Look to resolve the issue through an apology, or compensation of some form
Be Professional: Practice courtesy and use appropriate language
Be Concise: Don't over-explain yourself, keep it short
Follow Up: Attempt to continue the conversation in private, either through phone, private messaging, text, or email
Google provides further information about reading and replying to reviews. The most successful businesses will still deal with bad feedback from time to time. As long as they are contrasted by an abundance of positive testimonials, they can't have a significant impact on your reputation. It's also important to treat bad reviews as a PR opportunity. When consumers research your company on Google, they will not only read through the reviews, but your responses to them as well. It is often the nature of the response that leaves the most lasting impression on the consumer.
If you'd like to explore the SEO and branding benefits available to your business through Google Reviews, talk with one of our experts at Roofing Webmasters! We support hundreds of professionals across the United States. Even brand new companies have earned explosive growth in a matter of months, thanks to our local SEO solutions.