How Do Roofers Get Google Reviews?
Getting more roofing reviews on Google is easier than it sounds. The first step is setting up your Google Business Profile. Once it's optimized, you can begin asking customers for reviews in person. Professionals should only request a review after completing the agreed-upon job.
Roofing Webmasters clients can request reviews automatically with our native reviews software and widget (installed on every client website). The device lets customers leave feedback directly on your website and distribute their testimonials to 3rd parties like Google.

Why Roofers Need Google Reviews
Numbers Never Lie
84% of consumers trust online reviews as much or more so than a personal recommendation.
97% of consumers look at reviews when making a purchase decision
Local Trust
Since roofers serve local communities, geographically relevant consumers are their target. Top-ranking Maps listings often have the most Google reviews. Google prefers displaying reputable companies over virtual unknowns. They aim to provide consumers with a positive experience, and trustworthy listings increase their likelihood.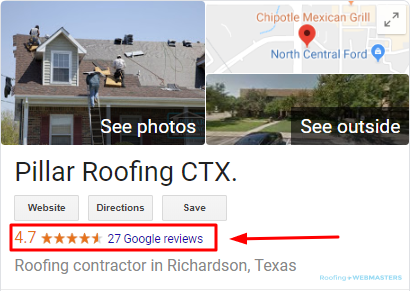 More roofing reviews translate to higher Map Pack rankings, influencing traditional organic search results. In addition to more impressions, review generation also increases conversion rates because of perceived trust.
How Google Reviews Influence Reputation
We've learned over the past decade that online reputation can make or break a business. Reviews on platforms like Yelp, Facebook, and especially Google shape consumers' perception of companies. Roofers looking to compete for local leads must have a Google Business Profile and acquire legitimate feedback.
Aggregate star ratings can appear on search results as rich snippets, leading to higher click-through rates. Other ways consumer feedback helps roofing companies include:
Establish Identity: The presence of reviews on a fully completed My Business page contributes to brand development
Improve Visibility: The generation of positive reviews can increase local search ranking
Increase Trust: More consumers will trust your roofing company
Influence Decisions: More consumers will select your services over competitors
Customers leave feedback on various platforms like Yelp, Angie's List, HomeAdvisor, and Facebook. With that said, the most prominent review platform by far is Google. Because it is the foremost source of roofing leads and the number one search engine globally, it stands to reason that its testimonials would hold more weight than other platforms.
Since many of your future leads will originate from search queries, the presence of reviews, particularly positive ones, can enhance your online presence.
Responding to Negative Google Reviews
Public feedback, in general, tends to lean negative. That's why it's crucial to encourage satisfied customers to lend their voices as well. One type of review you should not ask for is one from a distressed customer. Client satisfaction is your goal, but some incidents are unavoidable.
Distressed customers often vent their frustrations publically and will encourage others to steer clear of your business. Your response must remain professional, even if their claims are unfair or unwarranted. Follow this protocol:
Attempt Resolution: Look to resolve the issue through an apology, or compensation of some form
Be Professional: Practice courtesy and use appropriate language
Be Concise: Don't over-explain yourself; keep it short
Follow Up: Attempt to continue the conversation in private, either through phone, private messaging, text, or email
Google provides further information about reading and replying to reviews. Even the most successful businesses generate lousy feedback occasionally. As long as positive testimonials contrast them, bad reviews won't significantly impact your reputation.
It's important to treat bad reviews as a PR opportunity. When consumers research your company on Google, they will read through the reviews and your responses. It is often the nature of your reaction that leaves the most lasting impression on the consumer.
If you'd like to explore the SEO and branding benefits available to your business through Google Reviews, talk about roofing SEO services with one of our experts. We support hundreds of professionals across the United States. Even brand-new companies have earned explosive growth in a matter of months thanks to our local SEO solutions.