What Is SEM for Roofers?
SEM, or search engine marketing, refers to any form of promotion that uses Google, or any other search engine, as its marketing platform. The two most common examples of SEM are search engine optimization (SEO) and pay per click advertising (PPC). Both techniques make use of search engine results pages (SERP's) as their medium through which to acquire customers. Roofing Webmasters offers search engine marketing services to contractors throughout the United States. The most common forms of SEM include:
Content Marketing: The presentation of content to appeal to search engines and their users
PPC: Paid advertising campaigns on search engine results pages
SEO: Organic on-site optimization that appeals to search engines
Social Media: The management and marketing of content on Facebook, Twitter and other social platforms
Roofing Webmasters' goal is for your website to thrive with lead generation and customer acquisition. With years of experience marketing on behalf of roofers, we implement tried and true methods of search marketing, including SEO, content marketing, and more. Our team consists of experts in each individual discipline, including PPC and social media. For a company that specializes in marketing for roofers, it's hard to see a downside of investing in Roofing Webmasters. Call (800) 353-5758 for SEM services.
Reasons To Sign Up With Roofing Webmasters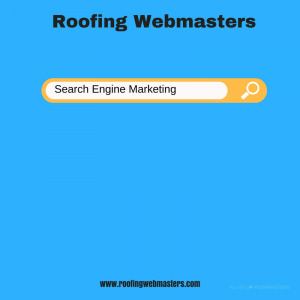 Marketing in today's very digital landscape can be challenging for roofing companies. Many of the foundational components that kept their service in business are now obsolete, and have been replaced with more innovative techniques. We started Roofing Webmasters to help the local contractor adapt to a changing marketplace. The quality of your services have remained consistent, but what has changed is the mediums through which you promote them. Gone are billboards, radio ads, and local TV spots, and in their place are PPC ads, social media links, and blog posts. If you are not yet convinced Roofing Webmasters is right for you, consider these additional benefits:
24/7 Marketing: With consumers carrying wi-fi enabled smartphones, your site is always accessible
Brand Development: We help establish your identity in a local market
Competitor Analysis: We use tools to analyze competitors campaigns
Location Targeting: We target consumers based on location
ROI: Our services produce favorable returns on investment
Search Visibility: We exhaust every outlet for search visibility
Running a full time business operation is not an easy task. It has become even more difficult in today's marketing landscape. With so much access to consumers, it seems like any time of rest is a potential loss in leads. Partnering with Roofing Webmasters alleviates that stress by placing the burden of lead generation on us. You can focus on your day to day operation while we facilitate lead generation to keep your company busy. We look forward to meeting with each of our clients to discuss their specific business goals, and their vision for 2018 and beyond. We tailor fit marketing strategies to align with the client's ideals.
Specific SEM Services For Roofers
We offer a number of services aimed to increase search engine visibility, generate leads, and increase sales revenue. SEM encompasses all aspects of lead generation through Google and other search engines. With effective marketing, your roofing company can prosper long term and enjoy the fruits of sustained online success. We enhance website's with our SEM services and foster a stronger online presence for roofing companies. Our specific services include: