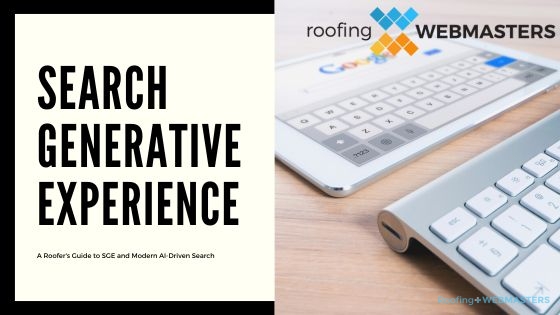 ---

Expert Summary
Search Generative Experience uses traditional SEO factors to produce citations, but it significantly increases the influence of the EEAT ranking signal for roofing companies
---
Snapshots
By most accounts, snapshots will effectively replace featured snippets on search engine results pages (SERPs). Instead, snapshots will be an AI-generated response to a user query, along with three (or more) citations that support the response.
These snapshot citations are organic search results from websites. So the same way your website ranks on organic search today, it can rank as a snapshot citation tomorrow.
The concept of featured snippet optimization will effectively disappear with this new feature. Still, a similar strategy of answering common consumer questions in an NLP-friendly format is likely one factor determining which websites are cited.
Possible roofing-related queries for SGE snapshots:
"what is the best roofer in my area that offers metal roof repair"
"where can i find a company that offers commercial roof coatings"
"where to find an estimate for a residential roof replacement"
Perspectives
Google Search Perspectives is a new filter highlighting expert content from around the web, including social media sites like YouTube and TikTok and discussion forums like Reddit.
As a roofing professional, you've probably known for some time that the best place to get answers about roofing-related topics is from actual roofers. These roofers may share their insights in a less formal tone on Reddit or YouTube, which is actually what the modern consumer prefers over some random blog post on a website.
Google now understands how user behavior has shifted and wants to meet consumers at their preferred destination. The Perspectives filter will achieve this and help Google showcase "hidden gems" on the search results, including discussion board responses like on Reddit.
The documentation surrounding Search Perspectives also mentions that this filter will inform algorithms that determine content quality on traditional search results (i.e., website pages, blog posts, etc.). The Perspectives algorithm will expand on Google's Helpful Content Update.
"Last year, we launched the helpful content system to show more content made for people, and less content made to attract clicks. In the coming months, we'll roll out an update to this system that more deeply understands content created from a personal or expert point of view, allowing us to rank more of this useful information on Search."
Roofers can prepare by ensuring all content is written or reviewed by an expert and that the content makes it known that the expert contributed. You can achieve this through author bios on your website or by linking to your professional profile pages, like a LinkedIn profile.
It would also help to do more work on your personal brand so that it becomes an entity in Google's eyes. For example, consider updating your LinkedIn profile and appearing on podcasts or live interviews.
After you establish a name, you can start posting on Reddit and creating YouTube shorts that outline your various roofing expertise. These methods are going to be critical for dominating SEO in 2023.
SGE Ranking Factors
Although Google's algorithms advance daily, SGE won't fundamentally change the requirements to rank on Google Search. Websites must still produce relevant, quality content, perform proper on-page SEO, ensure indexing, and acquire credible backlinks to rank on SERPs.
However, some of the existing ranking signals will become more important with SGE and the new AI-driven search landscape.
EEAT
EEAT is now the most important ranking signal and the only one that can truly separate your roofing company. The EEAT acronym stands for expertise, experience, authoritativeness, and trustworthiness.
Most roofing companies already have some awareness of EEAT requirements because they understand the importance of reviews, branding, and unique photos. Still, EEAT goes beyond those tasks.
Expertise: Roofers must demonstrate expertise on subject matter through verified examples of recent jobs
Experience: Roofers must showcase hands-on experience, like with photos of them performing a particular roofing job
Authoaritiavness: Roofers must earn credible backlinks from others in the roofing industry
Trustworthiness: Roofers must acquire and showcase reviews on verified 3rd party platforms like Google My Business
EEAT is not always a tangible ranking factor, so it's more complex than acquiring the most customer reviews and backlinks in order to rank #1. Instead, it's an ongoing process of demonstrating your qualities through various digital signals. One app that can help right away is DataPins.
Topical Authority
For SGE to acknowledge your content, you must establish topical authority. As a result, your roofing website content must cover a wide range of topics related to all of your services.
For example, Google will never assume you offer silicone roof coatings just because you have a commercial roofing service page. Instead, you must create a separate page for silicone roof coatings and showcase examples of recent jobs and customer reviews that validate the service.
Competitors that offer the same service but fail to demonstrate it through topical authority won't be able to rank for related terms. As a result, creating a topical map that covers your entire range of expertise is the best way to stand out with search generative experience.
Multi-Channel SEO
Websites have traditionally been the best asset for roofing companies to rank on Google. However, while the website should still serve as your company's central hub, you must expand to other channels for SGE.
For example, the Perspectives filter will feature YouTube Shorts and TikTok videos. If you want to increase visibility, start creating these short video formats and posting them on your company channel.
You can read a great post about how to create YouTube shorts here.
Another channel to invest in is Reddit. The key to gaining traction on Reddit is just to be yourself. Don't try to promote your roofing company on Reddit; instead, chime in on topics in which you can provide genuine and unfiltered insights.
Other members can smell BS from a mile away, so only post genuine thoughts.
You'll want to avoid content farms like Quora because they encourage mass question-answering that dilutes the overall quality of its results. Google is trying to get away from platforms like this.
Reddit is one of many discussion forums worth exploring. In addition, roofing companies can look for niche-specific discussion boards like Roofing Talk, which brings together roofing professionals worldwide.
Finally, remember that the term "SEO" is used loosely in these contexts, as you won't want to "optimize" your forum submissions in a traditional sense. The only thing to do intentionally is ensure that you identify yourself as a professional roofer.
How Roofers Can Approach AI Responsibly
You might think Google's announcement of AI-generated query responses invites your roofing company website to mass-produce AI-generated content of its own. After all, AI pulling information from other AI makes perfect sense, right?
Wrong. The function of Google's AI is to consolidate information from real human beings. As a result, producing AI content on your website only reduces your ability to rank on Google's SGE features. The most successful roofers will double down on human-generated expertise.
Of course, you might think Google cannot detect AI-generated copy. And in some cases, they probably can't. However, one thing they've gotten better at detecting is expertise or a lack thereof.
So if your content doesn't cite sources or demonstrate first-hand experience, it's not worth ranking on Google (whether it was produced with AI or not).
It's not to suggest that roofers should never incorporate AI into their marketing strategy. However, the real separator of roofing companies in the new era of SEO is EEAT rather than AI-generated content. You should never mass produce content, regardless of the tools used.
Google has always cracked down on content schemes and will continue to do so in the AI era. You might use AI to create schema markup, original programming code, plugin building, etc. However, using AI to tell your roofing story is unwise.