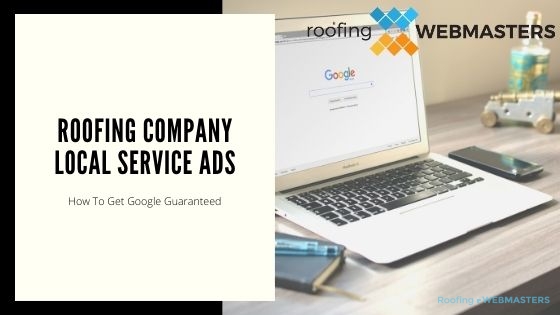 Roofing company Local Services Ads are a pretty simple concept, but the practice takes local advertising to the next level. In 2022 these types of ads may be precisely what your roofing business needs to get more leads and convert more customers. 
After all, your roofing business is very much local. Though you may have multiple service areas, chances are you aren't crossing state or even county lines to render your services. You must ensure that you are being seen by people in your market who will hire you.
In this respect, Local Service Ads very much benefit you as a business owner as well. In the following guide, Roofing Webmasters explains what roofing company Local Service Ads are and how they can help your business.
What Are Local Service Ads?
Local Service Ads (LSA) are advertisements that show up to customers in your area and require payment only after the customer contacts you through the ad.
Roofing company local service ads will appear to people performing a local search for roofers in their area. They appear above traditional paid advertisements.
As of now, Google Local Service Ads are only up and running for specific industries and only in certain areas of the country. The good news is that the roofing industry is included and that major metropolitan areas are covered. 
Roofing company local services ads are and will continue to be an essential component of digital marketing. They will help you reach more customers and display your ads in the coveted top position of relevant searches.

What is Google Guaranteed?
Google Guarantee is a badge for businesses that pass Google's screening and qualification process through LSA or its partners. Customers who use services from companies with GG badges may be eligible for reimbursement if they find the service unsatisfactory.
Customers can submit a reimbursement request, and Google decides on the resolution. Google holds complete discretion on these matters, which do not replace customers' standard legal or insurance actions.

How Do Roofing Company Local Service Ads Work?
Local Service Ads differ from standard PPC ads. With Google Local Service Ads, you don't pay every single time someone clicks your ad. Instead, Google qualifies the lead when someone clicks your ad; you only pay if the user contacts your company through the advertisement.
If you have ever used PPC, you can already tell how this is a huge advantage. First of all, clicks can be errant. Someone can easily absentmindedly click on an ad accidentally. With PPC ads, you're on the hook whether the click was accidental or not. 
With Local Service Ads, there is much less room for error, and the qualifying questions ensure that you are connected to a warm lead.
Where do Roofing Local Service Ads Appear?
As a relatively new service, you may be wondering what ad space Google uses to display your roofing local service ads. Here is a list of the platforms that currently support Local Service Ads:
Desktop Searches: Of course, your roofing local service ads will appear to anyone who does a relevant local search on their desktop computer. (Just think of all the times you've been "working" at your desk and browsing for things you need for your house)
Tablet Searches: Google is also supporting Local Service Ad displays on tablet devices.
Mobile Searches: This is a huge one because at least 68.1% of all web traffic comes from mobile devices in the modern era. More people than ever before use phones to search for local goods, businesses, and services. The fact that roofing company local service ads are supported by mobile searches is a huge win for marketers and business owners alike.
Google Assistant Searches: It is estimated that more than 30% of all searches will be voice searches in the coming years. Local Service Ads are supported by Google Assistant voice searches which will likely become very important in 2022.
Advantages of Roofing Company Local Service Ads
There are many general benefits to using this service to promote your business and earn more roofing leads. In the following list, we will detail some of the finer points and cover the essential features:
Brand Awareness: With Local Service Ads, you can negate some of the long-term strife with organic SEO. That's because your business will be visible overnight at the top of relevant Search Engine Results Pages (SERPs). Roofing company local service ads will provide you with an instant boost of brand awareness in your local market.
Labor Intensiveness: One of the most exciting aspects of the Local Service Ads format is that it does not require keywords on your end. Instead, it operates on a long list of keywords related to your services and matches them with your business profile searchers. That means you won't have to spend time and effort on keyword research. 
Money-Saving: Ask anyone who has ever worked with PPC services, and they will tell you that one of the major headaches is having to pay for clicks that yield no results. With roofing company local service ads, not only do you get warm leads to begin with, but you don't pay unless the lead actually reaches out to you. Remember that qualifying questions are asked before matching, eliminating getting calls from people outside your service area. 
Trust Building: One of the most remarkable features of Local Service Ads is linked to your Google Business Profile and Reviews account. This means that some of your reviews and your star rating will be visible right on the ad. Suppose you have a good track record on Google Reviews. In that case, this is an excellent opportunity to build trust with prospective customers. 
Time-Saving: Instead of fielding calls from non-customers, Local Service Ads ensure that the user matches your business as closely as possible. This will save you and your staff time talking to people who won't become paying clients.
Are you Eligible for Local Service Ads?
Not every business is eligible for Local Service Ads. The easiest way to determine if your business is eligible is by looking here. Currently, only major metropolitan regions of the country are covered by Local Service Ads. However, Google is continually expanding and updating its services, so don't be surprised if your eligibility changes soon.
Adding LSA To Your Roofing Lead Generation Process
No single task is enough to generate consistent leads for roofers. LSA works best in cohesion with other digital marketing practices like SEO, Google Business Profile, and video marketing. In addition, roofing Webmasters provides full-service agency bundles for roofing companies across the U.S. Contact us today to learn more about your lead generation options in 2022.