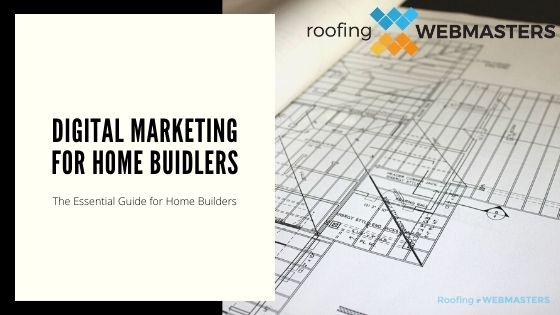 Home builder digital marketing is an effective way to get new customers. SEO strategies for roofers often overlap with those of home builders. For this reason, Roofing Webmasters is the ideal agency to publish the digital marketing guide for home builders.
What is Home Builder Digital Marketing?
Digital marketing is the promotion of home builder companies through the Internet or other digital platforms. Examples of digital marketing include SEO, content marketing, and social media advertising.
Digital Marketing Strategies for Home Builders
For home builders, finding good information about digital marketing is challenging. Most articles talk about roofing marketing or marketing for construction. However, home builders require a unique and custom digital marketing plan.
Search Engine Optimization
SEO is the most appealing long-term marketing strategy for home builders. The process involves optimizing website pages for specific keywords and generating organic traffic through Google and other search engines.
Some contractors dislike SEO because it takes months to work. However, established brands can often expedite the process with proper optimization techniques. Unfortunately, newer companies will have to start from scratch.

Keyword Research
Keywords are terms users search for on Google and other platforms. Tools like MOZ and SEMRush measure search volume to gauge how frequently users search for specific words and phrases.
The goal is to rank your website for relevant terms so that users will find your company and submit their contact information. With this in mind, it is critical to understand the intent of keywords, such as informational, transactional, and navigational.

Local SEO
Local SEO is a subcategory of search engine optimization but focuses strictly on local search results. The local algorithm looks at factors like proximity, relevance, and prominence.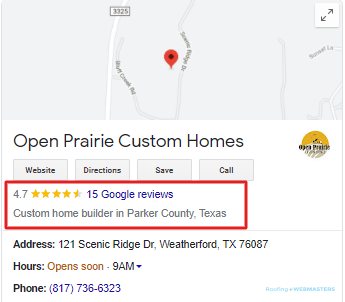 Your Google Business Profile is a great way to rank locally, representing your business within Google's directory. In addition, local users may see your profile within the Local Map 3-Pack or Google Maps.
Content Marketing / Blogging
Creating valuable content can help you reach more potential clients. One of the best mediums to publish content is your website's blog. Use keyword research (which we outlined earlier) to find informational queries that are worth writing about.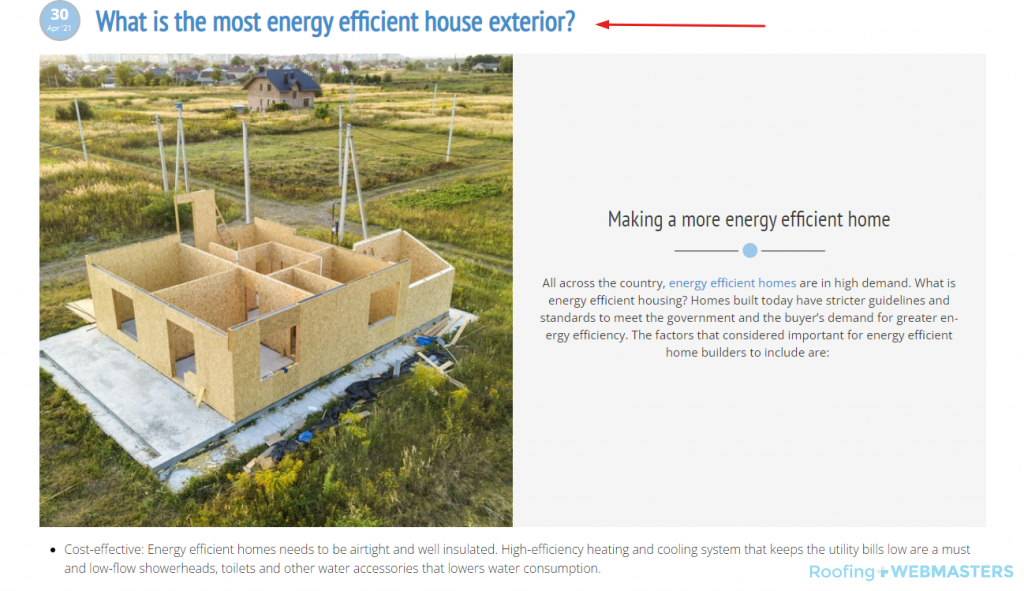 You can market them through social media and email as you produce high-quality blog posts. Don't limit yourself strictly to text content, as videos, podcasts, and e-books are all alternatives.
Analytics / Reporting
To evaluate your digital marketing campaign, you must measure it through analytics. Use Google Analytics and Google Search Console to track your website performance over time. Installing GA code is easy, especially with a WordPress plugin.
You can measure performance in various ways if you properly track user behavior. For instance, you can set goals on Google Analytics and compare traffic by month, year, and season. The more data you accumulate, the better you can understand potential improvement areas.
Link Building
Links are a prominent SEO ranking factor and remain critical to producing good results. Search engines measure links from external websites as well as links from one page to another internal page.
Homebuilder websites should build links with the user in mind to help them quickly navigate the website. Acquiring inbound links from 3rd party websites is helpful as long as that site has good authority and credibility.

Website Design
A good website is critical to home builders' digital marketing efforts. Fast speed, clean navigation, and responsive web design across devices all help you gain new customers. In addition, all of your other actions, like SEO and email marketing, rely on a solid website.
Aside from providing a good user experience, a home builder website should convert as many visitors as possible. This is best achieved through CTA buttons or calls to action. A contact form and a click-to-call button are both examples of CTAs.

Social Media Advertising & Marketing
Many of your target consumers spend their time on social media platforms, making these channels ideal for marketing and advertising. In addition, most social networks provide targeted ad campaigns to reach users.

Facebook
Facebook has over 2 billion active users, making it a goldmine for advertisers. The first step is creating a Facebook Business Page so users can follow and interact with your business.
Next, you can start running paid ads that target potential customers. Facebook Ads capture leads at every point in their buying journey. Finally, you can set a budget to optimize your ad spend with Facebook.
Instagram
Facebook owns Instagram, which grows in popularity each year. IG has over 800 million active users who engage with friends and businesses. Creating an Instagram business account is easy and provides real-time analytics.
You can target IG users through your Facebook Ads Manager to reach a broader audience. One of the best ways to get users on IG is through Instagram stories, short videos of your business that disappear after 24 hours.
YouTube
YouTube is an ideal social platform for home builders because you can showcase your projects in video form. People are constantly looking for videos about new home construction so that you can maximize the platform.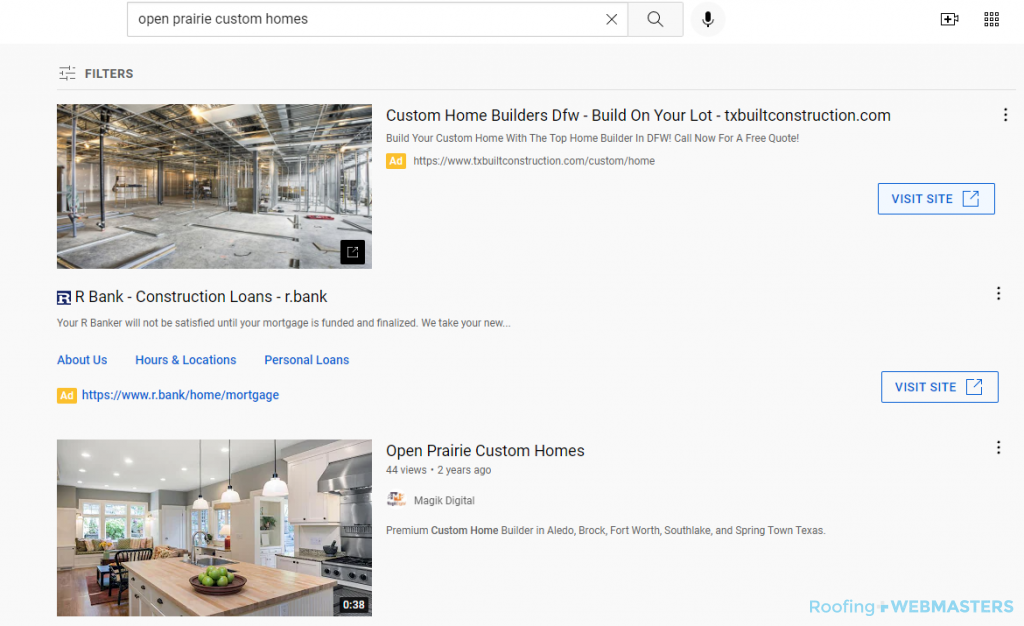 One advantage of YouTube is its feature that allows web admins to embed videos onto their websites. Home building companies get the best of both worlds by publishing videos on their channel and web pages.
Paid Advertising
We touched on social media ads earlier in the post. Still, other forms of online advertising also contribute to digital marketing for home builders. For example, Google Ads is one of the most popular platforms to reach users digitally.
Unlike SEO, paid advertising works instantly, but it also costs money. Therefore, understanding which terms to target and set your budget for maximum benefit is key to a successful digital advertising campaign.
Pay Per Click
PPC is the most popular paid advertising method, requiring advertisers to pay each time users click on their ad. For new home building companies, PPC is very popular since it works instantly.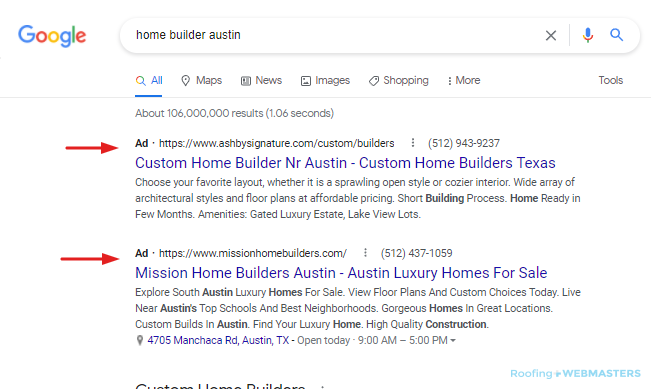 Despite its ease of use, PPC is not the best long-term digital marketing strategy. SEO produces superior leads for less money over time. However, PPC helps supplement traffic while the SEO process matures.
Google Ads
Google Ads (formerly AdWords) are the most common form of PPC ads. Google makes it simple to target keywords using Google's Keyword Planner. Advertisers can also choose locations and target audiences.
How expensive a keyword is per click is known as cost per click or CPC. The most competitive keywords naturally have the highest CPCs as most home-building businesses vie for the same clicks.
Defining Your Audience
To maximize your digital marketing campaign, you must narrowly define your audience. First, consider who your ideal customer is and their needs.
In some circles, the ideal consumer is called a buyer persona. For example, consider a scenario where you promote condos to people aged 25-32. This age group appreciates nightlife, restaurants, and shopping.
Once you identify your buyer persona, crafting a marketing campaign around their needs becomes easier. In this case, you'll want a campaign that exudes modernism, excitement, and innovation.

Email Marketing
Email marketing is an effective promotional strategy for home builders. While you may not love the idea of flooding people's inboxes, an intelligent email campaign can work wonders for your business.
The key is building a legitimate list of email subscribers, which you can do by exchanging value on your website. For example, offer a free PDF of your home construction highlights on your website. Use software like AWeber to create email lists and Thrive Leads to create opt-in forms.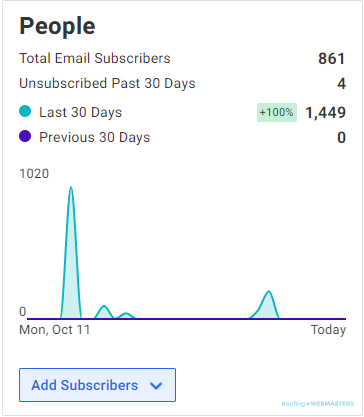 Once you establish a list, you can send automated campaigns to subscribers. Segment your list so people get the most relevant emails possible based on their needs and interests.
Digital Marketing Tools for Home Builders
Nobody expects your company to utilize every strategy on the list. However, to implement several of them, you will need the help of some digital marketing tools. Many of these tools help you reach your marketing goals more efficiently, and some even provide new opportunities altogether.
DataPins
DataPins is an excellent digital marketing tool for home builders. It allows companies to drop a pin each time they construct a new home. In addition, these pins get published on the corresponding web page, serving as user-generated content and social proof.
Best of all, the DataPins tool segments pins by location and attaches schema code so that Google recognizes the latitude and longitude. What better way to rank for home building services in multiple cities?
MOZ Keyword Explorer
Moz Keyword Explorer is a great way to find keyword opportunities for your home-building website. In addition, you can find keywords for service pages and blog posts, which can help you reach customers and new leads.
Keyword Explorer segments keywords by search volume, difficulty, and priority. Additionally, users can monitor which keywords competitor websites rank for so they can close the gap between that website and their own site. 
Majestic Backlink Checker
Majestic is an excellent tool to measure your website's backlink portfolio and those of competitors. If you notice a top competitor getting links from a high-quality website, see if you can also network with that website.
Majestic also allows users to measure link equity on the page and domain level. For instance, you can see which links are pointing to your domain and which are pointing to specific pages on your website. These metrics help you improve your content to earn more links.

AWeber
AWeber represents one of the best email marketing tools on the market. With AWeber, home builder companies can create lists based on various segments. In addition, users can design email campaigns and enhance visuals using Canva.
AWeber tracks your email campaigns to know which subscribers are engaged and which are lagging in their responses. These metrics help you improve your email content to reach new subscribers better.
Final Thoughts on Digital Marketing for Home Builders
Google can be a goldmine for homebuilders if they can rank on organic search results. Between the map pack and traditional organic results, home builders can regularly acquire low-cost leads. For newer companies, investing in paid advertising, like Google Ads, is a great way to supplement early traffic. In addition, tools like AWeber and DataPins help you maximize your existing customers and grow your company.