Roofing Webmasters provides schema markup for roofing websites as part of our SEO services suite. Although Google says schema markup is not a ranking factor, it facilitates SERP enhancements, which may increase clicks to your website. Furthermore, Google recommends that all websites implement schema to communicate their website with search engines adequately.
What is Schema Markup?
Schema markup is a microdata language found at schema.org, which enhances search engines' understanding of a website and its content. Adding schema to your roofing website can result in enhanced search results, sometimes referred to as rich snippets.
What Does Schema Markup Do for Roofers?
The objective of schema for roofers is to effectively communicate web content to search engines that present the information to its users in a more appealing manner.
Several types of content can be "marked" up, including:
Business Information: Company NAP information
Company Reviews: An aggregate star rating of your company reviews
Your Roofing Services: Individual roofing services
Product Choices: Product and material option names and descriptions
As the websites often show, schema markup can give you a leg up against the competition by providing detailed SERP results that are more likely to generate traffic.
The schema project aims to form a better relationship between websites and search engines with the common goal of improving user search results by delivering higher-quality options with more relevance.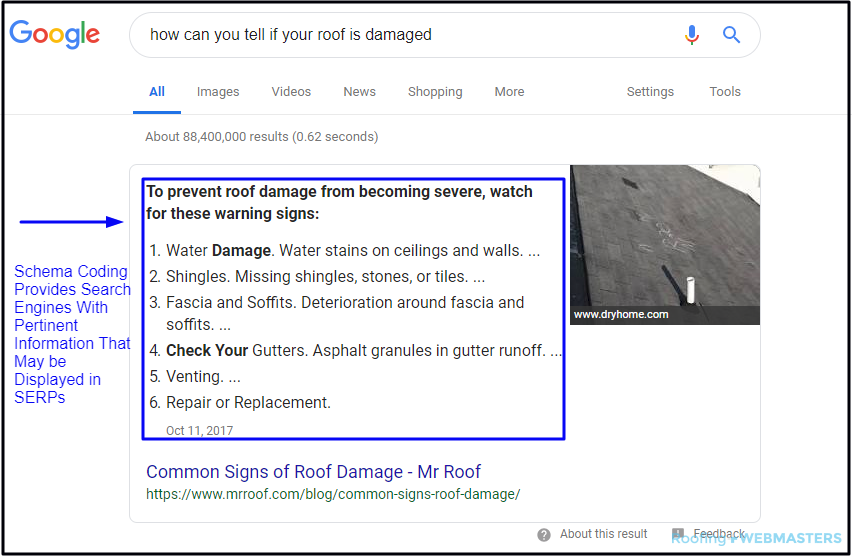 How Can Schema Help My Roofing Company?
Schema markup increases marketing efficiency through a boost in traffic relevance and enhanced search visibility. By better communicating your roofing website's content to search engines, they can market your services to more appropriate users in more appealing ways.
Searchers looking for a "flat roofing company near me" are more likely to click on a result that shows a favorable star rating underneath, along with a link to a specific flat roofing services page. Schema markup throughout your site can help with:
Click-Through Rate: More users clicking on your site
Search Visibility: Increased and enhanced search visibility
Traffic Relevance: Generation of traffic with high conversion potential
Search engines have come a long way in recent years. While Google and others, like Yahoo and Bing, once relied almost exclusively on verbatim keywords, they now account for context and user intent. This evolution has made the search engine a more user-friendly tool, as it helps searchers find the information they are looking for more efficiently.
Of course, it takes compliance from websites and their willingness to implement schema markup into their HTML code, but with the benefits the concept introduces, there's no reason not to comply. Roofing Webmasters is eager to help you get started today.
Do Roofing Websites Need Schema?
Although a website can rank without schema markup, it cannot realize its full potential. Roofing websites aim to generate leads, and microdata tags from schema.org work towards that objective. To do this, your site's schema coding creates an easy-to-read layout for search engines that displays pertinent information or details.
The Roofing Webmasters team is ready to help you get better results in SERPs by adding properly coded schema markup to all components of your site, including headers, body content, footers, and even meta descriptions.
Schema markup is a top SEO tactic because it directly communicates with search engines. As a technique so closely related to the search engine itself, there's really no other category to place it in if not search engine optimization.
Marking up data is an optimization practice, as it organizes content and effectively communicates it to Google and its users.