It's a story we hear over and over again. A roofing contractor tells of how digital marketing companies have cheated them in the past. The frustration is so intense, so palpable at times, that contractors can't even move forward and escape their situation. That's the greatest tragedy.
We understand what it feels like to be disappointed and anxious. In today's podcast, Nolen and Jason discuss real world contractors who've gotten stuck in a vicious cycle of marketing failure. Thankfully, your business doesn't have to settle for mediocre business growth! We'll explore how your company can start over again with a new, productive marketing plan.
Helpful Tips for Roofing Professionals
Before trying to fix your marketing plan, try taking some time to clear your head.
Use Google Analytics to see where your website is falling short.
See what the top roofing companies in your community do with their website strategies.
Try consulting with an expert before committing to one particular strategy.
Turning Frustration into Action
How can you take months (or even years) of disappointment, and turn them into success for your roofing company? It's an arduous process, but we've seen so many businesses turn their marketing around with fantastic results. It all starts with examining your current situation, removing hindrances, evaluating your strategy, and making baby steps towards success.
You don't have to have the perfect marketing plan to earn a place among the top local companies.
This process does require a clear head however, so give yourself some time to calm, organize your thoughts, and (if necessary) get alone by yourself. Anxiety only hinders your ability to plan, and online marketing strategy requires clear thinking! If necessary, you can talk about your current situation with a seasoned marketing expert, but try to do some research by yourself first.
Step #1: Make Your Exit
What's the first step to escaping mediocre marketing results? Part ways with your current marketing strategy. That doesn't mean you have to get rid of every marketing asset you have. But you do need to recognize which aspects of your plans are not contributing to your company's success.
Now, hopefully you have enough control of your online marketing program that you can determine which elements are actually producing leads. If not, that's okay. A lot of businesses who pay an agency to manage their marketing end up with little understanding of what's actually going on month to month. In cases where your marketing company shows no results after years of work, it's often best to simply walk away and start fresh.
As you restart your online marketing, there are a few crucial assets to maintain.
Your Domain Name – if you have a long-time domain name, don't get rid of it!
Your Brand – closely tied to your domain, your seasoned brand may still offer value.
Your Social Media Accounts – again, seasoned accounts are important for your brand.
Your Local Citations – don't get rid of your profiles just yet, even if you have poor reviews.
Some experienced companies mistakenly get rid of these valuable resources. Hold onto them for now, especially your domain name! It's a source of credibility and trust for your business. Without it, you will truly be starting over in your online marketing efforts.
Step #2: Reassess Your Strategy
Have you built a solid foundation for your local search performance? Most businesses haven't, assuming that their marketing company can just flip a switch and enjoy instant success. In reality, real results demand careful preparation, website design, and reputation management. It won't come by paying another business for mediocre leads either!
Take a sheet of paper (or a digital spreadsheet) and write down every marketing channel you've directed funds to over the last year. Examine each channel, and determine whether it's contributing to immediate leads or long-term business growth. Here's what your sheet might look like…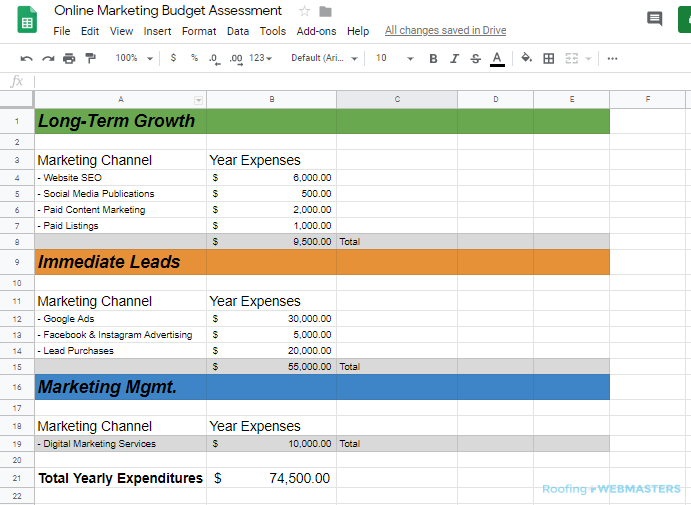 Are you actively investing money towards building up your brand value, or has your marketing been focused on creating immediate leads? Channels like Google Ads and Lead Sales won't contribute much to your long-term company growth, especially if you don't have an optimized website to support them! We actually love Google Ads at Roofing Webmasters, but they work best for supplementing your leads, not driving them.
If you think the above report seems a little too highly priced, you'd be amazed how many contractors spend tens of thousands of dollars per month without earning a satisfactory return on their investment. For now, focus on understanding where your funds have been going, so that you can remember which channels aren't producing good results for your team.
Step #3: Step Towards Success
Now all of this careful planning is wasted if we simply throw up our hands and swear away marketing. Once you've gotten a clear picture of the digital marketing channels that aren't providing real growth for your business, it's time to start taking steps towards success. Baby steps, mind you!
If you've discovered some areas missing in your marketing strategy, now is a great time to fill in the gaps. Here are some extremely valuable actions you can start on immediately!
If you haven't already, claim, complete, and register your Google My Business account.
Contact Yelp, the BBB, Manta, and other citation sources and get listed.
Start a Facebook Business page and provide your contact information.
Train your team on how to ask for reviews after every successful project.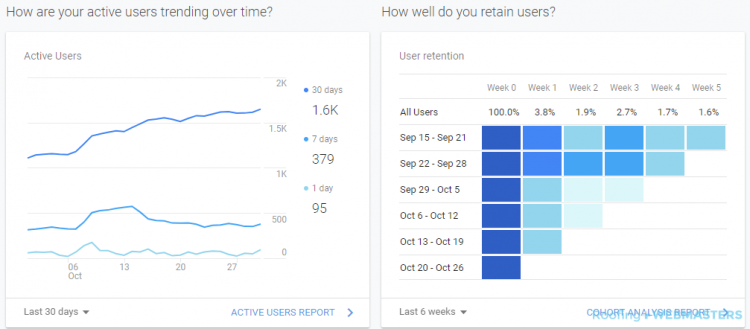 Follow these steps, and you'll be well on your way towards developing lasting growth for your roofing business! If you need an experienced web design team to help you with your website optimization, our seasoned pros at Roofing Webmasters would love to partner with you. We've supported hundreds of businesses across the US, producing better search rankings and higher traffic.
For a free consultation with one of our SEO professionals, call us at (800) 353-5758!
Other Resources From Roofing Webmasters
Related Podcasts and Articles
– Roofing, Marketing, and the Truth About Leads (Podcast)
– Skin in the Game with Roofer Marketing Dollars (Podcast)
– 14 Roofing Sales Strategies to Boost Income Potential (Article)
Helpful Services From RW
– Roofer SEO Services
– Website Design for Roofing Companies
– Online Citations For Roofers