The best way to kick off your online marketing is with an open mind and zero assumptions. Marketing changes year after year, and the strategies that guided roofing professionals five years ago don't always apply to today's standards. Thankfully, your first steps toward building your brand and earning online leads are pretty simple.
Below, Nolen and Jason chat about claiming your domain name, setting up your Google My Business account, and earning reviews. Be sure to listen in if you're operating on a tight marketing budget because most of these steps are either free or very low-cost. Let's get started.
Helpful Tips for Roofing Online Marketing:
Local SEO begins with three key elements: your GMB listing, website, and reviews.
Cheap is better than nothing! Even a cheap website can start building equity for your brand.
Reviews heavily impact your results in local search, so keep asking for them!
Avoid complications later by getting your domain name registered under your business.
Just Starting Out
Even the idea of building your own roofing company is still fresh in your mind. You don't have any website, specially wrapped trucks, or even a brand. But, you're in the perfect place to craft a successful, optimized online marketing strategy! It all begins with three simple yet crucial steps.
How to Begin Your Online Marketing
Step #1: Pick and Claim Your Website Domain
Step #2: Claim Your Google My Business Listing
Step #3: Craft Your Starter Website
Depending on the competitive nature of your service area, you should be able to complete these steps for a few hundred bucks (maybe less). First, however, these are tasks you need to nail. So let's take a little time to dig into each marketing task.
Choosing Your Domain Name
A considerable part of your online branding, the company domain name heavily impacts how easily people find your business. However, so many roofing businesses struggle with the selection process because they're suffering from outdated strategies. For example, ten years ago, the most powerful domain name you could pick was (city name, plus "Roofer").
Try employing that same domain strategy today, and you'll almost certainly fall into the back pages of local search (where no one ever clicks).
When a potential customer makes searches for "(city) roofer" now, they see results dominated by local guides, lead sellers, and listicle articles dedicated to the most experienced contractors in the area. Unfortunately, Google can't distinguish these domain names from a general search, dramatically reducing the chances for a company with that name to succeed.
In short: don't pick your city with a generic roofing term for your domain, or no one will ever find you.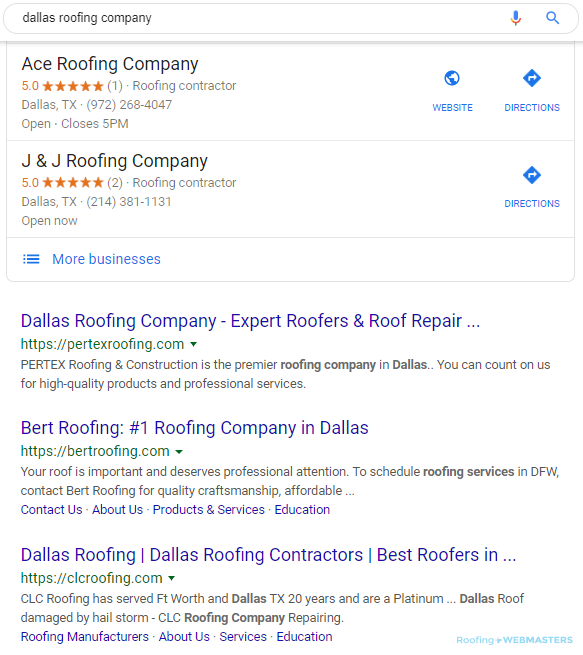 Nailing the Domain Name
Aim for uniqueness. If your domain stands out from the established roofers within 50 miles, that's a serious win. There are a few tactics to distinguish your brand from other roofing companies:
Use a distinct personal name. Example: jimbobsroofing.com
Pick an uncommon symbol. Example: 7wiseroofingguys.com
Try a different domain extension. Example: htownroofing.co
Add your state abbreviation for better results. Example: roofingbrostx.com
Your domain name doesn't have to be funny or clever to succeed. Just make sure that it's clear enough for people to remember and Google to distinguish from general industry terms. Follow these guidelines, and you'll have an excellent start for your online marketing!
Claim Your GMB Listing
If you want your roofing company to appear in Google Maps searches, you must claim and complete your Google My Business listing.
All you have to do is fill out all the necessary contact/location info, answer any industry-related questions, and go through Google's verification process. Your GMB listing information should be the same details you use for all your other citation sources. When you claim a Yelp company profile (for instance), be sure that even your address abbreviations perfectly match those in your GMB account.
When your GMB listing finally activates – this usually takes a week or two – you'll also gain access to a company Knowledge Graph when people search your business directly. From there, potential customers can access your reviews, website, company number, and much more! You can even create promotional posts in your GMB account specifically for the Knowledge Graph.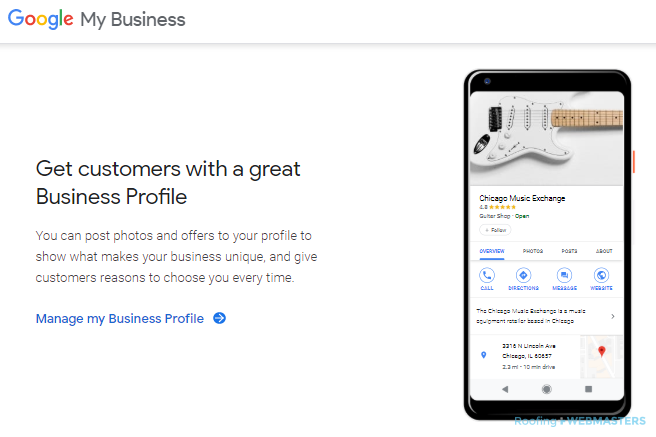 Build Your First Website
One of the great perks of starting an online website these days is that you have access to a host of great starter templates. While they don't have the same schema coding or professional SEO of designer sites, you can always start with a free template to get the business going. In addition, a functional website contributes to your domain's searchability as your business ages and earns new customers.
Start by choosing a color scheme and layout that's appropriate for your community and client type. From there, most templates allow you to add pages for each of your roofing services. You'll want to consolidate them under a handful of service categories (we generally recommend sticking with four or less) because this makes it easier for people to find their desired solutions. Next, make sure your pages are keyword-optimized, then craft a company blog post at least once a month.
Looking for an SEO Expert?
Building a sustainable roofing business is a real challenge, especially in more competitive markets. Still, these beginning steps will take your business a long way towards creating a successful brand. As your company grows, you'll be able to invest in more refined website design, PPC campaigns, and social media outlets.
When that day comes, our team at Roofing Webmasters would love to help take your brand to the next level! Our roofing clients regularly earn page one rankings for dozens of keywords, producing higher traffic and better quality leads.