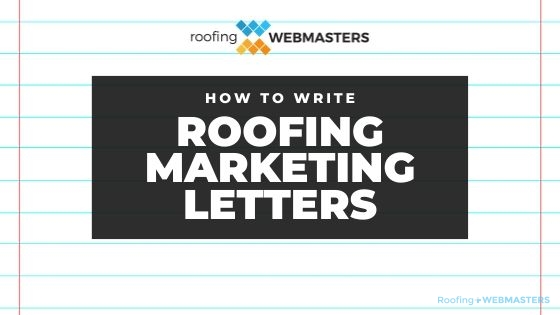 When you own your own company, it is important to get the word out about that company. After all, it doesn't matter if you have the best service ever if no one knows about you. As simple as that sounds, it really isn't. There are so many different ways that you can attempt to reach your target audience and develop the leads that will ultimately lead to more revenue for your company.
One of the more underrated ways to do this is by using a marketing letter for your roofing company. It might seem like an outdated method, but it really serves several purposes. Best of all, it can be used across a number of different formats, making it an incredibly versatile method of reaching your target audience and potentially growing your leads.
The uses of a marketing letter
You can use these marketing letters in your email campaign. When you reach out to current customers and any leads that you might have, use the marketing letter as you would a newsletter. Communicate what your company has going on, what they offer, and why these folks should opt to use your business.
You can also use these marketing letters for standard through-the-mail campaigns as well. Send them to prospective customers or any leads that you might have. It is actually proven that direct mail gets more reponses than email marketing because that mail is in the hands of those prospective customers and they are actually seeing it; with email, they could potentially skip through and never see it.
How to construct your marketing letter
There are a few things that you will definitely want to implement into your marketing letter. These are essentials, things you should never omit for any reason possible. Without them, you are defeating the purpose of having a marketing letter and you will not get the results that you are after.
So, what should you have in your marketing letter to make it as successful as it possibly can be?
Put your contact info in multiple spots

You want to make this the easiest bit of information for the customer to see. Never, ever make the customer work to find a way to contact you. More often than not, if you make it a difficult process, the customer will lose interest and you will lose out on a prospective sale.
Start by putting at the footer of your letter. Make it large enough that it is immediately noticeable but not so large that it feels out of place. Put your phone number, address, any relevant emails, and your website for starters. Anything else you can fit without it seeming out of place is a bonus.
You would also want to sign off on your letter with this information as well. Again, give your leads as many opportunities to see how to contact you so they never feel like they have to work for it.
Add pictures
The old saying is that a picture is worth a thousand words; get many thousands of words in with the use of pictures. Ultimately, the way to show potential customers what it is your business can do is to show them photos of jobs that you have completed.
The key here is to implement them in a way that fits in with the rest of the letter. Perhaps create a space on the margins where you can implement these pictures so that your leads can see exactly what it is you have to offer. These pictures will give those leads an undisputed look at just what your company is capable of doing for them.
List any accolades or awards
One of the quickest ways to get a lead to consider your business for their needs is to list off the ways that your company kicks butt. Any certifications and awards that your company has received should go just above the information that you have placed in the footer.
These awards don't need to be dominant; they need to simply be there so that the customer notices them and takes note of just how many different accolades and accreditations that your company has. This is important not to toot the horn of your company, but to build trust in the eyes of those potential customers.
Trust is one of the biggest factors when it comes to developing leads and turning those leads into sales. If you can build a level of trust with the customer, you have broken down one of the biggest barriers that companies face. These accolades will only strengthen that sense of trust.
Speak personably
The finest line to walk here is delivering a message to these leads that is not too preachy, is not too much of a sales pitch, and is personal enough that it feels as though a family friend is speaking to them. This goes into the trust factor that was discussed previously. If you can get the leads to trust you, you have a better chance of securing their business.
Perhaps make note of instances where you did a good service to someone; gave them a discount when it wasn't asked for, went above and beyond to deliver the proper service, or something similar. Anything to show these leads that you intended to go above and beyond for them whenever it is needed.
When the customer feels like your company cares, that is another huge barrier that you have broken down.  Companies across all industries struggle to find that level of trust from their customer base. Developing brand trust is one of the biggest and most important aspects of owning a business; if you can achieve this, you have already won a huge battle in the marketing world.
Make the most of your marketing letter. Implement it across multiple platforms and make sure that it delivers your message in a concise way. When you create a marketing letter that delivers on all of these points, you will have a leg up on the competition.