Need Roofing Leads?
Roofing leads are a valuable asset for contractors. When roofers start a website and create business listings on Google and Facebook, their ultimate goal is lead generation. Sometimes marketing agencies perform all types of services like web design, on-page SEO, and NAP citations, only to fail at producing the desired outcome. At Roofing SEO Webmasters, we focus on giving our clients exactly what they want and need to be successful. Leads are a controversial subject in the industry because their quality varies by provider. Not every lead is worth paying for or should be trusted by contractors. We know you want leads, but you have to be smart.
How do I get more roofing leads?
Getting more roofing leads starts with establishing a web presence through SEO and website design. You should also ensure your business appears on Google's Local Map Pack so that nearby consumers can find your listing when they perform a local search. Your website also needs a clear call to action (CTA).
What is an exclusive roofing lead?
An exclusive roofing lead is intended specifically for your company rather than being a general inquiry into roofing services. Many lead sellers offer shared leads which forces multiple contractors to compete against each other for the same customer. Exclusive leads avoid this problem and convert at a much higher rate.
How do I promote my roofing company online?
You can promote your roofing company online with SEO, website design, Google My Business, and content marketing. The more your web presence grows, the more likely you are to generate high quality leads consistently. Each page of your website should have a clear call to action to convert traffic into leads.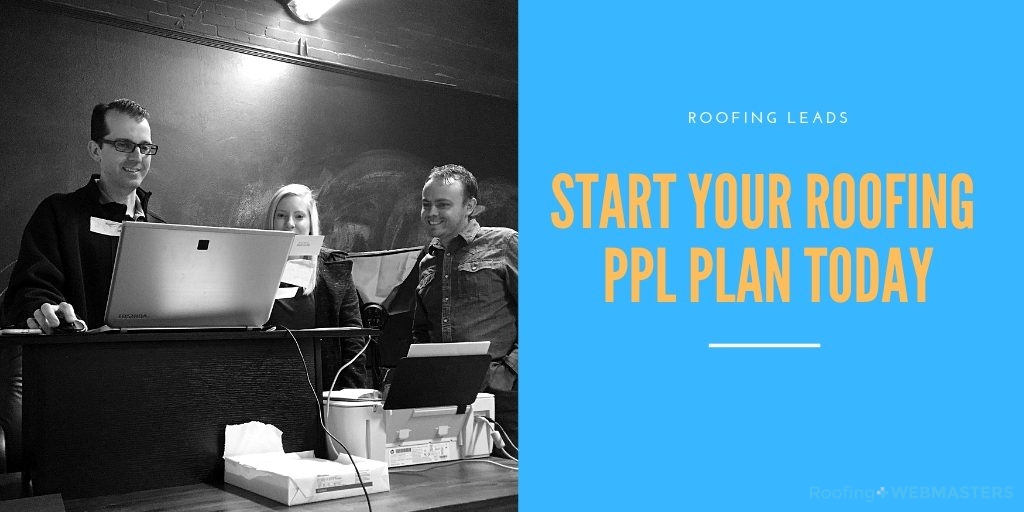 Lead Generation
Without leads, roofing companies can neither thrive nor survive. Leads are the lifeblood of every roofing contractor's business and generating them is the most important goal of marketing. Too often contractors lose track of the why and focus too much on the what. Take a look below:
What Roofing Contractors Want
Custom Website Design
Google My Business / Maps Listing
Quality Content
Search Engine Optimization
Why Roofing Contractors Want These Things
Improved Business
Lead Generation
Revenue Growth
Sales Conversions
The question roofers must ask themselves is, what is the value of the first list without the second? In other words, if you have a website, content, SEO, and Google Maps listing, without lead generation, revenue growth, and sales conversions, what are those things inherently worth? Try this; zero. Roofing Webmasters refines the value proposition on the second list, which is by far the shortest path to satisfaction for roofing companies. Call (800) 353-5758 to buy roofing leads.
Exclusive Roofing Leads
Not all leads hold equal value. Why? Because many lead generation companies provide leads known as shared leads, which means they are distributed to several other roofing contractors who will all compete for the same lead. With PPL from Roofing SEO Webmasters, shared leads are never part of the equation. Instead, each of the leads produced from your online presence is exclusive to your company. That means you won't be fighting off other roofers to secure the sale. The value of exclusive leads is superior in more ways than one. Not only are they more convenient, but their probability of conversion is much greater. Compare them vs shared leads: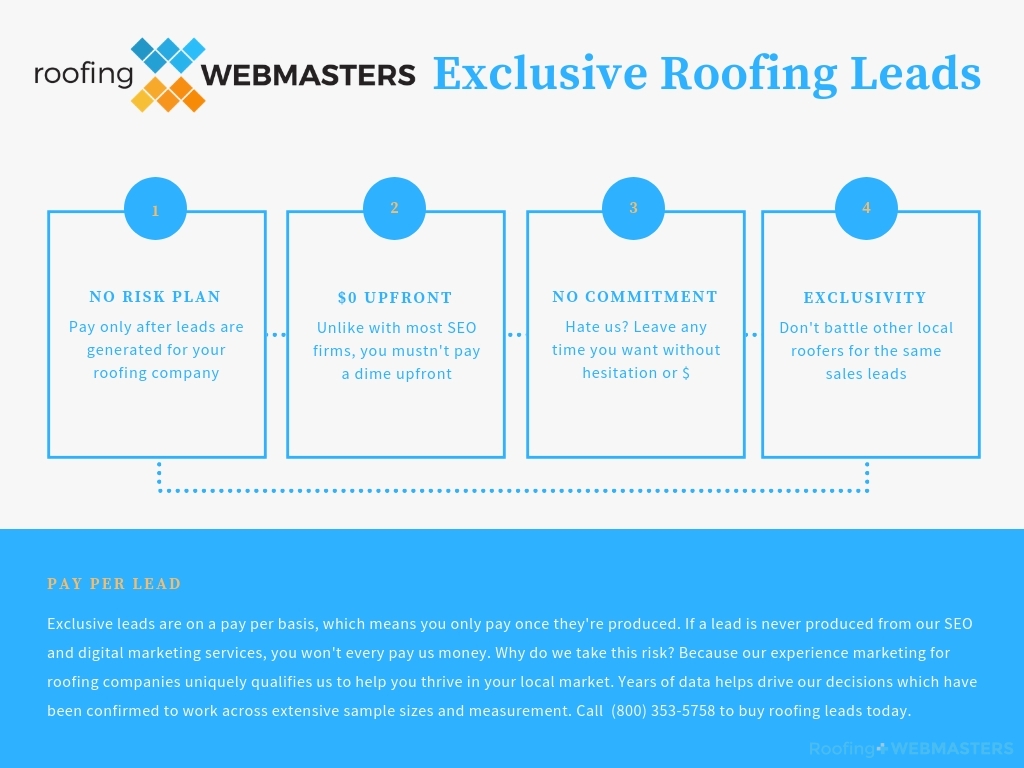 When contractors ask us how to generate leads for roofers, our answer can run on for minutes. That's because lead generation is a wide-ranging process that entails multiple concepts and tasks. For example, custom website design is a large part of the process but so is social media marketing, keyword placement, and content writing, not to mention SEO as a general principle. Because it takes every element to generate leads at an optimal rate, our PPL services include each concept. Typically, these tasks performed exclusively would cost you a ton, but with the Pay Per Lead plan, they are free. You only pay for the leads themselves, not the process of generating them.
Types of Leads for Roofers
Aside from exclusive vs shared leads, there are also specific categories of leads within the roofing industry context. For example, some contractors are looking specifically for commercial roofing leads, while others are looking for metal roofing leads in general. Roofing SEO Webmasters tailor-fits our SEO strategy to target the exact consumer base you envision for your client. Because we have an in-house design and content team, we can take your information and immediately transfer it to a high-performance website that will appeal to your target audience. Some of the most popular lead types include:
Commercial Roofing Leads
Green Roofing Leads
Metal Roofing Leads
Residential Roofing Leads
Storm Damage Leads
While those listed above are some of the most popular, they are far from the only types of leads we can generate on your behalf. Since we serve you as our customer, the choice is yours as to which consumer you'd like to target. We can help guide you towards the most profitable avenues, but ultimately the final decision is yours. And again, it's no risk. Since you pay only after a lead is produced, if nobody seeks out your services, you'll never pay us.
We are very confident in our work, however, making that case all but an impossibility. Still, the security on your end is invaluable and can really be the boost you need for your local roofing company to go forward with marketing. We look forward to working with you and attracting the types of leads that you hope to generate.
Exclusive Roofing Leads PDF Guide
National Lead Generation Company for Roofers
We serve the entire United States of America. That means everything from lead generation in Texas to California is available with our services. We have every team member in-house, diversely skilled to execute every aspect of your internet marketing campaign. From website design to social media advertising, and everything in between, there's nothing our group cannot handle in our very own office. We work with companies of all sizes, from one-man bands to bigger brands. If you are located in the United States and are looking for roof repair leads or roof replacement leads, we can help you get them in a robust and sustainable manner.
Roofing SEO Webmasters has been in thriving since 2013. Years later, we're still supporting businesses throughout the country with their digital marketing needs. We have so much confidence in our ability to provide excellent marketing services that we provide payment plans on a per lead basis. If our services fail, you pay nothing. We'd have built your custom roofing website, optimized it for search, and refined your Google My Business and Maps listings for nothing. If our clients failed, we'd go out of business and file chapter one bankruptcy while trying to sell insurance door to door. The bottom line is this, we can't let our customers fail. But the burden is on us, and not you, which is how it should be for a change.