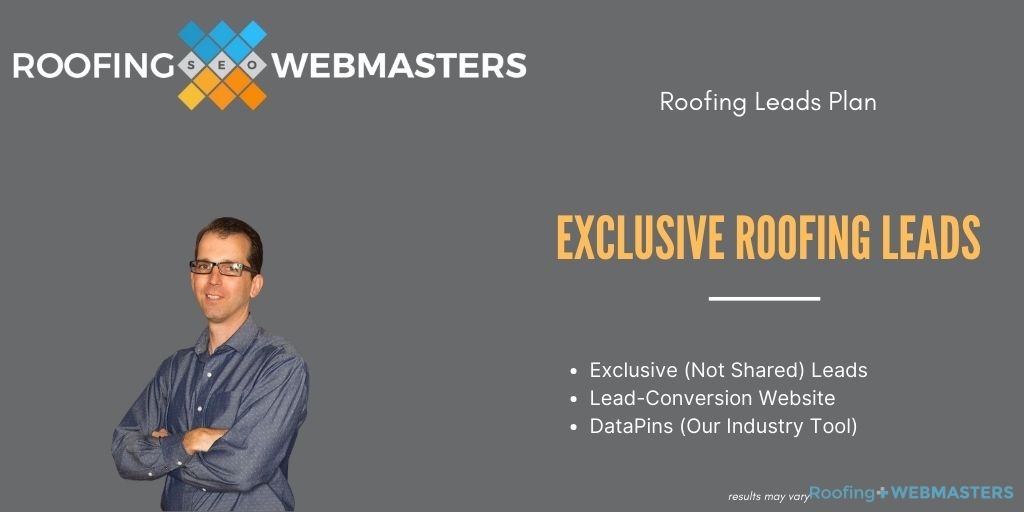 Exclusive Roofing Leads from Roofing Webmasters
Roofing Webmasters is a top-rated roofing lead generation company that has developed a process to generate consistent leads for roofers. Our exclusive roofing leads produce higher conversions and lower cost per lead when compared with other lead generation vendors. Our process includes the usage of our on-site Local SEO tool, DataPins, to attract organic clicks for long-tail keywords on Google Maps.
Roofing Webmasters Lead Generation Process
Most lead sellers charge a fixed fee per lead and provide shared leads that are given to multiple other roofing companies. As you might imagine, this model drives up the cost per lead while lowering the conversion rate, resulting in a lose-lose for the buyer. Roofing Webmasters' lead-generation process differs in that it invests in your brand so that your lead acquisition ROI and frequency increase and sustain over time.
DataPins: The Google Maps Lead Generation App
Our in-house SEO tool called DataPins empowers your Google My Business listing to rank in the 3-Pack for thousands of long-tail roofing keywords. As a result, you start getting clicks for brand-related queries like f-wave synthetic shingles installation in (city). You also garner clicks and impressions for uber-specific service-based queries like flat roof leak survey and inspection in (city).
Conversion Website
To maximize lead conversions, Roofing Webmasters builds clients a branded conversion website to convert as many visitors as possible. Of course, many prospects will contact you straight from your Google My Business listing. However, close to 40% will still click through to your website. Furthermore, your website's content helps your Google My Business listing rank for the aforementioned keywords.
Long-Term Company Branding
Traditional lead-buying methods prompt roofers to invest in someone else's brand, such as a national lead generation company. When you buy leads from these websites, the consumer remembers their brand name, not yours. Roofing Webmasters' process differs because we invest in your brand. Customers will find your company website and remember your services next time they need roof repairs.
FAQ for Roofing Lead Generation
How do I get more roofing leads?
Getting more leads starts with establishing a web presence through SEO and website design. You should also ensure your business appears on Google's Local Map Pack so those nearby consumers can find your listing when they perform a local search. Your website also needs a clear call to action (CTA).
What is an exclusive lead?
An exclusive lead is intended specifically for your company rather than being a general inquiry into roofing services. Many lead sellers offer shared leads which forces multiple contractors to compete against each other for the same customer. Exclusive leads avoid this problem and convert at a much higher rate.
Does Roofing Webmasters offer unlimited leads?
Roofing Webmasters offers unlimited leads plans for companies. The more your web presence grows, the more likely you are to generate high-quality leads consistently. Our lead generation system is proven to produce consistent leads at an affordable cost.
How Much Do Leads Cost for Roofing Companies?
Depending on its quality, location, and projected lifetime value, a roof lead may cost anywhere between $15 and $150. A shared lead, for instance, has less value and therefore presents a more affordable roofing lead. Conversely, exclusive leads hold more value and garner higher prices.
Of course, companies that establish an online presence attract exclusive leads without dealing with a mediator or 3rd party.
Can You Guarantee Leads?
Some companies allegedly provide guaranteed roofing leads, but the fine print reveals its apparent limitations. Lead brokers cannot force a roofing customer to go through with their service, nor should they try. While the concept of guaranteed leads is misleading, some leads are more reliable than others.
For example, leads coming from your branded web presence (i.e., SEO, website, GMB) are about as guaranteed as it gets.
Types of Leads for Roofers
Some commercial roofing contractors are looking for leads that fit their target market, while others seek leads needing specific types of roofing services. Roofing Webmasters tailor-fits our SEO strategy to target the same consumer base you envision for your client.
Because we have an in-house design and content team, we can take your information and immediately transfer it to a high-performance website that will appeal to your target audience.
Since we serve you as our customer, you choose which consumer you'd like to target. We can help guide you toward the most profitable avenues, but ultimately the final decision is yours.
Some of the most popular lead types include:
Exclusive Roofing Leads
Exclusive roofing leads are prospects who contact your roofing company only. Since they are more likely to convert, they generally cost more to acquire from 3rd parties. However, a solid online presence helps roofers produce exclusive leads for free. In addition, exclusive prospects are more likely to become regular customers after their initial service.
Finally, the exclusive model contrasts the shared model since shared leads give their contact information to multiple roofing companies in the same area.
Drone Leads
Roofing Webmasters understands the importance of drone leads, which utilize roofing software for precise estimates. With software, drone cameras capture rooftops' imagery and record slope, pitch, square footage, and other features.
As a result, roofing contractors can now spot tree problems, foreign objects, faulty rooflines, and moisture infiltration.
Commercial Leads
For value purposes, leads for commercial roofers are the most coveted. For example, most businesses know that commercial roofing jobs pay the most and create the most future opportunities for more sales. Securing exclusive commercial leads puts your company on the fast track to success in 2023. Commercial projects are the jackpot, whether it's TPO roofing or leads for metal roofs.
Roofing Lead Generation Basics
Without leads, roofing companies can neither thrive nor survive. Leads are the lifeblood of every roofing contractor's business; generating them is the most important marketing goal. Too often, contractors lose track of the why and focus too much on the what. Take a look below:
What Roofing Contractors Want
Custom Website Design
Google Business Profile / Maps Listing
Quality Content
Search Engine Optimization
Why Roofing Contractors Want These Things
Improved Business
Lead Generation
Revenue Growth
Sales Conversions
9 Amazing Ways to Generate Leads for Roofers
1) Facebook Ads
Roofing companies can generate leads on Facebook using Facebook Ads or Facebook Marketing. Unfortunately, since Facebook's algorithm changed back in 2018, getting organic clicks is rare. However, investing in a Facebook Advertising strategy can produce consistent, high-quality leads for roofing companies in 2023.
Instagram ads are part of Facebook's Ad platform, so roofers can appear on both social media platforms when running promotions. With billions of active users on each platform, the combined number provides a massive potential audience for your ads.
Leads Ads from Facebook are especially useful for lead generation. When users see your ad, they have the option to submit a pre-populated form, which already contains contact information pulled from their profile. As a result, conversion rates increase significantly. Learn more about Lead Ads below:
2) Canvassing
Canvassing for leads still works with the proper strategy. Contractors can even find customers through community platforms like NextDoor, which often establish more immediate trust in a particular roofing company than a traditional PPC advertisement, for example. In addition, many companies find it helpful to incorporate mobile software into their canvassing efforts.
You can improve neighborhood canvassing by investing in your sales team. It's not enough to randomly assign jobs to individual salespeople; instead, companies must consider strengths, weaknesses, and area expertise. Sales pitches convert better when coming from people who have confidence in the subject.
One way to build sales confidence is assigning nearby homes to one salesperson. Instead of traveling multiple blocks to complete their daily canvassing, salespeople can focus on a cluster of houses on one street. This strategy is especially effective after hail storms ravage an area. Learn more about canvassing below:
3) SEO for Roofers
Studies show that SEO is more effective than ever before in 2023. Ranking on Google search results is an excellent way to generate leads for roofers. In general, SEO entails local, technical, and on-page optimizations along with citations, link building, and content marketing.
For roofing contractors, ranking on the Local Map 3-Pack is key to earning new customers. For example, when a user searches for roofing services near me, they see local results first. Getting in the top 3 local rankings requires optimizing your GMB listing, getting more reviews, and strengthening your NAP citations.
In addition to Map 3-Pack rankings, traditional organic results remain a valuable source of user engagement. Appearing on the primary organic results still produces a favorable click-through rate (CTR) in comparison to PPC ads. For example, the top organic results receive a 28.5% CTR compared to only 1.91% for PPC ads.
4) Content Marketing
Producing high-quality content and then sharing it on various platforms helps businesses get more leads. For instance, a blog post about metal roof repair can get clicks on Google search and serve as a great shared post on Facebook. You can even distribute excellent content to your email list as part of a more extensive promotional campaign or newsletter.
Aside from text-based content like blog posts, businesses can also produce visual content through video, images, and infographics. Canva is a great resource for creating engaging infographics without needing design experience. In addition, most modern smartphones can shoot and edit high-quality videos with little expertise required.
Finding where to distribute content is key to proper content marketing. For example, your consumers may engage with your posts on Facebook but not necessarily on LinkedIn. Utilizing analytics reporting on each platform helps determine which type of content is best for each forum.
5) Email Marketing
Email blasts can reach thousands of people instantly, so long as you've built a genuine list from prior encounters. The stats say that email marketing returns over $40 for each dollar spent, which is an outstanding ROI. But, of course, your open rate will depend on the quality of your campaign.
Still, it's shocking that more roofers don't utilize email blasts for lead generation. While direct mail remains applicable for leads as well, emails can reach far more prospects more quickly. In addition, advancements in technology have made sending high-quality emails easier.
According to research, follow-up emails can increase conversions by 74%, making them a no-brainer technique for businesses. Learn more about adequately executing an email marketing campaign below:
6) Apps & Software
Use technology to your advantage by downloading lead generation apps and software for your business. For example, software like RoofSnap can streamline sales pitches and increase conversions. Similarly, an app like DataPins strengthens your company's brand authority.
Consider also that storm tracking apps are known to generate leads. Getting notifications every time a storm hits one of your service areas empowers you to deploy your canvassers and salespeople to the appropriate zones. As a result, the conversions after storms increase dramatically.
Job scheduling apps are also helpful, and while they don't directly generate leads, many of the software's come with additional features that help promote your business and close sales. Review some of the best roofing apps below:
7) Review Platforms
We know that most consumers trust online reviews as much as personal recommendations, and roofers should take advantage of 3rd party review platforms to generate more leads. Whether it's Google Business Profile, HomeAdvisor, or Yelp, having good reviews helps get customers.
Most consumers prefer an average star rating from 4.2 to 4.5 as it suggests legitimacy instead of a perfect 5-star rating, which raises suspicions. However, using apps like DataPins, you can expect your ratings to fall within that range if you properly request reviews. But, of course, your rating ultimately comes down to how well you perform services.
Of all the review platforms, Google Business Profile is the most important for lead generation. For example, searchers may see your Google reviews immediately after searching for your brand name. With this in mind, if you wish to prioritize a particular platform, make sure it's Google.
8) PPC Advertising
Google Ads, formerly AdWords, is an example of PPC for roofing companies. PPC remains an effective lead generation strategy for business, albeit less effective than SEO. Still, appearing on the very top of Google SERPs is a luxury only PPC can provide.
For those unaware, PPC requires businesses to pay each time a user clicks on their advertisement. Since ads emulate regular organic search results, some users don't know the difference. The best part of PPC is that it works fast and can show significant results in less than a week.
Though Google Ads is the most popular PPC platform for business, other platforms like Bing Ads, for example, are also worth considering in 2023. In addition to Bing, PPC platforms like AdRoll also demonstrate value to advertisers. Learn more about pay-per-click strategies below:
9) Internet Directories
Niche directories like HomeAdvisor and Angie's List can help businesses generate online leads. These brands have high authority, so people trust them when searching for a contractor. Similarly, they may appear on search results for relevant queries and show top 10 lists in a given area.
As for buying leads directly from directory platforms, most people advise against it. Since directories primarily offer shared leads, meaning they give the same prospect's contact information to multiple businesses, the value decreases significantly. Therefore, as a business, you should focus on exclusive leads.
If nothing else, optimizing directory listings will guarantee uniform NAP citations across the web and benefit your search engine optimization overall. In addition, some homeowners still consult with directory lists when choosing a service rather than traditional search results. As a result, listing your business on every prominent directory is a good time investment.
National Lead Generation Company for Roofers
We serve the entire United States of America. That means everything from lead generation in Texas to California is available with our services. We have every team member in-house, diversely skilled, to execute every aspect of your internet marketing campaign. At Roofing Webmasters, we offer lead generation services for companies throughout the U.S. You can buy roofing contractor leads today.
Roofing Webmasters has been in thriving since 2013. Eight years later, we still support businesses nationwide with their digital marketing needs. We have so much confidence in our ability to provide excellent marketing services and offer exclusive roofing leads in 2023. You can trust our company.