When you own a roofing company, finding a way to generate more leads is one of the biggest battles you will face. The quality that you deliver is undoubtedly essential, but if your audience doesn't know anything about you or what you have to offer, that point is futile.
As unfortunate as it might be, the best time for roofing companies is in the wake of a storm. The key is to reach your audience when storms are on the horizon so that they know who to turn to if their home suffers damage.
The other unfortunate part is that there are likely several companies in your area alone competing for the same business that you are. Therefore, creating ways to stand out and ensuring that your audience knows who you are is critical. When you can find a way to do this, you set yourself apart from the pack and make your business a viable option in the wake of a storm that can do substantial damage.
Facebook Ads are Key
Even though the popularity of Facebook has declined in recent years, it is still a giant source of potential for leads that can eventually turn into sales for your company. What is essential to know is how advertising on Facebook has changed and the vital tools for reaching your target audience more effectively.
There are a few different ways to address this situation, each one having its definite benefits and pitfalls. Knowing how those stack up compared to your business is essential to choosing the methods that will help your business get the leads you are after.
If you choose to go this route, having pay-per-click ads specifically tailored to roof damage is imperative. When you advertise those specific services, you are more likely to remain in the mind's eye of your audience. Instead of promoting your general services, advertise what you can do in the event of a storm. Specific targeting helps to keep your business in mind when that audience requires roofing repairs.
Pay Per Click Ads
One of the most common types of advertising on Facebook these days is through a format called pay-per-click. These are ads that will follow you around the web, keeping the company paying for the ads in your sight the entire time.
It also means that the business supplying the ads only pays for it when there is a click. So this is an excellent way for your business to stay in your audience's mind without having to pay for the extra costs until the clicks come into play.
PPC is an excellent method for those companies that are operating on a tight budget. You could spend a little or as much as you could afford to generate more PPC ads. The tricky part of this is that there is no proven method to generate a specific amount of leads. Persistence and patience are keys here, but not all business owners display those traits.
Offer Specials
People love to feel like they are saving money. However, in the event of a catastrophic happening like a storm, homeowners will feel like they have to spend a tremendous amount of money for the repairs (and they likely are).
If you can make them feel like they are saving a good deal of money by using your service, they likely will do so. Offer discounts that make those repairs more affordable than ever and make the owner feel like they are getting the best possible deal.
You can even take it one step further by naming a specific storm system. Specificity shows empathy with your customers who might be affected by the storm and lowers your prices accordingly.
Whatever the method, you can't go wrong with making your audience feel like they are saving major bucks by using your service. Pricing is another excellent way to develop loyalty to your brand and get those all-important return customers that every business needs for growth.
Find what works for you, where you can offer those discounts, and where it will offer the least resistance to your bottom line. Where your customers benefit, so do you.
Referrals
One of the best ways to generate leads for your business is to take on a referral program. These programs are a great thing to do in general, so don't necessarily limit it to storm-related instances. The referral program is word of mouth, but word of mouth can be powerful.
You can offer discounts or perks to current customers who have used your services before. For example, in the event of a storm, you can offer them a particular value if they refer someone who has experienced roof damage. It is a great way to reward your current customers, generate leads for new customers, and build brand loyalty all at the same time.
You can even build on this theme by partnering with other local businesses. So maybe instead of offering a discount on future services, you might offer a $50 gift card to a local restaurant. Something like that is a great way to generate business and interest in each company, a true win-win.
Talk About Lead Time
One of the most important aspects of recovering from storm damage is the time it takes for a roofer to get to the problem and resolve it. If you are a customer that has been affected by a storm, the last thing you want is to have a busted roof dominating your life for an extended period. For that reason, a company that can get to you in short order becomes all the more attractive.
You can do this as a business by running ads on various mediums. For example, would you mind describing how your staff has a history of performing repairs and installations in short order and that they do the job correctly?
When this happens, customers who suffer damage feel a bit of peace of mind when considering hiring your company. In addition, new customers might be willing to take that chance based on your claims, especially if they are in dire need of a repair to their roof.
Make it Personal
When reaching their audience and developing leads to grow their business and revenue, one of the most significant issues companies have is coming across with a personal touch. Personalization may not seem important initially, but consider this: people are far more likely to go with a business they feel cares about them.
A personal stake is challenging to convey, but it can be valuable if you manage to pull it off. Developing that personal touch with your potential customers is a way to get some brand loyalty development as well as the all-important trust factor. When customers trust your business, you have won the most crucial battle in generating leads, brand loyalty, and recognition.
The other thing to consider is this: be good people. When you make good decisions that aren't selfish, customers notice. You can develop a reputation for being selfless and helping customers instead of taking advantage of them to get every buck that you can.
Acting respectfully is a great way to get customers to remember you, your services, and how you responded during their crises. In addition, their sentiments will translate into revenue down the line. Then, when they require your assistance again, they'll go with your company because of that previous interaction.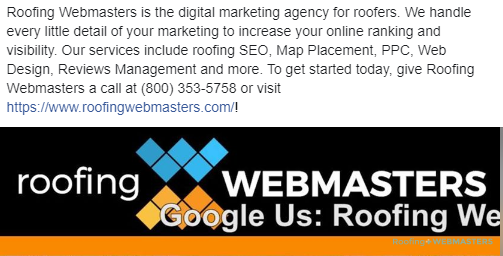 Conclusion
Facebook continues to be one of the most crucial advertising methods for businesses across all industries and platforms. Taking advantage of that medium and using it to the best effect possible will make a massive difference for your business.
Ads are not all created equally, nor do they all reach the same amount of targets. Therefore, take the steps necessary to reach your target audience in the most effective way possible. It will make better use of your advertising dollars; it will generate the leads you need to keep your business growing and thriving.
Keep in mind that none of this is an exact science. One method will work great for one business, while another approach might work far better. The key is to have patience and try to implement these strategies as clearly and concisely as possible.
Also, keep in mind that you are likely not to generate massive sales and revenue overnight. So please have some patience with your strategies; give them a chance to work. If you want to pull the plug at a moment's notice, those erratic decisions will eventually come back to bite your company in the rear end.