Are you fed up with your lead generation? It's a story we hear so many times at Roofing Webmasters: "I need leads, but I hate paying my company for them." In our latest podcast, Jason and Nolen discuss the truth behind leads and where they ultimately come from. If you've never considered how your lead-selling company works, be sure to listen in!
Helpful Tips for Lead Generation
Don't forget: lead-selling services make local business compete for the same pool of leads.
PPC campaigns offer better results than lead-vendors, especially in tandem with local SEO!
Organic SEO makes lead generation much more affordable for many roofing contractors.
Always start your roofing SEO efforts by completing your Google My Business profile!
Lead Generation: Feeding Business
Have you ever met someone who only eats at fast food restaurants? When they complain about the soaring costs of eating out, you just want to point to the nearest grocery store and say "Make it yourself!" While the process may take a bit of work, preparing your own meals are ultimately much cheaper than dining out. That's just a fact of life!
When it comes to online marketing, learning to feed yourself is just as important. Even so, thousands of roofing companies are stuck waiting for a third party lead generation vendor to spoon-feed them business. All the while, those same vendors gather leads from the same sources that roofers should be taking advantage of! 
How Roofing Leads are Born
Picture this: A laborer and a smooth-talking salesman walk next to an enormous freshwater river. On the bank of the water, the hard-working laborer notes the extreme heat and moans about how thirsty they've become on the walk. As the two near the clean water supply, they happen upon a bucket set on the shoreline. The salesman walks up to the buck, dips it deep in the river, turns around to the laborer, and says "For $20,000, I will give you a sip of this water."
This story sounds ridiculous, but it amply describes many roofing contractors and lead generation.
Google delivers the greatest volume of roofing leads compared to any other digital source in the United States. Not only does the search engine crave trustworthy businesses to direct consumers to, it even provides free tools to simplify the process. Because Google matches consumers with businesses in their local community, the resulting lead quality is generally much better than other sources.
Lead generation companies step in and create a gap between consumers browsing through Google Search and roofing companies hunting for customers. Instead of connecting interested homeowners and businesses directly to a single local contractor, they offer the same leads to multiple roofing companies within the same community. To further complicate matters, this "lead" may be a person who's simply looking for prices or bids, not a ready-to-buy individual.
Alternative Lead Sources
Maybe you don't buy leads from another company. Maybe you buy them from PPC campaigns off Google Ads or Facebook. These advertising venues aren't as cheap as they used to be, but they do provide a dependable source of leads. You also only pay for clicks, a very actionable source of business.
While PPC offers plenty of opportunities to grow your business, it represents an equally dangerous source of lead generation addiction. 
After all, these campaigns are fairly easy to manage and remarkably simple to track results for. Even if a roofing company owner is too busy to run the campaigns themselves, there's dozens of digital marketing experts willing to handle the load. That of course, makes the endeavor even more expensive.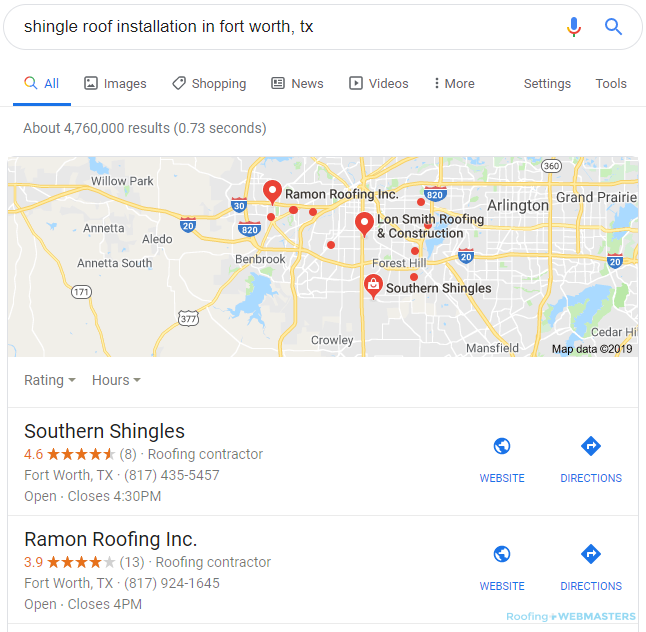 What's the Solution?
Generate the leads yourself! You know all those businesses sitting at the top of your local search results are there for a reason. Self-sustaining lead generation doesn't happen spontaneously. Those successful roofing contractors exercised the meager time, money, and effort necessary to win. Now they reap in the outstanding traffic and leads.
You don't have to give up on purchasing leads or running campaigns all at once. Simply start putting a little money each month into developing a long-term supply of clients.
Your brand starts to earn greater recognition.
Only your company enjoys each lead.
The average lead is so much cheaper.
The average lead is of much higher quality.
If you're tired of paying out the nose for leads, or if you're simply curious about creating more growth for your roofing business, we'd love to help. Contact our team at the Roofing Webmasters and consult with one of our knowledgeable roofing SEO specialists!
All it takes is one call to (800) 353-5758.
More Resources from Roofing Webmasters
Articles and Podcasts Related to Lead Generation
– I Don't Think the Internet Produces That Many Leads… (Podcast)
– True Client Stories: I Need Leads! (Podcast)
– If a Roofer Could Roof Roofs… (Podcast)
Lead Generation Services
– Roofer SEO Services
– PPC Campaign Management for Roofers
– Roofing SEM Services
Podcast: Play in new window | Download
Subscribe: RSS