Generating sales for your roofing contractor service can be a difficult endeavor, especially given all of the competition that exists in the industry. It can be difficult to stand out in a crowd, but having an effective marketing strategy is the best way to do this.
When you have an effective marketing strategy, you reach a portion of the customer base that you might not have had access to previously. And because the goal is to expand your services and your reach as a company, this should be your goal when advertising.
But one thing that is often forgotten in the work of branding and advertising is that you want to have repeat customers. Reaching new customers is fine and well, but if they don't come back regularly, you won't see a difference.
These are just a few of the ways that you can improve your marketing and generate more sales for your company.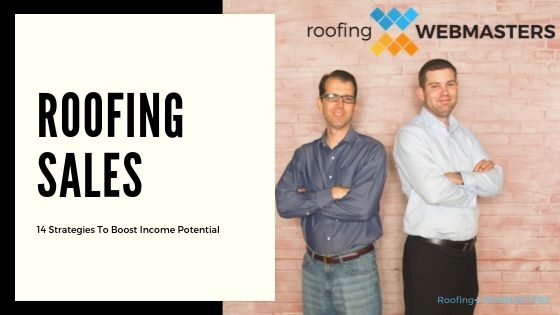 1 | Make your Website Your Customer Service Representative
Your website will likely be the number one way for you to interact with your customer base as well as prospective clients. For that reason, your website has to do a few things for you in order to get the most out of its services.
It has to be fast because the average prospective customer expects a response time of three seconds or less. Most importantly, your website has to be mobile-friendly. Over 57% of users access their internet through their mobile devices. If you don't have a functional mobile version of your site, you are behind the eight-ball.
Most of all, it needs to be informative. Prospective customers are coming to your website for information about your business. Having important, informational statistics and reviews are the best ways to make your website as informative as possible. Leave your prospective customers with no questions.
2 | Get Your SEO Down
The roofing contractor industry is a crowded one regardless of the city or state. The simple fact of the matter is that there are a ton of businesses all vying for a limited number of customers. This is why it is so important to make sure that your Search Engine Optimization (SEO) rankings are as good as they can be.
Your SEO is how Google and other search engines sift through to find the most relevant search results. You want to make sure that your business comes up in the Google search rankings. And because your website is so important, you want as many prospective customers to see your website as possible.
For example, there was an infographic on SEO and this is what they saw:
Over 90% of website visits start via a search engine
47% of users click on a top 3 SERP result
This is why it is so important for your roofing SEO rankings to be as good as they possibly can be.
3 | Make Use of Pay-Per-Click Ads
One of the most effective strategies that you can use is to implement pay-per-click ads. This is often done through Google AdSense and often will place your ads at the top of a specific geographical search. So if your business is located in Austin, TX and someone searches "Austin TX roofing", your ad will appear.
This isn't a 100% foolproof way to get leads, but it is a lot better than you might think.
It is a way to push visibility to your website without having to fight through those difficult SEO rankings. The best part is that you don't have to spend a fortune to see real results. Allot a small amount, say $50-$100, to these PPC ads and see what it does for your business. It won't be massive, but you should see incremental growth.
4| Make Use of Google Local Service Ads
This is in the same vein as those pay-per-click ads but it targets your local service area so that you can pop up near the top of the search engine page results and receive a total of 13.8% of the local SERP clicks. This is great because it targets services, not keywords.
Again, your goal is to target within your service area and with these Google Local Service Ads, you can keep your sights set on the local service areas instead of slogging through search results that might not directly impact you.
This is a great way to advertise locally yet still get the impact of the monster that is Google.
5 | Email Marketing is Your Friend
It might seem like an outdated way of marketing your business, but email marketing simply gets your name into the consciousness of your prospective customers. It is important to keep in mind that not everyone who receives those emails will become a customer; the goal is to get as many eyes on your service as possible.
Another great feature of email marketing is that it lets you keep in touch with your current customers. While you want to get as many customers as possible, you also want to keep those customers. This lets them feel as though they are unique and special and in the mind of your business. Plus, this is an excellent way to present coupons, specials, or rebates to those customers to get their return business.
Email campaigns are simple, cost-effective, and a great way to reach both current and prospective customers.
6 | Take Advantage of Your Website as a Lead Generator
Your website, as mentioned, is one of the most important tools that you have in your arsenal to reach new, prospective customers and develop the leads that are the lifeblood of your business. Getting these prospective customers to your website is a huge first step; you just have to take advantage of that as soon as they get there.
Make a contact form on your website one of the first and most important things that are visible to any visitor. This is one of the best ways to develop leads: have them fill in basic contact information in exchange for coupons or rebates. You get a potential lead, they have a service to keep in mind the next time they need a service.
Having an easily accessible contact form on your homepage is the best way to go for prospective leads.
7| Retargeting Ads are the Way to Go
What is a retargeting ad, you might be asking? It is the kind of ad that will "follow" you around as you make your way around the web. It will pop up on whatever website you are on, making you aware of the company. It is a common way of advertising and one of the best ways of getting your company noticed.
With something like roofing needs, a lead can take many months to develop. Keeping your company in the mind of a prospective client is important so that you always remain in their mind's eye. This way, when they finally make their decision, your company is one of the first ones that they think of.
With these types of ads, you might not see immediate benefits, but it is a great way to keep prospective customers from forgetting about your business. This is the kind of strategy that will keep your company relevant in the mind of prospective customers.
8 | Make Sure to Develop a Value Proposition
Let's face facts: in an industry that is as crowded as the roofing contractor industry is, your company is part of a large crowd that is vying for the attention of a relatively small customer base. This is especially true considering that most of these companies have a local reach; there are only so many people that will need the service.
For this reason, you need to stand out by making sure that you give prospective customers a reason to choose your service. With a unique sales proposition (USP), you can offer a specific benefit and communicate to your customer how you plan to solve the problem. And most of all, it shows that you can offer something to the customer that the competition either can't or doesn't.
The best way to separate yourself from the competition is to make your company seem different as if the customer can't get the same service from anyone else in the industry. When your company can do this, you set yourself apart and will be the first to jump into the minds of prospective customers by offering something that no one else can.
This is a great way to make your company the first name that is thought of when searching for a company in that very crowded industry. That's a win for you and the customer.
9| Manage Your Reputation
One thing that companies need to realize when it comes to developing leads for prospective customers is that their reputation will oftentimes dictate whether or not a customer uses that service. This is because the first thing that a prospective customer will do when they hear about a business is to check out the website of that company. The second thing? They'll check out reviews of that company.
The website sets a great tone and first impression, but they will not necessarily generate those leads. What often times will get a customer to take that leap are positive reviews. People will search around for reviews of that company to see what others who actually used that company think.
With websites like Facebook, HomeAdvisor, and others, customers can find real reviews from real customers and develop an opinion about that company without ever using them. The fact is that these reviews can influence the trustworthiness level of a company. If there are positive reviews, the customer will be more likely to feel as though they can trust you. If they are negative, you will likely be avoided.
Cultivate your reputation by sharing positive reviews on your website, social media accounts, and even using them in advertising material.
10 | Make an Advertising Video
There was a time where commercials on television would be the best way to reach a prospective audience. That same ideal remains, although the medium has changed substantially over the last decade. Making a commercial is still a great idea, though where it airs will change drastically.
Create videos that promote your company and share them through all of your accounts. You can even produce "how to" videos that show your prospective customers how to do certain things that maybe don't warrant a call to a roofing contractor. This helps to build trust between your company and any prospective clients as well as getting the services of your company out there.
Best of all? It has never been easier to create a professional-looking video for a completely cost-effective price. Most smartphones now have the capability of not only filming a high-quality video but offer video editing tools, too. Take advantage of this convenience by making frequent videos that feature your company in a positive manner, connecting to your prospective clients in new and interesting ways.
11 | Partner Up
One mistake that many businesses make is that they treat advertising as an "us versus them" scenario. And sure, your company is in competition with the others in the industry, but that does not mean that you have to go it alone.
Look to local businesses in your area that you can partner up with. Create campaigns that promote your business in their building and vice versa; give the customer a reason to use your service. Think about partnering with a local hardware store. This way, the relationship is mutually beneficial and prospective customers get exposure to your business that they may have not had before.
Use selective partnerships to enhance your overall reach and visibility. It can only do good things for your company and it will give you an exposure that you may have not had previously. Your company can succeed, but it doesn't have to do so alone.
12 | Be Patient
There is a major flaw in the way that many businesses, regardless of industry, promote their business. They are looking for massive, immediate results. This is understandable, but it also isn't realistic unless you have a massive advertising budget.
Try to stay realistic. If you are only spending a little bit to promote your company, don't expect everyone in town to rush to use your service. The results will only be incremental, but they will add up over a long period of time.
The key is to be patient and be persistent. Make sure that your ads are relevant and informative so that any prospective clients can get the best understanding of your company possible. The results will come and you will see growth in the revenue that your company generates. It just takes patience and an eye towards the long-haul instead of immediate results.
13 | Post an FAQ on Your Website
As stated (a few times at this point), your website is one of the most important tools that you possess in order to make the most of your business. It sets the first impression that is so important when trying to reach prospective customers and it can draw those prospective customers back to get a second look at your company.
And one of the things that you need to do is develop trust in your company. Customers value trustworthiness in the companies that they use. When you create an FAQ on your website, you develop the kind of trustworthiness that those customers love.
Answer common questions that customers ask and post them to your website. Even more, allow users to post questions that might not be answered on your site. This will get them coming back to visit your website again and will put your company in the kind's eye of many prospective customers.
The results won't be massive, but you will see a repeat in visitors as they frequent your website to find the answers to their questions. That in and of itself is a huge victory for the marketing tool that is your website.
14 | Make Your Interactions Personal
One thing that customers generally feel about companies in any given industry is that they feel all the same. This can mean that they see your company as the same as all the rest and this can be a bad thing for helping your company stand out.
But if you deliver a genuine, personal touch to the way that you interact with both your current and prospective customers, that will go a long way towards making your company stand out among a sea of competitors. For instance, if you use Roofing Webmasters, you want that personal experience to make you feel special
Customers who have used your site or services will make a note in their reviews that you made them feel like a personal priority. And when you can make customers feel like they are a priority, they are far more likely to come back and visit your business.
Treat your customers like friends and family and they will remember it. This is the kind of thing that can make a business feel like a staple of a community and something your business should absolutely be aiming for.