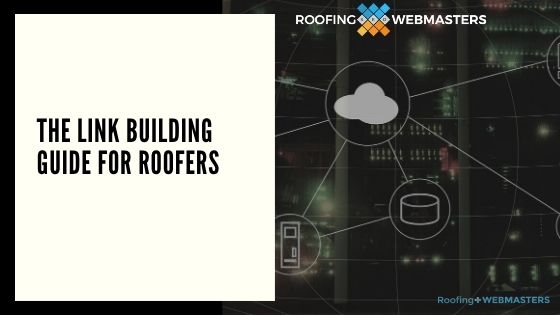 What is Link Building for Roofers?
Link building for roofers is the process of acquiring backlinks, for your roofing company website, from 3rd party websites. Link building is as old as search engine optimization, but advancements in Google's algorithm make building links more challenging. The goal is to acquire white-hat backlinks from relevant 3rd party websites, which helps your own website rank on Google Search.

The Impact of Link Building for Roofers
Roofers looking to rank higher on Google Search or Google Maps can benefit from link building. Google's search algorithm considers backlinks when ranking a website or web page. For example, a roof repair page with 15 high-quality backlinks will almost certainly outrank a similar page with only one backlink.
Of course, not all links hold equal value. Google ignores certain links and penalizes others. With this in mind, building quality backlinks is the only goal.
Higher Google Search Rankings
Ranking on organic search results remains a precious skill. Of course, several factors determine where a page ranks on search. Content, for starters, is an essential ranking factor. Your roofing service pages must display well-written and grammatically sound content.
The page must also satisfy the user's need and their searcher intent. That said, link building often separates two well-written pages on the rankings. If you can acquire relevant backlinks, you can outrank a competitor with similar content.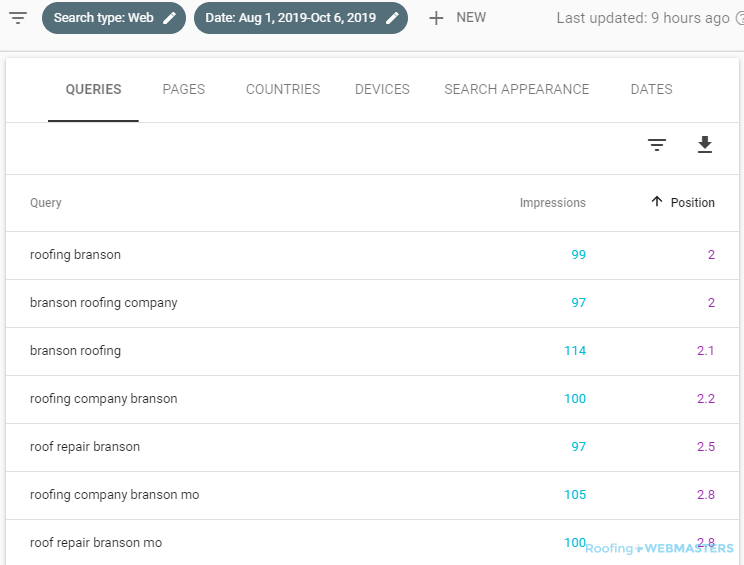 Higher Google Maps Rankings
Most roofers cover the local map 3-pack on search results. This pack of results shows up higher than any other organic search result and attracts a high percentage of clicks. Link building can help your listing appear within the map pack.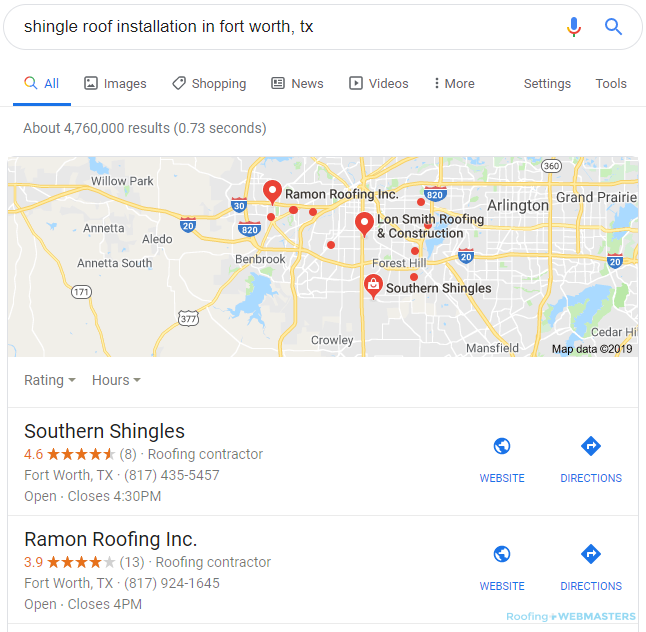 Google Business Profile considers the link quality of the linked URL. For example, when you add your company website to your GMB listing, Google will consider the strength of those backlinks when ranking your business listing. Additionally, backlinks from local directories can help your listing rank higher.
Referral Traffic
A lesser-known impact of link building is referral traffic. When high-traffic websites link out to your pages, people will click through and end up on your website. Since the goal is to build relevant links, the user from the 3rd party website probably has an interest in roofing services.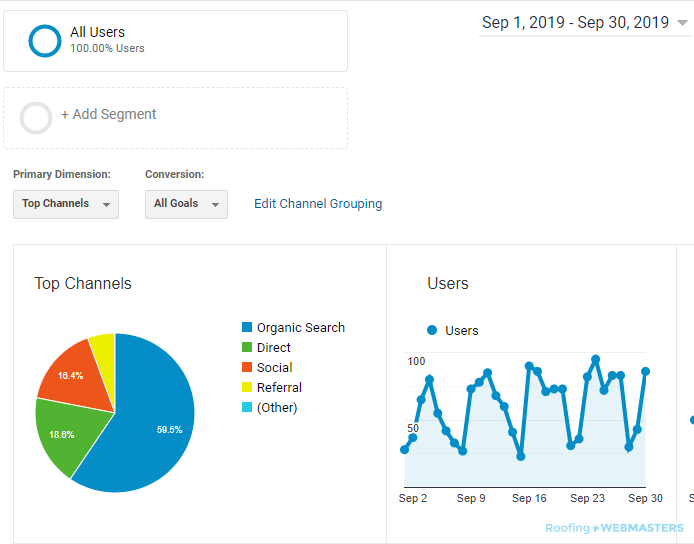 As you acquire more relevant traffic, you can increase lead generation and watch your website grow on Google Analytics. Increasing traffic can even help you rank higher on both Google Search and Google Maps.
Types of Roofing Links
The worldwide web is a large place. With over 1 billion websites on the internet, Google must distinguish between quality and spam. Furthermore, the search engine must ascribe value to certain types of links.
For example, manually creating a business listing on Yelp should not count the same as a local roofing supplier linking to your website because of your good reputation. In the first example, you control the link. In the second example, the 3rd party holds editorial control of the link.
Let's take a look at the types of roofing links:
NoFollow Roofing Links
NoFollow links are manually built on websites that give you total control of the link process. Examples of NoFollow links come from business directories like Yelp and Angie's List or any other platform that allows you to submit your URL and your business information.
As a result of the process, Google only considers NoFollow links as a hint of your website's authority. Despite the lesser value, local citation links remain a valuable resource for roofers.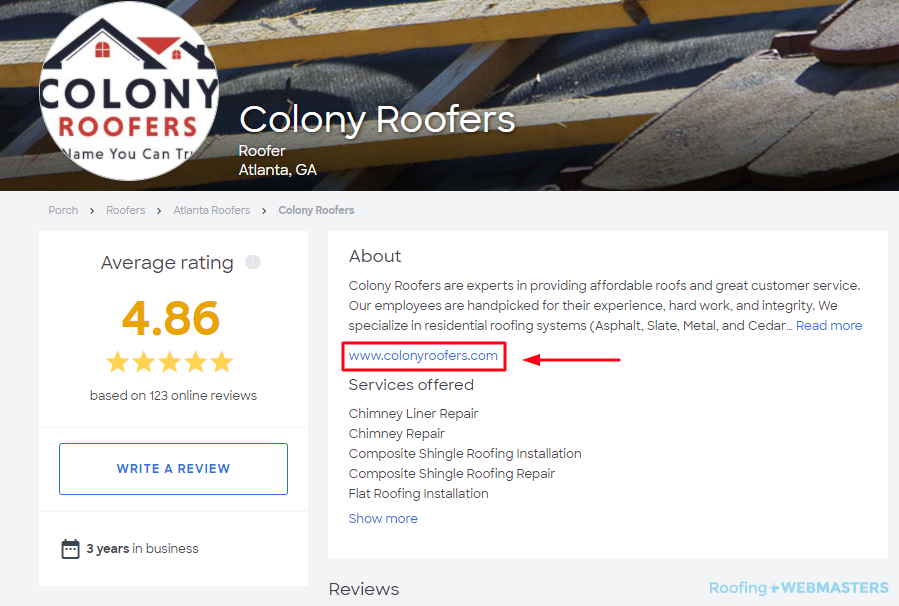 Despite not holding 100% link equity, nofollow links help search engines identify your business and its contact information, building authority.
DoFollow Roofing Links
DoFollow Roofing links hold 100% link equity for search engines. They are links built by 3rd parties who hold editorial control of the link's placement. Examples of these links include roofing blogs, local newspapers, and local contractor or business websites (typically in a similar but slightly different industry).
Google sees DoFollow backlinks as a vote of confidence from the linking website to the linked page. With this in mind, DoFollow links from spam websites can actually do more harm than good. Luckily, Google's algorithm has grown to ignore most spam links in 2023.

How To Build Roofing Links
Link building is a process that requires strategy, authority, and some good fortune. The link-building process is much different in 2023 than it was at Google's inception. When Google first launched, building links was easy, and search engines rewarded spam.
Any roofer could create blog comment links with their exact keyword linked to the preferred page and watch as it ranked instantly. Google's algorithm updates put link spam to rest, and for a good reason. Building links in 2023 now requires true effort.
Create Linkable Assets
The best way to acquire links is by creating linkable assets in the form of high-quality roofing content. Whether it's a detailed blog post about monitoring your roof for ice dams or an e-book about selecting a licensed roofing company, the content naturally attracts the links.
Bloggers constantly look for quality content to cite within their posts and link them to credit. Additionally, linkable assets allow you to perform email outreach to blog writers and journalists who may be looking for good content.
Email Outreach
Speaking of email outreach, it remains one of the better ways to build links in 2023. Be careful, however, and never exchange money for links. The idea is to identify relevant roofing websites that may want to link to your content. These can be roof bloggers, roofing suppliers, or even real estate agents who need to refer a roofing company for their clients.
Look for broken links on relevant web pages and email the webmaster offering your content as a suitable replacement link. You can also suggest a good spot for your link as long as it truly adds value to the reader's experience.
Submit NAP Citations
We mentioned NoFollow links previously, and building them is much easier. Check out the plumbing directory list and start submitting your contact information (along with your website URL) to each platform. These links help solidify your company as legitimate and can also help you get some referral traffic or lead generation.
Steer clear of shady-looking directories since they might do more harm than good in 2023. In contrast, ensure your listing appears on major platforms like Yelp, HomeAdvisor, and Angie's List.
Backlink Monitoring for Roofing Websites
Some roofing links can do more harm than good, bringing us to backlink monitoring. You can use tools like Google Search Console, Moz, SEMrush, and Ahrefs to monitor toxic backlinks. Moz even shows a spam score indicating the toxicity of your backlink profile.
Domains with thousands of spam links can lose value and have trouble ranking on search engines. Black-hat tactics from previous SEO companies may have put your roofing website in a horrible position. Google allows website owners to submit disavow files that contain a list of toxic links they wish no longer to be affiliated with their website.
Here's what you should be looking for while monitoring:
Anchor Text
One of the most obvious signs of link spam is dozens of instances of the same exact-match anchor text. For example, if you own a roofing company in Seattle, WA, and your backlink profile shows 200 links with the anchor text roof repair seattle, you know you have a problem.
Having too many instances of the same anchor text appears unnatural to search engines and indicates that you've attempted to game their algorithm. Such tactics can result in a manual action on your Google Search Console.
Luckily, Google tries to ignore spam links before penalizing them. So if someone maliciously builds those links as a negative SEO attack, Google won't blame you for it.
Spam Score
We mentioned Moz's spam score, which gives a general sense of a domain's link profile. Google does not acknowledge Moz's spam score since they likely have their own internal metric to judge domains. Nevertheless, Moz's score gives you a general idea of whether your domain or a linking domain has a spam problem.
If you have links from a website with a high spam score, it will probably not help. Depending on how shady the website and link appear, you may want to request its removal or add it to your disavow file.
Irrelevance
If you notice backlinks from irrelevant websites, it's best to request removal. For example, an entertainment news website should not link to your website unless the article very specifically focuses on roofing.
Another example of an irrelevant domain would be something in the medical field. For example, a plastic surgeon linking to your roof repair page creates a major red flag for the spam filters and will not help your pages increase ranking or authority.
What Makes a Good Roofing Backlink?
Now that you know the red flags to monitor, you may wonder; what makes a good backlink for roofers? The qualities of a good backlink are very straightforward. Once you identify the pillars of good links, you can begin to look for opportunities for your roofing website.
Similarly, you can breathe a sigh of relief every time a strong website links to one of your roofing pages or blog posts. It is these types of links that ultimately boost your rankings on Google Search.
Domain Authority
Domain Authority (DA) is another Moz metric, and while Google does not acknowledge it, it remains a good indicator of a quality website. Domain Authority between 20-30 is good for a roofing website. Popular roofing blogs may have DAs between 50-70, while a local newspaper may have a DA in the 90s.
Keep in mind, however, that a low Doman Authority does not automatically equate to spam. A relevant link from a roofing website with a 5 DA can still build authority. And as a white-hat link, the worst-case scenario is that Google ignores it.
Relevance
Relevance is critical for link building, and we cannot stress it enough. A strong backlink appears within the body of the text and in the context of the rest of the page. For example, a blogger writing about the best roof repair companies in Dallas can link to your website in a very relevant way.
The link helps the reader verify your existence and therefore serves as a highly-valuable link. The relevance factor makes building linkable assets that much more critical. The more good content you produce, the more chances you have for relevant links.
Traffic
Web pages that generate frequent traffic provide the best backlink opportunities for roofers. Not only does traffic create more referral opportunities, but it also indicates the page's value to Google. A website that places your link on one of its most popular pages must truly think your link adds value to its readers and helps them inform and educate.
Google notes such information and ascribes increased value to a link of such variety. Anytime you can get a backlink from a popular web page, you are helping your SEO profile.
Placement
Link placement matters for roofer SEO. For example, a link placed within the body content of a blog post holds more value than a link placed in the author's profile. Why? Because a link within the body is known as an editorial link. It indicates to Google that the writer voluntarily added the link to its blog post to help inform the reader.
In contrast, a link in the author's profile indicates something like a guest post, making the link less valuable because the author may have added the link for self-serving reasons.
Link Building Services for Roofing Companies
Roofing Webmasters offers link-building services for roofers throughout the United States. Ensure your provider only conducts white-hat link outreach when looking for link-building services. Any money exchange violates Google's Quality Guidelines and can result in a manual or algorithmic penalty to your website.
Additionally, even so-called white-hat links can hurt your website if the provider over-optimizes your anchor text. For example, 100 links saying roofer in maryland all pointing to your homepage is a clear attempt to spam the algorithm.
Your best link-building option remains to create linkable assets through content marketing. Roofing Webmasters offers content marketing services aimed to help you acquire natural and organic backlinks. Our content team works around the clock to craft the best possible content for your website.
Your pages begin to naturally earn links, particularly with the use of DataPins check-ins. We look forward to discussing the specifics of your options when you sign up with Roofing Webmasters.