One of the most common questions from contractors is should I invest in a roofing website? Because there are so many online marketing channels available, some contractors feel they don't need one. Others feel that web designers are artists who don't understand much about SEO or marketing, the components that really drive business for a roofer. And sometimes, it's simply about financial resources. Roofers might feel that investing in a website takes away from other areas of greater need. Or in other cases, they feel that a website-maker like Wix or Weebly will be enough to do the job.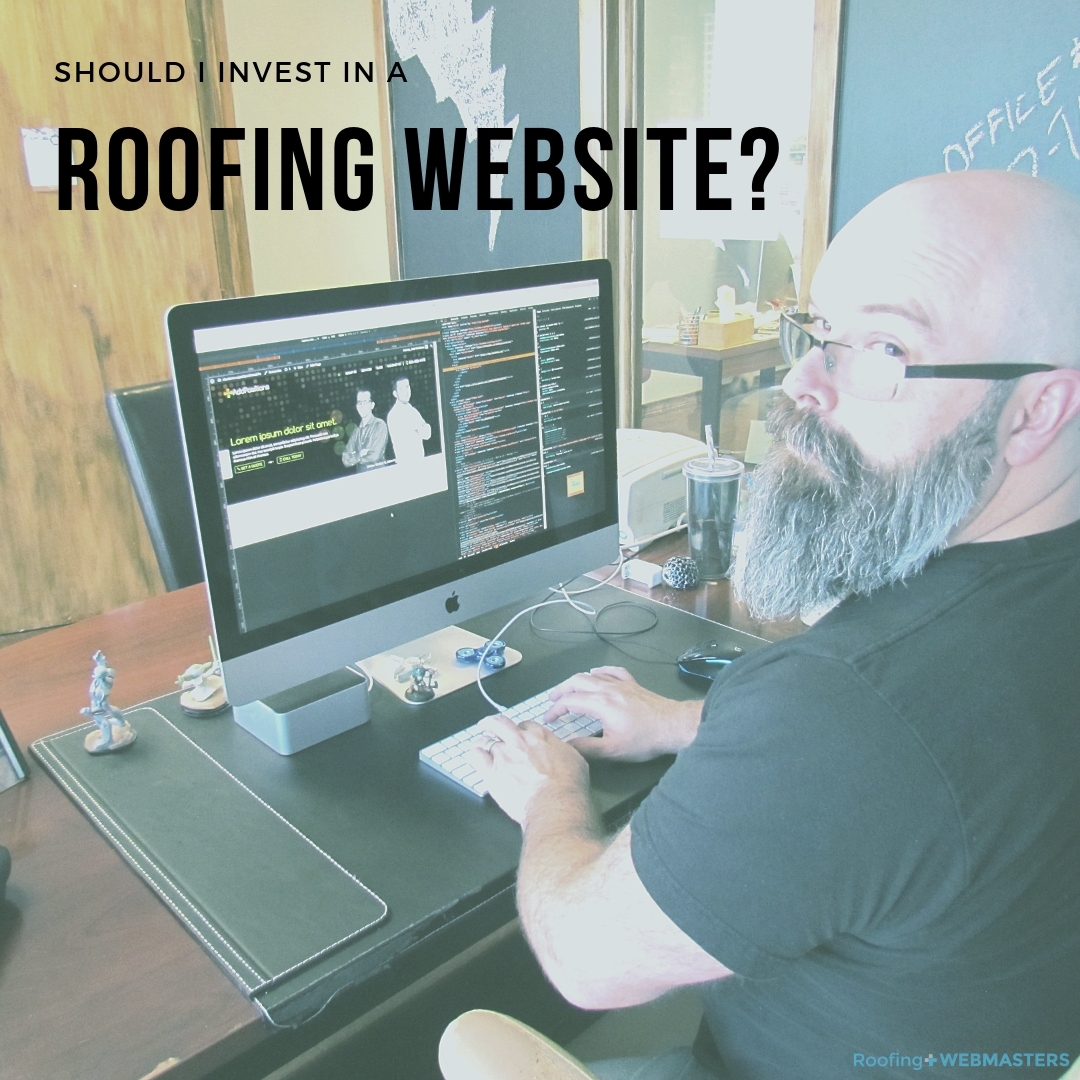 As a business owner, you will always have to budget based on priority but we sympathize with the difficulty of understanding what should be a priority as we approach 2019. Another discouraging fact for roofing companies is that website design varies in quality based on the expertise and experience of the chosen designer. It's always important to keep your roofing business in perspective But to make it simpler, it's ideal to break all of these questions down into steps, so that contractors can make more informed decisions about their website investment.
Do I Need a Website?
To generate consistent leads online, the answer is yes. Attempting to run a roofing business without a website creates an uphill battle that you are highly unlikely to win. The reason for this is because competitors in your local market who do have a website are going to take 10 out 10 leads that originate from online search. Sure, there's other channels through which to promote a business online. But research shows that Google My Business listings with a website tend to place higher than those without them. Just as Google grades a company's overall online presence when ranking their site on organic results, so to do they when determining where a Google Maps placement should appear. Even when considering channels beyond Google My Business, like Facebook, Instagram, and Yelp … each has a place to link to a main website, which will have to be left blank if you fail to launch one. The easy answer to do i need a website is yes. And here's why:
Competitors Have Websites
Leads Come Through Websites
Other Channels Link to Websites
Do Web Designers Know Anything About SEO?
It depends. The criticism that some web designers are merely artists with limited marketing savvy can be true or false depending on the designer. For example, Roofing Webmasters is a full service internet marketing company that combines web design, SEO, PPC, social media, and Google Maps to create a the ultimate lead generation funnel. Not all designer services offer that range of disciplines. Hiring a designer, who does only design, can perpetuate the stereotype that drives this discussion in the first place. Yes it's true, some of the designers who freelance don't know much about marketing. A visually appealing website doesn't always translate to what roofers need most which is relevant traffic and lead generation. That can only come when SEO is part of the larger marketing strategy. But SEO has to do with more than just on page factors. For instance, design fundamentals like HTML & CSS code can also be performed with SEO in mind. One example is the implementation of schema markup which helps Google communicate with websites through their microdata tags. Choose a designer who demonstrates expertise in the following arenas:
Digital Marketing
Schema Markup
Technical SEO
Should Roofing Websites be a Financial Priority?
This question relates directly to the necessity for a website in general, but it goes even further. Having a website exist is one thing, but investing real financial resources into it is quite another. The answer is more complex than some might anticipate. Yes, roofing websites should absolutely be a financial priority but only as a source of lead generation. They shouldn't exist just to show off a static page that clients can visit after you've already serviced them. Instead, your website should be the central hub for your online lead generation, and that's something that should be one of the top priorities for your business, without question. Let's face it, in 2019, attempting to run a roofing business without a go-to source for online customer acquisition is a recipe for disaster. So it's highly logical to invest as much financial resources as you can in a source of leads, which a website can and should be. Obviously, you still have other obligations that are required of you when running a business, but don't let them come at the expense of the asset that will keep the money flowing. Websites should be priorities because:
They are Digital Assets
They are Lead Sources
The are Long Term Investments
Should I Use a Roofing Website Creator?
There's plenty of sites that offer ready-made website templates. They are cheaper than a regular web designer, and they don't require any real knowledge of code. These platforms have also made strides in the SEO realm as well. While they were once considered highly discouraged in regards to search engine optimization, that is no longer the case. With that said, they still lack the true potential that comes with a custom design. For example, the implementation of schema markup is one area where customization can make a big difference. The ability to make changes to code as needed is also a major factor. When using templates, the code is what it is, and cannot be changed or developed to suit very specific questions. Furthermore, custom designs are less reliant on plugins and widgets which can bog down site speed and page loading times. So the choice is yours when it is all said in done. All you can do is make the most informed decision possible. We recommend custom design because of:
Custom Changes
Lack of Plugin Reliance
Schema Markup
How Widely Does Design Quality Vary?
The quality of a website design varies quite widely. On a scale from 0-100, we've witnessed everything from about 0.5 to 99.5. There's no perfect website, but there are certainly some atrocious ones. Since there's so many designers who provide services online, choosing one can be a daunting task. But you should keep in mind how your own roofing clients find you. They use organic search, Google Reviews, Google Maps, etc. You should always do your due diligence on anybody that you hire for any reason, but with so much at stake, you should be extra vigilant when deciding on the designer of your choice. Like we've said, for the purposes of a roofing website, marketing and SEO experience is paramount. You should also demand to see samples of their previous work, and have lengthy discussions with them to see if their vision fits your own. So many of the lowest quality candidates can be weeded out through a simple conversation. Once you select 2 or 3 promising prospects, make your decision based on the factors most important to you. In summary, evaluate quality through:
Online Reviews
Phone Conversations
Resumes & Portfolios