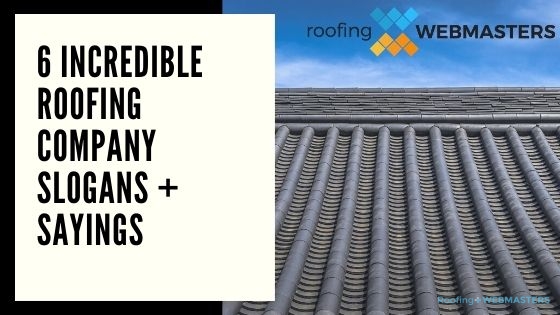 Choosing a roofing company slogan can take time and effort. However, the best roofing slogans often manifest organically based on your company's mission statement, priorities, and beliefs. While the best sayings often emerge naturally, contractors cannot downplay the importance of a high-quality slogan.
At Roofing Webmasters, SEO services are our passion. We talk about digital marketing as much as we can. But beyond SEO, we like helping roofing contractors make their businesses stand out. And an integral part of any marketing strategy that distinguishes you from other roofers is a good slogan.
But coming up with a memorable slogan and conveying the message you want to send is easier said than done. You know what we mean for anyone who has ever sat down and tried to brainstorm slogan ideas.  So we were excited to compose today's post because it covers a topic that we usually don't get to go in-depth with and allows us to flex our creative muscles.
Today we will share with you some of our ideas for roofing company slogans. 
Best Roofing Slogans
"Putting a Strong Roof Over Your Head"
"There When you Need Us"
"Roofing the Way it Should Be"
"Giving you the Roof you Need"
"Experience, Expertise and Exceeding Expectations"
"Roofing Made Easy"
"Putting a Strong Roof Over Your Head"
A lot of roofers like to emphasize that they do quality work. And quality is vastly important when it comes to roofs. People want to feel secure that their home or business's first line of defense against the elements is sturdy.
The mantra is an excellent slogan for a couple of reasons. One, it conveys the message of strength and reliable protection that people want. Two, it doesn't pigeonhole you into exclusively residential or commercial work. "Putting a Strong Roof Over Your Head" could refer to a home or a business.
"There When you Need Us"
One of the homeowner's greatest fears is a compromised roof. And for business owners, a collapsed or leaking roof could mean that they have to shut their doors. "There when you need us" is a great roofing company slogan for any contractor that offers emergency roof repair service.
But it's a more versatile slogan than that. Yes, there is an apparent reference to emergency roof repair, but it also speaks of your commitment to helping people in their time of need. The saying in question would be a fitting slogan for any roofing contractor emphasizing customer service.
"Roofing the Way it Should Be"
Unfortunately, there are some unscrupulous roofers out there who don't mind cutting corners. And unfortunately, there are home and business owners out there who have been burned by said unscrupulous roofers. 
"Roofing the Way it Should Be" tells your customers that you understand their trepidation but, more importantly, that you go out of your way to do right by your customers. This slogan immediately speaks of quality and an understanding of what your customers seek.
"Giving you the Roof you Need"
We think this slogan would be great for any roofing contractors who do complex or specialized work. Many properties have specific needs regarding the roof, and this slogan lets customers know that you can deliver no matter how complicated the job may be. 
But it's another versatile slogan that can mean many things to different customers. Maybe the roof a homeowner needs is not as specialized as it is vital. Perhaps someone is looking for an aesthetically pleasing roof.
"Giving you the Roof you Need" appeals to many consumers by speaking to their perceptions, making it useful for many purposes.
"Experience, Expertise and Exceeding Expectations"
These 4 "E's" pack a punch. The saying is simple and straight to the point, and who doesn't love alliteration? The simplicity conveys exceptional skill and attentive customer service. 
The above saying would be an excellent (and the alliteration continues) slogan for a company with several years in the roofing industry and values customer satisfaction.
"Roofing Made Easy"
Many people dread dealing with roofing maintenance, repairs, and inspections. The process is often lengthy and complicated – especially if insurance companies are involved. This slogan alleviates many people's fears about roofing work – that it's time-consuming and stressful. 
This saying, or something like it, would be a good slogan to use if you offer roofing insurance claims to help or make an effort to make the process as simple as possible for your customers.
How Roofing Slogans Help Generate Leads
These roofing slogans are yours to utilize as you see fit. But in general, we wanted to use these to help spark some of your ideas. You can also use these slogans as a jumping-off point to help you give voice to your unique message.
Roofing companies with catchy slogans will generate high-quality leads. Remember, it pays to stand out in the roofing business.
And if you need help with more than just slogans for your roofing business, we can be of service. Let us increase your business through strategic digital marketing. As a full-service digital marketing agency, we provide SEO, Web Design, Reputation Management, and PPC. Contact us today to learn more,