In a healthy roofing industry, it may seem wise to drop all of your low-dollar services in favor of more extensive profit services. Don't throw away that roof repair page just yet, though! Nolen and Jason discuss the current market and how contractors can protect their business during the recession with SEO for roofers. So if you've got concerns about the future of your roofing company, be sure to listen in carefully!
Key Points to Listen For:
Economic indicators point towards a potential recession in the next few years.
Lower dollar services offer invaluable revenue during a recession.
Few marketing activities will provide as dependable results as SEO for roofers.
SEO For Roofers: Recession Preparations
While there's no exact timeline predicted for the next recession (we're hoping for never), it pays to prepare your business against potential economic downturns. That's especially true for roofing contractors, who live and die by the whims of the housing market. We can easily predict what would happen for the average roofing professional in the event of a recession.
The Traditional Slowing of the Roofing Industry:
Phase #1: Home sales start to decline.
Phase #2: The average homeowner grows stricter with their budget.
Phase #3: Non-essential projects (i.e., roofing upgrades) slow dramatically.
Phase #4: As budgets tighten, even more, homeowners wait longer for repairs.
Phase #5: Underprepared contracting companies go out of business.
Phase #6: The market starts to recover.
It's a sad but recurring process that many roofing companies don't survive. Companies go into the stricter economic period unprepared for the surge in competition. While storm seasons and the odd hail market may provide relief, a company can't count on random storms.
So what should your business do to prepare for the next recession? Start diving into SEO for roofers, and establish your presence online now! A year or two years from now could be too late to start preparing. Below, we'll explain why developing your organic search program currently could save you in the next few years.

Reason #1: Saving a Lot of Money
So business is booming, and for the first time in a while, you have some company cash saved up. That's where you come to a fork in the road. Do you spend the money on traditional marketing, paid search campaigns, or organic development? We'll explain in a bit why the typical advertising (including door knocking) might not work so well shortly. For now, we'll focus on PPC vs. Organic SEO!
Pay-per-click campaigns offer more control and customization than ever before. For one, you can target the precise geographic radius that you want your ads to appear in. You can also refine your target audience on platforms like Google Ads and Facebook Ads. These solutions work so effectively that many roofing contractors forgo continued website development and double down on PPC.
Focussing exclusively on PPC is generally a bad idea, but it could hurt your business even more during a recession.
Why? Because ads cost money. Thanks to a healthy housing market, most roofers do well enough to avoid using paid ads (even when they shouldn't). However, when the housing market starts to dry up, businesses without an established organic presence flock to Google Ads and other ad platforms in desperation. The surge in competition leads to incredible spikes in costs-per-click (CPCs), which could quickly eat up your marketing budget!
You could try to buy these leads from a lead selling company. If the numerous complaints we hear from roofing contractors are any indication, however, that's a sticky and expensive situation you'd be better off avoiding. So that leaves SEO for roofers.
How Organic SEO Saves Money
Ranking #1 in Google Search is a dream many contractors share, but it's not one many know how to pursue. The most effective SEO strategies begin with website optimization because most curious readers turn into actual leads. Once your roofing company website is up, running, and ranking up in Google local map results, however, you'll notice something unique:
Organic search generates higher quality leads than PPC and is cheaper!
While search engine optimization certainly takes a concentrated effort during website development and content marketing, you won't have to spend all your time managing the site. A well-crafted company portal will naturally generate leads with only moderate updates required every so often. Cheap, high-quality, and relatively easy leads. What's not to like?
Reason #2: Maintaining a Broader Spectrum of Services
In healthy roofing industries, homeowners call in for a variety of services. Unfortunately, with so much business to choose from, many contractors turn down low-dollar jobs to favor high-profit installations and replacements. At the Roofing Webmasters, we even have clients who think about taking off their "Roof Repair" pages so they can focus exclusively on installs. We strongly advise against that strategy, however, especially when it comes to recession markets.
During recessions, installation numbers plummet to the point that mostly repair jobs remain.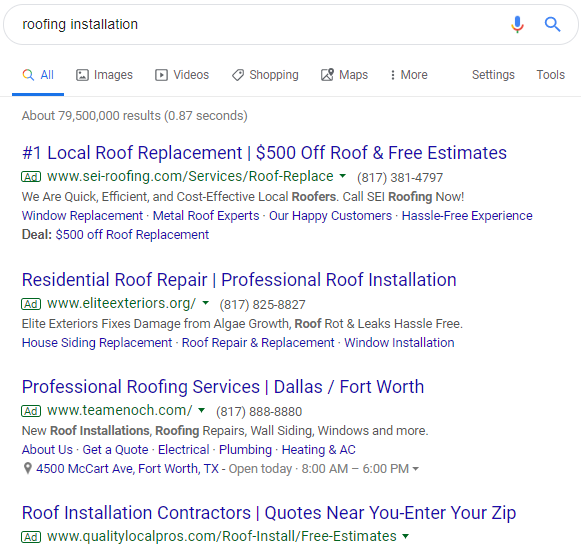 If only roof repair projects remain in the market, will contractors compete for those leads? You better believe it! Unfortunately, too many ride the wave of healthy-market projects without ever investing in their long-term online performance. Even a little effort here and there can reap huge dividends once your brand earns more experience online.
What sort of activities can you complete now to become an established contractor?
Even if you don't have the resources to create a fully optimized website, you can efficiently perform these actions without breaking the bank. If you complete the work now, you can reap the rewards down the road when other unprepared contractors (who neglected their SEO for roofers) are struggling for business. Make it easier to earn leads and reinforce your business against a likely recession; that's two birds hit with one stone.
An SEO Company for Roofers
At Roofing Webmasters, we support contractors from all around the United States. Our dedicated team of web designers, content writers, social media analysts, and strategists work together to deliver outstanding SEO for roofers. As a result, clients regularly enjoy front-page rankings, higher site traffic, and better quality leads.