Roofing memes have become immersed in the roofing industry culture. There's no denying that memes designed specifically for roofers are often hysterical and accurate while serving as a welcome diversion for contractors during breaks in the job.
With that in mind, Roofing Webmasters presents 54 side-splitting roofing memes that'll make you ROFL:
1) Blazing Sun Meme
---
---
What roofer can't relate to a hard day's work in the brutal sun? It's about 108 degrees in Texas right now.
2) DIY vs. Professional Meme
---
---
No matter how many times you convince homeowners not to roof DIY, some will never listen.
3) Duct Tape Meme
---
---
It's hilarious when clients tell you some of the things they did with a straight face.
4) Fall Through Ceiling Meme
---
---
Roofing safety is no laughing matter. But some homeowners insist on being a hero and suffer the consequences.
5) Got You Covered Meme
---
---
Unlicensed roofers will assure homeowners that they've "got you covered." Two words: buyer beware.
6) One Shingle Left Meme
---
---
All roofing contractors know the feeling when you're staring at that very last shingle.
7) Well-Insulated Roof Meme
---
---
Doing a great job on your customer's roof can have a slight downside, especially if they love the rain.
8) The Roof Leak Cycle Meme
---
---
We don't want to promote the worst-case scenario, but we all know homeowners that downplay their leaks.
9) Roof Leak Reaction Meme
---
---
Speaking of downplaying roof leaks, the roofer's reaction is often far different than the homeowners.
10) Roof Leaking Meme
---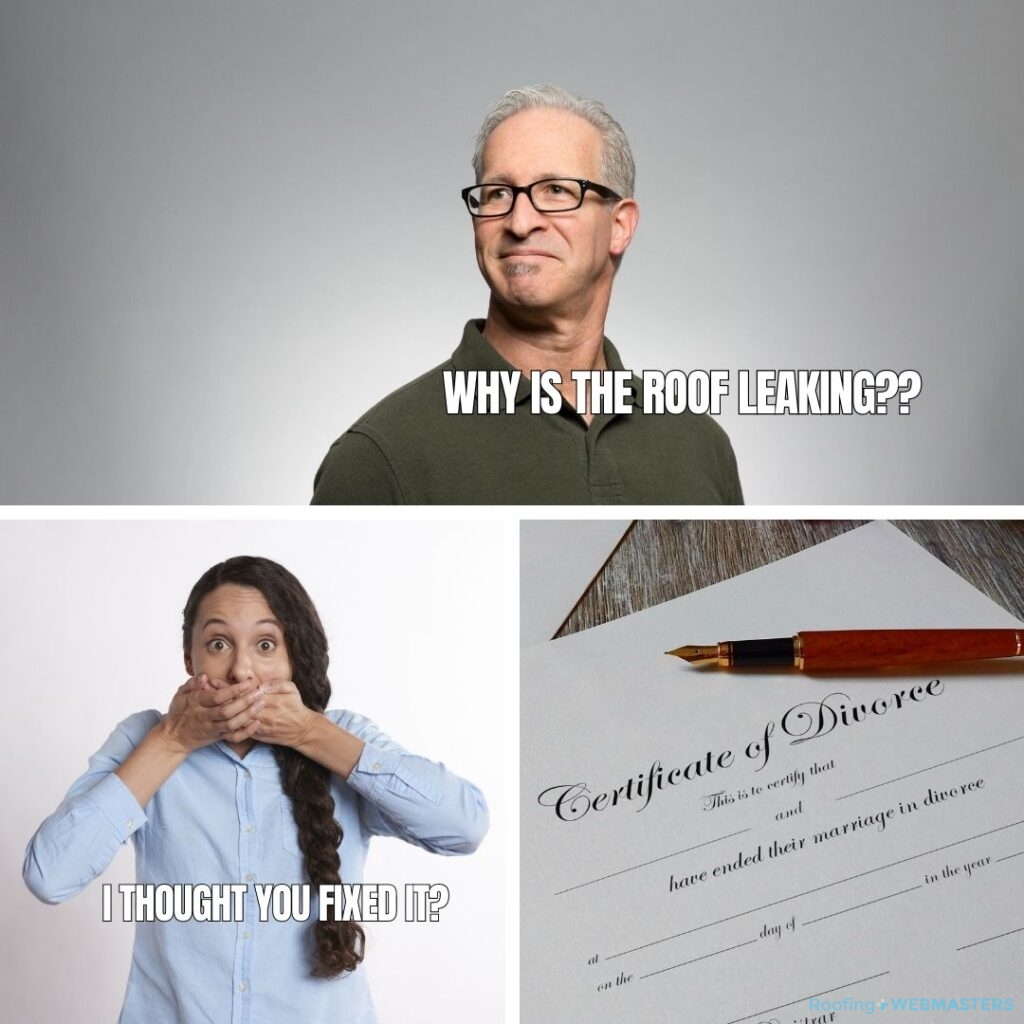 ---
A bad roof leak can have major consequences. Let's hope you fare better than these people.
11) Roof Sunburn Meme
---
---
Roofing professionals sometimes have to find the positives in this 100+ degree heat.
12) Roofing Blog Mass Production Meme
---
---
As a roofer, you've probably gotten a call from one of these marking gurus that will ruin your entire website by mass-producing AI-generated blogs.
13) Roofing PPC Meme
---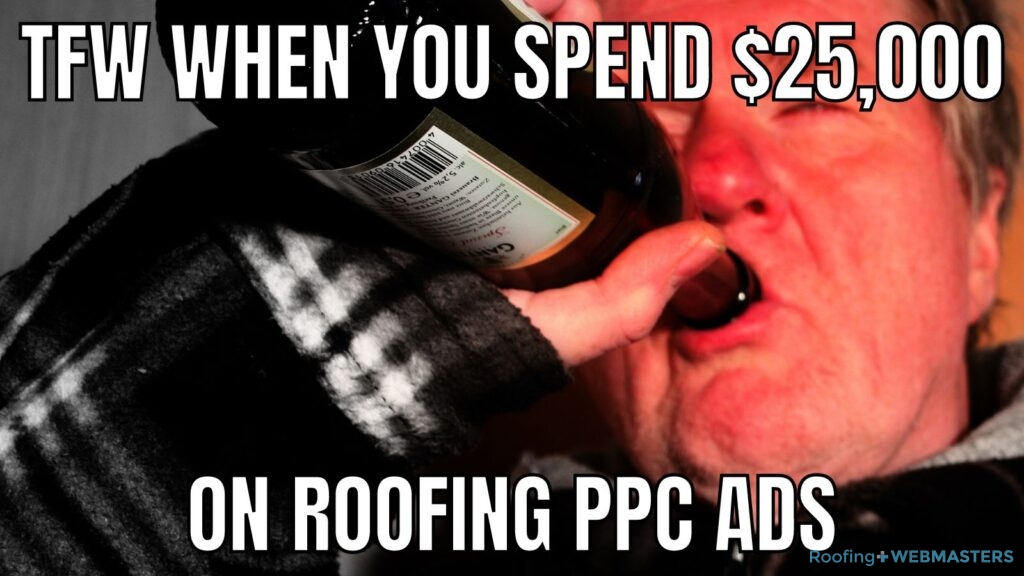 ---
You might be working with a roofing marketing agency right now that encourages you to pump your earnings into PPC ads. They might even be engaging in shady practices like black-box billing.
14) Roofing Season is Coming Meme
---
---
When the hailstorms hit, roofers become larger-than-life entities that homeowners rely on for repairs.
15) Sky Floors Meme
---
---
It's always funny when roofers and others ponder the existential and philosophical aspects of the craft.
16) Roofers vs. Squirrels Meme
---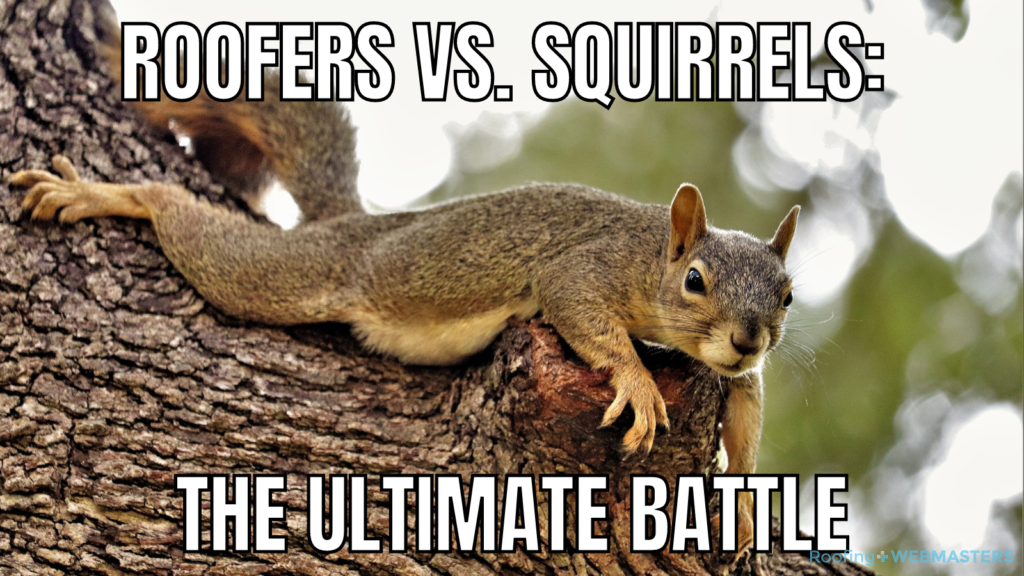 ---
Squirrels can definitely get in the way during residential roofing jobs.
17) Test vs. Storm Leak Meme
---
---
It can be perplexing when the roof passes the leak test but still leaks during a storm. That's why homeowners need the highest quality roofing services.
18) Shiny or Wet Roof Meme
---
---
Homeowners tend to talk themselves into narratives that avoid the need to pay for a replacement.
19) 12-Day Roof Replacement Meme
---
---
Some of these exhaustive roof replacement jobs feel like the work of a lion. Am I right?
20) After Roof Repair Party Meme
---
---
Some roofers are unphased by long days, and the party just starts when the job is done.
21) Roofing PPC Billing Meme
---
---
There are roofing PPC companies that use a tactic called black-box billing. It's disgraceful.
22) Brand New Roof Meme
---
---
Having a brand new roof is a rewarding feeling for homeowners, from property resale value to the comfort of knowing you won't get crushed by seasonal hail.
23) Brother-in-Law Roofer Meme
---
---
It's always funny when the client tries to explain that they somehow know more about roofing than you as a professional.
24) Brutal Hail Storm Meme
---
---
Hail storms can wreak major havoc for homeowners, but roofers that have established a good reputation often reap the financial rewards for these unfortunate events.
25) Buy Roofing Leads Meme
---
---
In most cases, buying roofing leads is the equivalent of burning money. You can do a lot better with SEO.
26) Client Text Meme
---
---
Some clients insist on band-aids for larger roofing problems. As professionals, this can be a red flag.
27) Holding Back Co-Roofer Meme
---
---
Sometimes homeowners can insult your roofing staff. Of course, it's important to remain professional, even if it's a challenge.
28) Commercial Roofing Job Meme
---
---
Those commercial roofing jobs tend to be a lot higher up than the residential variety.
29) First-Time DIY Roofing Meme
---
---
Many of these clients don't realize that watching HGTV does not qualify you as a competent roofer.
30) Roofing Family Business Meme
---
---
Many roofing professionals have had a business in their family for multiple generations.
31) Green Roof
---
---
There are intentional "green roofs" and roofs that are green as the result of neglect.
32) Cold Calling Marketers Meme
---
---
Roofing business owners regularly receive cold calls from marketers claiming to have an unknown strategy. It becomes a chore trying to dodge these hacks.
33) Insulation Problem Meme
---
---
Insulation problems can lead to roof fires which obviously become a disaster for everyone involved.
34) Offseason Roofing Marketing Meme
---
---
Roofing companies that pause their marketing efforts during the offseason are always going to lag behind competitors that continue to promote their business during all seasons.
35) Marketing Sales Call Meme
---
---
You can't help but laugh at some of these marketing gurus that pretend to relate to roofing pros, all while talking down to them and providing lousy services.
36) National Roofing Week Meme
---
---
Of course, this is a joke. You can't mock clients to their faces. But it would be nice to roll your eyes at some of these insane roofing-related requests without suffering consequences.
37) Pick Roofing Keywords Meme
---
---
I will never understand roofing marketing agencies that tell their clients to "pick this many keywords." It immediately proves that they have no idea how SEO works.
38) Roofing PPC Companies Meme
---
---
If roofers were exposed to the behind-the-scenes tactics of many roofing PPC companies, they would view them as thieves.
39) Random Roofing Marketing Stat Meme
---
---
It's not surprising that so many roofing companies are unhappy with their marketing provider, considering the horrific and shady tactics used in campaigns.
40) Roof, Grill, Dinner Meme
---
Nothing is quite as satisfying as hitting the grill and having a nice dinner after a long day of roofing.
41) Roofing License Scam Meme
---
---
The industry frowns upon unlicensed roofers who peddle their services. But there are definitely people doctoring a fake license to fool consumers.
42) The Roofer's Art Studio Meme
---
---
Roofing is absolutely an art form. And most artists find inspiration when starting with a blank canvas.
43) Roofers' Rock Meme
---
---
Roofing is a tough job. Sometimes it's nice to be acknowledged for being a professional roofing contractor.
44) Roofing Billboard Meme
---
---
We've all seen those generic one-line billboards on the freeway. Wouldn't it be funny if one of them revealed the foolishness of DIY roofing?
45) Roofing Biz Booming Meme
---
---
It's hard not to start feeling extra confident when the roofing business starts booming.
46) Roofing Business Coach Meme
---
Have you ever noticed that many of these business coaches have never had a real business?
---
47) Roofing Business Owner Stress Meme
---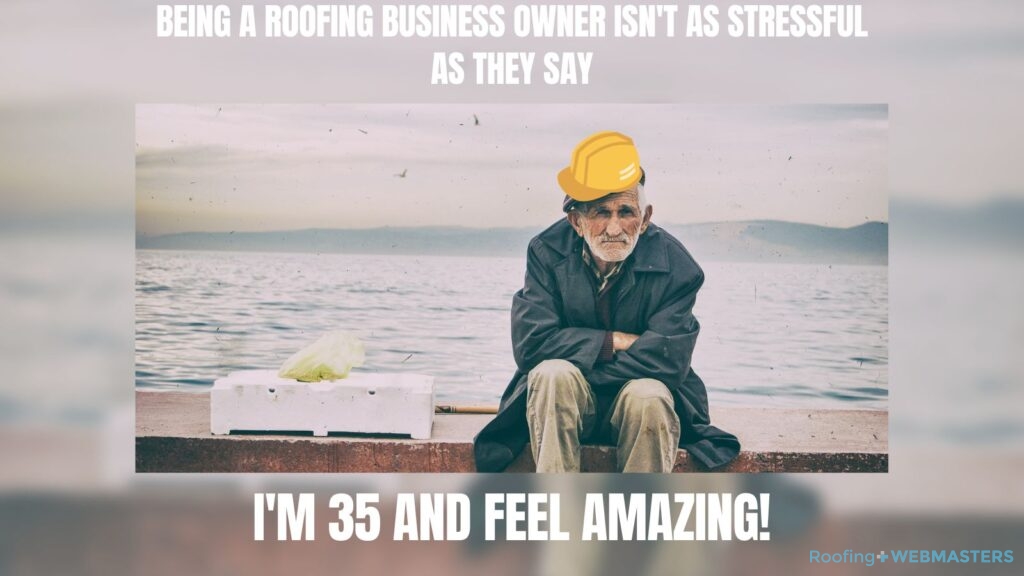 Sometimes being a full-time business owner can make us feel like we are aging at an increased rate.
---
48) Roofing Goggles Meme
---
The eyes of a full-time roofer tend to gravitate to one part of the home. Yes, the roofing system.
49) SEO for Roofers Meme
---
The advice of most SEO professionals is downright alarming. Don't listen to them. Instead, check out this SEO guide for roofers in 2023.
50) Shady Ladder Meme
---
While these memes are funny, roofing safety is no laughing matter. Most roofers have come across ladders that immediately cause alarm.
51) Roofer Sleeping-In Meme
---
---
We all know that one contractor that never shows up on time. Or at least we did know them before they were fired.
52) Storm Damage Roofers Meme
---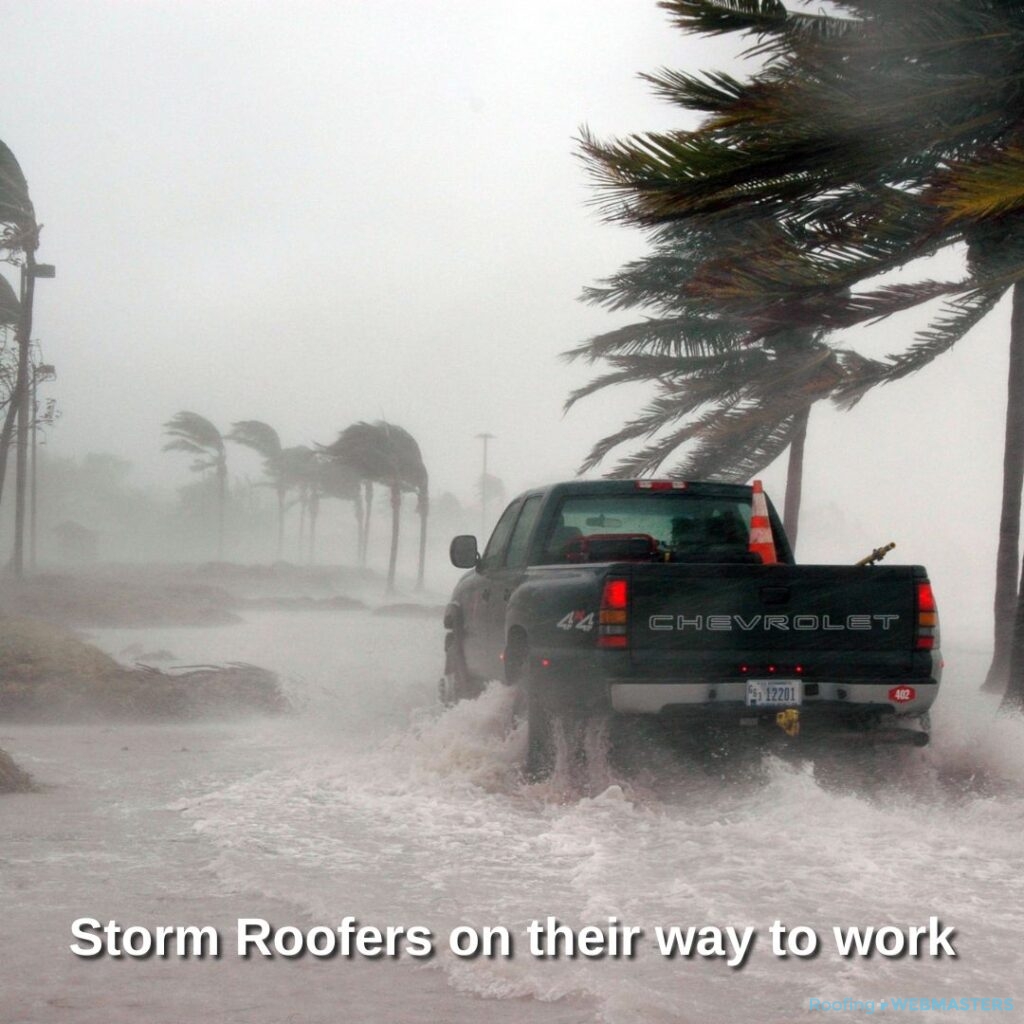 Whether you call them storm damage roofers or hail chasers, some of these contractors will try to drive through anything.
53) Roofer's Work Tired Meme
---
---
It's difficult for office workers to relate to the grind of roofing work.
54) Roof Workplace Safety Meme
---
---
Commercial roofing jobs can be extremely dangerous. An obvious rule of safety is to not recklessly sit on the edge of the roofing structure.
Make Your Own Roofing Memes
We hope you enjoyed these 54 roofing memes and are inspired to create your own. Download Memeatic from the Apple app store or Google Play store and start working your magic. You can even post your memes on social profiles like Instagram and TikTok. If you require professional marketing help, please contact us.