What is Local SEO for Roofers?
Local SEO for roofing companies is the process of optimizing a roofing website and Google Business Profile for one or more service locations. Typically, the practice focuses on Google Maps rankings via Google's Local Map 3-Pack. However, Local SEO for roofers also encompasses on-site city pages (AKA local landing pages) and business citations on directories like Yelp, Angi, HomeAdvisor, and more.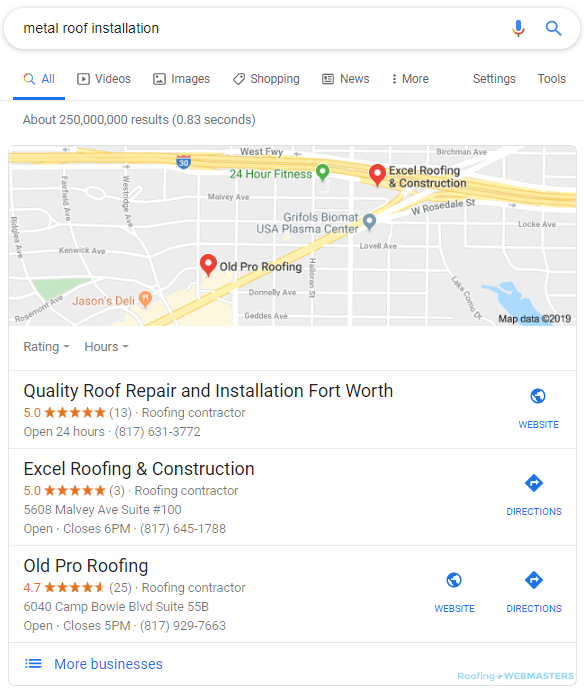 The Local Map Pack is the premium Local SEO real estate for roofing contractors in 2023. Ranking within the 3-pack requires an optimized Google Business Profile and a locally relevant website showcasing E-A-T and social proof within your target service areas.
Local SEO Benefits for Roofing Contractors
Like SEO for roofers, local SEO generally evolves with each algorithm update. Techniques that worked well in past years no longer apply in 2023. Roofers must adjust to the new criteria to maintain or acquire top local map rankings. If you ask yourself the right questions, we applaud you because you are obviously mindful that search engine algorithm changes are constant and marketing trends are ever-shifting.
Consider yourself one step ahead of most business owners. Still, asking questions won't be quite enough to keep you ahead of the pack. In this post, Roofing Webmasters presents you with the definitive guide to local SEO for roofers in 2023. We will analyze the latest search trends, ranking factor changes, and more to help you pivot your local SEO strategy and dominate the rankings. 
Local SEO Ranking Factors for 2023
Certain ranking factors are used to tell Google and other search engines how high to rank your website on local searches. So, for example, let's say someone searches "roofers near Baltimore." If you are a roofer in the Baltimore area, your website might appear on that search.
But how high it appears (and if it even appears at all) will depend on certain criteria or "ranking factors." And studies prove that you want to be ranked as high as you possibly can on search engine results pages because the top 3 search engine results garner 75% of all clicks.
If your website ranks outside the top three, you only have a 25% chance of getting a click. And this number gets exponentially lower as your rankings decrease. So here is what is affecting local SEO for roofers in 2023:
Google Business Profile
Google Business Profile signals are still some of the most important for local SEO. Ensuring that your business is listed on GBP with quality information and photos will help you break into the local 3-pack. And the local 3-pack appears as the top result in an astounding 93% of local searches.
You can optimize your Google Business Profile listing with unique photos, up-to-date information, and Google Posts. Make sure you insert your website URL within your profile listing, as it can influence the ranking of the listing on the local map pack.
NAP Citations
NAP stands for name, address, and phone number. While the influence of NAP consistency is overblown, the presence of citations remains a vital part of local optimization. Google and other search engines can validate your business by scanning for citations.
The best roofing company citations come from niche directories or major platforms like Yelp, Facebook, and HomeAdvisor. Once again, ensure your website URL links to each listing as they build link equity for your website and help SEO.
Reviews
Of course, reviews are still a factor in 2023. In fact, reviews make up 16% of all the ranking signals for local searches. It would help if you were prioritizing Google reviews in particular. And you can do that by getting your Google review link and sharing it with as many of your customers as you can.
But data also suggests that Google takes into account Yelp reviews as well. Many roofers struggle with acquiring consistent reviews, which is why investing in a software solution like DataPins can change the direction of your business and finances in 2023. You can check out our roofing reviews study to learn more.
Local Keyword Research for Roofing Contractors
Keywords with local intent are the ones most targeted in local SEO campaigns. For example, any query with the near me modifier qualifies as a local keyword. Similarly, any phrase with a city name or state abbreviation signals to search engines that the search is local.
While most keyword research tools fail to provide precise search volume for local keywords, you can use Google Search Console to monitor impressions. Remember that nearly half of all Google clicks come from "hidden terms," which means that many of your local visitors search for terms that won't register as a query within Google Search Console.
Longtail Keywords
Now that we know a bit about what affects rankings for local SEO for roofers, it's time to start optimizing. The first place you should be looking at is your keyword list. We don't blame you if you haven't looked at or updated your keyword list in a year. The fact is that the list doesn't change much when it comes to niche keywords.
But they are still a very relevant ranking factor and one of the easiest things to optimize for. If you have not utilized longtail local keywords for your business, you may miss out big time. They're like a shortcut for organic SEO.
What is a longtail local keyword, you ask? Here's an example: shingle replacement in Kansas City, Missouri. There are three things to notice here.
The name of the service. In this case, it's "shingle replacement."
The name of a specific city and state. In this case, they are "Kansas City, Missouri."
Using a local longtail keyword can help you narrow in on specific areas that you service and services you offer. These tend to be lower competition keywords, making them easier to rank. Make sure you are utilizing them in 2023. 
Voice Search Keywords
Have you ever used your phone's voice recognition function to perform an online search? If so, then you are part of the one-third of Americans who do so regularly. Recent data shows that a 3rd of Americans report using the voice search function at least once a month. And that number is set to hit 5 billion people worldwide this year.
The point is that voice searching is on the rise. So how is that relevant to local SEO for roofers? It is marking a change in keyword usage. Whereas traditional typed searches were terse and omitted certain articles and conjunctions (i.e., roof replacement Tampa instead of roof replacement in Tampa), voice searches are longer and more conversational.
You can leverage this growing trend in 2023. In addition to longtail local keywords, start targeting longer conversational key phrases. For example, a person conducting a voice search may say something like, "who is the most affordable roofer in my area." This is fertile ground. You can start utilizing phrases that incorporate "most affordable roofer" and "affordable roofer in my area" just as a start. 
Local Link Building for Roofers
For many contractors, link building for roofers is a mystery. But as a roofer operating locally, you have an advantage. That's because you can reach out to people that you already know and work within your community for backlink opportunities.
Think about all the material suppliers, hardware stores, wholesalers, general contractors, and neighboring businesses you know. These are all potential partners for building links to your site. Here are some tips for building local backlinks:
Business Networking
Networking can earn your business natural links from nearby businesses. For example, realtors in your service area may need to recommend a roofing company on their website. There's no reason why that company should not be yours, which can help you with local SEO and business referrals.
Link Outreach
Before you start cold emailing and calling businesses in your area, take a look at their website. Determine which page a link to your website would make the most sense, and use that info in your proposal. Only build links that help website users. Unnatural links can get your website penalized.
Chambers of Commerce
This is an easy one. Your local chamber of commerce is clamoring to list your business if it isn't already. Make sure you register with the chambers of commerce in all the areas you service and that they include a link to your site on theirs.
Local Sponsorships
Sponsoring events like Little League games and charity events is a great way to get your name out there. It's also a great way to build your backlink profile. Sponsor a local event and make sure to request a link on their website.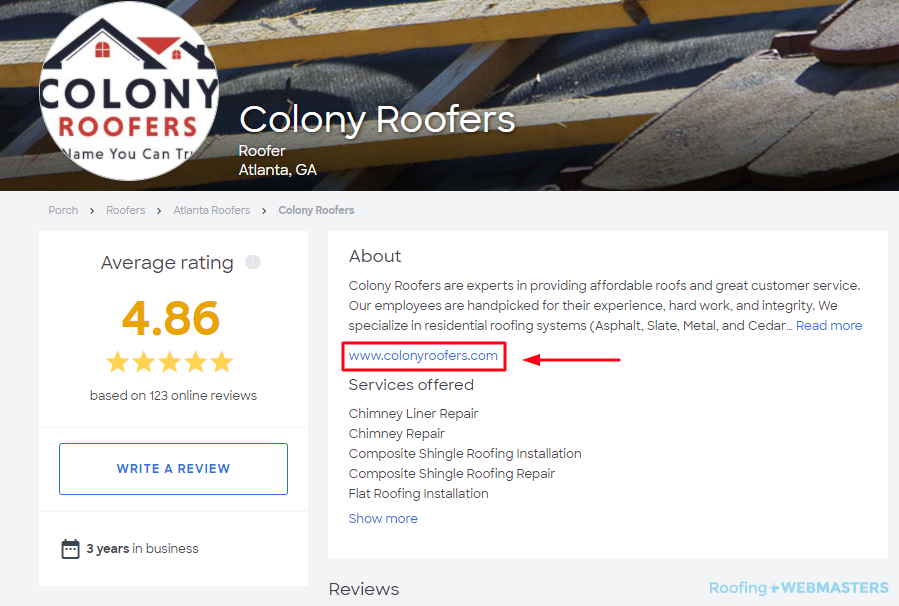 Countless platforms offer local link-building opportunities to roofers. For example, link to your website from a local business directory like Porch, which produces a nofollow link.
Organic SEO for Local Roofers
With all the new emphasis on certain SEO aspects, it can be easy to forget that organic SEO is still a huge ranking factor in 2023. While Google Maps rankings are certainly vital, you must still rank for local queries on traditional organic results. Sure, pay-per-click ads can help you, but Google prioritizes quality organic ranking signals more and more.
This means that you should double down on your content marketing efforts, like DataPins and video content creation. You should be providing your visitors with something of substance and value. You should ensure that all your content is well-written and readable by actual humans.
Your website should have an easily navigable architecture, and there should be no dead links on it or on the websites that link to your page.
Ebooks and white papers are still good commodities to drive traffic to your website and establish your company as an authority. Of course, ensuring you strike a good balance between stellar reviews and good reviews is still essential to local SEO for roofers.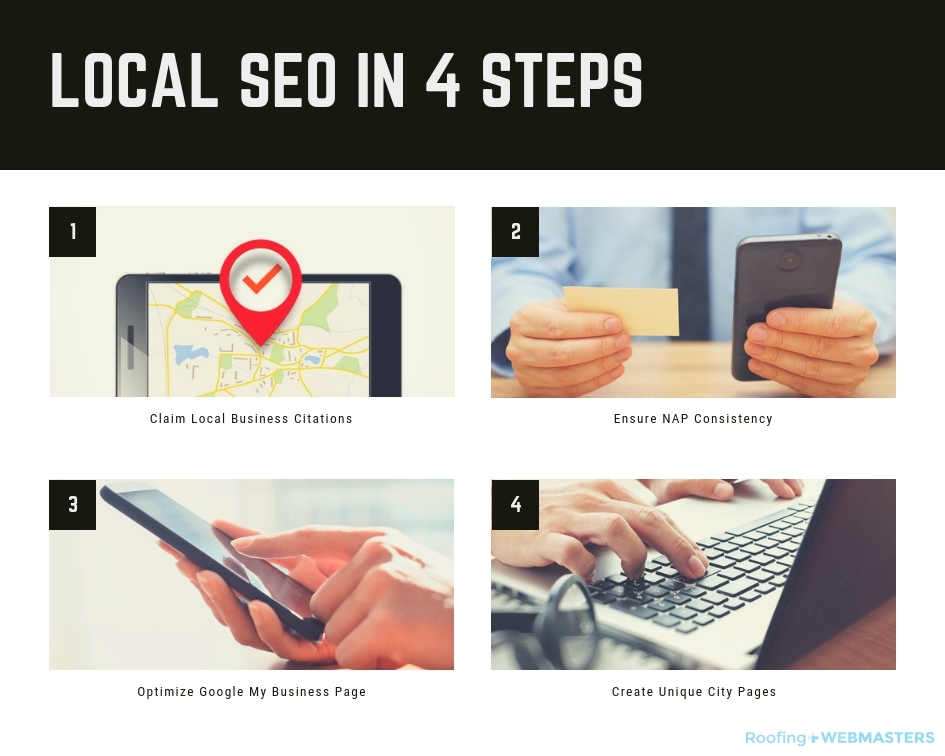 Local SEO Services for Roofers
Roofing Webmasters provides local SEO services for roofers. Aside from successfully launching SEO campaigns for hundreds of roofers, we also provide the top local SEO software on the market. DataPins helps roofers perform jobsite check-ins which are then published to the corresponding web page.
As you validate services and service areas, you see ranking improvements on Google Maps and Google Search.
Final Thoughts on Local SEO Marketing
Roofing Webmasters has launched thousands of local roofing campaigns over the past ten years, and our data helps illustrate techniques and strategies that drive results for local roofing companies in 2023. Google is constantly changing its algorithm for both organic and map-pack results, and companies that lag behind will suffer the consequences of lower rankings and fewer leads.
However, roofing contractors that consistently invest in modern local SEO strategies will reap the rewards with increased visibility, higher click-through rates, and more customers. Our company devotes research, development, and testing to local SEO campaigns, as evidenced by our creation of the DataPins software. We look forward to continuing to help roofers maximize their local SEO in 2023.