Why do my competitors rank in Google Maps listings but not my business? It can be an extremely frustrating situation to find yourself in, especially when your business has more reviews, higher ratings, and more extended history. In addition, with Google's history of frequent algorithm changes, it can be challenging to put the finger on exactly what's going wrong with your roofing SEO.
In our podcast, Jason and Nolen explore what it takes to show up in mapping and earn more leads as a roofing contractor. So if you've been coveting a featured listing for some time, be sure to listen in.
Look for These Key Points
Should businesses focus exclusively on gaining Google Reviews?
What areas of roofing SEO must contractors engage in to earn Local Pack listings?
How can roofing contractors handle reputation management?
Google Maps Listings and Local Packs
By now, almost any roofing contractor can tell you that ranking #1 on Google means big business for your company. The top ranks of search engine results pages (SERPs) continue to shift with each passing year. The ultimate win for roofing SEO these days is scoring a spot in local packs, a feature of Google Maps listings.
Google Maps, of course, is a satellite and database-powered tool that connects consumers with local services. It features the standard pins on the map and nearby cross streets. In addition, maps listings now include crucial contact and reputation data on each business, including addresses, service type, operating hours, and reviews. That last element is a point of contention in the roofing contractor community. We'll talk about that in a little bit.
On the other hand, local packs are a unique SERP feature that pulls three of the most relevant entries from Google Maps listings. As their popularity and influence increase, local packs grow more and more competitive each year. As a result, they earn a large percentage of clicks, pulling traffic away from other lower front-page listings. As a result, local packs typically claim second or third place in the front page order, just below Google Guaranteed entries and paid ads.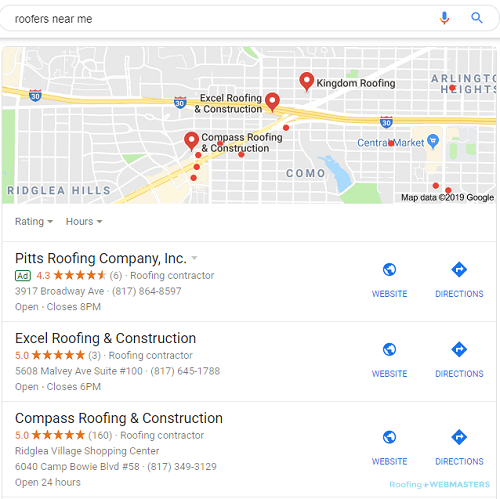 Reputation Management
Beyond the traditional keyword optimization, Google looks for three essential qualities in a website. These include:
The expertise of the content creators
Authoritativeness of the content creators, the content itself, and the website
Trustworthiness of the company
These E-A-T factors can be traced back to Google's 2015 Search Quality Evaluator Guidelines and heavily impact the search engine's ranking of your website (including Maps listings). However, when it comes to proving trustworthiness, few elements influence Google's (and people's) judgment more than User Reviews.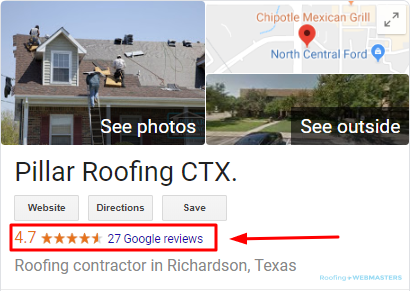 Balancing Your Reviews
In the past, Google emphasized the collection of reviews on its platform. The relationship between reviews and list ranking seemed clear: get more five-star reviews and get higher rankings. However, Google now recommends earning reviews across a broader spectrum of sources. Some of these may be from social media platforms (such as Facebook and Instagram). Others come from citation companies, including Yelp and Angie's List.
Your roofing team probably works hard as it is earning new reviews from clients. Now there's the thought of collecting them across different platforms. The most important players in this new plan are the people interacting directly with the clients. Simply asking for reviews and offering a reference card will usually do the job. Next, make sure your social media platforms have the reviews call to action optimized and ready to take on the additional traffic.
DataPins
Google also rewards businesses that display reviews within their website. The widget you incorporate could have a significant effect on Google's perception of your business. One of the review tools that we love at the Roofing Webmasters is DataPins. Our clients can pull reviews from various platforms with this widget and allow customers to leave reviews directly on the website for their chosen medium (Facebook, Google, or Yelp, for example).
Roofing contractors can also use the widget to send invitations to review. Imagine quickly requesting reviews via text messages that include a direct link to your website! Finally, roofing professionals can check into job sites and that geo-location data gets embedded in your website. Essentially, this provides proof to Google that your company performs services in those locations. You can listen to Jason's take on this capability around 8:10 in the video.
Balanced Roofing SEO Produces Results
We stress the importance of other roofing SEO factors in your company's Google Maps listings. Reviews alone will not provide the rankings you desire. Google's examination of your company website also impacts your local SEO rankings. If a business skimps out on professional design, keyword optimization, and other essential activities, they will almost certainly not appear in local packs. With that being said, reviews are crucial to ranking well.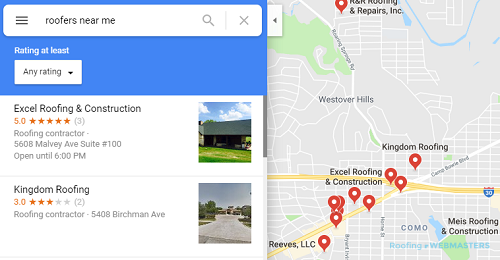 Earn Premium Listings With Roofing Webmasters
Are you tired of getting left out of top ranks or even the front page altogether? Our team at the Roofing Webmasters would love to help! We support numerous contractors with website design, ad campaign management, and SEO for roofers (among many other services). As a result, our clients enjoy premium rankings, higher site traffic, deeper user engagement, and superb lead generation.