Having passed the infamous 20th of March, spring season is here and it is a prime time for roofing companies to capture business leads. Punxsutawney Phil may not have been spot on with his early spring prediction but the weather is starting to progress closer to warmth across the nation. With cold spells still interjecting themselves this combination of hot and cold has a chance to create severe hail storms, something we'll touch on more later. But spring, in general, is always going to present a major opportunity to roofing contractors. But how does one take advantage of the most opportune season to generate roofing leads and grow your business?
Who Has The Head Start?
The truth is that winning the race for spring roofing leads should start prior to spring season. The companies that have already created a custom website optimized it for search, and placed themselves on Google My Business are going to have a major head start on those late to the party. Google and Facebook reviews of these businesses is also a major factor that can determine who scoops up the majority of the leads this spring. The gap may already be large.
Making Up Ground
Not everyone had the foresight to optimize their website prior to spring, especially those that are new to the roofing industry or to a specific location. Having an aged domain name is always going to be ideal for SEO purposes and optimization takes time in general. Most new roofing campaigns are looking at a 6-month minimum for organic ranking. One way to close the gap in the meantime is to invest in PPC management through Google Ads. Buying clicks can get leads quickly.
Win The Marathon, If Not The Race
If PPC is out of your price range, the time to start gearing up for next spring (2020) is right now. While the idea of waiting this long may seem discouraging it will payoff next year. Remember, while you might lose the SEO race this year, you can get a head start on the race next year. The reality is that the roofing business is more like an online marathon. If you consistently improve you will end up winning in the end. Even if PPC is an option, you should still invest in SEO for next year right now.
Optimizing for Hail Storms
There are some roofers in the industry known as storm chasers. But the truth of the matter is that companies who are already optimized for hail storm roof damage in their service area are going to have a leg up on fly by nighters. The top roofing websites have an individual webpage for storm roof damage in addition to their homepage and pages for other services. Over time, this page optimizes for the target keywords that heal inflicted homeowners' search on Google.
Keeping it Local
To generate local leads your business must have a presence on Google My Business along with supporting reviews and a verified address. The goal for roofers is to show up on the Local Map Pack which is a group of Maps listings selected by Google based on relevance, radius, and reviews. Roofers should try to generate as many reviews as possible and do so consistently. Google not only checks quantity but also recency. Google Ads can also appear on the Map Pack if properly connected to your GMB account.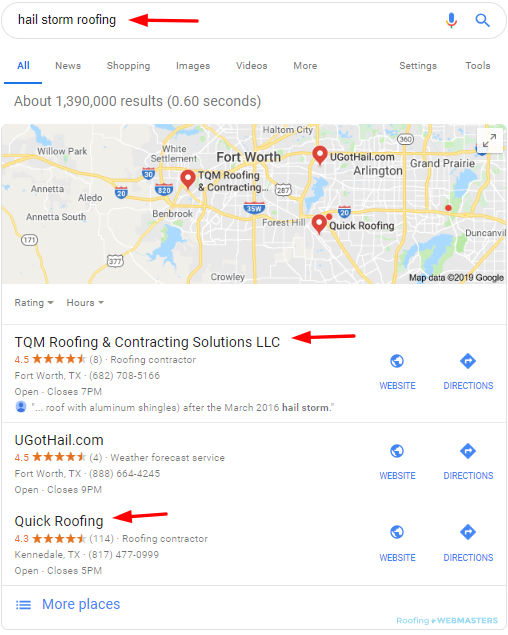 Speed Up With Roofing Webmasters
Tired of losing out on spring roofing leads every year? Roofing SEO Webmasters full digital marketing package can solve your problems once and for all. As a digital marketing agency that provides custom website design, content marketing, Google Maps optimization, PPC, and SEO, there's no aspect of the race that we can't help your business with. The best leads come from an investment in your own brand which is something we empower our roofing clients to do. We build everything from the ground up with custom codebase, schema markup, and logo design.

Podcast: Play in new window | Download
Subscribe: RSS