Savage Exteriors Inc. was a fairly new contracting business when they came to our team. They had only been in business for a couple of years, and their staff didn't have much web design experience. Despite their lack of design expertise, they managed to put together a basic site to start developing their online brand.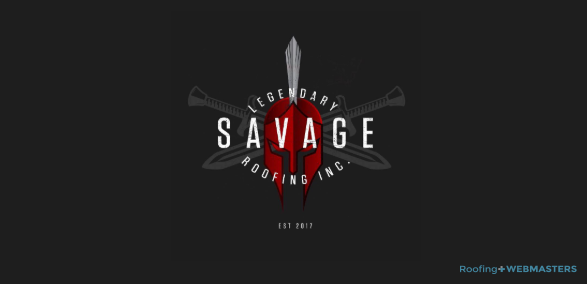 However, the Savage team felt frustrated with the modest leads they got from local search, so they hired our team to overhaul their website. We also agreed to provide work on their local citations and review management. Like many roofing businesses, the Savage Exteriors team had some constraints that we had to take into consideration as we launched the project.
Our Marketing Objectives
Traffic
Goal #1: Traffic Growth
First, our SEO team needed to build a solid foundation for the website in terms of overall traffic.
The current site wasn't getting the sort of impression power it needed to generate brand growth. To do this, we'd need to expand the site's current keyword strategy to improve rankings across the board. We'd also need to ensure that the Savage team was listed in all the major citation companies.
Navigation
Goal #2: Convenient Site Design
Next, our design team knew the current site needed a major upgrade in terms of aesthetics and convenience. However, the client did not want to abandon their original design completely, so we'd have to stay within the confines of their current color schemes and basic structure. That presented us with some challenges, but thankfully the prior design had a decent framework for our design team to work within.
The site needed to be expanded and reorganized for better search engine optimization.
Reviews
Goal #3: Expand Review Program
Finally, we wanted to make sure that the client had a steady stream of reviews coming in for their services. Reviews would play a key role in local search ranking and building trust with the target market. However, this was also an element that our team would not have direct control over. Our reputation management software could make it easier for the client to communicate with consumers, but it couldn't make the client ask for them.
Ultimately, we needed to show them how to effectively collect reviews on a regular basis.
Our Overhaul Process
Phase #1: On-Page SEO Powerup
We immediately expanded the number of service pages from seven to 24. Each page received brand new text and images (crafted by one of our skilled content writers). We infused keywords naturally within each page, making sure to add in some phrases specifically optimized for the client's service area in Joliet, IL. As Moz and other keyword strategy experts can tell you, long-tail keywords generate less traffic, but they enjoy fantastic conversion rates. 
We like to target our keywords for maximum local search impact, so combine primary phrases with city / state tails in almost all of our service pages.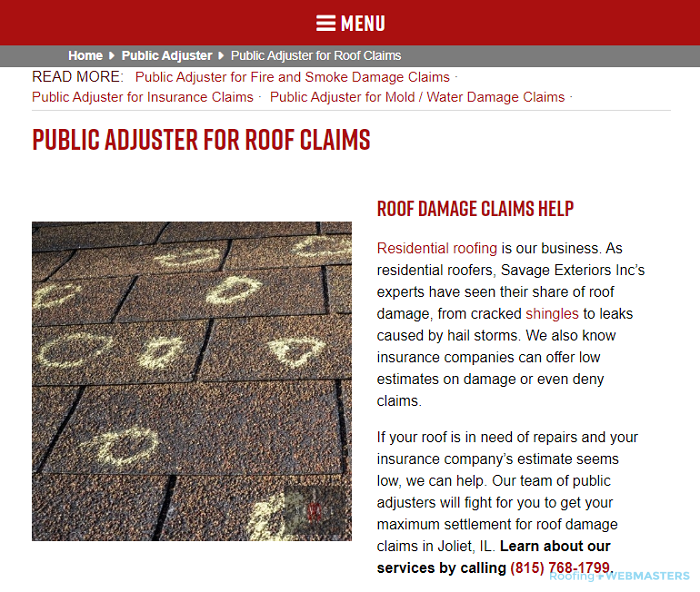 Ideally, readers should be able to find their desired service in a minute or less. The new drop-down menu we introduced used simple service categorization to enable lightning fast user navigation! To further aid site visitors, we also incorporated hyperlinked schema lists into each parent category page. These make it relaxingly easy to locate a specific sub-service, such as a "Roof Damage Insurance Claims".
Phase #2: Web Design Overhaul
We also took some time to enhance the visual appeal and functionality of the site. Making sure to honor the original site's color scheme, we stuck with a stimulating red and black theme. However, we swapped in some fresh imagery. The contact information also received a little touching up.
We also installed a new HomePlay tool from Royal into the homepage that allows clients to create their own customized exteriors. Potential customers could even upload pictures of their home and try out new roofing, siding, etc. It's a fun tool that drives engagement!
Phase #3: Turbo Charged Reviews
Finally, we consulted with the client about how they can enhance their review collection process. While the software included in our site design made it easy for them to request reviews (via text or email), they needed to consistently request feedback after each project. Our company owners John and Nolen talked with them on how to best time the process, as well as how to gather reviews from multiple sources.
Our Project Results
Organic Growth
Result #1: Organic Traffic Takes Off
We launched the overhauled site on April 11th, 2019. Six months later, we loved the results we were seeing! Analytics showed us that Savage Exteriors Inc.'s organic search results had overtaken their direct searches to make up over half the site's traffic volume. People were seeing Savage in local Google Search results and clicking to their website.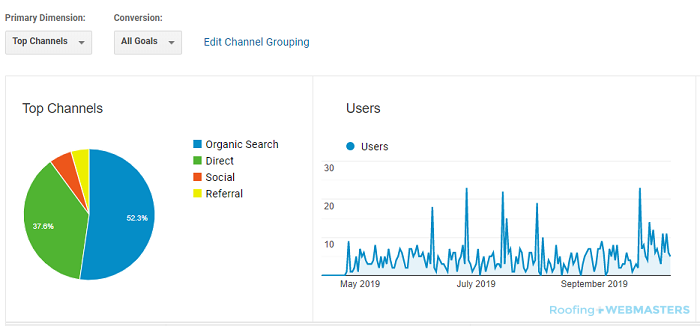 Upward Trend
Result #2: Impressions and Clicks Steadily Rise
Better yet, Google Search Console revealed that both impressions and clicks where on a steady climb. Savage Exteriors now continues to grow, and will maintain that healthy expansion as the company ages, earns more business, and garners reviews. The report also showed the company listing for hundreds of keywords.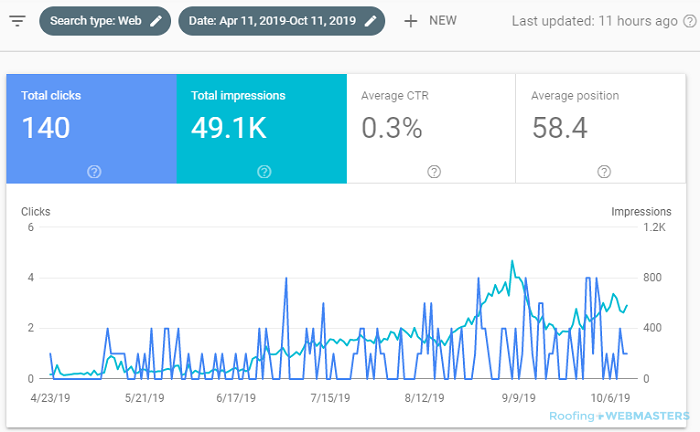 Review Power
Result #3: Reviews Multiplied Almost 9x
While we were thrilled to see the steady climb of impressions and clicks, we were equally pleased with the Savage team's new zeal for collecting reviews. Prior to the new website launch, Savage Exteriors had gathered about a dozen reviews, which is actually pretty standard for most businesses. In the six to seven months after consulting with Roofing Webmasters, the Savage team acquired almost a hundred new reviews from happy clients.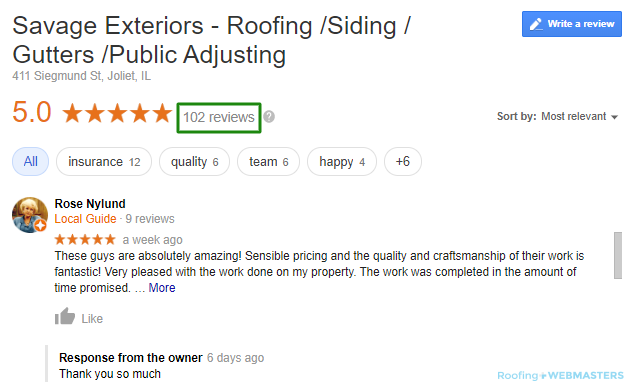 That's digital marketing gold! The Savage team is now working to incorporate our Righteous Reviews software into their reviews management, so they can get even more juice out of their client feedback.
A Thrilling End
Savage Exteriors Inc. continues to grow into their community, earning new clients and five star reviews every week. Despite being only two years old, the company is doing fantastic work in their local search results. As we maintain their website and the company expands their service area, they'll earn even more prestigious rankings for top keywords.
If you'd like to learn more about how your business can overcome today's challenges in digital marketing and local search, we'd love to talk with you! You can contact the Roofing Webmasters team anytime for a free consultation.
Simply call us at (800) 353-5758 to get started.