76% of consumers still prioritize organic search results. The idea that SEO for roofing contractors doesn't work is a myth. Still, lots of misinformation exists about the viability of roofing SEO. Some believe paid advertising has completely taken over (stats don't support it), and others think they can't compete with major competitors who've been around for the better portions of decades. It's not false that domain age and company reputation play a role, but there's no reason to give up if you are a roofing contractor. It would be best if you had the following:
Local SEO
On-Page SEO
Off-Page SEO
Website Design w/SEO
Local 3-Pack is Organic
If you've ever performed a local search for roofers, you know the local three-pack when you see it. These top 3 results are displayed prominently on a SERP from a relevant query. They are on the SERP itself, so they are valuable real estate on Google. Contrary to what some will say, these local results are organic. You cannot pay your way onto Google Maps in the way you can do with PPC (Google Ads). Best practices for earning a local three-pack placement is Google My Business and Maps optimization, along with a robust company website that publishes identical NAP information. See below:
Google My Business
Google Maps
Website Consistency
Featured Snippets are Organic
When someone asks a question like, what is the average cost of roof repair near me? Google will provide a block of text known as a featured snippet. Google pulls snippets from relevant websites that answer the question and display it above all other results. It serves as the default #1 organic ranking, and make no mistake; it is organic. Again, you cannot pay for a featured snippet; you have to earn it through organic SEO. Here's how you do so:
Ask a Question in H1: Who, What, Where, When, How, Do, etc.
Answer Question in Subsequent Text: Paragraph, bullet points, etc.
Implement SEO: Practice standard organic SEO, which helps earn snippets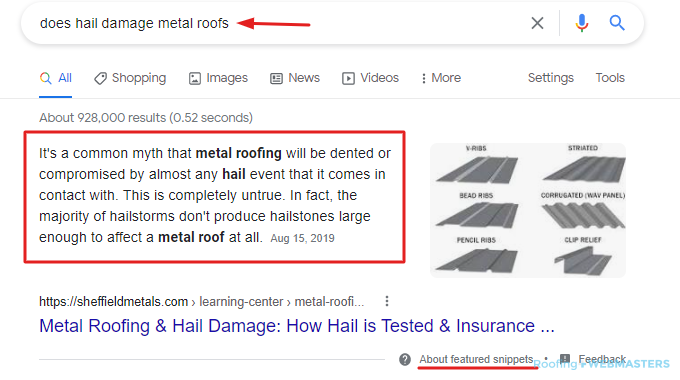 Competing With Larger Roofing Companies
Some roofers mistakenly think they have no chance in organic when they see their competition, who, in many cases, have been around for decades. They look to have about 20 trucks and a bunch of employees. How can a newer company compete with that in organic search? The answer is marketing. While the company in question might appear superior, much of that appearance comes from their marketing investment. If you work on marketing, you can catch them in organic search. Here's how:
Consistent Content: Create and market content consistently
Keyword Research: Go for high opportunity keywords
Link Building: Produce linkable content that is shared on social media and published on external domains
Help From Your Friends at Roofing Webmasters
You don't have to handle online marketing alone. We discourage the very thought of it. Since you are running a full-time roofing business, the time necessary to spend on marketing is unavailable. We recommend hiring a specialty SEO firm like Roofing Webmasters. We provide every aspect of digital marketing for roofers, including SEO, PPC, Social Media, and Local Citations.
Our team works with both tenured and newer roofing companies to help them achieve their digital marketing goals. In both cases, we have unique insights that can move your business from Point A to Point B, wherever that currently may be for you. Our DataPins software changes the local SEO game by empowering roofing contractors to drop schema pins to validate their services and service areas in 2021.