Some Roofing Companies have multiple business locations, which can create a challenge for SEO. However, Google likes things clean with local SEO for roofers, including a website, a Google Maps & My Business listing, and consistent and accurate NAP citations. Attempting to optimize for more than one location disrupts the typical local optimization signals for search.
Luckily, there's a way to execute multi-location SEO that will maximize your roofing leads throughout all of your service locations. The most common tactic is mass-producing "city pages," which are essentially duplicates of your main page but include the specific city name within the title and content.
Mass-producing location pages can violate Google's guidelines since they can be considered doorway pages that provide no unique value to users. The key is creating unique city pages that feature content exclusive to the area. One way to ensure uniqueness is to use DataPins, a software that allows roofers to drop pins every time they do a job. The software automatically publishes the pin on the corresponding city page.
The Subfolder Solution
Google is more than happy to accommodate your second or third business location if it's legit. But you must do your part as the business owner too. The first step is creating subfolders on your primary website. For example, if you are myexamplesite.com, you'll want subfolders for each of your actual business locations. So if you have locations in Dallas, Houston, & Austin, you'll have URLs (subfolders) for each city.
Location pages will be top-level URLs, which can then have child pages underneath them. Each page should be unique and not a duplicate copy of another page. See how they might look below:
myexamplesite.com/dallas
myexamplesite.com/houston
myexamplesite.com/austin
Unique Content Writing (w/DataPins)
As we noted, these pages must be separate from one another, not just in URL location but in content. The worst thing for Google to see is duplication. So never use spun content or switch out the city name within identical content. Instead, a unique page should be handwritten for each city. Again, it helps to distinguish your locations in real life and represent that on your website.
A great way to do this is to use DataPins. The DataPins tool creates schema markup for each job you perform and allows roofers to include a picture and caption that automatically publishes to the corresponding city page. You might also feature some of your top employees in these areas. You want the visitor to view each location as a separate entity and one that looks "real."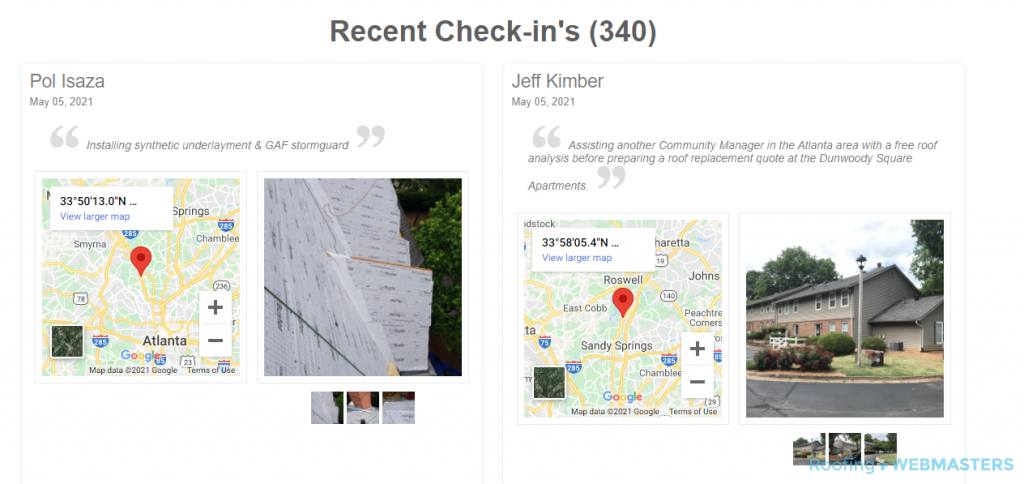 Google My Business
All of your locations need their own Google My Business account, and they all must be linked to the appropriate subfolder of your website. For example, your Dallas Google listing must link to
myexamplesite.com/dallas and your Houston Google listing must link to myexamplesite.com/houston.
It is the only way to instruct Google to correctly categorize your locations and promote them to the most relevant users. When executed in this manner, users in the Houston area will find your Maps listing on their local searches. At the same time, consumers in Dallas & Austin will discover the appropriate Maps listing in their respective regions as well. See the examples below:
Dallas Google Maps —> myexamplesite.com/dallas
Houston Google Maps —> myexamplesite.com/houston
Austin Google Maps —> myexamplesite.com/austin