So you're a newb when it comes to marketing for roofers—big deal. The reality is that everyone has to start somewhere, and there's no better time to start than now. Embarking on a new business venture can be both exciting & intimidating. There's the lure of the unknown and the challenge that comes along. At Roofing Webmasters, this podcast wasn't created to earn new clients (we have a line out the door) but instead to impart our knowledge of what it takes to become a successful roofing contractor in 2021.
No Money, No Problems
Nolen Walker, the founder of Roofing Webmasters, started from humble beginnings. Like those of you reading this post, he didn't have the money to invest in big-time marketing right away. So instead, he spent his time mowing lawns & painting curbs to build enough cash to parlay into a long-term investment.
Planting your flag as a digital footprint, albeit a comparatively minuscule one, lays a foundation that you can build on many years later—Google factors in tenure when assigning trust to a particular brand or entity. Claiming a domain name now (even if it shows a dirt cheap website) is still a step in the right direction for prospective roofers. Here's what you need:
Website
It would help if you had a website and domain name ASAP. Although you can't expect to succeed on Google organic with a template website, having any website at all is better than not having one. Why? Tenure matters in the eyes of Google. So while you won't directly benefit from your website today, you will be setting the stage for future endeavors in terms of lead generation.
Remember, you have limited funds, and so you have to make the most of them. You can't compare yourself to other roofers with massive budgets because that will only discourage you from trying. Even if it is a baby step, the first step can start a meaningful push to lead to sustainable success. Domains usually cost 9.99. Go for a roofing domain name that has a dot com extension.
Google My Business Listing
If you do nothing else with your web presence, make sure you at least claim & optimize your local Google listing. GMB listings account for both your Google My Business profile & Google Maps address. Every business owner in the world can do this free of charge if they have a legitimate business.
Google explains how to claim your business which is the simplest way to establish a web presence with no money. Make sure you add company photos to your profile as you take them. As a newb, you may not have many to start, but your GMB can be continuously improved over and again. First, maps addresses must be verified, which is most commonly done via postcard mail. Once verified, you can rank on Google Maps.
Google Reviews (And Other Reviews)
Once you've claimed & optimized your Google listing, you should pursue as many reviews as possible. Even if you have a dirt-cheap website, consumers can find appeal in a GMB listing with several positive reviews. If a prospect searches your brand name, they will see your GMB listing in the knowledge graph on the top right of search results.
Google is not the only platform on which you should generate reviews. You also want to disseminate them to business directories like Angie's List, BBB, MapQuest, etc. But perhaps more importantly, you want to get them on Facebook, which serves as a social media platform as well as a top business directory.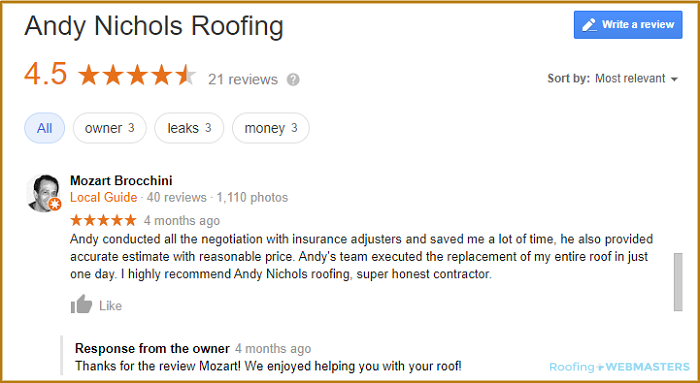 Social Media
Speaking of Facebook, social media platforms are free to market and present a powerful web entity for roofing newbs with no money. Sure, you can't advertise on Facebook or Instagram without funds, but you can certainly market yourself on them. Facebook marketing is primarily about establishing a business page that will show up on Google search results.
With Instagram, Twitter, LinkedIn, and YouTube, you have a chance to generate some organic impressions on the platforms themselves. Unfortunately, Facebook no longer empowers brands to show up on organic feeds as a way to discourage the clickbait that has plagued the social network over the past decade or so. But you can still use it to your advantage, as a newb roofer with no $.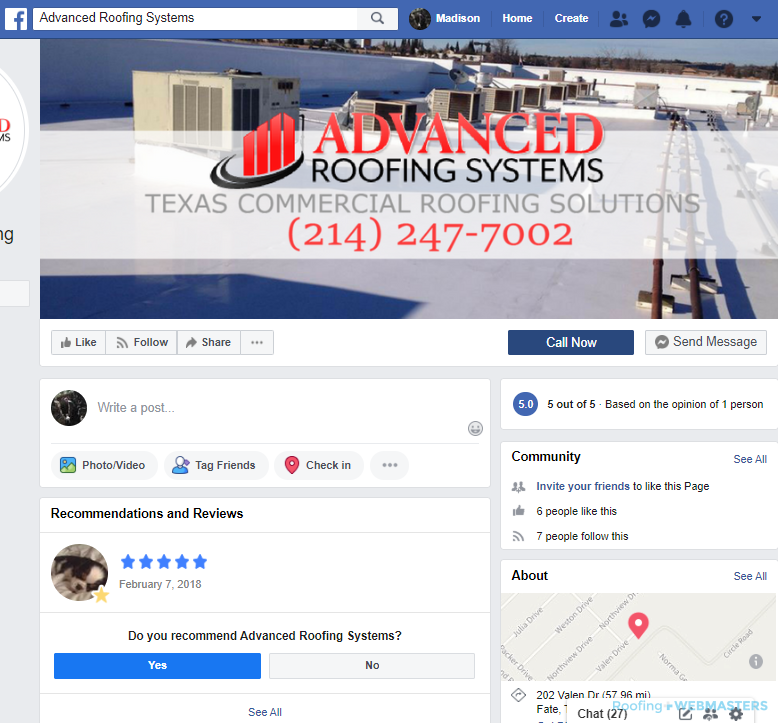 Transitioning to a Higher Level of Marketing
Once you transition from newb to moderately successful roofer, you should take your earnings and re-allocate them towards superior marketing. The first step will be contacting a professional web designer who can replace your old site with a newly customized one coded for SEO.
Since your domain will already have tenure at this point, you can leverage its age to hit the ground rounding with your newly designed website. Yes, that's right, you keep the domain that you bought for 9.99 some years ago but now energize it with a superior design. Combining tenure with SEO creates a perfect storm of digital promotion that one can enjoy the benefits of for years and decades to come.
Roofing Webmasters Can Help
Remember, this post is not for people who already have a dominant online presence; it is just a reminder to those who want to reevaluate once they gain that position. Roofing Webmasters has been working with roofing contractors for years, and our data supports consistent excellence in roofer internet marketing. We attend to detail, review the latest algorithmic trends, and constantly look for advantages to put our clients over their competitors on Google organic rankings.