---
---
As a roofer, you might wonder how to update your roofing website.
While the debate rages on about how often you should update your website, one thing is sure: you should regularly monitor your website. Some say that you should update your website every 2-5 years.
Others say that you should make minor alterations every month. Some people even believe that you should be updating your website every week. 
However, an update DOES NOT mean overhauling the entire design or altering your keyword strategy. It will look more like refreshing content, as the fact is that Google loves fresh content. 
Google tries to provide its users with the most accurate and up-to-date information from experts in their field (in this case, roofing)
Therefore, they are more inclined to rank new content higher than old content. So, in this sense, updating your website affects SEO, which will affect your bottom line as a roofer.
---
---
How Often To Update Your Roofing Website
Our recommendation is to update your website as often as possible. The fact is that making even minor tweaks could give you a slight edge over your competitors in terms of search engine rankings. 
Again, this doesn't mean that you have to make architectural changes to your website all the time. It just means that you should be adding fresh content, updating information, adding new product descriptions, and making sure all information is accurate as often as possible.
Even something as small as adding a new photo to a service page can be helpful for your rankings. But, again, the most important thing is to monitor your website often, making sure that everything is running correctly and there are no security issues.
Some contractors don't realize that their site is down until days later, and by then, they may have lost dozens of customers.
In general, we recommend that you make some alterations to your roofing website every week. Having DataPins is an excellent opportunity to keep the site in general up to date and current. 
We know that this can sound overwhelming. As a roofing contractor, you probably don't have a lot of time to mess with your website.
Still, it is imperative if you want the best chance to pull in new leads and convert customers.
---
Roofing Website Update Tips
The following list will entail things you can do manually and things you may need to hire someone else to do. Nonetheless, they are essential if you want to make your website the lead-generating machine that it should be.
---
Start With Basics
Your first step to updating your site should be simply about making sure that everything is working and that all information is up to date.
You can use broken link checker tools to help you find broken links on your site. In addition, it would help to address any plugins that don't seem to be working. 
WordPress updates its platform regularly, and sometimes, the plugins don't jive with the new updates. So first, get rid of low-quality images and replace them with HD ones.
Then, peruse the written content on your site for any outdated or inaccurate information. If you find any, update it for accuracy.
---
Consult Google Analytics
Google Analytics is a great tool to audit your website and see which pages are the most popular and other vital data. Seeing this information will give you a good idea of what updates to make in the future (or immediately).
For instance, the Google Analytics tool will tell you if your pages have an abnormally high bounce rate. Of course, it's essential to make necessary changes as soon as possible, but at least you will get a good list of ways to update your roofing site without having to overthink.
---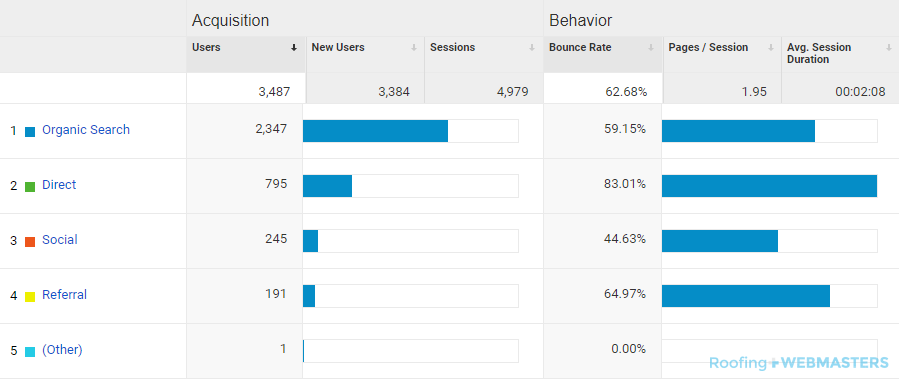 ---
Check Out the Competition
It never hurts to see what your competitors are doing-especially the ones who are doing better than you. Numerous online tools will help you analyze the performance of your competitors' websites. Then, you can use this data to alter your site accordingly.
One example is a content gap analysis on Moz. You can compare your keyword rankings to a top competitor and see which keywords your website fails to target.
Based on this data, you can create new pieces of content that close the gap between your website and competitors.
---
Add Content
One of the simplest and most effective ways to update your roofing website is to add new content. Content marketing is very effective for improving your rankings, and it encourages Google to crawl your website regularly.
A blog can serve as a medium for fresh content, but most roofers fail to target keywords with their posts. Aside from blog posts, add new images often.
You can also post short videos on your site that tell your company's story, show your crew in action, or explain some of the roofing services you offer.
Offering white papers and other consumer resources on your site is another way you can add content to it. 
---
Use DataPins
Alternative content additions hold unique value since blog posts are a dime a dozen in the roofing marketing world. One such instance is DataPins, which produces geo-coordinates and schema markup of your most recent jobs.
The pins appear on corresponding website pages like your service or location page. These pins serve as fresh content and help your site rank for long-tail keywords while regularly updating individual website pages.
DataPins also sends automated review requests through text and email, increasing review frequency. In addition, customer testimonials appear on your website via the Google Reviews plugin that comes with DataPins.
Customers also have the option to leave a review directly on your website, bypassing Google. In addition, they can also use Facebook.
---
---
Final Thoughts on Updating Your Roofing Website
As user expectations increase with each passing year, roofing companies should ensure their websites meet the standards of their target consumers.
Luckily, various tools exist to help companies upgrade their website and offer new features to enhance user experience.
As a top-rated roofing marketing agency, Roofing Webmasters ensures clients continue to present the best possible websites to visitors. If you believe your current website is outdated, 2023 is a great time to make an update.
---