Do you ever feel like things would be easier if digital marketing companies just lumped roofing SEO and PPC together? Unfortunately, they do, and it's a colossal disaster! Find out about subtle pricing scams, conflicts of interest, and shocking markups that will have you rethinking the idea of bundling. Jason and Nolen reveal all this, plus how to make sure you get your money's worth with digital marketing!
Helpful Insights Into Roofing SEO:
Make sure you get itemized billing for your marketing company's PPC spending!
Bundling PPC and SEO for roofers could be a big mistake.
Organic SEO leads tend to be much cheaper than those won with advertising.
Enough Success to Get By
How does your online marketing company make money? It's a simple but provocative question that we don't think about very often. Marketing firms make money by retaining clients. To do so, agencies must consistently provide evidence that their efforts produce a return for those businesses.
That all changes when a company introduces the upfront, flat fee contract.
In a way, a flat fee contract is the ultimate judge of a marketing firm's character. When they already have your money, will they continue working hard to produce results? Or will they coast along with just enough effort to get by? While some companies try their best no matter what pricing they offer, others practically abandon their projects until they have to show progress.
The Familiar Marketing Lines
So how can a roofing business wade through the crowd of dishonest marketing claims? It all starts with recognizing the red flags! So if you hear any of the following lines from a digital advertising firm, it's probably time to look elsewhere.
"Noticeable results in organic SEO may take up to a year."
"You only need [insert service], and you'll start getting leads!"
"For a couple of hundred bucks a month, we'll dramatically improve your website performance!"
"SEO is just too complicated to explain. Trust us!"
"SEO isn't worth the money. Only paid search works."
"Unfortunately, we can't show performance reports for our advertising campaigns."
"You'll share these leads with a small pool of roofers in your area."
The best digital marketing firms will always be happy to explain their process in a way you can understand. They don't claim unbelievable capabilities, nor do they trade their service for pennies. After all, you wouldn't trust a brand new roof that only costs you a hundred bucks! If you want a trustworthy marketing service that offers SEO for roofers, look for teams that provide measurable goals, believable time commitments, and justified costing reports.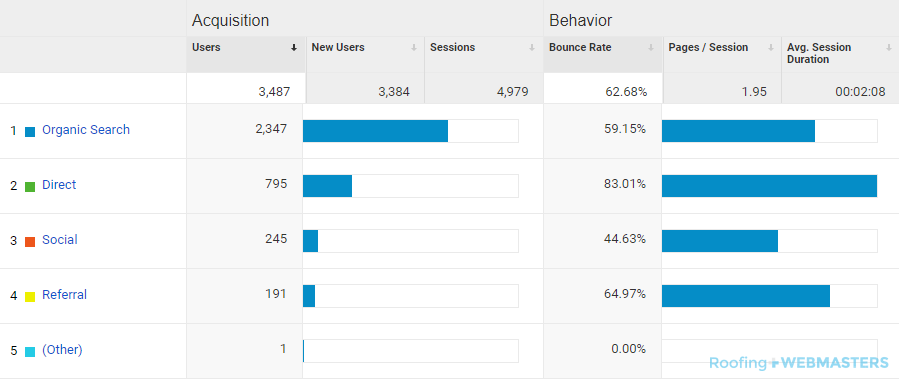 One Huge Conflict of Interests
What happens when your marketing company bundles all of its services into one convenient package? You quickly lose sight of where the money goes! We've heard it countless times: a firm promises PPC and SEO for roofers in a bundle, but they only end up spending 50-70% of their budget! Here's another hard-hitting truth:
A company that bundles organic & paid search has zero incentive to improve your SEO.
PPC services offer a dependable stream of income for marketing companies. They can easily create primary campaigns in a short period and choose what keywords your business targets. Thanks to Google Ads and similar platforms, digital marketing teams can access reports that show campaign results without revealing how much they spent. That's how they get away with unbelievable budget markups. Your advertising company can then provide just enough leads to keep you hooked.
A company that provides success in SEO, however, produces more sustainable growth for your business. For example, if an advertising company creates a highly optimized website that gives you cheap yet quality leads, why would you keep spending money on PPC? Unfortunately, that's why firms that bundle PPC and SEO for roofers almost always spend all their time on paid search and neglect the company website.
We Break the Mold
At Roofing Webmasters, we always keep our organic and paid services separate from each other. Our clients also pay month to month; no flat fee pricing! Different packages encourage accountability and drive us to continue providing measurable success in both categories. Not only do we provide highly effective paid search campaigns (which you receive full cost-reporting for), we produce unique custom websites that make sustained growth.
Our roofing SEO customers continually rank phenomenally well in local search results, all while paying less than average for great leads.
Don't let a dishonest marketing firm string you along without providing real growth for your business! Our team at Roofing Webmasters offers reliable, measurable results for your company.