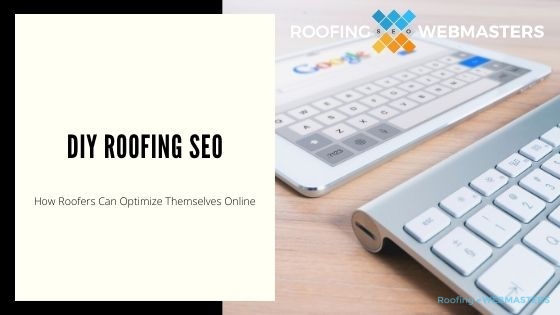 As a roofing company, you've probably invested in roofing SEO services at one time or another. Unfortunately, the stark reality is that most SEO companies fail to provide fair value to consumers. As a result, over 70% of businesses are unhappy with their SEO provider.
What if there was a way roofers could perform SEO themselves?
It's called DIY Roofing SEO, and you can DO IT YOURSELF.
You can learn the skills you need here: Learn Roofing SEO Today!
How should roofing companies decide whether or not to try SEO themselves? There are a couple of questions you should ask and answer.
What is your SEO budget?
Have you had success with SEO services in the past?
Do you have some extra time throughout the workweek?
Do you have employees that can take on more responsibility?
Are you in a highly competitive local market?
Do you primarily target a specialty service? (commercial roofing, tile roofing, metal roofing, etc.)
Can Roofers Do SEO for Free?
Yes. Roofers can perform SEO without expense as long as they have the skills to do the job. But, of course, you must consider extra fees like web hosting and domain name registration, which are integral to an SEO strategy. However, roofing contractors can perform SEO themselves for free.
In summary:
SEO itself is free if you acquire the skillset
Consider other fees like web hosting and domain name registration
SEO agencies often use 3rd party tools, which require a monthly fee
Pros and Cons of DIY SEO for Roofers
Like anything else, DIY optimization comes with benefits and downsides. The most significant advantage is saving money, as learning SEO is much less expensive than paying for monthly services.
The most obvious downside is a time investment, as you will add a set of tasks to your weekly schedule. Take a look at the complete comparison below:
Pros:
Save Thousands of Dollars Per Month
Gain Greater Control of Marketing
Learn About Critical Aspects of Your Operation
Cons:
Significant Time Investment
Fewer SEO Resources (Tools, Employees, Etc.)
Lack of In-House Data for Comparison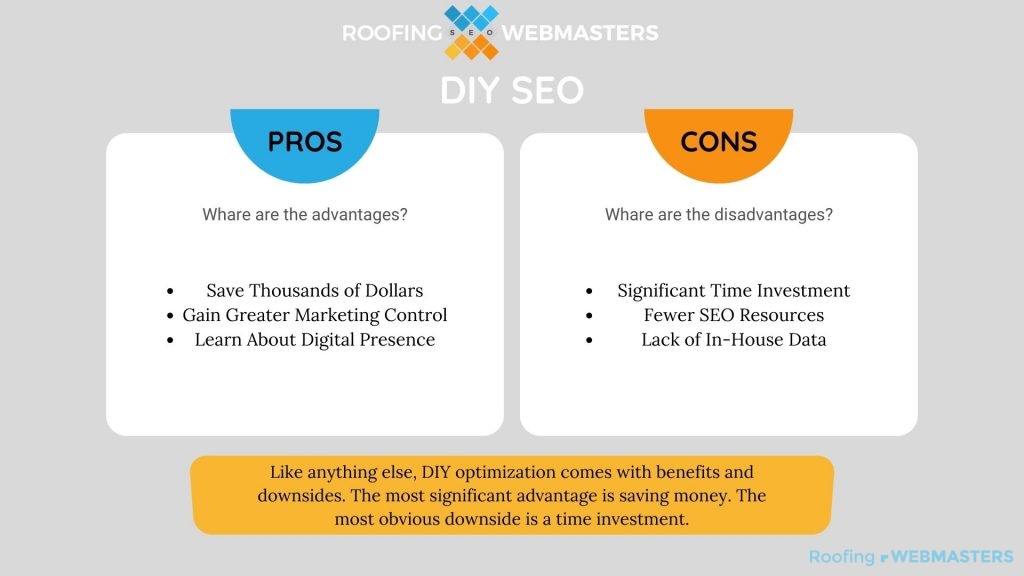 What Roofers Need for DIY SEO
If you choose DIY search engine optimization for your roofing company, you will need outside resources, just like an agency does. Most roofing SEO agencies use keyword research tools like SEMRush, Moz, and Ahrefs, along with WordPress plugins like DataPins. In summary, you will need:
Keyword Research Tool
WordPress Plugins
Content Writer
Website Builder
As a DIY optimizer, you won't need 3rd party reporting software since you can track your results with a free tool like Google Analytics and Google Search Console. In addition, you won't have to email yourself a monthly report since you already know how your website is performing internally. As a result, you can save hundreds of dollars per month by not paying for reporting software.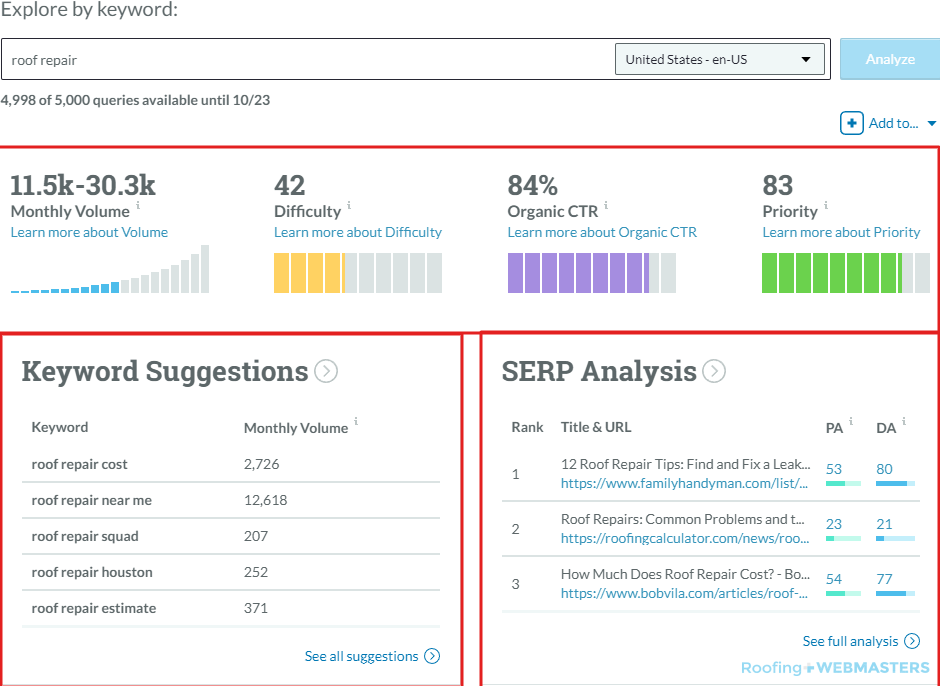 What About DIY Roofing Web Design?
SEO and web design go hand in hand, so DIY web design compliments DIY SEO. You can use a roofing website builder like DataPins, Duda, or WordPress Block Editor to construct your design. You can also download a roofing company WordPress theme to make your site look professional out-of-the-box.
The reality is you don't need to be a professional web designer to publish a professional-looking website. Most website builders are advanced in 2023 and require zero HTML or CSS skills.
Some WordPress themes cost money, so you should consider your budget when choosing the best theme. Overall, DIY website design is pretty straightforward for roofers.
Learning Legitimate SEO for Roofing Companies
The success of DIY SEO is dependent on where you acquire SEO skills. Of course, there's a wealth of free material available online via YouTube, Google, and various websites. However, the SEO industry is ripe with misinformation and sensationalism to deceive novice practitioners.
Luckily, you can learn legitimate SEO from an active roofing SEO agency. Nolen Walker teaches SEO for roofing contractors with his complete blueprint to rank thousands of actual roofing companies on page one of Google. No other resource can compete with this blueprint.
Most Important SEO Skills for Roofing Businesses
You can learn as many or as few SEO skills as you choose, but some of them are more important than others. Because Google changes its algorithm multiple times per day, the quest for SEO knowledge never ceases. Still, ranking on page one only requires the following skills.
Content Writing: Understanding how to organize and publish content in WordPress or another content management system
Keyword Research: Understanding how to evaluate and prioritize keywords
Link Building: Understanding how to acquire and distribute link equity internally and externally
Local SEO: Understanding how to rank with Google Business Profile in the Local Map 3-Pack
On-Page SEO: Understanding where to insert keywords within your page or post
SEO Analysis: Understanding how to track and analyze SEO data through Analytics and Search Console
Technical SEO: Understanding how to make Google crawl and index your website correctly.
Can I Really Do Roofer SEO By Myself?
With our Roofing SEO Academy, you can get the job done. By learning the blueprint from a real roofing marketing agency, you can apply concepts, processes, and standard operating procedures to put your roofing company on the first page of Google.
Best of all, you can enroll in the academy for a low monthly fee, saving you about a thousand dollars per month in SEO expenses. Furthermore, once you acquire enough knowledge to rank your pages consistently, you can cancel your membership and continue to reap the rewards of your skills.
Why You Should Stay in Roofing SEO School Long-Term
You might think about signing up for one month and then canceling, which is certainly within your rights. However, the more intelligent decision is to build up your skills consistently throughout the years. The Roofing SEO Academy produces new content regularly, giving students a consistent wealth of information to keep pace with Google's latest updates.
Another advantage to long-term enrollment is earning an SEO certificate and contributing to an SEO community of roofing professionals. In addition, you can share pain points with others in your industry, most of whom will not be direct competitors in your market. Sharing insights with actual contractors is nicer than screaming at some web guy over the phone.