Search marketing is an ever-changing landscape of Google policy changes, established practices, newly-minted tactics, and revolutionary software. Put simply, the rules and strategies that guide roofing SEO (search engine optimization) change from year to year. Even our seasoned team of search marketing professionals has to actively test and research new methods to keep up with the shifting industry.
That's why we go to conferences!
Jason and Nolen arrive back on the scene, fresh on the cusp of one of the most influential search conferences in the nation (maybe the world). As usual, they have some helpful insights to steer your business towards sweet success! Whether you're just now entering the online search scene or you've competed for years, be sure to listen in.
Key Marketing Lessons for Roofing Companies
Roofing SEO is a step-by-step process, not a single fix-it solution.
PPC is good by itself. With SEO, it can be fantastic.
SEO "basics" are requirements for your business to show up in search, but businesses need to go beyond the basics to earn premium rankings.
What Hasn't Changed in SEO
With all the flashy revelations that fly across our attention span, it's easy to lose sight of the core principles that haven't changed. Search engines continue to dominate marketing as a primary source of revenue. That means roofing SEO is even more essential than it was just a few years ago. If you aren't competing for leads through this digital channel, you are probably missing out on tens of thousands of dollars every year, minimum.
With that being said, opportunities to get your company up and running online are still very accessible. Even if you don't have the necessary expertise to market online, somebody else does.
If you're eager to reap the substantial rewards of search marketing, now is the time to get active. To help you, we'll re-touch on the basics of SEO and local search. Then we'll get into the more advanced tactics you'll need to go from entry-level competitor to front page material.
Let's dig in!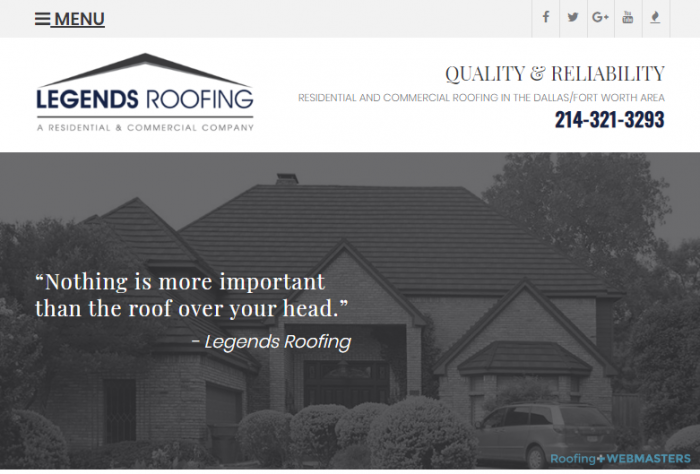 Your SEO Baseline Requirements
Anyone can start a social media profile or run an ad, but what are the bare essentials to start building your online brand presence? First, you'll need a website!
Newly-minted roofing companies aren't always flush with funds, so we understand if you need to begin with a free template design. If you have the financial capacity however, we highly recommend you find a seasoned firm that offers search-optimized web design. The enormous difference in lead potential will quickly help you recoup the costs.
The SEO Bare Essentials List
Company website, with optimized service pages
Google My Business (GMB) listing, claimed and verified
Citations from BBB, Yelp, Manta, and other established brands
Client reviews and recommendations
Facebook Business profile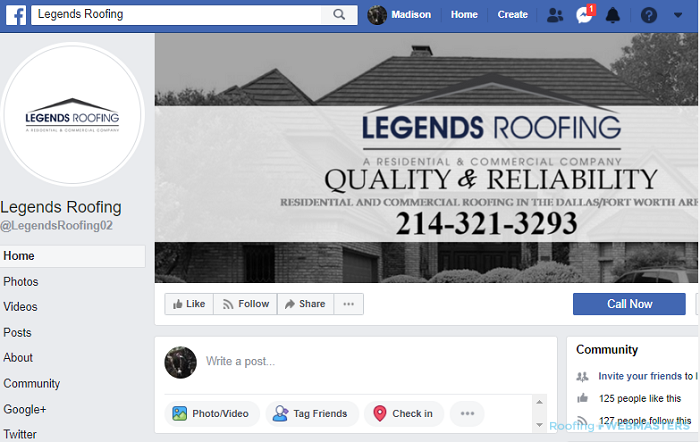 Getting your business information listed across multiple reputable platforms is also a crucial part of growing the brand online. Not only does this create additional exposure and review potential for your company, it also creates a stronger sense of accountability and trustworthiness. The more places Google's search engine detects your brand, the more likely it will recommend it through higher rankings.
Keep in mind, these are just the basics your company needs to accomplish in order to show up in search. In recent years, we've seen more and more roofing companies manage to achieve these requirements. If you really want to succeed and earn premium rankings (and the resulting leads), you'll need to go above and beyond what other businesses are doing.
As we say at the Webmasters, "You don't have to be perfect. You just have to be the best!"
Above and Beyond
What sort of tactics allows a fledgling brand to rise above the rest in local search marketing? Again, quality web design plays a huge role here. A capable site incorporates simple navigation with keyword-rich service pages. This enables the site to rank for a much wider variety of phrases!
If you want to go above and beyond, start infusing your site with schema code. Schema code helps communicate the purpose and meaning of different page elements in a way that Google's search crawlers – picture little bots scouting and indexing new site content – can easily understand. It takes some dedicated research and effort to update your website with schema, but it's worth the effort!
Supercharged Client Reviews
As we mentioned before, client feedback plays a key role in establishing your brand reputation online. The more positive reviews come in, the more likely Google's algorithm is to recognize your company as a reputable and reliable choice for local consumers. Of course, anyone can gather reviews.
If you really want your brand to stand out, try supercharging your client reviews with geotagging software. Geotagging adds GPS data to reviews, the kind of data that Google absolutely craves! The search engine sorts through countless contracting companies every year. Roofers with geotagged jobsite check-ins and reviews, however, provide undeniable evidence of their service area.
In simple terms, Google sees actionable evidence of where you work and directs more traffic from those communities to your website.
At Roofing Webmasters, we use integrated software called DataPins to provide geotagged check-ins and reviews for your website. That's just one reason why our roofing clients enjoy front-page rankings and exceptional lead quality. We'd love to talk with you about your growth goals.