2021 Update: Rigthous Reviews is now DataPins.
Finding a capable (and convenient) reviews platform can be complex. However, roofing contractors and other industry professionals live or die by the quality of their reputation management. In today's podcast, Nolen and Jason talk about collecting reviews, jobsite check-ins, and geotagging. You'll also hear them brag about our own fantastic reviews software, Righteous Reviews.
If you've struggled with getting your company name on the online map, be sure to listen in!
Key Facts to Learn:
How you use your reviews is just as important as how/where you collect them.
Geotagging provides location-based data that Google craves.
Uncensored reviews establish trust with users and Google.
Righteous Reviews consolidates your client feedback.
What is Righteous Reviews?
Righteous Reviews (RR) is a web-based application developed by the skilled development team at Roofing Webmasters. Our team incorporates this feature into our websites (including our internal sites) for tremendous SEO benefits. However, because the application requires specialized coding, we only provide it as part of our general SEO for Roofers program.
Why Our Clients Love RR
Collecting reviews from clients is challenging work, especially when a roofing contractor gathers reviews through multiple citation sources, on their website, and their social media platforms. Righteous Reviews greatly simplifies the reputation management process, allowing roofers to consolidate their reviews through one refreshingly easy-to-use platform.
The website application offers two key features:
Jobsite Check-ins
Reviews Collection & Consolidation
While it might not be evident at first, these capabilities provide tremendous SEO enhancements for our roofing clients. Here's why: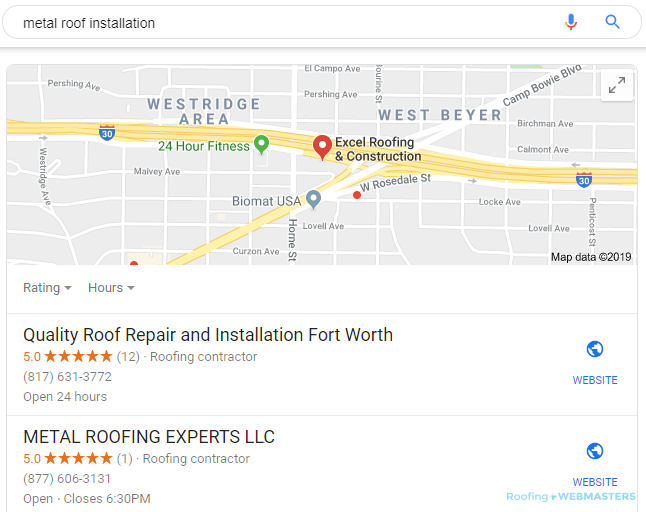 Google Loves Geotagged Check-ins
In the eyes of Google, what separates your business from the many competitors in your service area? Google has to sort through countless service company websites, each with a score of professional services and dozens of city pages. Apart from these pages, the search engine doesn't have any actual proof that a business operates in the areas they claim to.
That's where geotagged check-ins come in handy! With Righteous Reviews, roofing contractors can check-in to a jobsite, fill in the related service and location data, include the client's phone number and email address, take a project photo, then post it to your related service and city pages. You can complete everything in under 60 seconds per check-in.
What's the point of this activity?
It shows Google your business is active.
It proves you operate in your stated service area(s).
It uploads the activity directly to maps on your service and city pages.
It provides photos of your latest work for website visitors.
It automatically prompts a request for review in the client's email or text inbox.
With teams checking in at multiple job sites each day, you'll quickly create a large map of your team's job history that Google can reference as proof of activity. Every pin on the map offers the data the search engine craves, and your future clients will be impressed by the long history of activity in their local community. All it takes is a quick 60-second check-in at each jobsite.
Now any consumer wondering if you perform a particular roofing service can see examples of your performing that exact installation, repair, etc., in their community. That's enough evidence to sway many undecided homeowners and businesses. But, of course, Righteous Reviews has other invaluable perks for your roofer SEO.
Asking for Reviews, Made Easy
With the Righteous Reviews program, our team provides a simple request-for-review template. Then, whenever your roofing teams finish a job, their jobsite check-in immediately sends an invitation via text or email with links to your various review sources. Our research over the years shows that Google prefers to see company reviews coming from multiple resources. So we suggest links to your Facebook Business profile, your Google My Business account, your BBB listing, and wherever you want reviews.
Again, these Righteous Reviews add geotags to any reviews submitted through this invite. The review gets uploaded to the respective service page and city page, and Google notices the extra data when it re-examines your website. No other reviews platform (that we know of) provides this automatic upload capability. Additionally, every review submitted to your company comes with our special coding that makes them work even harder for your roofer SEO.
Imagine getting the latest reviews from Facebook, Google, and Yelp automatically uploaded to your website. A simple request-for-review process generates when your teams check into each jobsite. As long as your contractors continue to perform these 60-second check-ins, you should see tremendous improvements in your website SEO.

Join Up With Roofing Webmasters.
Like all of our solutions, Righteous Reviews results from lengthy research, skilled development, and careful integration. But, unlike other review software out on the market, it isn't a simple widget you slap onto a website. That's why we only include RR with our custom-built websites. As a result, you'll notice the difference in website search performance and platform ease-of-use.