What is Digital Marketing for Roofers?
Digital marketing for roofers refers to the promotion of roofing companies through digital platforms, most commonly, but not limited to, the internet. Examples of digital platforms include websites, search engines, email, text, and social media.
Digital Marketing Tips for Roofing Companies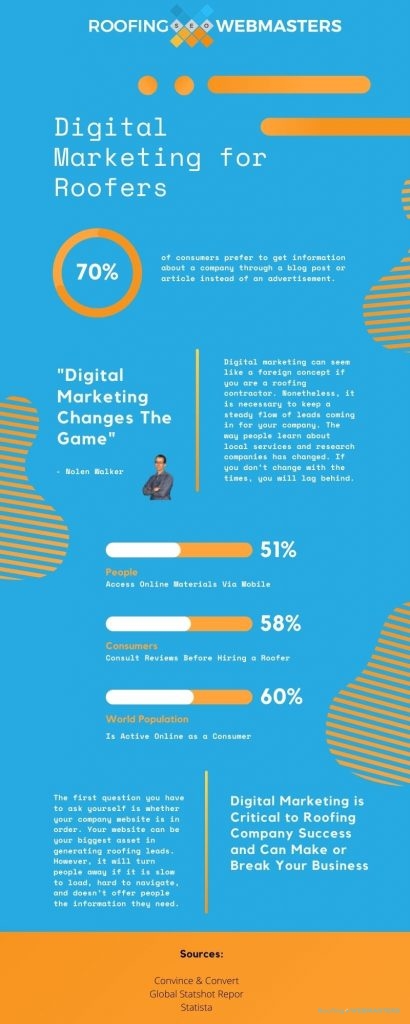 Digital marketing can seem like a foreign concept if you are a roofing contractor. Nonetheless, it is necessary to keep a steady flow of leads coming in for your company. The way people learn about local services and research companies has changed. If you don't change with the times, you will get left in the dust.
That's why it's essential to have a solid digital marketing roofing strategy in place. That's why in today's post, we are going to be sharing some practical digital marketing tips, especially for roofers. You don't have to be a marketing whiz to implement these tips.
1) Focus on Your Roofing Company Website
The first question you have to ask yourself is whether or not your company website is in order. Your website can be your biggest asset in generating roofing leads. However, it will turn people away if it is slow to load, hard to navigate, and doesn't offer people the information they need.
Website design may not be your forte, so it may be wise to work with a professional. In general, though, your roofing website should be:
Mobile Optimized: Roughly half of all internet traffic comes from people using a mobile device. You have to make sure that your roofing website is easily accessible to mobile users. 
Responsive: People have short attention spans. If your website takes too long to load, they won't wait around. They will click on another roofing website. 
Informative: When people look up a roofing website, they are probably ready to pay for roofing services or do some research on the company. Your website should provide easy answers to the questions that people have. It should be easy for the visitor to see where and how they can schedule an estimate, your contact information, the services you offer, and where you offer them. 
2) Manage Reviews and Reputation
Online reviews of your roofing company are the new word-of-mouth referrals. Having online reviews can make or break your company in the digital age. Not only do they affect your reputation as a company, but they can also be potent lead generators.
So you have to make sure that you are getting reviews and managing them properly. To get more reviews, be sure that you have an account on as many review platforms as possible. Your company should be present on Google My Business, Houzz, Angie's List, and Yelp, just to name a few. Be sure that you are asking customers for reviews in person as well.
Getting reviews is very important because most consumers will read between 1 and 10 reviews before purchasing. Your job isn't done after you've gotten a healthy amount of reviews, though.
You have to manage them. That means replying to as many reviews as possible. Ideally, you would respond to all of your customer reviews. Reply by thanking the customer for their review and their patronage. Replying to negative reviews is just as crucial as replying to positive ones. Apologize for their experience and ask them what you can do to make it right.
3) Invest Resources in Content Marketing
Content marketing is compelling in 2021. Take the following statistic into account: 70% of consumers prefer to get information about a company through a blog post or article instead of an advertisement. We hate to sound like a broken record, but the way people are researching companies and products is changing. 
Most people don't like to be advertised anymore, which is why content marketing is so crucial. Content marketing can include blog posts, eBooks, white papers, social media posts, video content, and more. Here are a few proven forms of content marketing:
How-To's: How-to guides (in a blog or video format) are beautiful to consumers. Consider knocking up a simple how-to guide like "How to Maintain your Roof" or "How to Get Your Roof Ready for Winter."
Questionnaires: Questionnaires are especially effective as social media posts. You can ask your followers which roof they like the most or how many people have metal roofing. The point is to engage your audience.
Blogs: Blogging is the simplest and most effective way to provide something of value to consumers. Use your roofing knowledge to come up with exciting and informative blog posts.
No matter what type of content marketing you endeavor (ideally, it would be a good mix of all), remember to include a call to action that encourages the consumer to take action.
4) Identify Proper Keyword Usage
People use certain words when they do online searches for roofing companies and services. These keywords should be implemented in your website, social media posts, and video content so that more people will find you.
Keyword research is essential. You have to know what keywords people are using in regards to roofing services. Luckily, helpful keyword research tools help you find the most effective ones for your roofing business. 
It would be best to use these keywords on your website and any marketing content you put out. However, keyword usage must be natural. Google will penalize your site for keyword stuffing, so make sure it is organic to the content. 
5) Run PPC Ads on Google
Pay Per Click advertising can be beneficial if your roofing company is new. It can help get your name out to the people in your area that are most likely to use your services. With certain PPC services, you can target consumers based on age, income, home value, geographic location, interests, gender, and more. 
PPC advertising is a great way to drum up leads when you are first starting. However, you have to monitor your budget and your conversion rates carefully. PPC ads aren't always practical, and you could lose money if you are not keeping an eye on how they are performing.
Once you have an ad out, be sure to conduct regular A/B testing. A/B testing is an effective way to figure out how to tweak your PPC ads to be more effective. 
6) Utilize SEO To Rank Organically
SEO is still influential in 2021. It can help drive more traffic to your website and generate more leads. Some of the best SEO practices include:
Link Building: This involves getting links to your website on other websites. The more links that lead to your site, the more traffic you'll get.
Schema Markup: Schema is the language of search engines. Your website should have Schema markup to increase the likelihood that it will be indexed on web searches. 
Quality Content: Having valuable, well-written, quality content is still one of the best SEO practices in 2021.
Bonus Tip: Hire Digital Marketing Experts
If the above list of tips seems a bit daunting to you, don't worry. The fact is that everyone needs help with digital marketing roofing from time to time. When that time comes for you, talk to us here at Roofing Webmasters. We offer various digital marketing services, including PPC ads, website design, content marketing, and SEO services for roofers. Contact us and launch an effective digital marketing campaign.