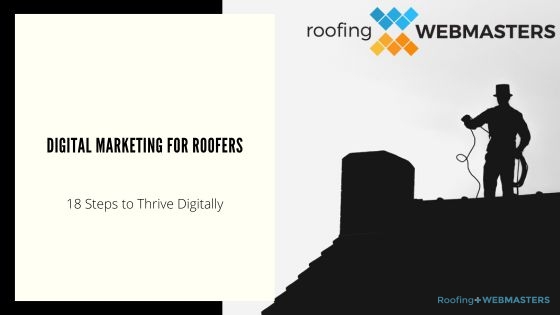 What is Digital Marketing for Roofers?
Digital marketing for roofers is the promotion of roofing companies through digital platforms, including the internet and mobile applications. Examples of digital platforms include websites, search engines, email, text, and social media apps.
Digital Marketing Strategies for Roofing Companies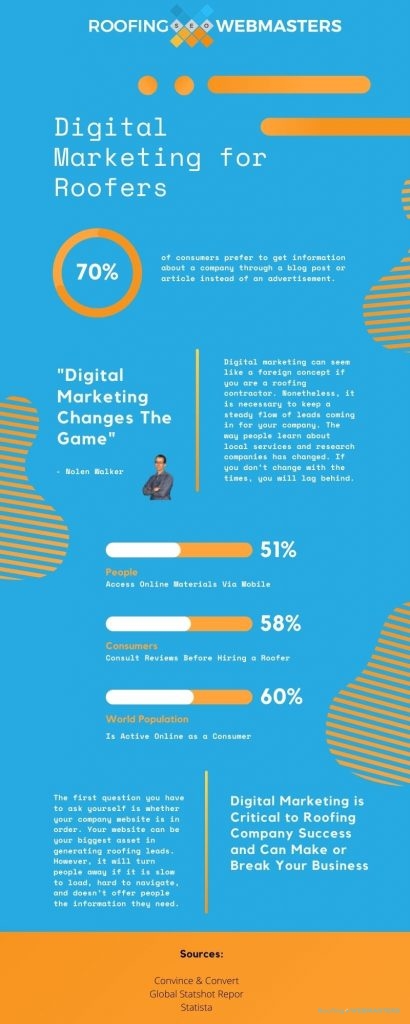 Some companies prefer to hire a roofer digital marketing company to handle all necessary tasks. Others opt to perform marketing tasks manually to save money and retain greater control over messaging.
The problem for many contractors is time management. Most roofers don't have enough time to design and implement a high-quality digital marketing campaign. As a result, roofing businesses that invest in digital marketing services often outperform competitors who do it themselves.
Regardless of your chosen path, it is vital to understand the best roofing digital marketing strategies in 2023. Roofing Webmasters outlines the best tips, tricks, hacks, and techniques for roofers in the following post.
1) Optimize Your Roofing Company Website
A roofer's most potent digital marketing weapon is their roofing company website. Your company claims digital real estate online by purchasing a domain name with hosting and publishing a high-quality website.
Subsequent digital marketing tasks are more effective after you establish a website online. The goal of your website is to rank on Google, attract visitors, and convert them into customers. With this in mind, you should optimize your website for rankings and conversions.
Roofing Webmasters' knows a thing or two about website design. We even created our own website builder to produce the most premium roofing websites on the web. In our experience, a robust website showcases the following qualities:
Mobile-Friendliness: Roughly half of all internet traffic comes from people using a mobile device. You must ensure that your roofing website is easily accessible to mobile users.
Responsiveness: People have short attention spans. They won't wait around if your website takes too long to load. They will click on another roofing website.
Positive User Experience: Visitors should find your website easily navigable with fast loading speeds and a user-friendly interface for easy conversions.
2) Manage Reviews and Reputation
Online reviews are the new digital word-of-mouth. Favorable online roofing reviews can make or break your company in the digital age. Not only do they affect your reputation as a company, but they also generate leads.
Your company should be present on Google Business Profile, Facebook, Yelp, and other popular review platforms. From there, your profiles must accumulate consistent reviews from real customers. A reputation management tool like DataPins can automate review requests.
Getting reviews is essential because most consumers will read between 1 and 10 reviews before purchasing. As a result, the context of your reviews will shape how potential customers view your roofing business.
Replying to negative reviews is just as crucial as responding to positive ones. Of course, receiving a few negative reviews from unsettled customers is normal. Still, the key is maintaining a positive reputation despite negative feedback.
3) Publish Premium Level Content
70% of consumers prefer to get information about a company through a blog post or article instead of an advertisement. As a result, content is vital to digital marketing for roofing companies.
Most marketing agencies produce some form of content for their clients. The separator is often the content quality, which tends to vary by website. Premium-level content is free from grammatical errors and provides legitimate value to the reader.
Content marketing can include blog posts, eBooks, white papers, social media posts, video content, and more. Here are a few proven forms of content marketing:
How-To's: How-to guides (in a blog or video format) are beautiful to consumers. Consider knocking up a simple how-to guide like "How to Maintain your Roof" or "How to Get Your Roof Ready for Winter."
Videos: YouTube videos are ideal for website embeds. They can be a visual aid to your text content and convert more visitors.
Blogs: Blogging is the simplest and most effective way to provide value to consumers. Use your roofing knowledge to come up with exciting and informative blog posts.
Content is one of the most time-consuming elements of a digital marketing campaign, so quality content is so rare. However, investing in high-quality content pays off for roofing companies as it is the fastest way to outrank local competitors with similar domain authorities.
4) Perform Extensive Keyword Research
Keyword research requires tactical discernment to maximize rankings in 2023. The days of measuring volume only are gone, and more complex aspects of a keyword now determine its ultimate value.  
Roofing companies must know how to identify keyword intent to inform the content necessary to target the term or phrase. For example, a service page should target specific buyer intent keywords, while blog posts earmark informational queries.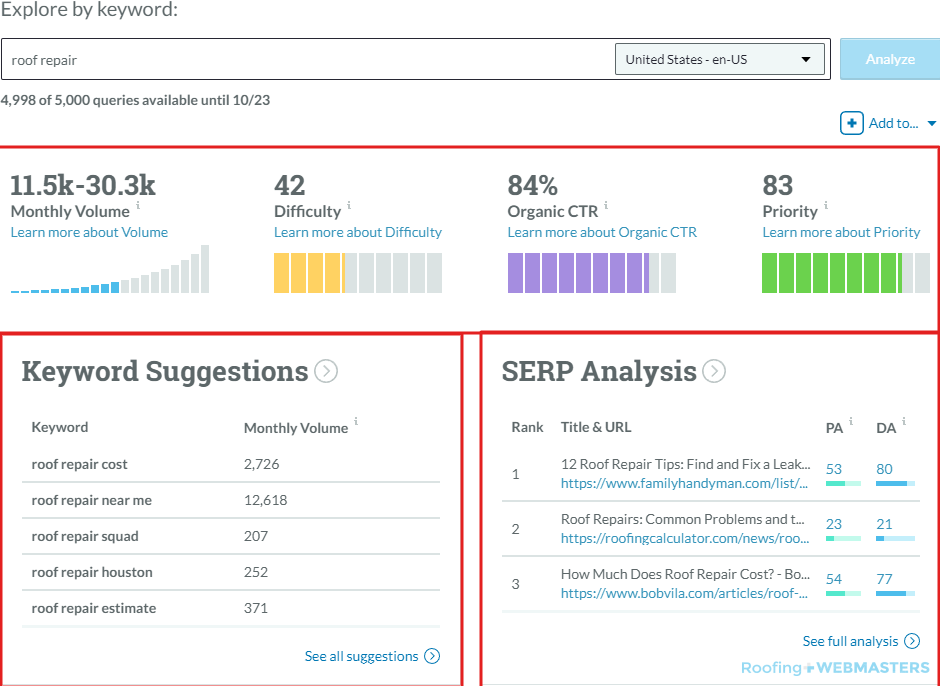 Learning to prioritize keywords is an acquired skill made more manageable with SEMRush, MOZ Keyword Explorer, and AHRefs. Google Search Console is a valuable keyword research tool for identifying local roofing keywords.
5) Supplement SEO Traffic with Strategic Google Ads
Pay Per Click advertising can benefit newer roofing companies while they wait for their website to optimize. Google Ads allows roofing companies to rank their landing page above organic results through paid ads.
Paying for website traffic early in your digital marketing campaign makes logical sense for roofers. In addition, since SEO can take up to six months to properly index, Google Ad clicks can supplement traffic and generate leads.
Be sure to conduct regular A/B testing. A/B testing is an effective way to tweak your PPC ads to be more effective and foster a higher conversion rate for lower CPC.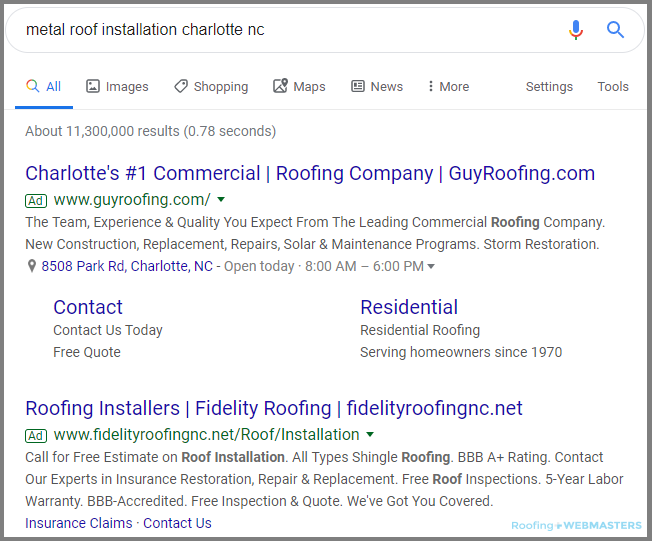 Google Ads empowers roofing companies to run seasonal ad campaigns targeting specific types of roofing consumers. As a result, high-ticket jobs like commercial roof repair can return a significant ROI with a few clicks.
6) Claim Business Citations Online
Local roofing companies have a host of directories available to submit citations, creating nofollow backlinks to your website. NAP citations also disseminate your contact information throughout the internet, making it easier for Google to identify your business as a specific entity.
Most contractors know significant directories like HomeAdvisor, Angi, and Better Business Bearue. Still, hundreds of more exist for roofing companies. Investing in a citation service like Whitespark can help you quickly submit citations to a wide range of directories.
Submitting your profile on multiple directories may result in an occasional lead. Still, its real impact comes in the form of SEO signaling. As you establish your website URL across multiple 3rd party websites, your website can index new service pages and blog posts more quickly.
7) Implement Schema Markup
Marking up business information with schema is a great way to communicate with search engines. Search engines like Google better understand your site's context as you mark up business info on your website.
When Google knows your roofing company is a local business, it can view your site as the same entity as your Google Business Profile. Your goal is to dominate local search results on both Google Search and Google Maps.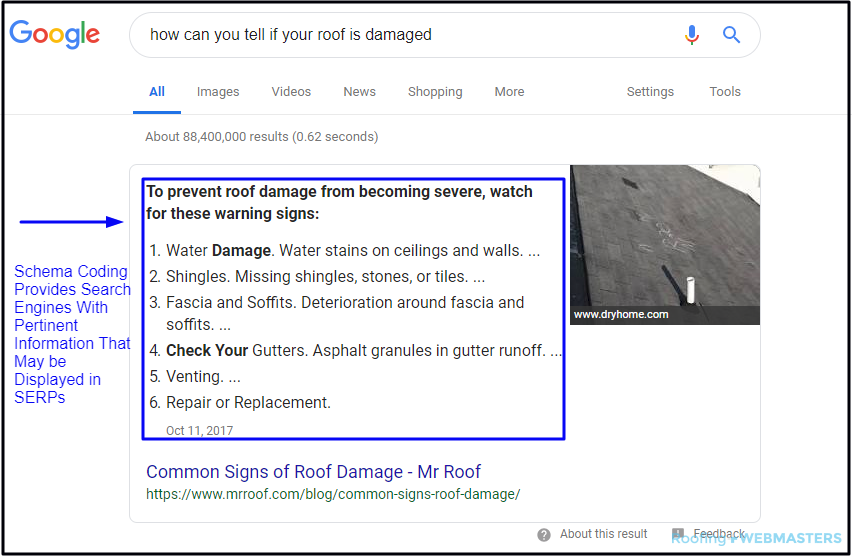 Schema markup also allows roofing companies to markup other aspects of their websites, including reviews and social media profiles. DataPins is a valuable tool that inserts schema markup via pins that validate your website service areas.
8) Create Linkable Assets
Link building is considered a fundamental digital marketing practice in 2023, but Roofing Webmasters will dive even deeper. Ultimately, high-level blog posts attract links from 3rd-party websites, not outreach.
Link outreach actually violates Google's guidelines, making it unethical for any SEO agency. There is no such thing as white-hat link building as the very act of soliciting inbound links disobeys Google's rules.
The good news is that roofing companies can still acquire links without building them. This utopia is achieved by publishing linkable assets, typically long-form blog posts that address a popular question or topic.
Remember that boring, run-of-the-mill topics won't attract links from other websites. Therefore, publishing a linkable asset has to appeal to many consumers and engage them with the title and on-page content. An excellent example of a linkable asset is a post about statistics.

9) Hire a Roofing Digital Marketing Agency
Time is money in the roofing industry, making spending it on digital marketing tasks costly to the overall business model. Roofers save a boatload of cash by hiring digital marketing experts to handle SEO.
Not only can digital marketing experts save contractors from menial tasks like updating meta descriptions and writing on-page content, but it can save them from costly and time-consuming mistakes, too.
Furthermore, digital marketing experts have access to decades-worth of client SEO data that can inform your campaign. So in layman's terms, they have the answers to the test. Of course, not all digital marketing agencies are trustworthy, but performing some due diligence can help weed out bad ones.

10) Expand Brand Awareness
Branding is the most undervalued SEO ranking factor in 2023. When consumers regularly search your company name on Google, your website and Google Business Profile appear higher in search results. 
The best way to increase branded searches is to expand brand awareness. Roofers can enhance their brand by performing outbound marketing tasks like email marketing, direct mail, and door-to-door sales.

As consumers become aware of your company offline, they will research it online. Email marketing is one task that merges the two worlds together. When sending email blasts, you put your brand name in front of a large group, but it's happening exclusively online.
11) Invest in Roofing Marketing Software
Software makes tasks easier for all kinds of industries, and roofing is no different. A roofing marketing software tool like DataPins can automate most of your SEO process while also handling reputation management.
DataPins allows roofers to publish schema pins of each job that appear on corresponding service pages and city pages for optimal ranking. They also insert geo-schema pins to enhance Google Maps rankings.
DataPins automatically manages a roofing company's online reputation by sending out review requests via email and SMS text messaging. Best of all, its dashboard keeps companies informed of reviews, pins, and organic website growth.
12) Build an Email List
Email is one of the best forums for increasing brand awareness and generating leads. For every $1 spent on email marketing, roofers can expect a profit of $42. With this in mind, start building an email list.
Following CAN-SPAM protocols is critical to avoid fines and getting your address blocklisted. As a result, always include an unsubscribe link in your email footer, along with your roofing company's office address.
You're probably wondering how to build a roofing email list in the first place. It's easy to do if you publish good content on your website. Then, once visitors arrive on your site, offer them a value proposition, such as a discount code, in exchange for their email address. You'll find that consumers will gladly submit their email addresses for a chance to save on services.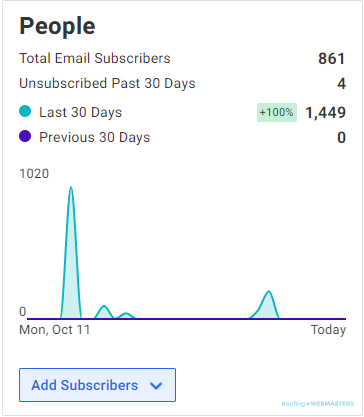 As you build your email list, segment subscribers by their specific qualities and needs. Segmented lists make it easier to customize emails and increase open rates.
13) Run Roofing Facebook Ads
Facebook Ads are affordable and help roofers target a hyper-targeted consumer base. However, segmenting users is more expensive on other platforms, with so much information available from a person's Facebook profile.
The result is a lower overall CPC than other social media advertising platforms. Facebook marketing is really only possible through advertising these days, as Facebook significantly limits the organic reach of business posts.
Designing a high-performance Facebook business ad is relatively straightforward. In addition, it allows advertisers to run the ad simultaneously on Instagram, another popular social media platform.
14) Diversify Calls To Action
Converting a website visitor comes down to your call to action. You can choose from a contact form, click-to-call phone number, and other more creative types of CTAs to turn those website visitors into warm roof leads.
As technology evolves, webmasters have gotten more creative with CTAs. For example, some websites now allow customers to book an appointment online without talking to someone on the phone.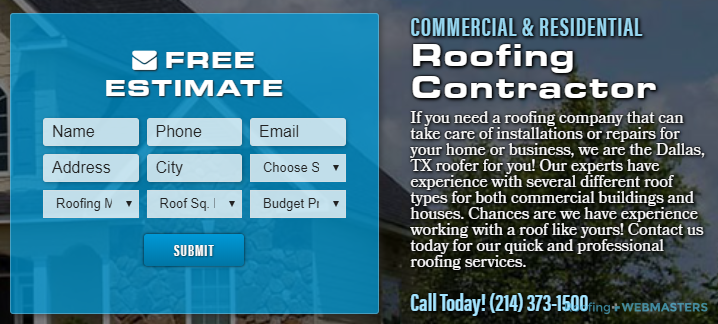 Your roofing company should consider a live chat feature for your website to engage with visitors with specific questions about a service. Ultimately, your goal is to capture as many interested consumers as possible.
15) Start a Roofing Company Podcast
When roofing contractors think of digital content, they think of blog posts, Instagram pictures, and sometimes YouTube videos. But one untapped digital content resource is audio podcasting.
Starting a roofing podcast can give your company a decided advantage over online and offline competitors. In addition, podcast syndication on Apple, Spotify, and Stitcher creates positive SEO signals for your business.
Recording a podcast is easier than ever for roofing companies in 2023. All you really need is a couple of $50 USB microphones and free computer recording software. You can even record some introductory podcasts on an iPhone.

16) Join a Referral Network
Digital networking can increase your monthly leads in 2023. Consider partnering with roofing suppliers, contractors from other industries, and even roofers from other regions to strengthen your online network.
Getting referrals from other credible businesses is an excellent endorsement for your business. With so much digital content published daily, referral partners can shout out your company on social media.
Networking offline can translate online, as well. For example, attending a local business or national roofing conference is a great way to connect with like-minded business owners. As a result, many are willing to develop a referral relationship.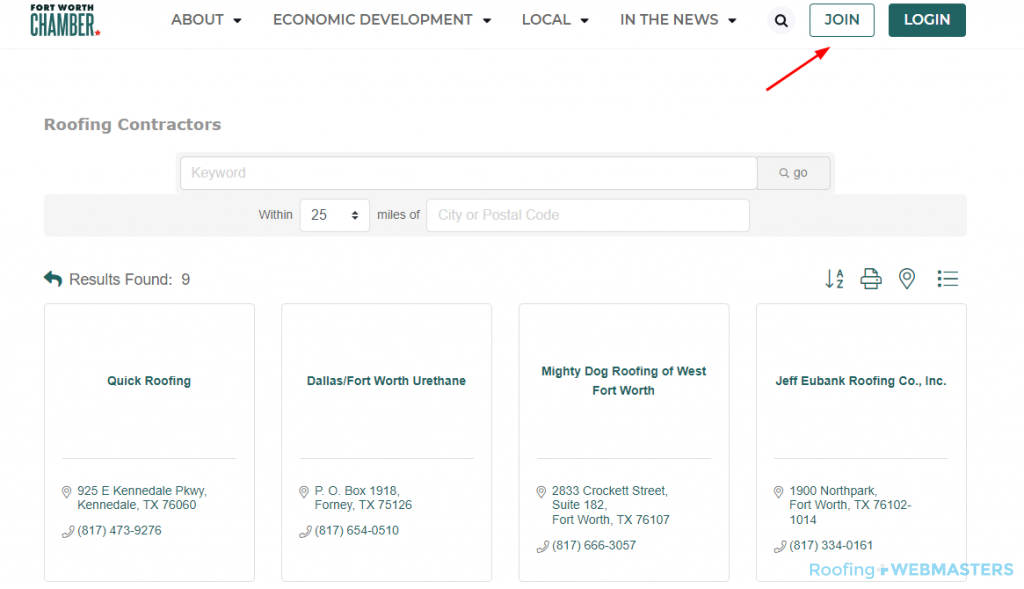 Your local chamber of commerce is always a great place to start with digital networking. You may even benefit from a backlink on their website's member directory.
17) Enhance Your Logo and Color Scheme
Hiring a professional logo designer to enhance your roofing company logo and color scheme can change your online perception of your business. You'd be surprised by the subtle impact of a professional-looking logo.
Your logo appears on all digital marketing materials, including your primary website and Google Business Profile. Logos also appear on your business citations and email blasts, making it your most visible entity.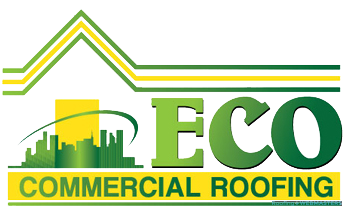 If you decide to enhance your logo, do it correctly. For example, keep your color scheme simple but instill high-quality features that appear professional to consumers. A quality logo designer will produce web-optimized logo files for use on all of your digital platforms.
18) Broaden Service Area With Unique Location Pages
One of the age-old digital marketing questions for roofers is how to broaden your service area online. For example, suppose your office is located in a specific town and city. In that case, you still want to serve consumers in nearby zip codes.
Unfortunately, Google is set up to reward companies based on proximity, especially with the Local Map 3-Pack results. However, there are still ways to rank in cities and towns outside of your central office location.
The first step is to publish unique location pages for each target city. Then, you can automate uniqueness with a tool like DataPins, which publishes proof of your work in those specific locations.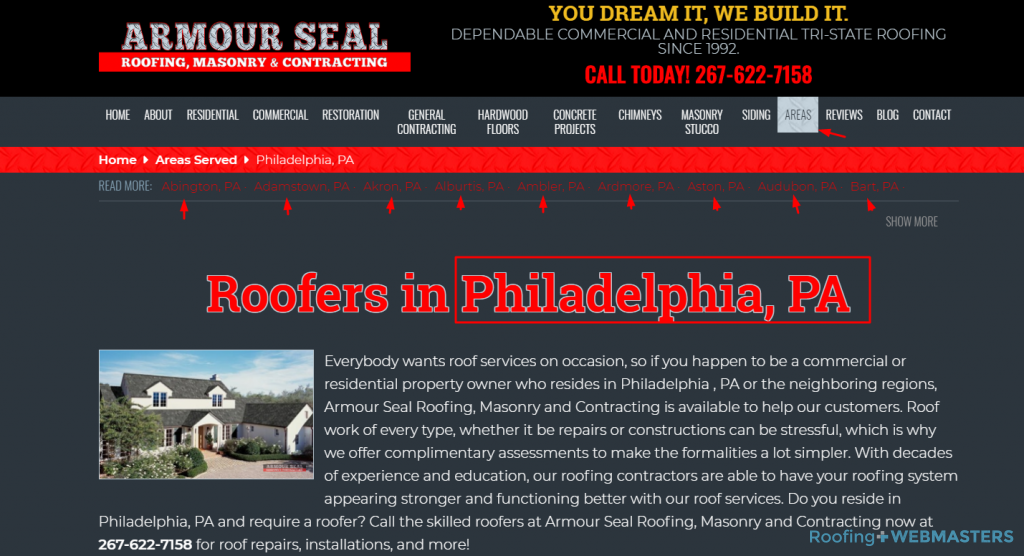 Avoid creating spam-like city pages that use duplicate content. Instead, invest in a unique copy for each page, including subtle references to the targeted city or town. Ultimately, social proof will help you win over new service areas in 2023.
Final Thoughts on Digital Marketing
Roofing Webmasters has over a decade of experience crafting digital marketing campaigns for roofers. Over that span, we've learned a great deal and collected countless data points about the impact of digital marketing strategies. As the industry matures, new techniques emerge, and older ones evolve. Defining your digital marketing goals and investing resources in the most proven strategies is the key.