Roofing companies are always trying to find an edge over local competitors. As a result, many contractors have asked about the value of check-ins on their roofing company websites. You've probably heard about multiple software tools that produce these check-ins, including our very own DataPins.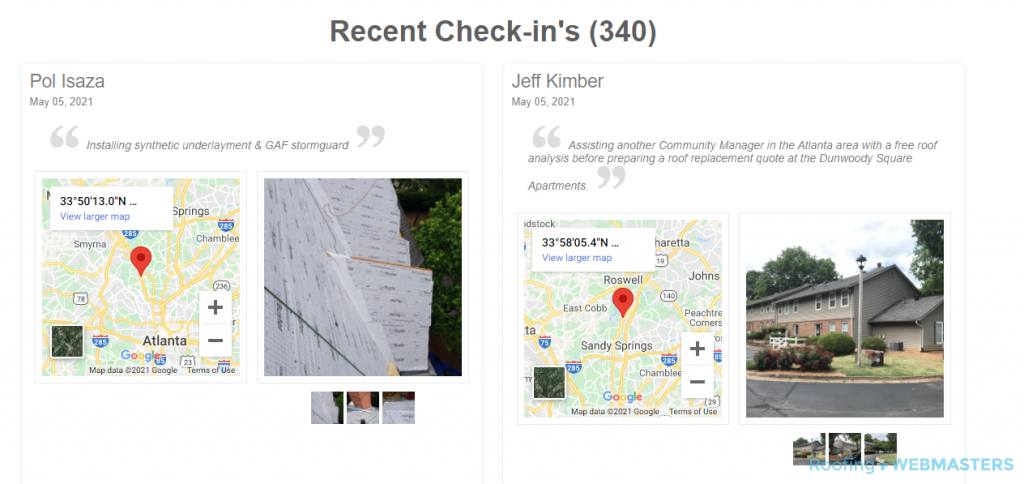 Key Lessons for Roofing Contractors:
Building up a collection of check-ins each month drives higher local SEO rankings.
Consistency is key. Only your team can perform these check-ins.
This type of activity is rare, meaning businesses can still reap tremendous rewards.
How Check-ins Impact Local SEO
Jobsite check-ins are woefully under-utilized in the contracting industries. Of course, there's another way of looking at it. Any roofing contractors who consistently utilize the right check-in tools can earn serious lead generation improvements through local SEO. Check-ins serve as a digital hand raise that showcases valid proof of roofing jobs in a particular service area.
When Google crawls local roofing websites, the search engine collects all the evidence it finds. Sure, website service pages can claim a business provides impact-resistant shingle installation, but how often is the company really performing that service? The best types of evidence to influence Local SEO are customer reviews and check-ins. The latter is what we'll be talking about today.
How Do Jobsite Check-ins Work?
Have you ever seen a Google Map of your city? Hundreds of businesses line the streets, and all corners swell with thriving residential communities. You do not see all the places your roofing company has provided service throughout the city. Google doesn't see it either, no matter how many times you've written about it on your website.
Check-ins change that. When you whip out your phone and perform one, you provide Google with some invaluable data:
Your location,
The services you just finished providing, and
The time.
Check-ins wrap various data points into a collective entry that serves as a digital hand raise. The data includes schema markup, geo-coordinates, images, and captions.
Why Do Check-ins Matter?
While other companies are busy claiming to provide (for example) metal roofing installation in Atlanta, you've shown Google real evidence of your activity. That's one small pin on the Google Maps, at first. Scale this up to hundreds of pins over a year, and you've given Google a real reason to rank your business first in local search results.
All your competitors have roofing websites. Most of your competitors know to collect reviews. Very few roofing companies in your area are performing check-ins. That means there's a clear opportunity to get ahead of other brands and generate some exclusive roofing leads.
Thanks to the Local Search Update of last year, it's now possible for young (or even brand new) businesses to win placements in local map packs if they optimize well. We've seen previously unknown brands earn top spots within months after starting a regular check-in program. The results are real!
Blog Posts vs. Check-ins for Roofers
When Google ranks local roofing websites, they look for various indicators, including content quality, domain authority, and E-A-T. Most marketing agencies have attempted to boost their clients' E-A-T scores with blog posts. The problem with blog posts is that they are written by English majors who know nothing about roofing. Therefore, 99% of roofing blog posts are written by non-experts.
Some of the most famous roofing marketing agencies will continue to sell you on the idea that blog posts are the best type of website content. These agencies attempt to trick Google into thinking that roofing professionals are writing the posts. These individuals are intentionally violating Google's guidelines on your behalf.
Who Can Use Check-ins?
Employees of any business can use check-ins once they have been granted a user login. At the end of each job, they take a picture of your installation (roof replacement, roof coating, etc.) and fill out the project information. Finally, you select "check-in," and your job is done for that particular location.
The check-in is populated to your company website in the necessary context, creating an SEO advantage and also validating your business as credible. This kind of content is premium in Google's eyes and cannot be copied or duplicated by a competitor's website because of its uniqueness.
Maximizing Your Check-in Capabilities
The two things that make or break check-ins are frequency and accuracy. Accurate check-ins establish credibility with your business and serve as premium SEO content. Frequent check-ins prove your business is doing regular jobs and indicate that you are a popular service. Furthermore, you are likely to earn more reviews the more check-ins you publish on your website.
Since many of your competitors lack check-in functionality, accumulating as many as possible in the near term should give you a major head start several years later. Once other roofers start catching on, they will be significantly behind the curve you created.
Another aspect of check-ins that should be maximized is image optimization. If you snap an original photo on the job site, it will be worth far more from an SEO standpoint than a non-visual check-in or worse: a stock photo check-in. The whole idea is to verify your legitimacy as a roofer, and nothing confirms that more than a picture of the actual job.
Conclusion on Schema Check-ins
SEO can seem like a rat race in many industries. But roofers must ask themselves about the most efficient way to grow their brand online. You differentiate yourself from other roofing websites by performing check-ins at job sites.
Not only can you improve local SEO on GMB and the Local 3 Pack, but you can also increase conversion rates and validate your presence in service areas that are outside your office or home zip code.
Nobody knows where SEO will be in 5 years, but the best estimate is that local businesses will be judged by social proof and confirmed job site check-ins. Imagine being #1 on GMB rankings and being able to serve customers throughout all nearby service areas. This is what online roofing marketing may look like in the coming years.