Looking for roofing ads and flyer ideas for the upcoming winter? Roofing Webmasters has you covered. As you know, rain, hail, and ice have a massive impact on the roofing business.
Any advertising or marketing campaign aims to create content that resonates with your customer base and spurs them to action. For example, temperature drops often spark a renewed need for roofing services.
Roofing flyers are a great way to speak directly to consumers and generate new leads. In fact, direct marketing with roofing flyers has an impressive customer response rate of 48%.
Nearly 50% is an impressive rate compared to response rates of other forms of direct marketing. Still, you have to know what kind of content to include in your winter roofing flyers.
With winter upon us, Roofing Webmasters shares some great winter flyer ideas to help you generate leads this season.
Why Are Winter Roofing Flyers Effective?
While flyers may seem like an outdated form of marketing, they are still very effective – at least for the roofing industry.
Roofing flyers allow you to reach the demographic that you really want: older homeowners. Social media, email, and other forms of digital marketing are still essential but fail to reach your older consumer targets.
The average age of the American homeowner is 45 years old, with many being significantly older. Not all of these older homeowners will be tech-savvy or check their Facebook and TikTok accounts every day.
As a roofing contractor, you will want to target as many homeowners as possible with any marketing or advertising campaign you undergo.
Yes, flyers are more old-fashioned, but so too may be your key demographic. Again, it's a way of catering to the people who are most likely to hire you for roofing services.
As a bonus, flyers are cheap! Knocking up a batch of flyers may cost you as little as $200, and the return on investment is typically very high. Using flyers will most likely be less expensive than overhauling your website or hiring a full-time content marketer for your business.
Now that you know why you should be using flyers to market your roofing services let's get into some excellent winter roofing flyer ideas.
Winter Roofing Flyer Example
Take a look at this example below. This is a fake roof company, but the flyer's principles outline how you can market your actual company.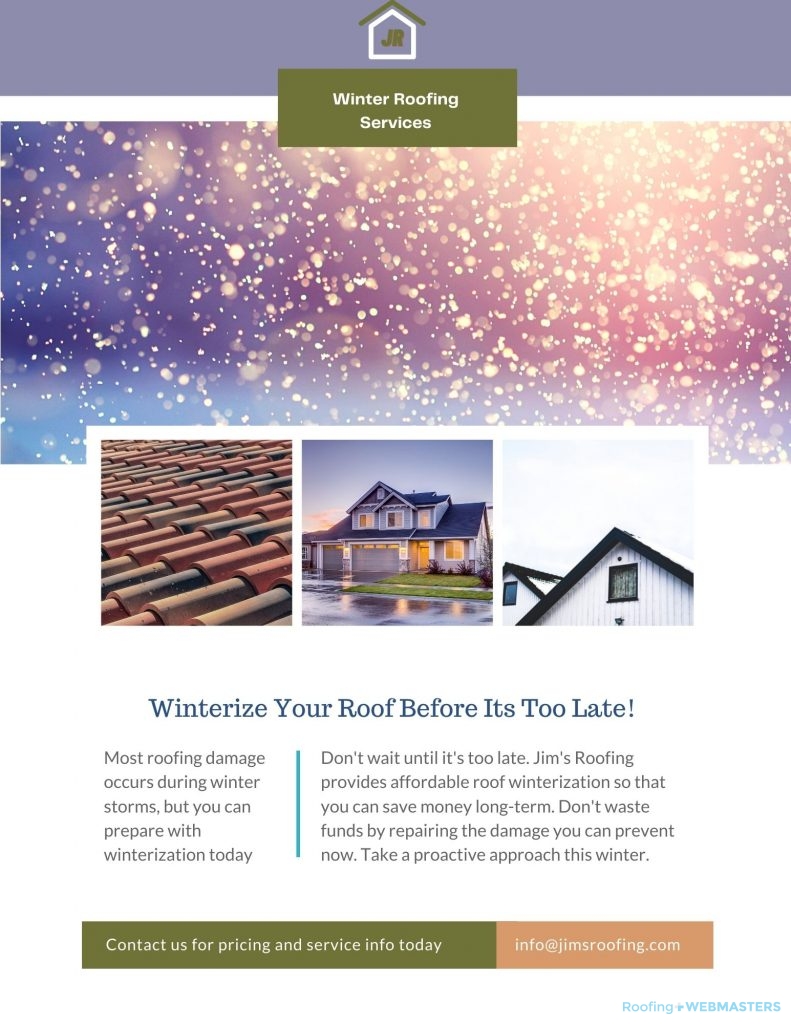 Target Customer Pain Points
In roofing marketing, it's all about reminding the customer about what can happen if they fail to winterize their roof.
We mentioned that roofers in areas of the country where it snows and hails a lot have a distinct advantage over roofers operating in warmer regions – this is part of what we meant.
A simple image of a waterlogged roof or an ice dam on shingles may be all it takes to pressure the pain for your customers.
If you don't use an image, try including a brief statistic about how much re-roofs cost in your area to drive the point home.
Even a simple leading phrase like "Don't Get Caught Out in the Cold" or "Prepare your Roof for Winter" may be enough to remind customers that they haven't had their roof maintenance in too long.
In other words, let the hazards of the season sell your services for you.
Promote Specials
Winter roofing specials are commonly used by roofers who operate in colder climates to carry them through the typically slow season.
If you already run specials, flyer marketing would be a great way to promote them. For example, people often seek a roofing service to ensure that their roof is secure during storm season.
Leaving a flyer on their doorknob is a great way to let people know that you are available for work and to entice them with a good deal.
Be sure to be specific with what services are on promotion in your flyer. Using bullet points with different services that are eligible is a good idea.
It allows people to classify information and find the information they need quickly and in an organized fashion. Also, give specifics about your specials.
If you are offering 15% off on reshingling services, be sure to mention how long the promotion will last and what kind of roofs are eligible.
Unqualified leads usually waste time and money for roofing contractors. Time and resources devoted to chasing a sale cost more than it produces for the few leads that do convert.
By being specific with your flyer content, you will ensure that the people who reach out to you, as a result, are primed to complete a sale.
Include Specialty Services
Don't assume that people in your area already know what kind of services you offer. Believe it or not, the repertoire of the local roofing contractor is not something that homeowners typically commit to memory.
For this reason, it's a good idea to include a list of services that you offer that also pertain to winter roofing work. This could include services like emergency roof repair, reshingling, roofing inspections, leak repair, and roofing insurance claims help.
Homeowners like to drag their feet with roofing services and typically wait until something significant happens, like a hail storm. Advertising services like emergency roofing and leak repair in your winter flyer can capture those consumers.
Brand Your Company
Ensure that your company logo, slogan, and associated images are included on your winter roofing flyers. This will help associate the branding with your company in the mind of the customers.
By establishing your brand, customers may recall your logo and theme next time they require services. As a result, flyers and other promotional materials have a greater conversion rate.
Plus, consistent branding across physical and digital marketing is fundamental for increasing brand awareness and growing your local market share.