As a roofing company, you may have heard of content marketing for roofers. But do you understand what it means? Content marketing is a simple concept that uses content (blog posts, web pages, emails, videos, etc.) to promote your roofing company.
Aside from content bringing in new customers on its own merits, it can also influence a roofing company's SEO. Publishing high-quality content on your roofing website is the best way to rank higher on search engines. Well-crafted content can also encourage others to link to your website or share it on social media.
Content Marketing Defined
Content marketing is a marketing method involving the production and distribution of digital content (blog posts, videos, etc.) that creates engagement across online platforms and creates interest in a company, service, or product.
From Content Marketing to New Customers
The key to a great content marketing strategy is value. So with every piece of marketing material you (or your website management team) puts out there, the goal should be to provide value to customers. The goal is more business, repeat business, and converting roofing leads into sales.
Content marketing is the best approach to take when it comes to cultivating a loyal referral base. When clients utilize your company for their roofing needs, be sure to capture their email addresses or social media handles so that you can continue to interact with them beyond the sale.
Remarketing allows you to keep serving up great content to protect and maintain their interest and even lead to new clients' referrals. Best of all, you continue to build up your roofing company's brand and reputation for long-term sustainability in the marketplace.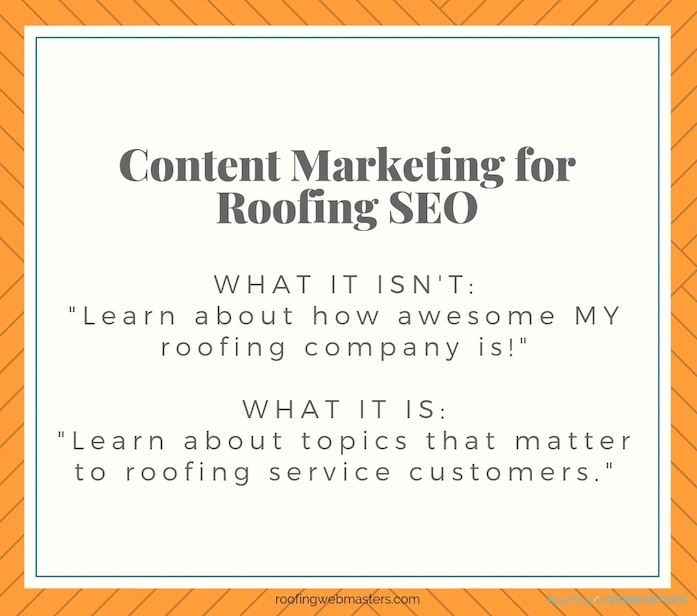 Blogging To Get New Roofing Customers
One of the most immediate ways you can incorporate content marketing for SEO is to leverage your blog. But, unfortunately, if you're not a regular blogger, you are missing out.
First, a note: we don't expect you to drop your tools on a weekly or monthly basis to sit down at your computer and draft a blog post for your roofing website. One of the best investments you can make is to delegate your website's ongoing, detailed management to a professional agency.
Blog Posts Should Address A Specific Question Or Need
Don't fall behind in the competitive market by churning out generic, worn-out topics for your industry. It may seem helpful to address the most basic questions/needs, but your main service pages should already accomplish that task. A blog post should dive deeper into categories not discussed on your service pages.
Every blog post is an opportunity to uniquely capture the attention of potential buyers by honing in on a specific topic or question. Think about what customers may search for to land on your site. Those exact questions and phrases should be used as the blog post titles (and H1s) of your article.
Choosing The Best Roofing Keywords for Blog Posts
One of the biggest mistakes in content marketing is creating content that nobody reads. While it's great to focus on a topic you care about from sales calls or other conversations, nobody will read it if it doesn't target a legitimate keyword. At Roofing Webmasters, we will never recommend keyword stuffing. However, we do encourage you to utilize keyword targets and LSI keywords to produce valuable content for potential customers.
Grab some of those great roofing keywords and think about how you can create great content around the topic. For example, don't abuse the term "metal roof" just because that's a massive trend at the moment. But you can still snag some of that traffic by focusing more specifically on a subject about metal roofs, such as the pros and cons of metal roofs or five tips for maintaining metal roofs to last.
Value-Driven Social Media Content
Another fundamental way to implement content marketing into practice is to stay focused on delivering value across your social media channels. Consider what customers want, what they call about, what concerns and confuses them about roofing, and let those ideas fuel your Facebook Ads and LinkedIn posts.
Because many social media algorithms, such as those used by Facebook and Instagram, favor meaningful interactions (comments and shares) versus passive engagements (likes or views), it's essential to create and curate content that encourages response.
How Do Roofers Get More Engagement On Social Media?
We get it: you've paid for the Facebook ad and want to see it take off. But realistically, folks today are exhausted from constant advertising. So they can skip your ad, even if it does show up in their feed, and it isn't easy to get the attention of the millions of users on any given platform.
One way that you can get better engagement is to engage. Comment on posts, share good content on your page that dovetails with your roofing services, respond to Direct Messages, and retweet. Whoever manages your social media pages should check in regularly to demonstrate activity and create social signals.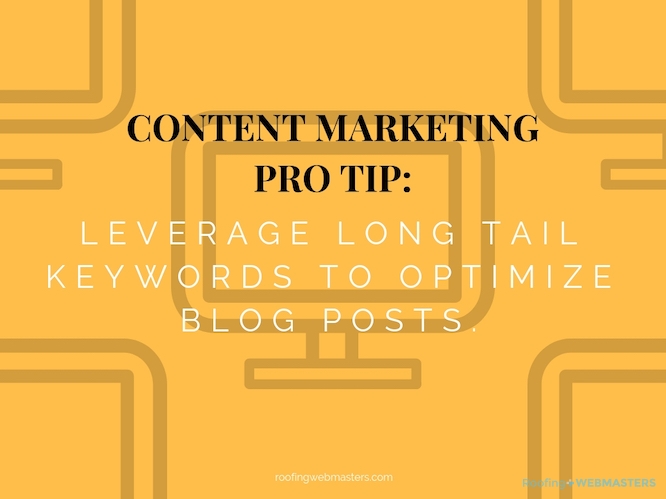 Keep The Customer First For Great Content Marketing
It's no secret that Google values the user experience and provides excellent content to those who search on it (and the other major search engines) regularly. Knowing that is important to the giant that is Google, it should be vital to how you approach SEO for roofing.
Content marketing appropriately focuses on the customer and how business owners and brands can appeal to new clients by valuing the relationship over the sale. But have no fear: the sales follow too, and you can build a successful roofing business on this model. One in which you're as invaluable to your customers as they are to you.