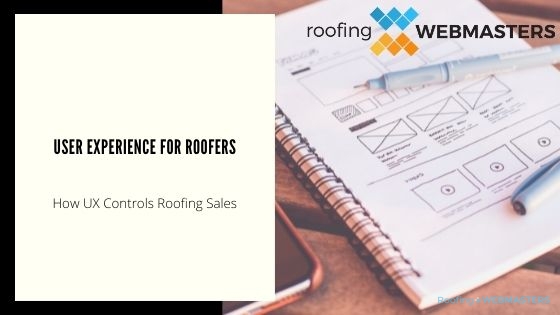 When the client wins, so does everyone else. Success is the underlying principle beneath user experience, a crucial aspect of web design that has massive ramifications for your roofing sales. A positive, pleasant user experience (or UX) almost always results in more extended website visits and higher conversion rates! Conversely, stunted UX design typically ends in lost customers and poor rankings for your site.
So what's at stake in our discussion today?
Roofing sales
Conversion rates (calls, emails, texts)
Website performance
Local search rank
Now that we've established the stakes let's start exploring user experience design. We'll start by defining the term, then establish its connection to your company's roofing sales. Finally, we'll outline some basic user experience guidelines that will help your business moving forward.
What is User Experience Design?
When website designers discuss "user experience," they're talking about the overall journey, intent, success, and feelings behind a person's visit to your website. As you can imagine, a ton of data goes into the research and design of a company website. However, the site's ultimate success heavily depends on what your potential customers experience and how they react.
That's a lot of information packed into one crucial topic. However, before we get into the nitty-gritty of effective web design, we need to establish the connection between user experience and roofing sales.
Why Does User Experience Matter for Roofers?
Suppose a worried homeowner stumbles upon a website in search of a leak detection service. Upon landing on the homepage, they discover a site hastily put together by an amateur (perhaps the contractor's nephew). Unfortunately, the page is loaded with spelling errors, and worse, the user can't find leak detection anywhere on the page.
What would you do if you landed on such a poorly designed website? The swelling sense of frustration and disgust causes most people to bounce from the site within a matter of seconds. That's the typical story behind the abysmal user experience.
On the other hand, consumers respect a pleasant, smooth UX.
Easy menu navigation to find required services.
Capable writing and insights into common homeowner problems.
Pleasant, applicable images proving the contractor's experience.
Visible calls to action, including phone numbers and contact information.
If we take the time to efficiently connect people with the services they need the most, conversion rates rise. With more calls coming in, roofing sales take off! The user wins, and your business succeeds.
What is Good User Experience?
First, we need to understand what your user's goals are. As with many contracting industries, consumers may fall into multiple categories. For example, some need emergency services, while others only need information for future projects. We'll need to address both sets of goals to create a successful user experience.
Second, we'll need to create an environment that connects people with the services or information they need the most. Unfortunately, this is where so many businesses ultimately fail, causing high bounce rates and losing roofing sales. Thankfully, we have many tools at our disposal to ensure customers have an easy search!
Finally, we must guarantee that service pages and alternative resources provide the solutions that our users crave. More importantly, we need to be more effective than similar businesses in the local community. After all, it's not enough to be as good as the competition. Your company needs to be the best.
User Intent
Understanding the User's Goals
Site visitors may come from many sources, but most fall into one of two user categories: immediate need and future interest. Those with immediate user needs are looking for relief for a particular problem or situation, and it's your mission to see they find it! Future interest users don't need to be sold immediately. Instead, they need the information to help them with a future goal, such as saving energy during the summer months.
Remember, users in the immediate need category typically have a lower threshold for frustration. They must be connected to their desired service ASAP, or you risk losing them. With future interest users, there's a bit more wiggle room. Thus, there's more time to offer detailed information.
Site Navigation
Connect the User to Their Destination
Immediate need users typically search with heavy user intent, meaning they search specifically for a particular solution and see what options pop up. Most will land on your homepage. If you've done an excellent job of optimizing your website for organic search, a good percentage will also land somewhere in your service pages (such as "Emergency Roof Repairs").
Wherever these eager customers land, they need to be quickly directed to their desired service within a couple of clicks. If you can help them find their desired service on your homepage, that's even better. Keeping your navigational menu compact and organized should allow people to find their goal within 30 seconds or less. 
With future interest users, however, the goal should be to direct them to your most insight-rich content. Whether that's a significant, detailed service page or a topic-specific blog post, ensure there's a clear route to these resources. As your best content ages, you can make it easy to find by posting yearly updates (example: "How to Cut Down on Energy Costs in 2021").
Goal Fulfillment
Helping the User Succeed
Once you've connected your potential clients to their ultimate destination, the final step is to maximize the value they obtain from the resources you've provided. Success here comes down to three stages:
Step #1: Do your best to provide the information they need.
Step #2: Make your content easy to consume/understand.
Step #3: Provide next steps for people to follow up.
For the crowd of the immediate need, service pages set expectations of how your service operates. They should also provide clear directions on how to contact your business. For example, a well-placed phone number can be all it takes to raise call volume.
Don't be afraid if future interest users aren't picking up the phone after reading your excellent articles! If you provide them with detailed, well-ordered information, they'll think of you when the time comes for their next project. Right now, they're simply on one of the first stops in the roofing sales funnel. Just make sure your blogs and service pages use page structuring (bulleted lists, numerical steps, etc.) to make content easy to digest!
Closing Thoughts on UX
Your website may not provide the top-notch UX that you'd like to see. The good news is that the user experience can be improved over time, creating more value for your clients and roofing sales for your business. That's a win-win!
If your company has struggled with organic SEO, user experience, or other aspects of website design, our team at Roofing Webmasters would love to help. We create custom websites designed specifically to earn front-page rankings, provide more robust UX, and generate more business leads.